If you are considering homeschooling, in the trenches of it, or seeking to be a more intentional parent, then you will need all the support and encouragement you can get.
I remember a season when I struggled to teach my oldest son, Elijah, how to write well. Thankfully, I found a writing program called Institute for Excellence in Writing by Andrew Pudewa — Student Writing Intensive Course levels A to C.
This program introduces kids to the basics of good writing and works them up to a level of excellence that is remarkable. The focus is on structure and style. Kids learn how to express themselves clearly and creatively.
Although I am an avid writer I wasn't able to inspire the same sort of interest in my kids. I needed help. Pudewa's material changed this for my boys.
Today, my two boys, Elijah and Edan, use this for the writing component of their Language Arts curriculum. They are thoroughly enjoying it, too, which is an answer to prayer!
Sometimes the kind of help we need when homeschooling is a skill or resource to supplement an area where we can't teach a subject or material effectively. Yet, most of the time, what we really need is perspective from others who understand the challenges and unique adventures that come with being a home school parent.
This is exactly what the Homeschool Association of the Philippine Islands (HAPI) intends to offer parents this October 22, 2016, as it collaborates with Educating for Life to mount the Philippine Homeschool Conference 2016 at the SMX Hall in SM Aura.
There's no perfect homeschool parent. We all have our strengths and we come with our weaknesses too. And that's why we benefit from the victories and insights of others. Furthermore, it's important to stay connected to other homeschooling families and foster community. This is something we are in together, and going the distance means we have to look out for one another, too.
I am particularly looking forward to this homeschool conference because Andrew Pudewa will be a keynote speaker. His contributions to the larger homeschooling movement have been so valuable. Furthermore, he has had a significant impact on our family's homeschooling journey.
It must have been 10 years ago when my husband, Edric, told me about a lecture he attended where Andrew Pudewa spoke on how boys and girls learn differently. Some years later, I met Andrew Pudewa at the Homeschool Legal Defense Association (HSLDA) Conference in Branson, Missouri. Early this year, Edric and I were introduced to him again during the Global Home Education Conference in Rio de Janeiro, Brazil.
Pudewa delivered a very insightful talk on how conventional schools are an outmodeled form of education in this day and age. He presented compelling reasons to support why homeschooling makes sense given that we have advanced past the Industrial Age and are presently in the Information Age. (He also has great homeschool material on public speaking.)
He is a gifted communicator and musician, and he is a well-known and sought after speaker in the homeschooling world of America. During the conference, he will focus on motivating children. (He will also have pre-conference workshops). Whether it's getting them to write, read a book, or finish a task, motivation is important.
"Children like to do what they can do, they want to do what they think they can do, and they hate to do what they think they cannot do. If you want excited and enthusiastic children who learn well, you must understand these key laws of motivation and focus on the essential element of relevancy. If it matters, children will learn it, and if it doesn't, they won't."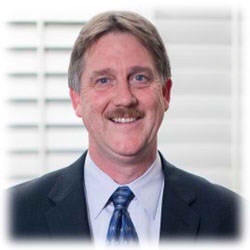 ANDREW PUDEWA- Keynote Speaker
Besides Andrew Pudewa there will be other keynote speakers like Bo Sanchez, my mom (Deonna Tan-Chi) and yours truly. I am nervous and excited! Please pray for me! Of course there will be a host of great workshop speakers who will cover specific issues and concerns about homeschooling, too. Here's what to expect during the PHC 2016:
PROGRAM
7:00-9:00 – Registration
9:00-9:15 – Welcome remarks
Keynote Sessions:
9:15-10:00 – Building a Firm Foundation by Deonna Tan-Chi and Joy Mendoza
10a:00-10:20 – Strengthening the Foundation Through Financial Planning* by Eric Nicdao
10:20-10:30 – Raffle
10:30-11:15 – Motivation – The Art and Science of Helping Students Learn Well by Andrew Pudewa
11:15-11:25 – Raffle
11:25-12:10pm – Wings to Soar: Leaving a Legacy for our Children by Sanchez
12:10-12:20 – Raffle
12:20-2:00 – Lunch Break / Expo visit
Workshop Options:
2:00-2:45 – The Ins and Outs of Homeschooling in the Philippines by Edric Mendoza OR Transitioning from Brick and Mortar to Homechooling by Jenn Punzalan OR Homeschooling the High School Years by Raquel Guevara
2:45-3:00 – Mobilize to next session
3:00-3:45 – Laying the Foundation in Preschool by Milona Barraca OR Paper and Pen: How "Low Tech" Reading and Writing Benefit Students* by Andrew Pudewa OR Transitioning to College by Ivy and Bernard Marquez
3:45-4:00 – Mobilize to next session
4:00-4:45 – Starting Your Homeschool Journey by Donna Simpao OR The Hows of Interest-Led Homeschooling by Alex Hao OR Homeschooling the Special Needs Child by Jen Bellosillo
4:45-5:30 – Break / Expo visit
5:30-6:00 – Major raffle prizes / Closing Remarks
*Subject to change
For more information, check out Keynote and breakout sessions.
KIDS' ACTIVITIES
There will be various activities for children of all ages should you want to bring your children along. These activities will all take place in the Expo Hall. Please make sure, however, that they are with a trusted adult at all times. HAPI and Educating for Life will not be liable for any untoward incident that may happen to your child during the event.
SCHEDULE
Write Pretty by Meg and Maddie (8:30am-10am)
Children ages 7 and up will enjoy learning a new skill with fellow homeschooled children Meg and Maddie Barraca.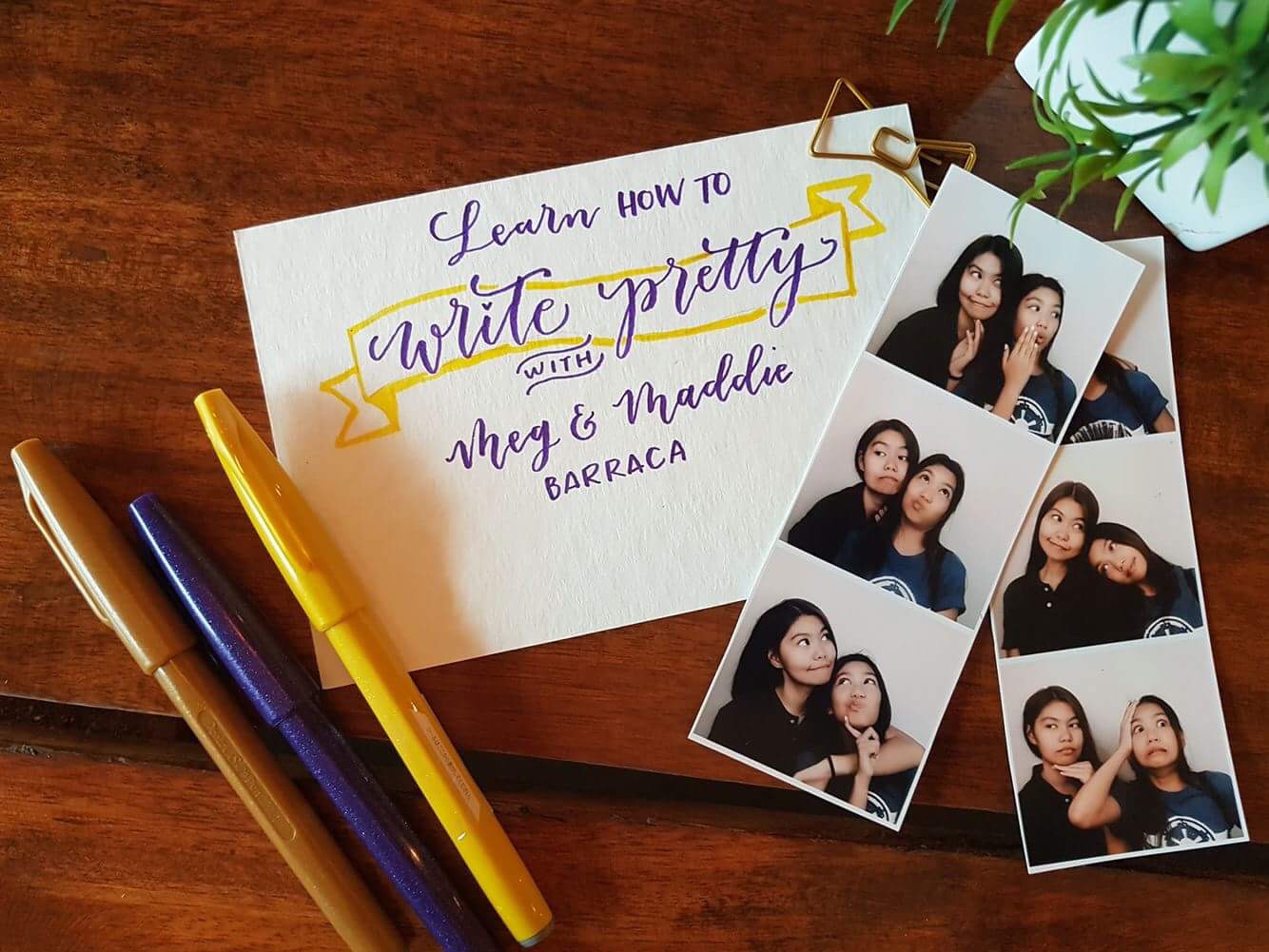 Handlettering by Maddie (10:30am-12noon)
Join in the hand lettering trend by learning how to write calligraphy. To be conducted by Meg and Maddie Barraca. For children ages 7 and up.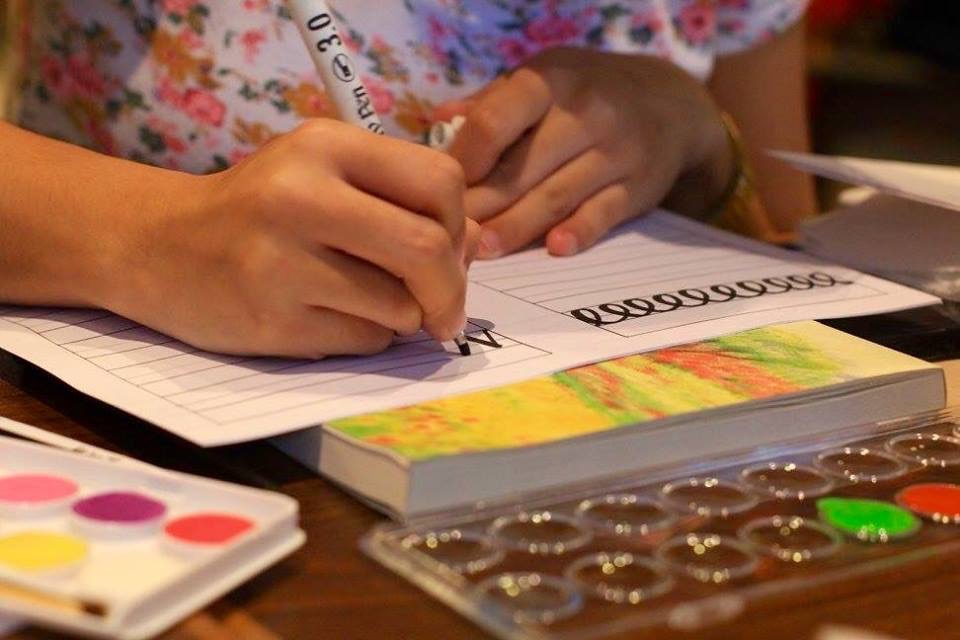 Just Add Water – A Brush Calligraphy class by Marj Liwag (12:30pm-2pm, 4:30-6pm)
Little Miss Printer herself will teach this class for children ages 7 and up.
Inks and Lines – A Tangling class by Marj Liwag (2:30pm-4pm)
Learn about this relaxing art that creates beautiful images from simple patterns.
Challenge Island (8am-10am, 10:30am-12pm, 2:30pm-4:30pm)
Loosely based on the popular show, Survivor, children ages 5 and up will learn collaboration and cooperation the various Challenge Island tasks that they will be given to their tribe. Are they up to the challenge?
Crochet Along with Crafted Crafts by Marge Aberasturi (7am-6pm)
Marge Aberasturi of Crafted Crafts will welcome children ages 6 and up in her booth for beginning crochet lessons. Additional P250 fee for yarn and hook.
MEET THE ART MASTERS by Likhang Bata Creativity Center (7am-6pm)
Likhang Bata Creativity Art Center's classes are a fun way to introduce the art masters to the children. The classes will be held in Likhang Bata's booth the whole day.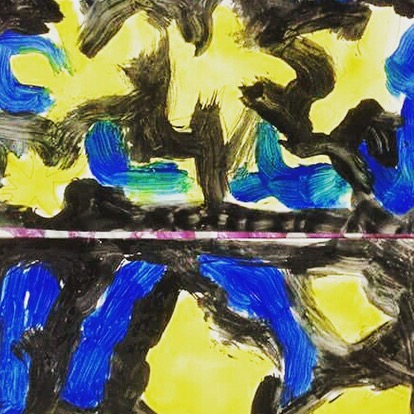 SAFSOF SPORTS PLAY AREA BY TOPMnl (7am-6pm)
Let your kids move and play in our indoor sports play area! Crawl under arch gates. Swing your club in mini golf. Topple the cans with the soft catapult. Play bowling. Practice targeting skills with the Multi Ring Toss. All using SAFSOF safe rubber foam sports toys. For kids ages 3 years to 12 years.
SMILE TODDLER PLAY AREA (7am-6pm)
Children ages 1-3 will enjoy the various activities prepared by SMILE Group in the Toddler play area.
For more information see Kids' Activities.
For adults:
1. Regular rate (With access to plenary talks, breakout sessions and expo)- P1000 per participant
2. Group rate (Register 4 and get 5th ticket at 50%) – P4500 (Payment should be made as a group, not individually, to qualify for the discount)
3. Expo only (Access to vendor booths only; no access to talks and breakout sessions) – P50
4. Walk-in and on-site payment rate – P1200 per participant
For kids:
Children can choose their activities for a fee of P500. Parents can also choose to bundle the activities (except the toddler play area, which is P500 for the whole day) with the following rates:
Choice of 1 activity – P500
Choice of 2 activities – P900
Choice of 3 activities – P1200
Choice of 4 activities – P1550
Materials for the activities (except the crochet lesson, where participants will purchase hook and yarn separately) are only for borrowing. Each child can only register in one Challenge Island slot to give other participants a chance to enjoy the activity.
To register online: PHC 2016 registration
Check out the Facebook page: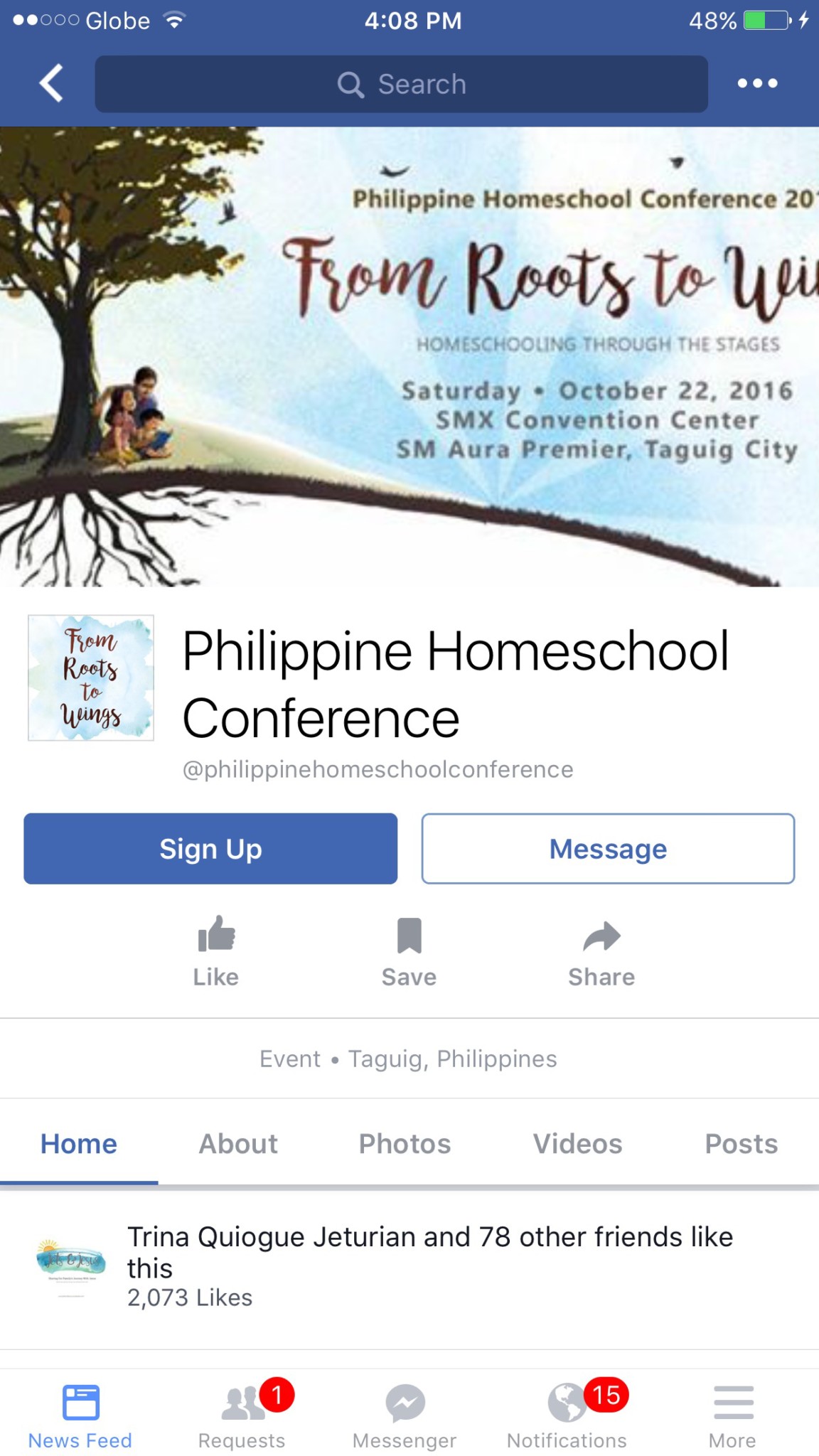 Get the free app!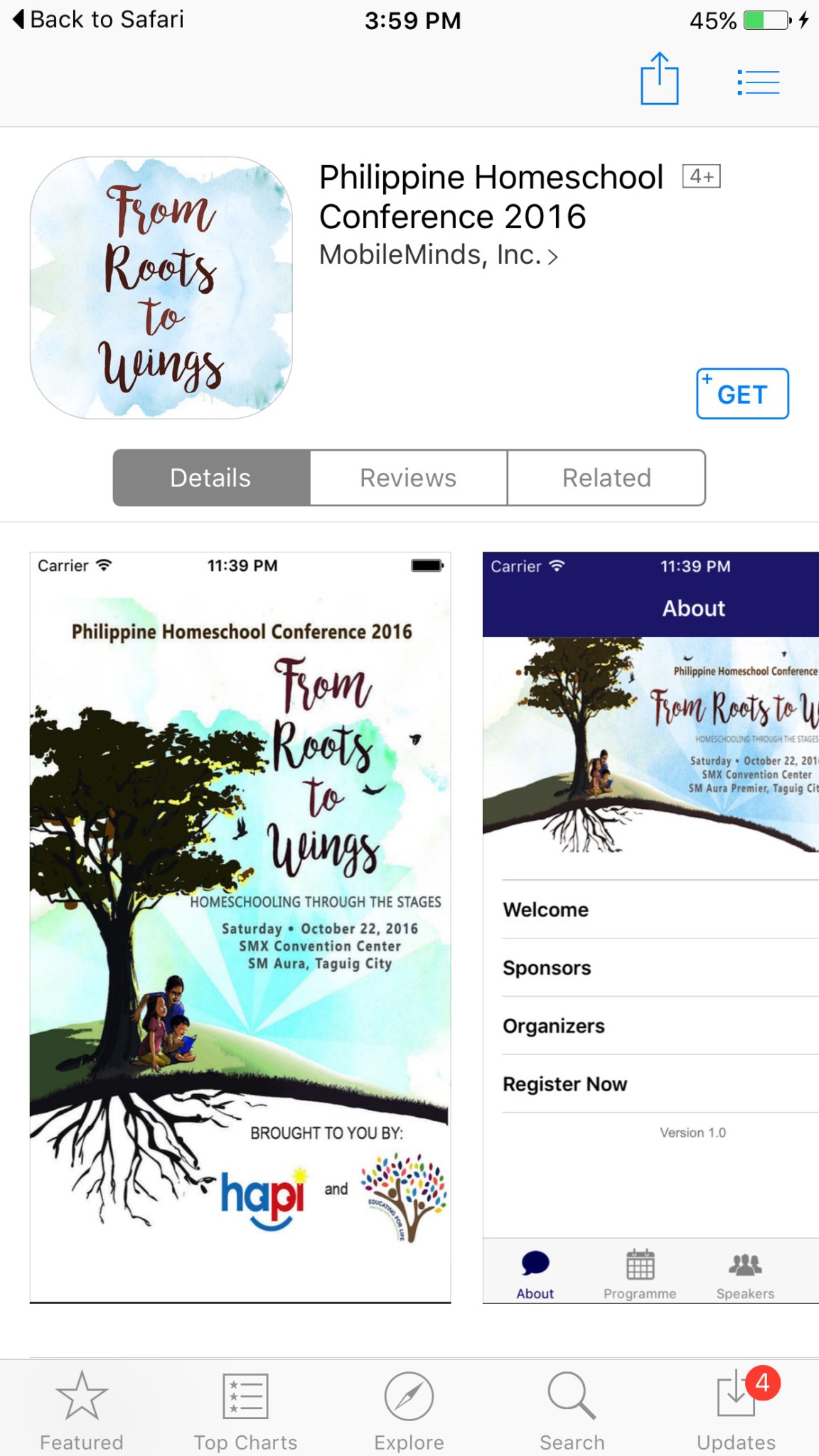 In summary…Five reasons to attend the Philippine Homeschool Conference 2016: