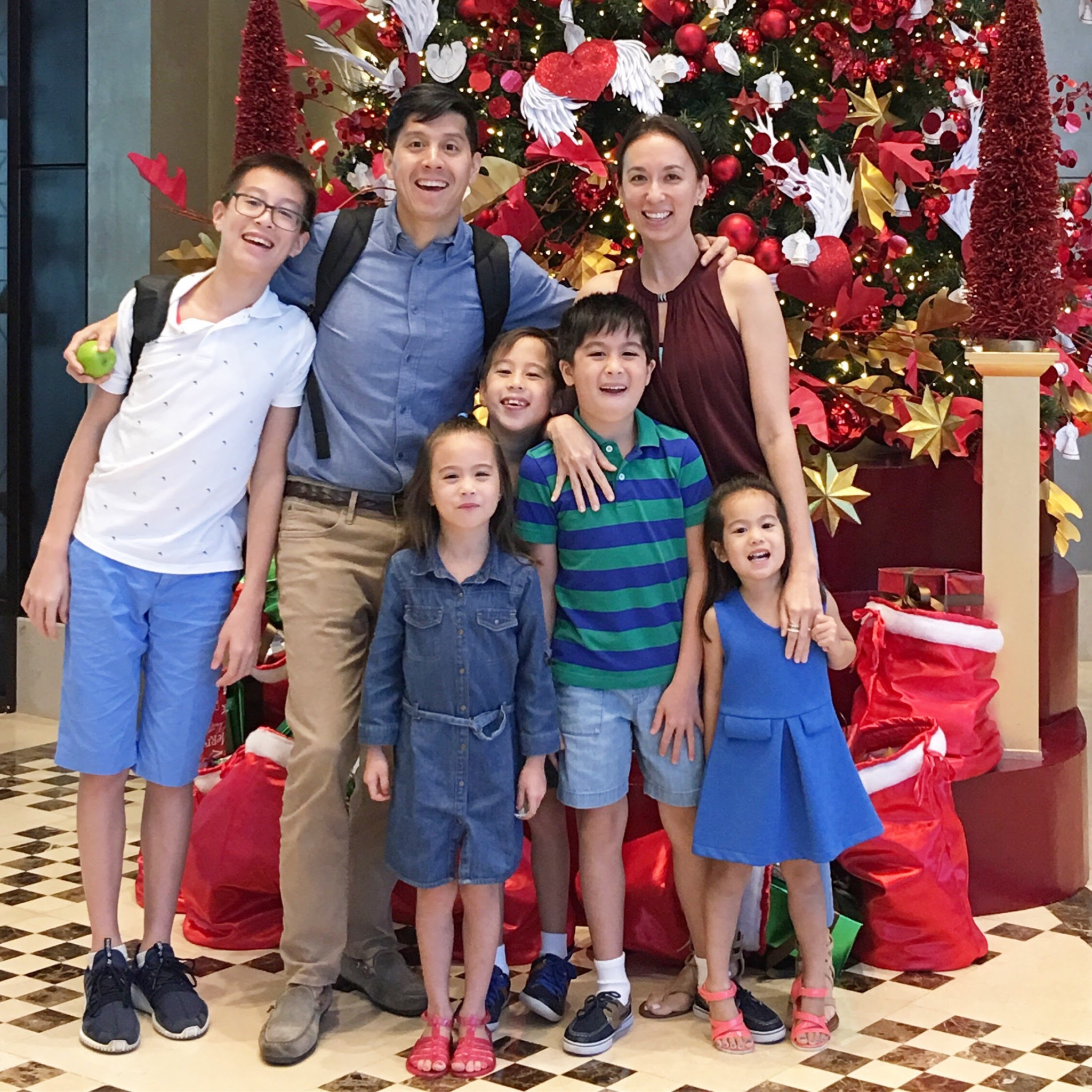 One of the biggest challenges that Edric and I face daily is that our kids see us up close and personal everyday. This requires us to be extra conscious about the values, attitudes, and perspectives we role model to them.
I remember a few weeks ago, I asked my kids, "What do you think mommy is passionate about?" I hoped they would answer, "You love God and follow God." But to my surprise, they unanimously agreed that I was passionate about MY CELLPHONE!
Goodness, gracious!
To defend myself, I explained, "You know that my Bible is on my phone, and I blog and minister to others through my phone." But they didn't seem convinced.
The reality is I do read my Bible using my phone and it is a tool for ministry, but apparently, they perceived it more as an addiction of some sort. So I had to apologize to them and take their answer to heart. (And I've decided to dig up my Life Application Bible so they see me holding it, instead of my phone!)
Growing up I remember that my parents were convincingly passionate about loving God and serving Him. They remain the same way today. My mom is the type of person who shares the gospel with anything that lives and breathes. It's top of mind for her when she gets on an airplane and someone sits next to her. She's constantly praying for an opportunity to insert the good news of God's love.
As for my dad, he pours over God's Word for hours each day. He spends a good part of his morning in communion with the Lord up in his study room. (It's a blessing that my brothers run the family business so my dad has time to study the Bible and busy himself with ministry. I know not everyone has the same set of circumstances.)
The point is this: our children need to connect what we are passionate about our love for God. If we can't live contagiously as Christians, then our children aren't going to get infected by us.
One of the most effective ways to be a good model to our kids is to model humility. Very recently, I appreciated how Edric demonstrated this to our children. (I am sharing this with his permission.)
We traveled to Baguio for a conference two weekends ago, and the morning of our event, Edric's hair brush magically disappeared. He's particular about his stuff and it's unusual for him to lose an item like this. So he assumed that the kids took it and put it somewhere in the hotel room. None of us knew where it was and none of us were guilty. However, due to his agitation over the missing hairbrush, he saidgl, "You guys BETTER find it or someone is going to be in trouble."
At that moment, I wanted to speak up in defense of our children, and call him out on his irritated tone. But God reminded me to be silent and pray instead. (This is often the precursor to Edric coming to a point of conviction because the Holy Spirit softens his heart. My blabbing and reactiveness don't work.)
In the process of looking for the brush, the kids began to sound annoyed with one another. To correct this, Edric called their attention and gave a quick lecture on speaking to one another in a kindly manner. Once again, I had to subdue my own critical spirit. To me it looked like our kids were copying the tone Edric previously used with them when he got upset about his hairbrush.
The kids and I finally trooped down to get breakfast as we needed to hurry along to catch our call-time at the event venue. We waited for Edric who came down to pray with us, and the first thing he humbly said was, "Kids, will you forgive me for my tone? Will you forgive me for being a bad example and getting annoyed about my brush? I told you all to speak to one another in a nice way and I didn't do that myself. Please forgive me."
Of course the children did and I smiled knowing that it was the Lord who touched Edric's heart.
It's not easy for a father to admit his mistakes to his kids, but what an amazing effect this kind of authenticity has on them. It's also a great reminder for me to do the same.
Children are allergic to hypocrisy. A sure-fire of turning them away from loving and following God is to expose them to parents who preach these values and do the opposite at home. So Edric and I must have a heightened awareness for the attitudes, perspectives, and actions we display. Our children are watching us and forming conclusions about the kinds of attitudes and perspectives they will internalize, and the actions they will exhibit when faced with difficult circumstances, people-problems, and challenging choices. What will they copy in us? I pray we can say with confidence and grace what the Apostle Paul did in 1 Corinthians 11:1 when he told the church ag Corinth, "Copy me, as I copy Christ."
And, let's face it…we are going to make make mistakes, so let's learn to model humility. Children easily forgive when we don't let their heart-wounds pile up. I have seen this over and over again in our family.
The same is true for marriage, too! Let's model humility to our spouses by asking for forgiveness when we make mistakes…the big ones and the small ones. We can also add the bonus question, "How can I improve?" This line works wonders to repair hurt in a relationship.
Finally, let me end with this: Good role models inspire positive change in those who watch their lives closely. If those who watch us are becoming more like Christ, then praise God, we must be modeling something right!