Towards the end of last year, Edric and I decided that we want our kids to be more involved in chores around the house, specifically gardening. This would allow us to approach two needs simultaneously – getting our kids outdoors to exercise, and instilling responsibility.
We canvassed for a grass cutter since the Carabao grass in our backyard was getting out of hand, and found a great deal at HMR in Cubao. After calculating how much we would save by utilizing our own grasscutter versus paying a gardener to come in once a week, we jumped on the opportunity to buy a motorized lawnmower that was sold for ¼ of the cost it usually was. Plus, Edric nostalgically recalled the days when he mowed his aunt's lawn in the U.S. over the summer, and was excited to relive this experience.
In fact, he fended off the kids when he first got the lawnmower working, even if they eagerly asked to have their turn! Eventually, he entrusted the machine to them (and even to me) and we all got a chance to test its efficiency.
I must say that mowing the lawn can be very therapeutic and fun.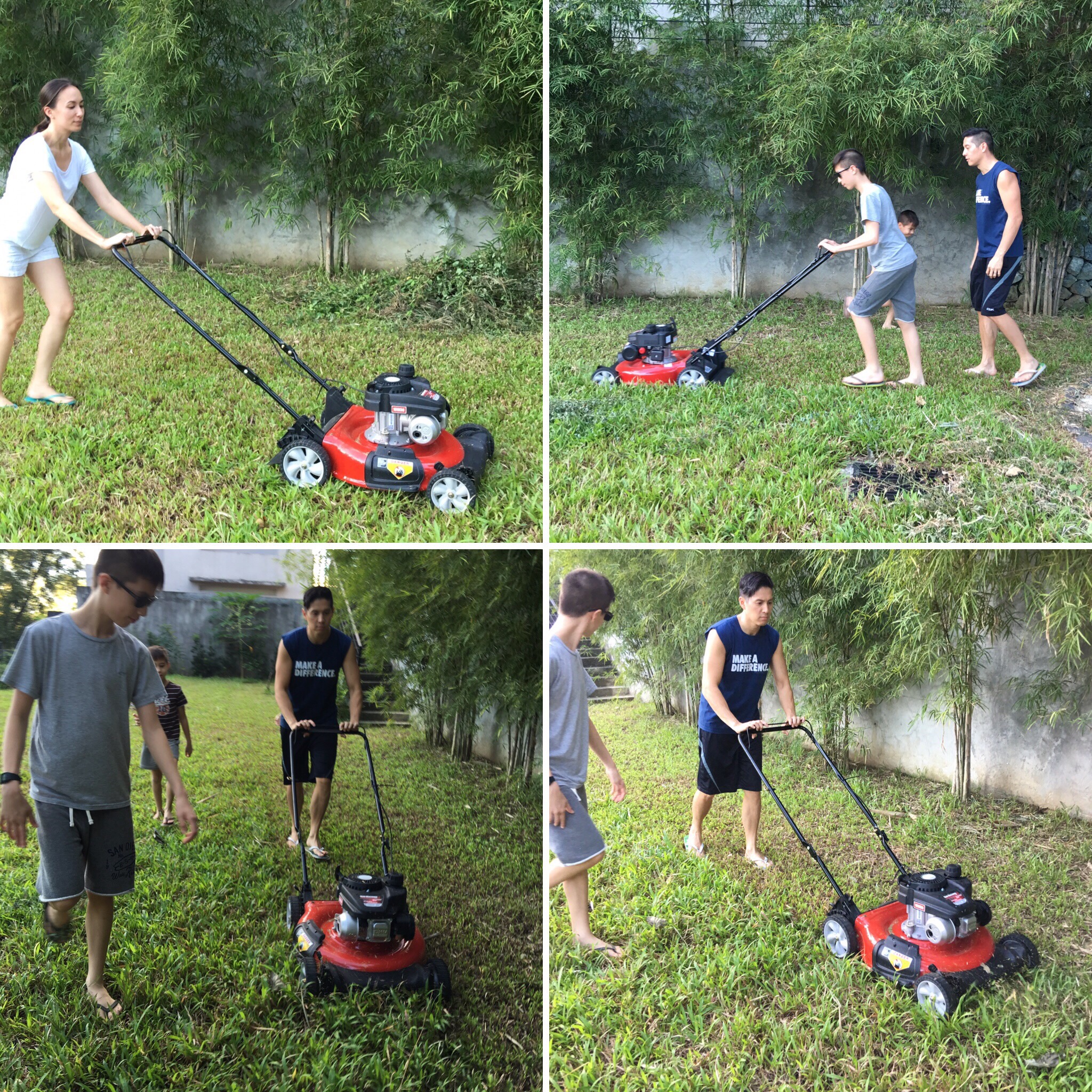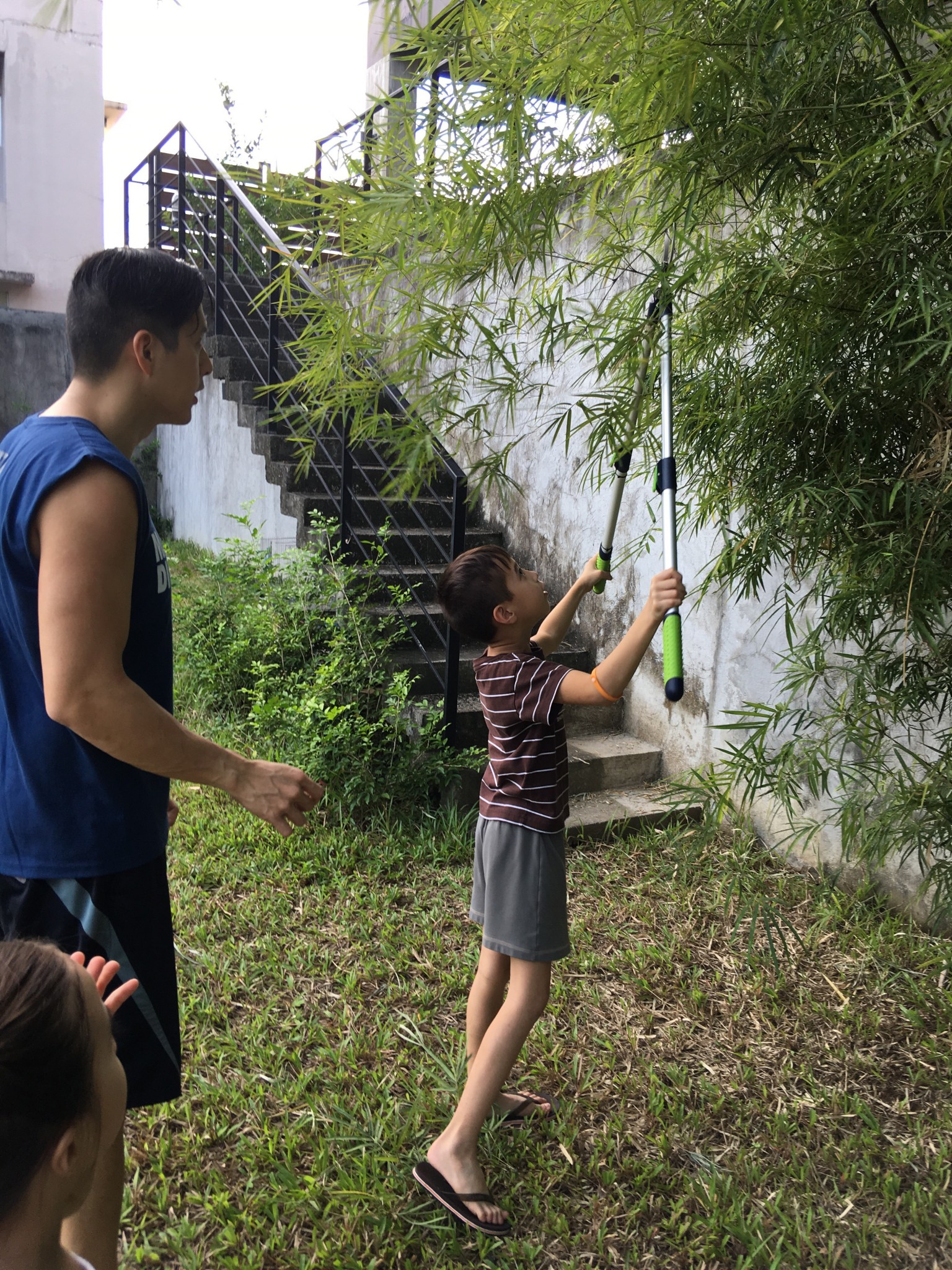 When Edric and I spent those days time outdoors, the kids naturally followed our examples. Over the holidays, Edric recruited our sons to perform gardening duties with him beyond cutting the grass and they thoroughly enjoyed their bonding time. They also got to exercise which was a nice bonus.
The girls and I assisted by sweeping, using the shears, pruning, and collecting trash. Surprisingly, even Catalina found the experience of yard word engaging and worked hard to do her role. She didn't complain at all. It was an afternoon well spent together.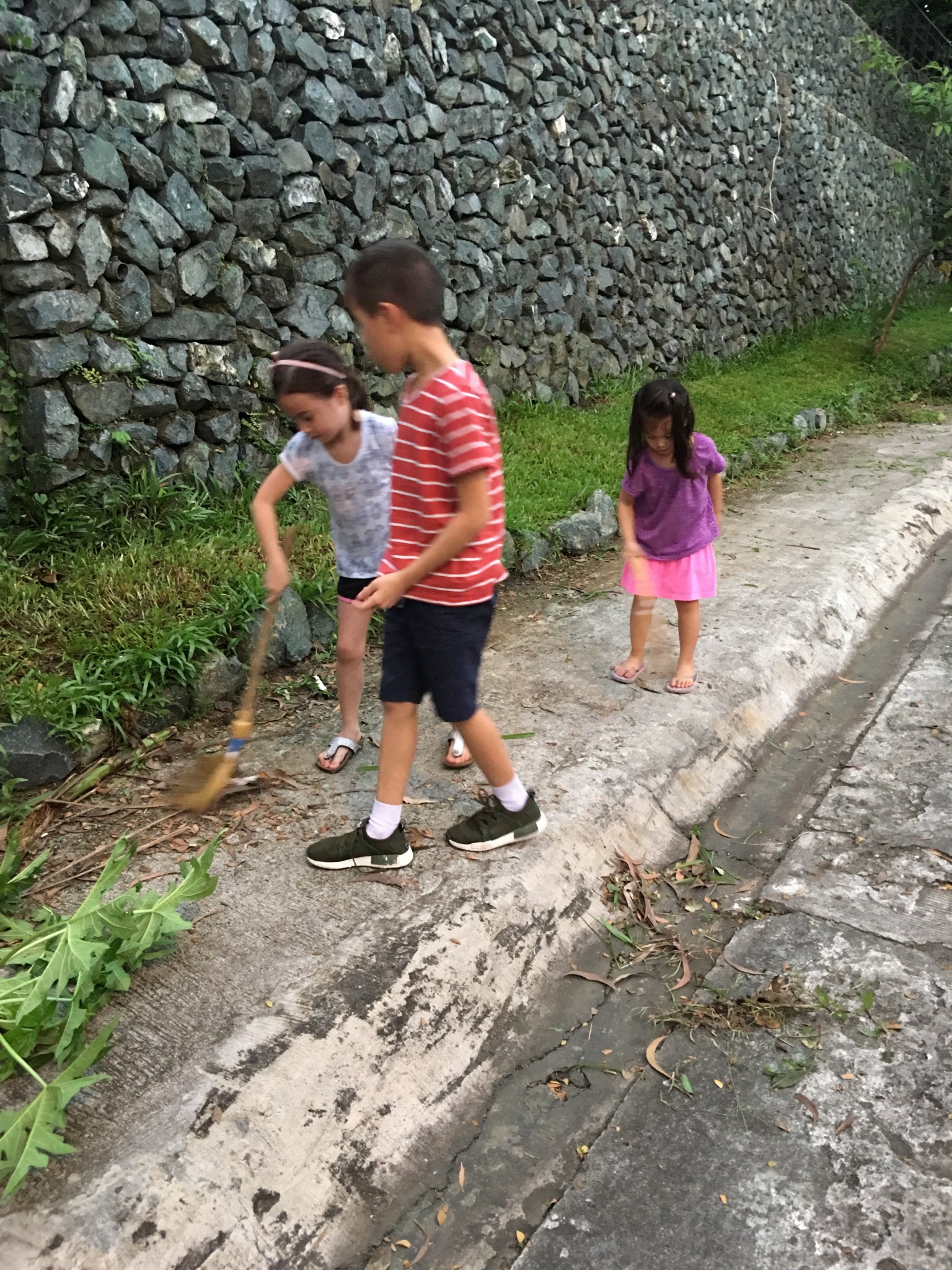 Neighbors' househelps looked on curiously as our family worked together. I don't know what they were thinking but I'm guessing it's not typical to see five kids and two parents gardening in Metro Manila. I'm hoping our family can do this consistently and take it to the next level by doing some crop-growing and small-scale farming.
Kids, including my own, may default to indoor activities because of gadgets and media, but once they get outdoors with the family and do something productive, they actually enjoy the benefits that these experiences provide.
I'm really thankful that this gardening initiative began with Edric. His pull on our boys is much greater and he knows how to turn grass-cutting, weeding, pruning, and garbage collecting moments into a good mix of fun and challenging. The kids, especially the boys, operate like good soldiers when he is around! If you haven't yet considered gardening as productive family bonding, you might want to give it a try!