So today I actually lost it, like really lost it as I was teaching math to my daughter, Tiana. She couldn't grasp regrouping for addition, and even with the use of manipulatives and lots of reviewing to help her get it, our lesson turned into a massive fail because of my outburst.
First, I threw a pencil at the window. Every one of my kids saw this. That was after lesson # 1 with Tiana. I apologized and replaced the pencil, mumbling some excuse to justify my annoyance.
We even prayed together and asked for the Lord to fill all of us. I confessed my anger to my kids aloud and asked for their forgiveness.
Truthfully, I wasn't really sorry. I probably should have abandoned the work Tiana had to do for about an hour to get a grip of my emotions. But I persisted, demanding that she finish the two pages of math work assigned for the day. Therefore the worst was yet to come.
By the time we got to the practice bit of the lesson, Tiana blanked out and forgot what to do… AGAIN. By this time, she most likely sensed my irritation growing by the way I sighed loudly and convoluted my face, like I was incredulous that something so simple could be so difficult for her. So when the mounting pressure of anger reached its climax, I pressed hard with her pencil and circled one of the numbers I wanted her to pay attention to…like twenty times! Then I stood up, absolutely peeved, grabbed her book in my hands and ripped the page we were supposed to work on next, yelled out in exasperation, and stormed out of the homeschool room. When I got to my bedroom I intentionally, as well as forcefully, slammed my bedroom door to emphasize how mad I was.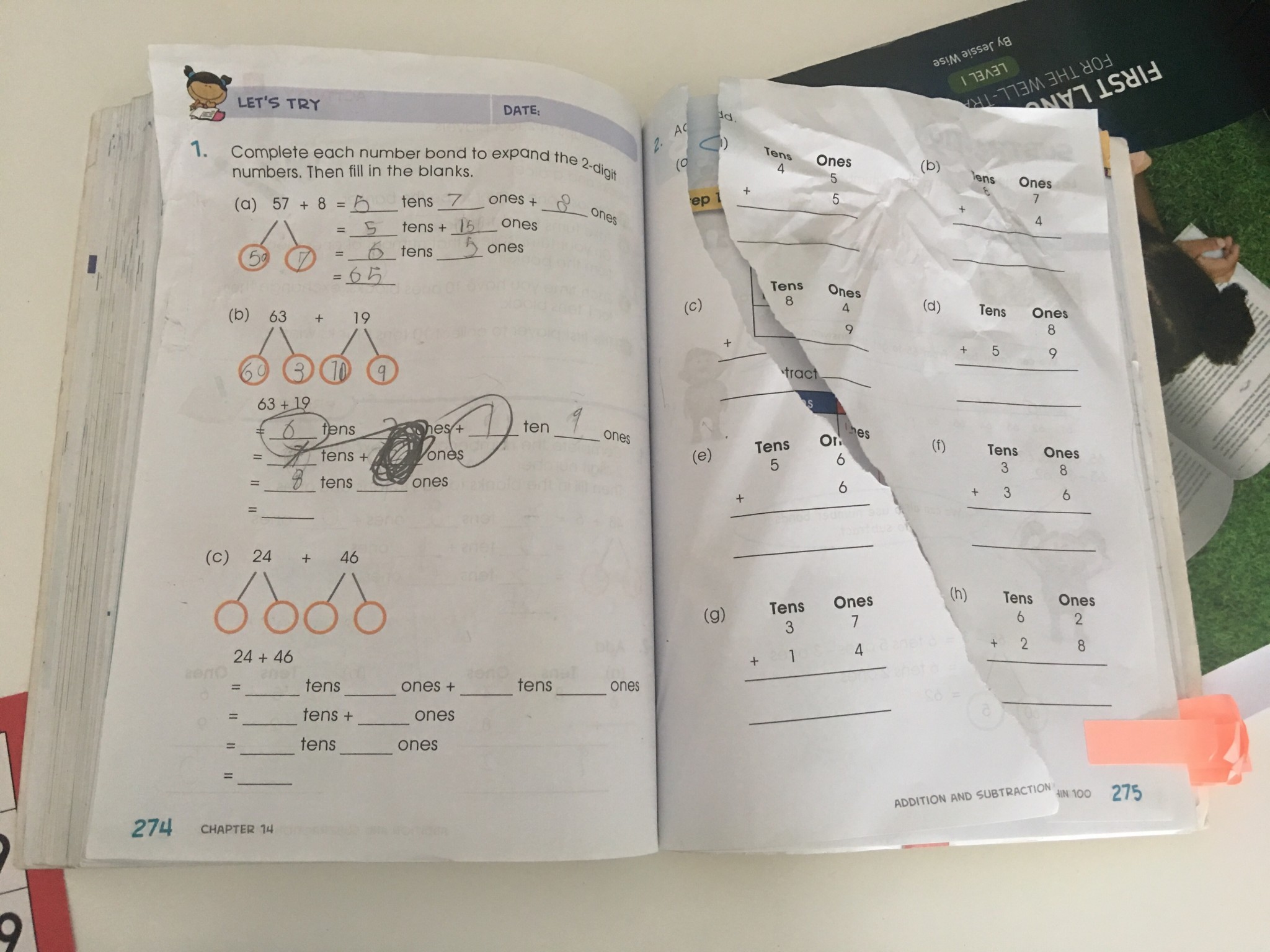 Throwing myself onto my bed, I cried out, "I can't do this, Lord! I have had it! I give up! I can't homeschool her! I don't know what to do!"
After some minutes of my face plastered against my pillow, sobbing over my failure, and my body lying prostrate on the bed, reality jolted me out of my delirium. I knew that I had to get back to the kids. Hello! I was their teacher! I couldn't leave them in our "classroom" and abandon my responsibilities. More importantly, they needed to hear an apology from me. Another one. A real one. I behaved like an emotionally immature adult and without a doubt, deeply wounded them. This moment needed repairing.
So I collected myself, and walked back to the homeschool room. Tiana was curled up beside Catalina, who broke the silence. "Mommy, will you forgive Tiana?"
Forgive Tiana?! She had it all mixed up.
"Catalina, mommy was the wrong one. Will you forgive me?"
I had to ask for forgiveness from all of them, especially when Tiana tearfully explained, "Mom, I-I-I felt bad because you were frustrated and ran to your room. I cried."
Pulling her to myself, unable to give any sort of defense for my actions, I hugged and kissed her tightly.
"I was so wrong, Tiana. Will you please forgive me. I am so sorry. I was a bad example."
Tiana nodded kindly and managed to smile. I didn't deserve that smile. It was generous, forgiving, trusting. I know she meant it.
We resumed with extra math practice, but I was guilt-ridden. The rest of the morning, I didn't want to homeschool.
At some point, the kids, bless their hearts, sought to assist me. They took over the base ten rods and blocks and proceeded to explain the concept of adding to Tiana, encouraging her and patiently going over each problem she had to solve.
I grabbed my phone to call Edric. He listened as I quietly begged, "Please come home early today. I need you. I lost it."
He knew what I meant and chuckled. This wasn't the first time. I have marched into his study room in the past ranting in exasperation about how hard it is to teach math to Tiana.
"Okay," He replied reassuringly, promising to head home as soon as he could.
I felt him smiling at the other end of the phone. He didn't mean to belittle my emotions. But in the midst of a major decision he needed to make about the business today, my issue probably seemed almost cute to him.
Yet it wasn't. There wasn't anything cute about my outburst.
Truthfully, I hated myself this morning. I hated homeschooling. I hated Tiana's math book and the inconvenience of having to teach something over and over again in futility. I felt like I was a total failure as a mom and wondered if homeschooling is worth it.
Why do I have to agonize over teaching when I can send my kids to school and let their education be an institution's problem…not mine?
In fact, moments after I spoke to Edric on the phone, I messaged him, proposing that I should send Tiana to school so that I can avoid getting angry because I don't want to hurt her emotionally. I have never suggested this about any of my kids. Sure, I have felt irritated at each one of my children for various reasons, but I have never felt such an intense frustration to the point that I want to throw objects, bang my head against the wall, jump up and down, break a pencil, tear a book in half, or scream at the top of my lungs just to let all the internal pressure out! It's like those moments in the movies when a character is seated across another person, staring at them expressionlessly, seemingly calm on the outside, but then you get to peer inside the character's mind and see them role-playing all kinds of violent scenes!
The Bible says, "For the anger of man does not achieve the righteousness of God." (James 1:20)
My anger didn't inspire Tiana to try harder. It just made her feel insecure and incapable. Letting out all that pent up anger didn't make me feel the relief I wanted to feel, either. And now the kids have a bad memory about mommy that they may well remember into their adulthood.
In fact, Edan remarked, "Now, you have two things you've done in anger that we will remember." (He was referring to one other incident some years ago when I threw a box of math manipulatives onto the floor, which terrified all of them.)
Edan also admitted as the hour was approaching noon, "Mom, when you are not happy, none of us feel happy."
Titus said, "Mom, I prayed for you, and I cried a little when you got mad."
Elijah added, "I was actually scared. And I was sad, and I knew you had a problem."
When I got the chance to speak with Edric over dinner, he listened very understandingly to my narrative, but his take on the matter was this, "This is God's way of humbling you. This is an opportunity to be dependent on Him."
He's right. Home schooling is hard work. It is miserably difficult sometimes, and mostly because parenting and homeschooling are interconnected and you have to be intentional about the former to be good at the latter. Home schooling magnifies your flaws and makes you realize how much you need the Lord, that you can never do it well for each child, through every season and for all the years that you do it apart from Him. The best homeschooling days are the ones when I remember this. The worst ones, like today, are the ones when I try to force my kids to learn and push them for the wrong reasons, mostly selfish ones.
However, I will end by talking about how beautiful God's grace is. Tiana returned to her cheerful self the rest of the day, almost like she forgot what happened. I'm sure she didn't, she hasn't, but I praise God for the opportunity to repair my mistake later on in the day. This is one of the reasons why home schooling has made such a positive difference in our family – the kids and I have so much time together, to build and rebuild our relationship. I had the rest of the day to hug, kiss, and affirm Tiana. By the evening, we prayed together and she fell asleep peacefully, knowing she was loved and treasured by me.
As for my four other kids (especially my two older ones), they were strangely comforted by my display of weakness. After I asked for forgiveness, one of them confessed, "You know, mom, I also feel mad at times and I can relate with how you felt."
In other words, we get it, mom, none of us are perfect, we struggle with the same things.
Edric also came to my rescue (and Tiana's), offering to help teach Tiana addition and subtraction. He knows how to add the element of fun in his instruction and not take the obstacles too seriously. Yeah!
I have to believe that God can still use a bad incident like this and use it for good in our homeschool journey. I'm ashamed about what happened, but I thought to share it as a reminder to myself that home schooling on my own power isn't enough. On a practical level, I also need to walk away, maybe get a glass of water, say a quick prayer, breathe in deeply, or hum a happy tune when I feel the frustration rising in me so I don't get to the point where I lose it on my kids.
Is it just me? Can you all relate somehow?