In the movie, The Greatest Showman (which I've seen twice), renowned opera singer Jenny Lind tells P.T. Barnum that being rejected as a child born out of wedlock left a hole in her heart that no applause could ever fill. It didn't matter how much acclaim she received. It was "never enough."
The words of her sad song went like this…
All the shine of a thousand spotlights
All the stars we steal from the night sky
Will never be enough
Never be enough
Towers of gold are still too little
These hands could hold the world but it'll
Never be enough
Never be enough
For me…
I wonder how many of us who have been wounded and rejected by others feel the same way? We go about longing to be loved and accepted for who we are but end up restless and disappointed because we don't know what we are looking for.
Lee Strobel's book Case for Grace tells the story of Stephanie Fast, a once upon a time orphaned Korean-American girl who was abandoned at four years old by her mother. Unwanted as a biracial child born outside of marriage, she learned to survive in South Korea by stealing for food, finding random places to sleep in for shelter, and associating herself with other street children who used and abused her.
Nearly left for dead in a dumpster, she was rescued by a European missionary who ran an orphanage. Although she was overaged for the orphanage, an American couple decided to adopt her when they originally planned on taking home a baby boy. Stephanie described herself as sickly looking with lice in the hair and dirt ground in to her knees and elbows. But the couple took her home to be with them and nourished her back to health.
She never quite understood what it meant to be adopted. It wasn't until some time later on that another Korean child finally told her, "Don't you get it? You are their daughter." Prior to this realization, Stephanie thought she had been hired to work for the couple and wondered why they never made her do any work. She wondered why they treated her so nicely, having never experienced what it meant to receive genuine care in the context of a family.
In her young adulthood it finally dawned upon her that she had parents who truly loved her and a Heavenly Father who chose her to be His child. She grasped the full meaning of spiritual adoption. She explained to Strobel, "Before then, when I would hear about God's love, I always felt it was love for everyone else. He couldn't love me, right? I was a mistake! He couldn't love me—I was born out of sin. He couldn't love me — I'm biracial. I thought you had to have some status in life to be loved. that was so ingrained in me that after I was adopted and my parents talked about the love of God, I still thought, He can't love me! I was raped. He can't love me! I was abused. He can't love me! I have this awful anger inside. He can't love me! My daddy says I need to forgive, and I just don't want to…But that night came the realization: He . . . loves . . . me! he loves me as I am. and that changed me, inside out. It took me many, many more years to let go of certain patterns in my life and to heal. I hated myself for so long. the fact that I could finally look in the mirror and love myself was nothing less than a miracle. It was God's grace…So these days I have a phrase that I use. For me, I can honestly say there is no event in my life that I am better without. Why? Because everything in my life brought me to Jesus." (Lee Strobel, The Case for Grace, pg. 39 -40)
Like Stephanie (although perhaps not to the same tragic degree) many of us have been victims of abuse, failed relationships, or broken homes. We hope to find true love someday and keep searching for it. Or, perhaps we have grown apathetic, hardened by years of hurt. We have built steel fortresses around our hearts and made claims such as, "we don't need anyone."
Well, the sweetest news is that God wants you and I to be His Valentine. Whether we want Him or not, he wants us, all of us, just as we are!
Usually, the expression, "Be My Valentine" implies that you are the special, the one and only person to that someone who declared it to you. It means that on the day of February 14 you are going to be spoiled with gifts, words, and gestures of affection.
God wants to lavish you and I with His love not just on Valentine's Day, but forever. He wants to have a relationship with us that is intimate and personal. He also wants to put His love in us to change us and give us purpose and meaning.
The question is, will you and I respond to His love with wholehearted devotion?
When I was a nine year old girl, I received God's love through His Son, Jesus. Sitting at the feet of my father who shared about the realities of heaven and hell, I understood that Jesus gave His life for me to pay for my sins and save me from destruction. This was clear to me. I knew I was a sinner in need of grace and forgiveness. I stole things, cheated, and lied to people. I needed saving!
However, it wasn't until my early twenties that I realized what it meant to love God in return. I had placed many things above God in my youth – myself, boyfriends, friends, success, and dreams. Yet everything I had tried to fill my heart with apart from the Lord was "never enough." I had to come to a point where I declared, I was made by God for Him. There is nothing and on one in this world that can fill the need and longing I have for security and acceptance apart from Him.
God is completer to the space in the heart of every person on this earth. He carved it out in such a way that we are driven to seek its filling, but he created it to be occupied by Him alone. His love is not partial, discriminating, or conditional. No matter what we have done, been through, or struggle with, He will not reject us.
Wait a minute…Is this all fantasy and myth? Does God really love us so perfectly?
Let me speak as a mother. When I gave birth to Elijah, my first born, he caused me a great deal of stress and sleeplessness. I thought I would never have another child again while I suffered through the demands of motherhood and breastfeeding. Yet, even if it was difficult and exhausting, I treasured every moment of being with him. I dutifully woke up at the sound of his crying and attended to his needs, never once wishing motherhood away. I loved him just as he was…this tiny, demanding baby that didn't love me back the way I loved him. In fact, his contribution amounted to poopy diapers, drool, spit-ups, and wailing.
If a flawed and imperfect mother like me could love her baby (and all the babies that followed) sacrificially, how much more amazing is the love of God for us?!
I like how Atty. Abdu Murray put it when he spoke at the recently concluded Intentional Discipleship Congress of our church: "If we are impressed with the sacrifice that human beings make for one another, such as a soldier for his comrades, or a mother for her child, then it shouldn't be hard for us to believe that the greatest possible being made the greatest possible sacrifice for us to express the greatest possible ethic."
God, the greatest possible being, gave Himself for us on the cross, the greatest possible sacrifice, to declare his love, the greatest possible ethic, for you and for me. Abdu Murray went on to say something like this, "When you want to make yourself known to someone, you can do it through writing or through art, but the most intimate and truthful way to reveal who you are to another person is to present yourself."
That's exactly what God did. He gave us His Son, Jesus, who was described in John 1:14-15 as the Word in flesh. "So the Word became human and made his home among us. He was full of unfailing love and faithfulness. And we have seen his glory, the glory of the Father's one and only Son." (John 1:14-15)
This Valentine's Day, will you respond to God's invitation to enter into a love relationship with Him?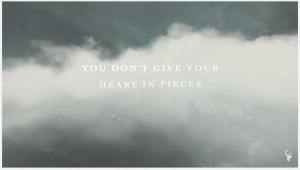 Pieces by Bethel Music
Unreserved, unrestrained
Your love is wild
Your love is wild for me
It isn't shy, it's unashamed
Your love is proud
To be seen with me
You don't give your heart in pieces
You don't hide Yourself to tease us
Uncontrolled, uncontained
Your love is a fire
Burning bright for me
It's not just a spark
It's not just a flame
Your love is a light
That all the world will see
All the world will see
You don't give your heart in pieces
You don't hide Yourself to tease us
You love's not fractured
It's not a troubled mind
It isn't anxious
It's not the restless kind
Your love's not passive
It's never disengaged
It's always present…
Love keeps its promises
It keeps its word
It honors what's sacred
'Cause its vows are good
Your love's not broken
It's not insecure
Your love's not selfish
Your love is pure
You don't give your heart in pieces
You don't hide yourself to tease us
__
Ephesians 3:18-19. "And may you have the power to understand, as all God's people should, how wide, how long, how high, and how deep his love is. May you experience the love of Christ, though it is too great to understand fully…"