One of the things I'm particular about as a homeschool mom is helping my kids develop criteria for discerning what content is okay when it comes to games, media, and books. Since Edric and I can't watch them 24/7, especially as they get older, our approach to teaching them about guarding against wrong influences is to provide them with guidelines and boundaries so they feel equipped to make their own informed choices.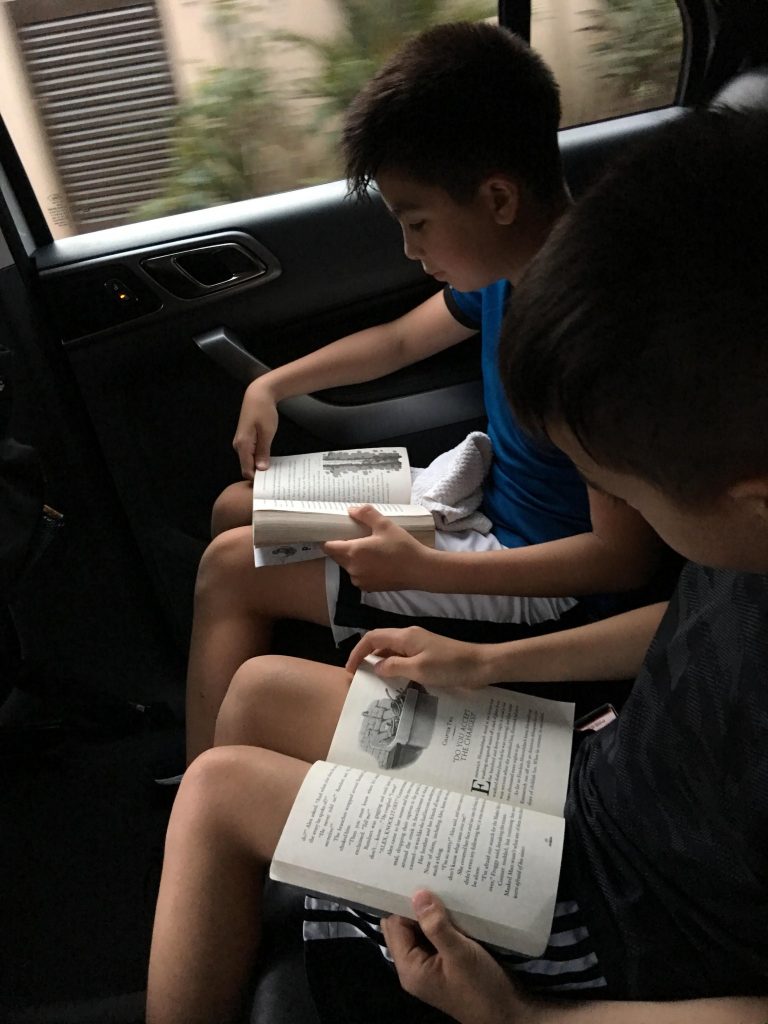 An area where they need a set of standards to abide by is how they choose literature. Whether it be literary masterpieces and classics, or books and stories on topics of interest, here are five guiding elements we use:
Does it celebrate noble virtues? Do characters and circumstances inspire the formation of moral character such as bravery, selflessness, thankfulness, peace, kindness, faith, and the like?
Does it inspire a growth-mindset? Is the reader challenged to grow in wisdom, stature, favor with God and favor with man (Luke 2:52)
Does it stimulate the imagination? Is the reader drawn in by the story and captivated by the author's imagery and style?
Does it conform to literary standards? Is it clearly and masterfully written, with correct grammar, well-developed characters, and does it possess a timeless appeal?
Does it have God-centered or a redemptive theme? Does the story show how good triumphs over evil? Does it leave the reader with hope?
Generally, when it comes to shopping for books for my kids, I go to Christianbook.com or I read up on reviews on books that we buy at Fully Booked. A good site for reviews is www.pluggedin.com which gives pretty thorough, fair, and discerning points on media from Christian perspective.
As my kids get older, I'm learning to trust them more with their choices. This doesn't mean they won't make mistakes. But, I can't micromanage everything they do. Furthermore, I do believe Edric and I have tried our best to lay out for them how to be wise. We will continue to point them to the Word of God, and teach them to have convictions so they can make decisions that please God. However, we also have to let them develop their own moral compass.
The other day, my second son, Edan was unusually withdrawn and quiet. I asked him if something was wrong. He hesitated to say but later on in the day, he admitted to me that he had been playing a supposed "educational" game on his device that turned out not to be entirely educational. I appreciated his honesty. He was convicted to be forthright and accountable which I applauded him for.
Some years back, Elijah decided to stop reading the Percy Jackson books as he felt their content was dark and demonic. Since I hadn't read them myself, I didn't have an opinion to give. However, it was comforting to know that Elijah came to a God-honoring conclusion on his own, because he had convictions about what media is okay and what isn't.
As my kids grow up, they need to fear God more than they fear us. They need to desire to please Him above all. This is the ultimate guiding principle when it comes to media, whether it be online content, movies, or what they read. There's no guarantee that our children will be cautious and careful about feeding their minds with what is uplifting, proper, and good unless their motivation is higher than conforming to what mom and dad or others expect of them.
"…For you were formerly darkness, but now you are Light in the Lord; walk as children of Light (for the fruit of the Light consists in all goodness and righteousness and truth), trying to learn what is pleasing to the Lord." Ephesians 5:8-10
"Therefore we also have as our ambition, whether at home or absent, to be pleasing to Him." 2 Corinthians 5:9