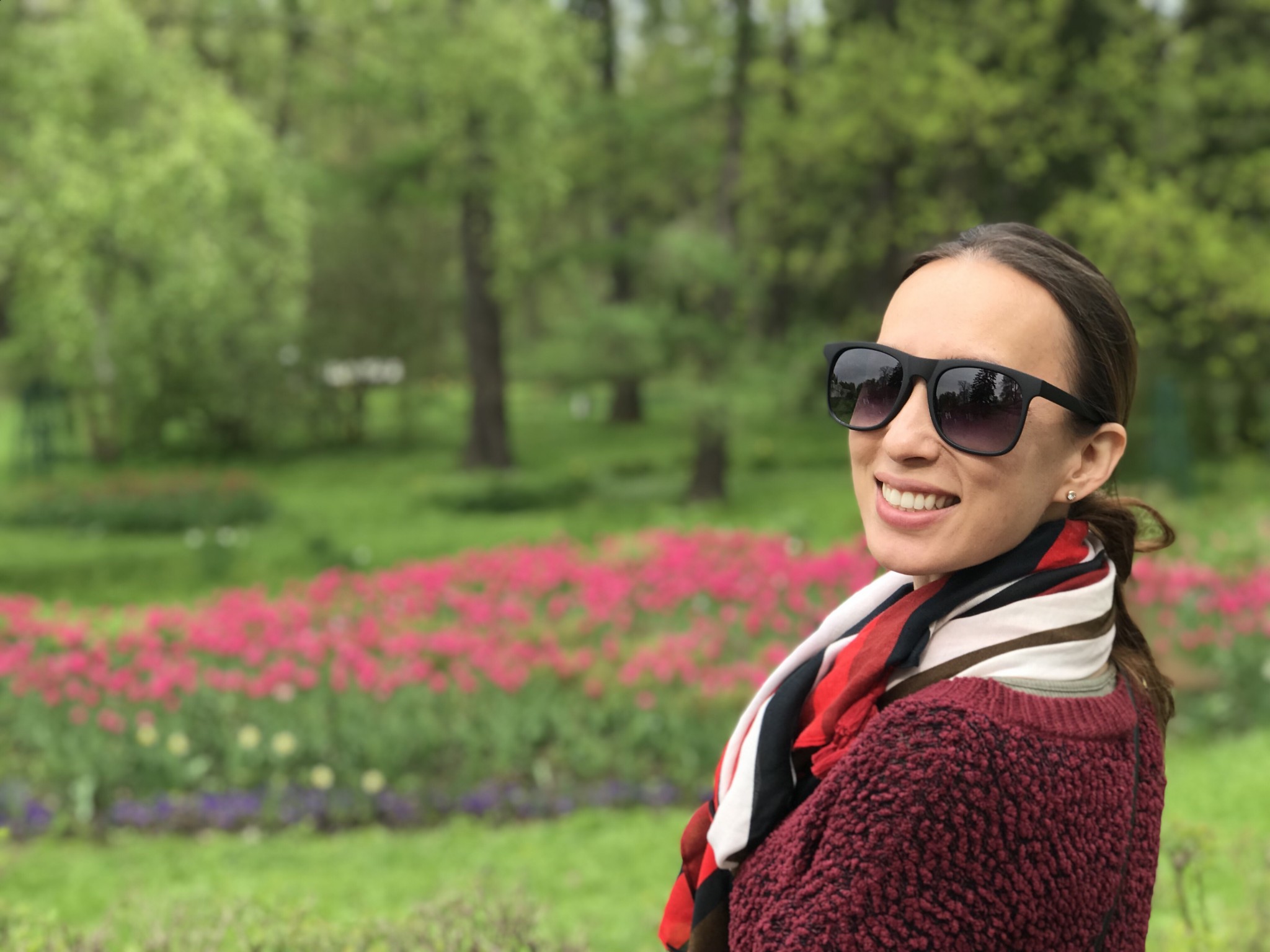 Over two months ago I had missed my period for several days. Knowing how scheduled my monthly periods are, I wondered if I was pregnant. However, the odds seemed stacked against this possibility.
Since the first quarter of 2017, my endometriosis issues began to manifest severe symptoms. Initially, it was the excruciating pain, then eventually, after several ultra sounds, there was a cyst growing in my right ovary, blocking the Fallopian tube. There were also adhesions all over my uterus making my womb a rather hostile place for implantation of any fertilized egg that did escape from my left ovary.
In the past, it would take Edric and I one try almost every single time to conceive. Dealing with these fertilization and reproductive issues was very humbling for me. It allowed me to empathize with the many women who keep hoping to get pregnant but can't. Although I never had to wait years and years to have a child, I got a glimpse of what the disappointment and sadness must be like whenever my period came.
Although Edric and I were still open to the possibility of having another baby, a year of unsuccessful attempts made me resign to my condition. I thought to find other ways to combat the endometriosis. I let go of the desire to get pregnant, embracing this season of my life as God's will. After all, He had blessed Edric and I with five kids. Our quiver was full.
To deal with the endometriosis, I visited my OB-Gynecologist, Dr. Regine Capistrano, who recommended that I take medication. I asked her if I could explore other options, and since my condition wasn't life threatening, she agreed.
So I scheduled an appointment with Life Science, a functional medicine clinic in Bonifacio Global City, and met with Dr. Rolando Aquino Balburias, or Dr. Oyie, as I came to know him. At the time, he was the Senior Medical Consultant at Life Science.
During that meeting, I realized that my problem was essentially hormonal in nature when it came to my reproductive issues. My goal was no longer to get pregnant but to heal my body through lifestyle changes that included diet, exercise, good sleep, and avoiding unnecessary stress.
Life Science performed a series of tests on me that uncovered the foods I was intolerant to, such as wheat, dairy, and eggs (among other things, but those were the most significant). I had to eliminate these, as well as sugar, as much as possible. It was a challenge but I tried my best because I wanted to do whatever it took to avoid the debilitating pain I endured every month.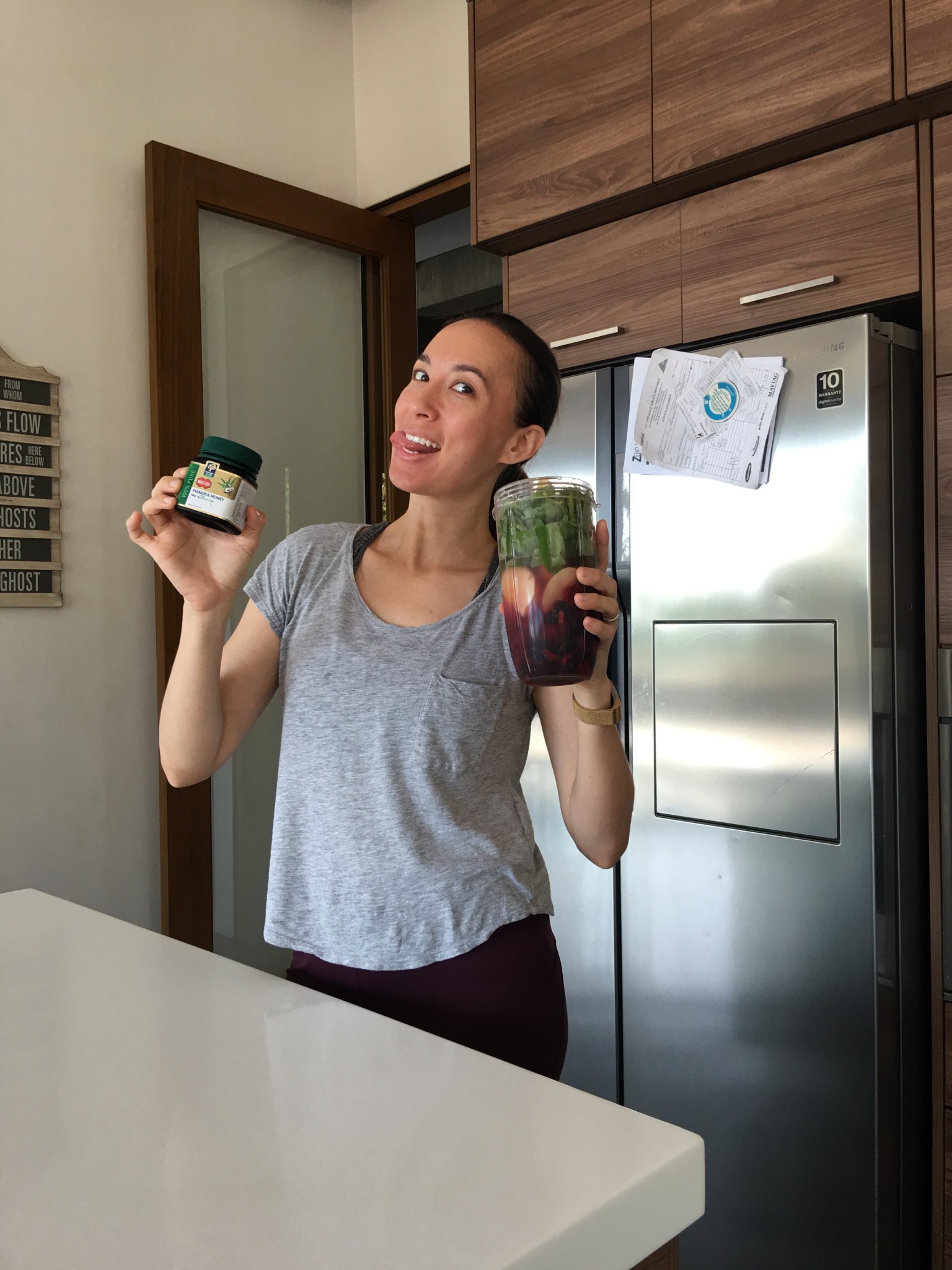 As a result I dropped to a weight that was similar to what I was in high school! And then I lost even more weight after a weeklong fast. I went down to 112 pounds then stabilized at 115 pounds. For someone who is 5'6″ this was on the low side, but I felt healthy and well. Edric didn't like how my face had slimmed down, and I nearly lost my curves, but he knew how much I wanted to get better. He hated seeing me in such awful pain every month, for a stretch of three to five days. I could hardly eat, and I stayed bed-ridden for the duration of the time just to sleep the discomfort away.
Besides being mindful about what I ate, based on a diet protocol prescribed for me, I also engaged in regular exercise for strengthening and building muscle, then alternated this with 5 km runs for my cardio.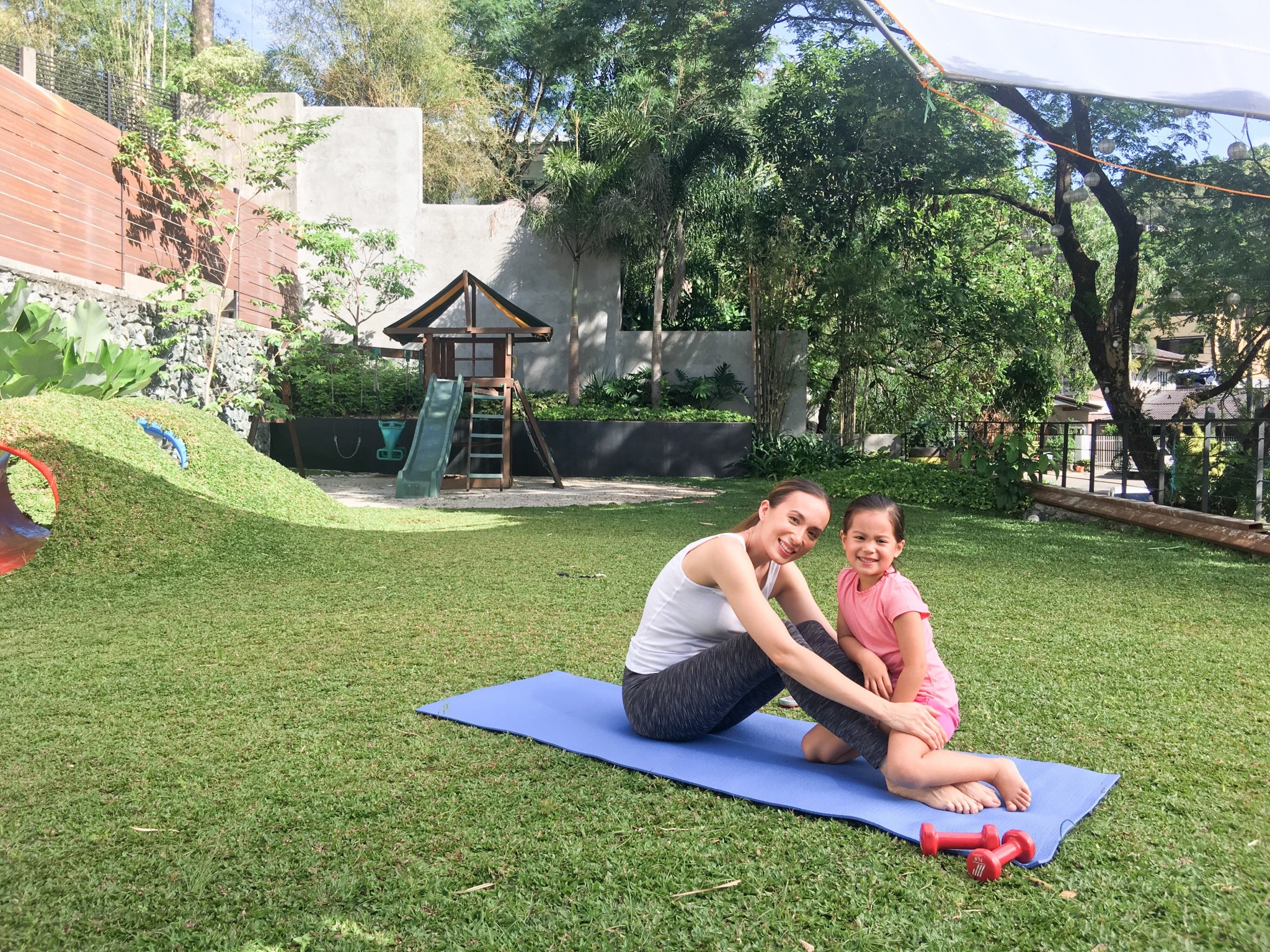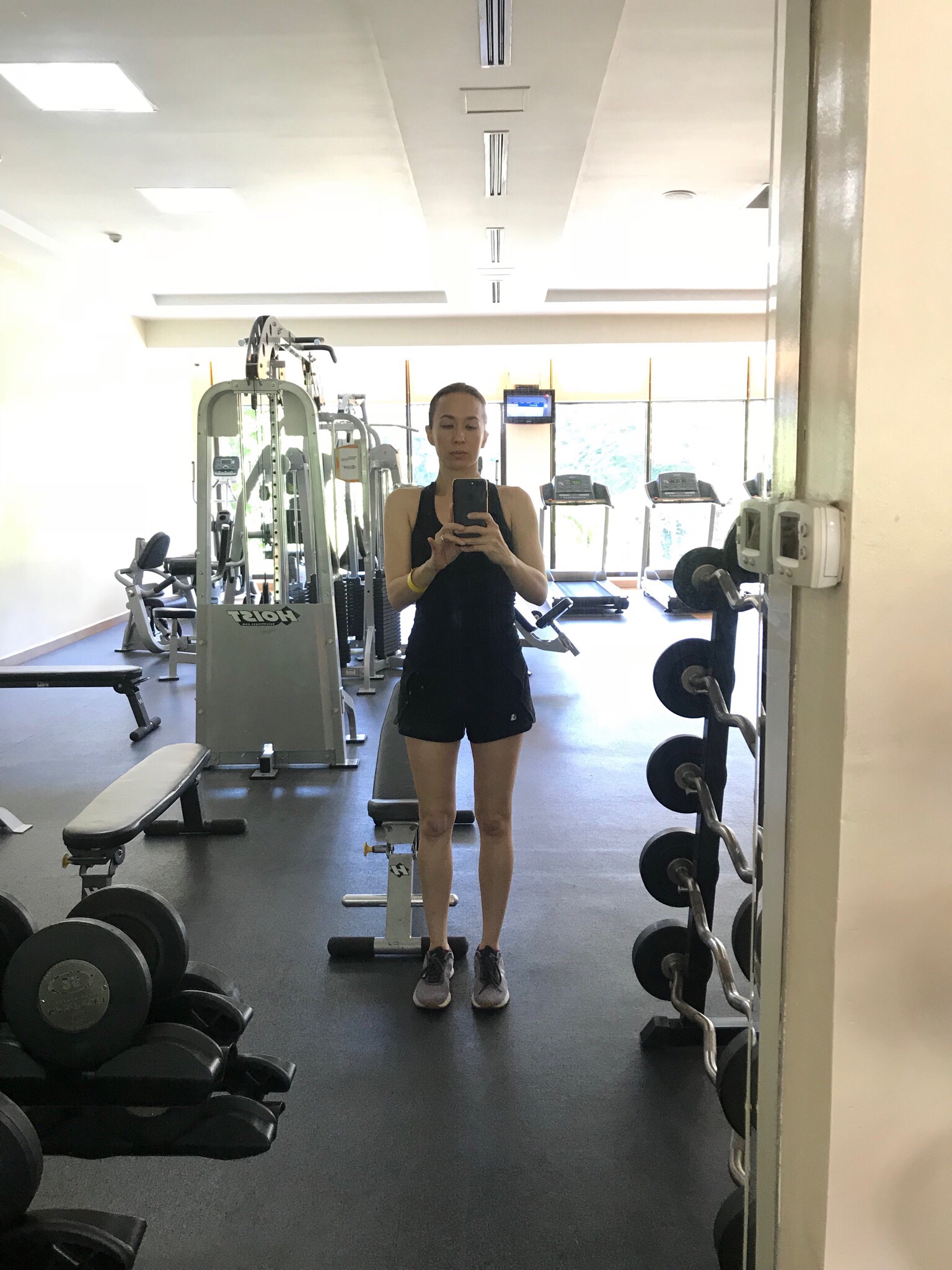 At night, I was in bed by 10 PM, tracking my sleep with my FitBit to make sure I slept at least 7 hours. But I always aimed for 8. Good sleep was another essential aspect of getting healthy.
Several supplements were prescribed for me, however, my favorite one was Turmeric with pepperine, which helped to deal with inflammation.
In short, I was doing my part to "get better," or even "get well," if possible. Yes, I prayed and prayed for God to heal me but I also realized that I had to put in the effort to do what was in my control.
At this point, which would have been March of this year, getting pregnant was really out of my radar. Yes, Edric and I would jokingly say, "We have five kids…so far," hinting that we were planning for more." However, I thought it was an impossibility at this point.
Even so, I included getting pregnant as a prayer and fasting item, if that was God's will. Truthfully, I am ashamed to say that I didn't really believe it would happen. Last year, several friends of mine had foreseen my pregnancy, but I had laughed at the thought, dismissing their visions as mere dreams rather than prophetic.
Consequently, I gave up taking prenatal vitamins and planned my year with Edric as if there was never going to be any baby…ever. Edric and I booked several trips together and with the kids through the year. We made commitments and signed contracts for marketing deals that assumed the status quo.
When my sister, Carolyn, gave birth to her third daughter, I teared as I came to terms with the end of my child-bearing years. Holding her newborn in my arms felt like something so familiar but distant at the same time. But, I was okay. I had surrendered that to the Lord.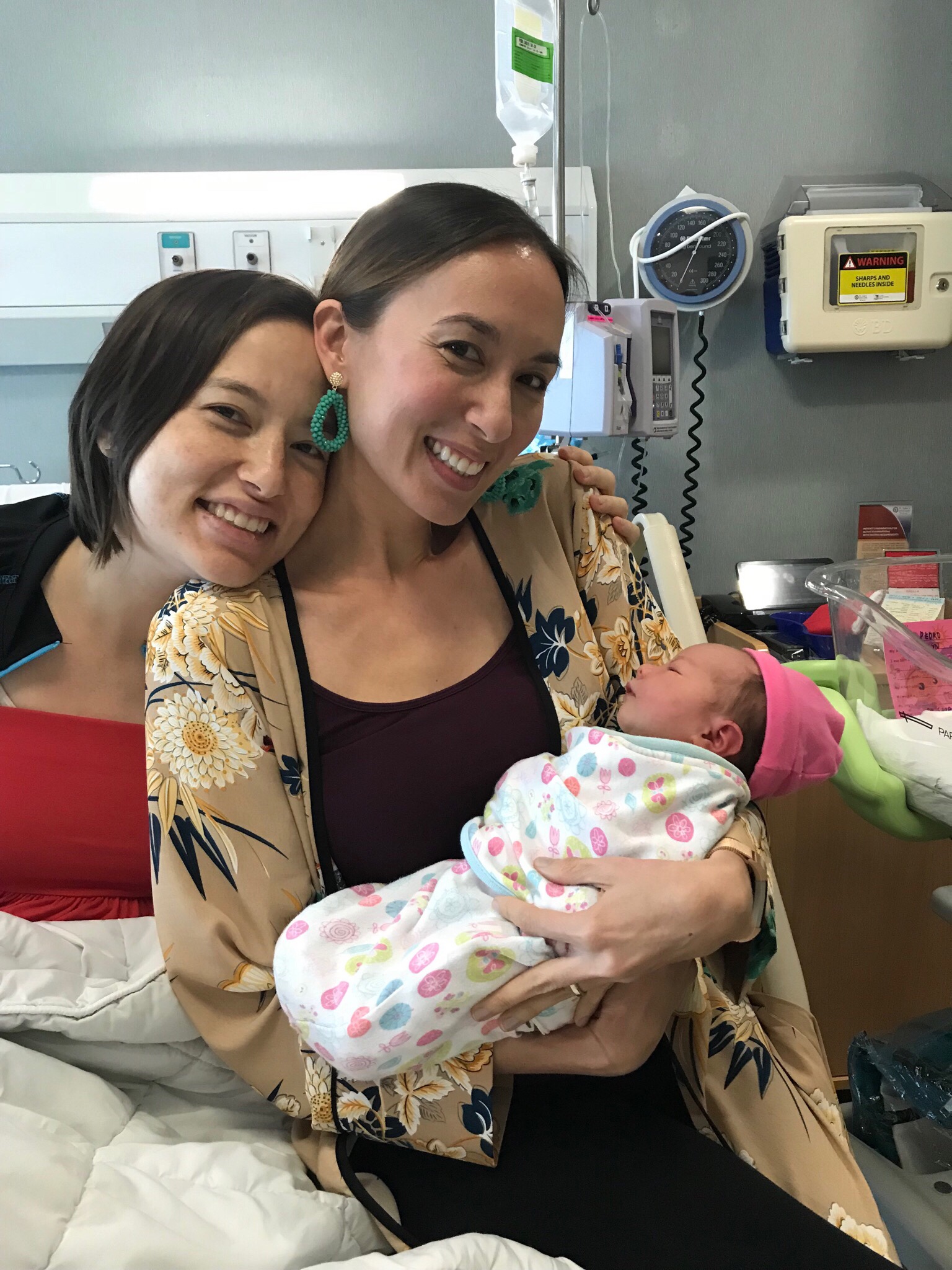 I was looking forward to another season of my life…no more diapers to change (or buy, goodness, those things can get expensive), no more baby things, sleepless nights, or even toddlers to discipline. All my kids were growing up and getting so much easier to parent. It was a nice place to be in.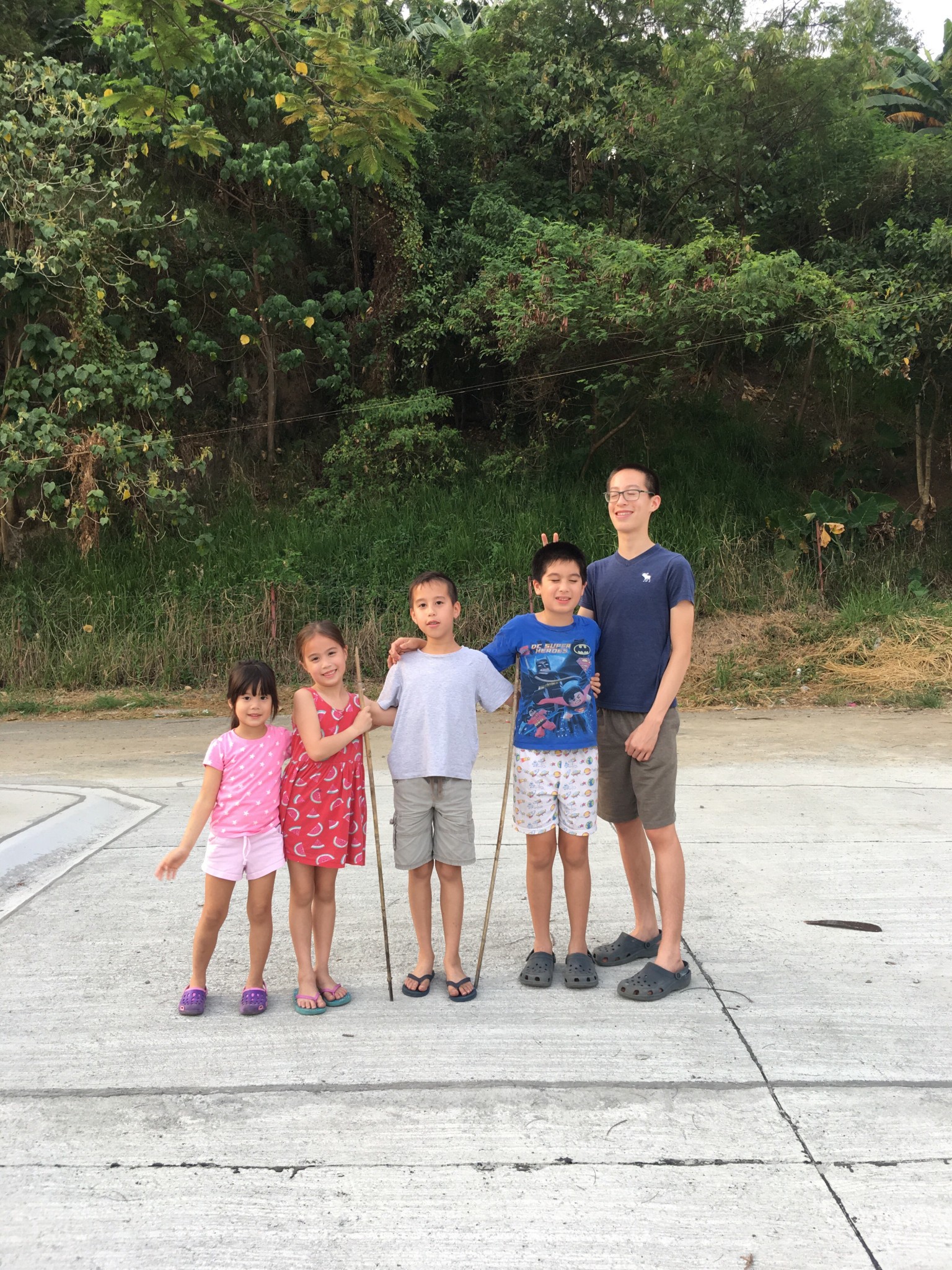 And then…boom! I missed my period for three days in April. That was significant. Either something was getting worse inside me or I was pregnant. The restlessness was troubling. I just hated not knowing what was going on. So I asked Edric if he could pick up a pregnancy test kit on his way home on day 4 of my missed period. He went the extra mile and got two. A part of him was excited at the possibility. (He's always wanted a lot of children.)
That evening, I nervously went through the motions of getting the test done. As I held the tester in my hand, I stared in disbelief as two lines appeared on it. Good grief! Was this for real?!
My hands started to shake, and I began to sob. I didn't have the strength to slide open the door of our bathroom completely, so I stuck out part of my arm to show Edric, peering from behind to say, "I'm pregnant." Then I broke down, and he came over to hold me, reassuring me that everything was going to be okay.
At first, I couldn't accept that I was pregnant! I wasn't prepared to be at all. I had moved on and made plans. The thought of caring for a baby in my forties, and homeschooling into my fifties was suddenly terrifying. How could I have gotten pregnant?! Why was this God's timing?!
To complicate matters further, I had several friends who were desperately trying to conceive and their attempts were unsuccessful. How could I face them and tell them that I was pregnant with a sixth baby? It seemed unfair, I thought, to celebrate something I wasn't even expecting or really trying for.
Since we had a Malaysian trip planned for the coming weekend, we decided to wait till afterwards to visit the doctor and get my ultrasound done. The ultrasound confirmed there was a sac and an embryo, and a flickering heart beat. By this stage, I was between eight to nine weeks.
Edric and I announced the news to family and a handful of people only. I wasn't ready to tell the world, plus I felt like it was premature to be broadcasting the pregnancy. First, I hadn't fully embraced the reality of it. Second, I was dealing with my fears. Would I miscarry? Would my child be normal and healthy since I was high risk for my age?
In contrast, Edric was ecstatic! We actually fought about whether to announce the pregnancy or not. He didn't get my reasoning, and felt like I was being irrational. However, he tried to be understanding. "Okay, I will wait for you to be ready," He reassuringly told me.
A few weeks later we had a trip scheduled to Russia and Central Europe with the kids so my attention was diverted to prepping for that, and taking care of our children during our time away. Since my pregnancy was still in its early stages, walking around felt easy. In fact I enjoyed the exercise.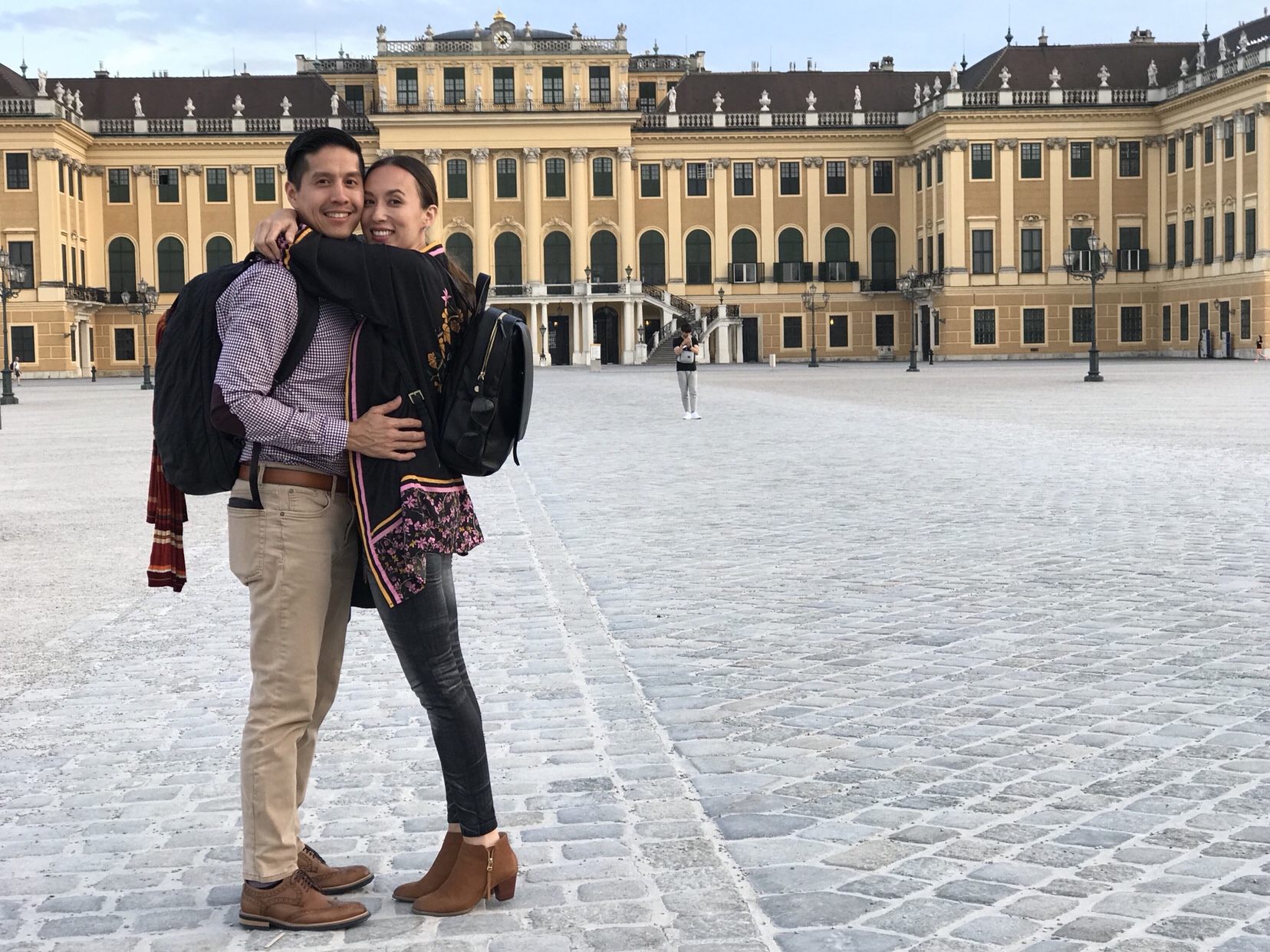 From time to time I would think about my pregnancy and the next check-up, wondering if there would be a heartbeat to hear during the Doppler test.
It was a day short of 13 weeks when I visited my doctor following our family vacation. After two months of letting the pregnancy finally sink in, seeing my tummy bulge grow, and having meaningful prayer moments with the Lord to ally my fears and surrender the outcome of this pregnancy to him, I was ready for that doctor visit. Naturally, I was hoping to hear a healthy heartbeat, but if God had decided otherwise, I thought, Well, then, life will just proceed as I originally imagined it — homeschooling and raising five kids, serving the Lord alongside Edric, and enjoying time for other pursuits and interests.
When the Doppler picked up my baby's heartbeat, that's when I knew it was okay to be more open about my pregnancy. My doctor assured me that everything was fine so far. Since I was progressing beyond the first trimester, I felt greater peace about sharing my journey. Plus, my tummy would be protruding in a more obvious way by four or five months, and I would have to explain that peculiar sight anyway. People would surely start to ask questions.
So this is where I am at. I have wrestled with the anxious thoughts and laid them before the Lord. I continue to pray for my baby and his or her health and well-being, as well as my own strength to get through the nine months and what lies beyond. Several people have already approached me or contacted me to offer x-deals for baby gear, which I am incredibly thankful for because I am starting from zero again. God is already providing for future needs. Edric and the kids are thoroughly excited, which makes me feel more optimistic. I know many family and friends are praying for me, which I appreciate the most because I need it. There's never been a pregnancy that I have been more insecure and emotionally unsettled about than this one, but God is teaching me to rest in Him, to stop trying control all the details and outcomes of my life.
The very next day after I found out about the pregnancy, he gave me this passage: "Yet you do not know what your life will be like tomorrow. You are just a vapor that appears for a little while and then vanishes away. Instead, you ought to say, "If the Lord wills, we will live and also do this or that."" (James‬ ‭4:14-15‬)
I know He used these verses to communicate to me that I was not the captain of my life. He was and is the one in charge. I used to think that it was Edric's will and my will that determined how and when we would get pregnant. Yet, I am convinced now that it is ALWAYS God who decides when to knit a child in a mother's womb. What may seem like a physical obstacle due to disease or health issues cannot thwart his plans. Whether he gives or withholds, He is sovereign. He teaches us dependence through pain and loss, through withholding our wants. And He teaches us to trust Him when we aren't in control, when His plans push ours aside.
"…And in Your book were all written the days that were ordained for me, when as yet there was not one of them." (Psalms‬ ‭139:16‬b)
So how does one get pregnant at 41 when she has Endometriosis and reproductive issues? I may have done my part to be healthy, and of course, Edric and I were having intimacy regularly, but it was ultimately the Lord's doing. He made the unexpected miracle happen. And now I don't have to suffer through monthly pain during my periods. In that sense, He also cured my condition, at least for the next two years if I reach full term and breastfeed!
To the women out there who are still trying to conceive, I hope this story gives you hope. Try modifying your diet, exercising, going to bed early and sleeping eight hours a day. Get on supplements that can improve your health. Consider acupuncture (I also tried that.) Try a week of fasting to pray and reset your body. Have sex with your husband regularly (research shows that the quality of a male's sperm improves with regular sex!) By the way, due to life expectancy rates today, the World Health Organization has redefined youth as ages 66
To the women out there who think six is going to be a lot of kids, you are absolutely right. Please pray for me, for us! Sometimes, I ask myself, "Are we crazy?! What in the world are we getting into?! How are we going to take care of all these children?!"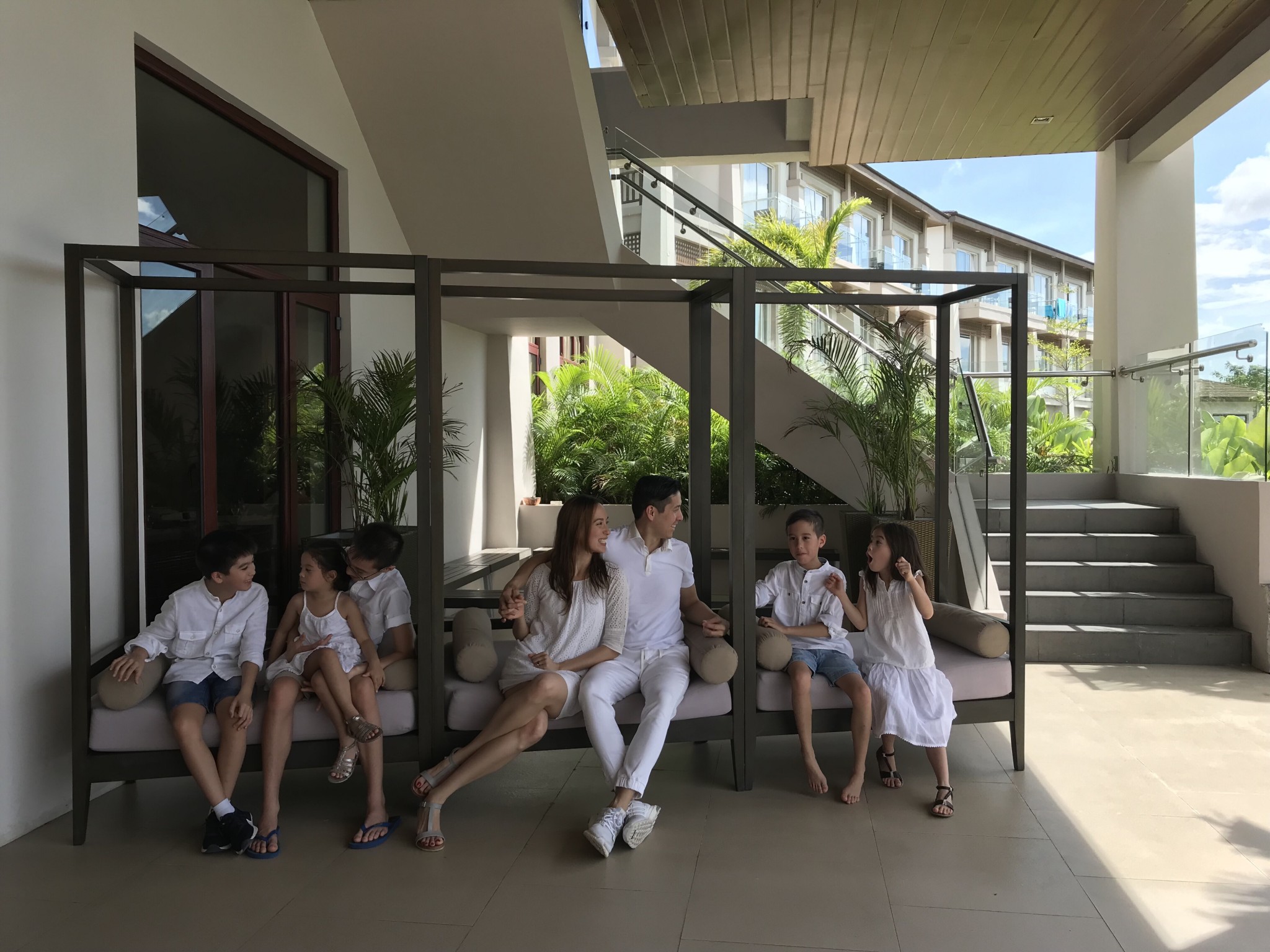 Well, I am going to default to what I have experienced so far, with the Lord, as a mom…I am going to take it one, grace-filled day at a time…
"Each time he said, 'My grace is all you need. My power works best in weakness.' So now I am glad to boast about my weaknesses, so that the power of Christ can work through me."
‭‭(2 Corinthians‬ ‭12:9‬)