Today people spend millions of pesos to have the "wedding of their dreams." When Edric used to host ANC's On the Money program, he revealed to me that couples even go into debt just to make that special impression on their wedding day.
Why do we conform to the societal pressure out there to make our weddings like such productions? Yes, the wedding industry has contributed to jobs, very good ones — photography, videography, styling, hair and make-up, wedding coordination, catering, hosting, musicians, etc. I have friends in this industry, and I have great respect for their craft and talents.
However, must we overspend for the first day of our married lives when we can save all that money for more important needs — starting a family, a home, a business, or making key investments that will benefit us in the future? It just seems awfully short-sighted to begin with a "play now, pay later" mentality.
Some of the most meaningful marriages I have ever been to are simple, not extravagant, and all about substance. They weren't about putting on a show or broadcasting wealth. They were about sharing a story, a journey, and pointing the attention back to the Lord's faithfulness, rather than themselves.
Look, I was a bride once and I had aspirations for my own wedding. I am not saying we can't make the most of that beautiful day when we say "I do." Edric and I tried our best to make our wedding special, not just for us but for our guests. But we planned the wedding ourselves, without a coordinator or stylist. We were hands on. I got my bridal fabric from Divisoria and designed my gown myself. We didn't have a huge budget for expensive flowers so we hardly had flowers. Our biggest expense was feeding our guests. We cost-cut everywhere else.
Yesterday our Tuesday night couples' group executed a surprise wedding for a bride and groom who had been civilly married ten years ago. The wife had never experienced being proposed to, which the husband finally orchestrated last week. Although she hoped to celebrate their anniversary this month with a pastor-officiated wedding, where she and her husband could invite loved ones and close friends as witness to what God has done in their lives, she didn't demand this from her husband.
Therefore the couples in our group asked him if he would like us to help him organize a wedding and reception, to surprise her. We wanted to bless them somehow. He agreed and kept it a secret from his wife. It was something he wanted to gift to her since she didn't insist on it. She found out the day of her wedding (yesterday morning) that she was getting married!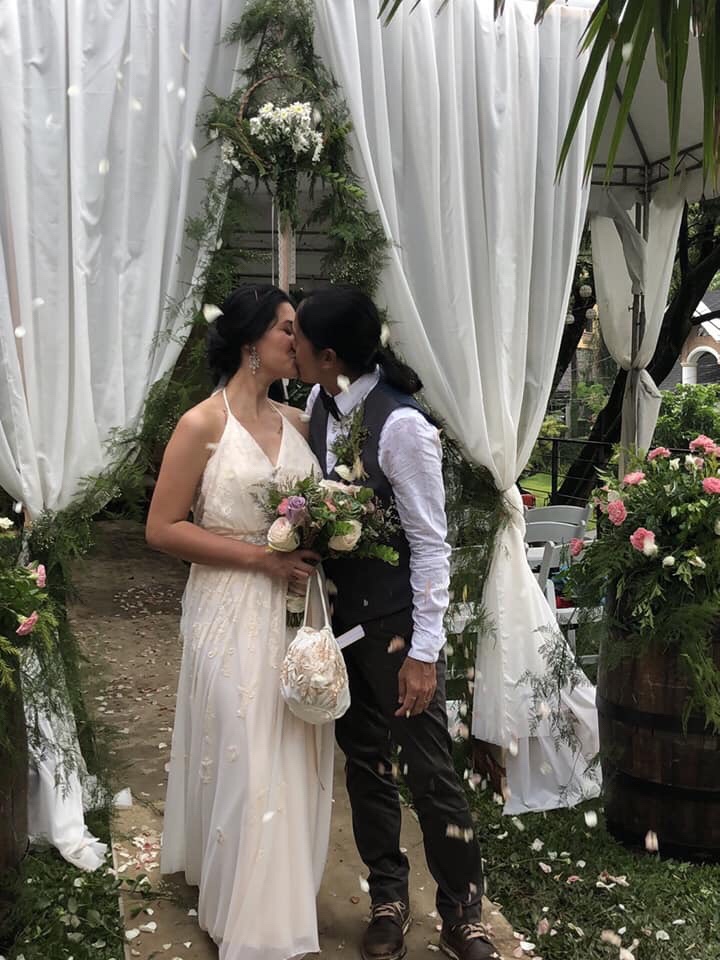 About a month ago, the planning began. We had a team of ten women with various abilities and talents come together to put this plan in motion.
First, we asked Jesi, the husband, what his budget was, and we had to respect that. From there, we chose a venue and color motif, followed by a theme.
Jesi and Kat are outdoorsy, mountain-climbing folks, so rustic was the most logical choice. Rustic, compared to other themes is a lot cheaper to work with, too. Things don't have to look too polished or perfect. All the coordinating happened on a Viber thread.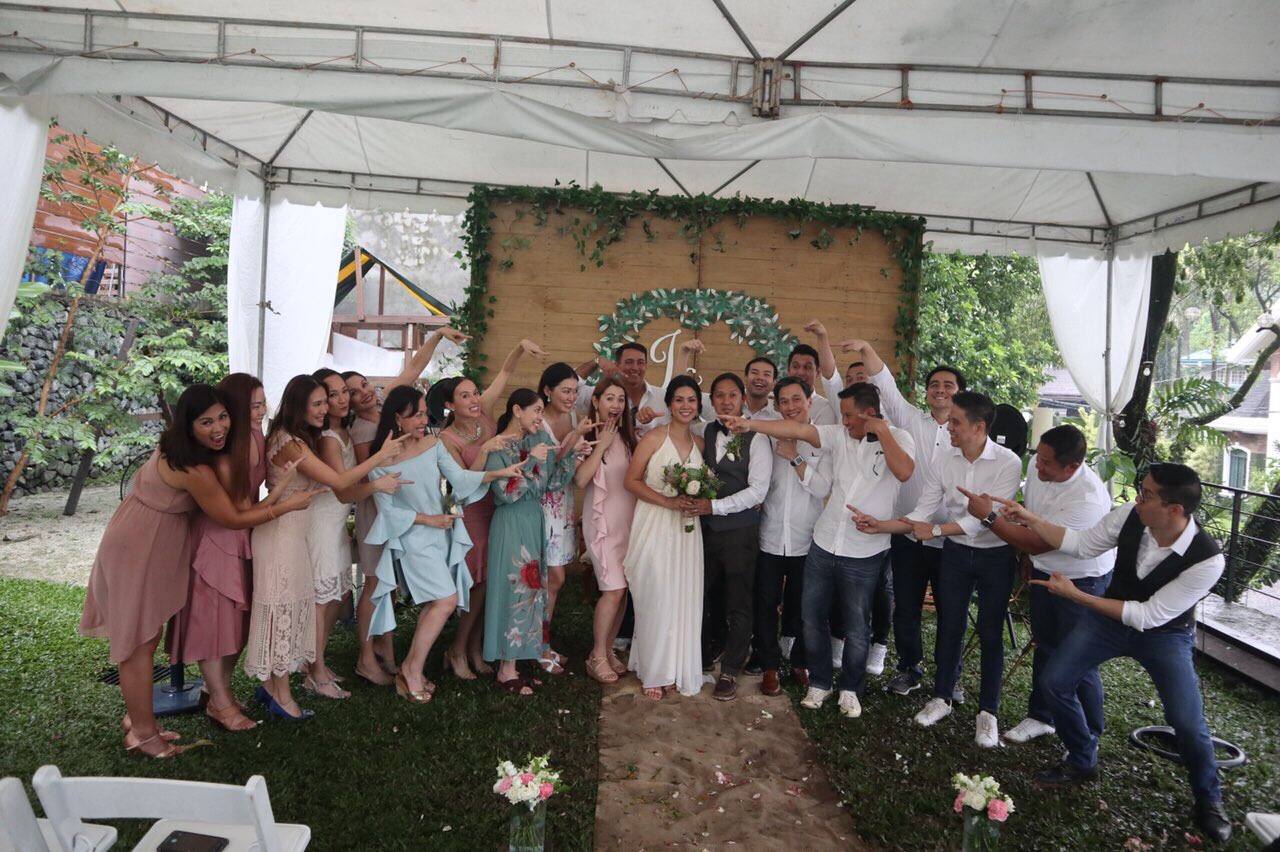 From the experience of doing this DIY wedding, I realized saving instead of overspending can happen on many levels:
Keep the guest list small. It may seem impossible to do this in the Philippines but if it's your wedding and you are paying for it, you can dictate this. If parents and in-laws want to run your guest list into the hundreds and thousands, I suggest that you put your foot down and make a respectful appeal to avoid doing this. The bigger the wedding, the more impersonal it feels, and all costs escalate.
Furthermore, this is going to be your marriage, your own family. Setting boundaries from the beginning communicates an important message about leaving and cleaving as God designed it. If parents want to add guests, give a reasonable cap. It may cause conflict if they feel inhibited by your number, but hey, it's your wedding, not theirs. You can honor them in other ways, like during the wedding when you set aside a time to say how much you appreciate all they have done. And you can honor them afterwards by spending time with them and not neglecting them after you get married.
Borrow what you can. Since this was a surprise wedding, Kat was lent shoes and jewelry. She didn't have to go out and purchase these.
All the decorations that weren't provided by the caterer were pooled together by the ladies in our group. We used what we had in our homes.
Get volunteers who love you to be in charge of specific aspects from program to decor to styling to the cake, and the like.
Since the wedding of Jesi and Kat was a labor of love for all of us ladies, everyone was willing to contribute what they could. We had someone who made the cake and cupcakes. Another person was comfortable with arranging the bouquets and boutonnieres. Others were great at sourcing supplies for the decor, and coming up with an artistic vision. Two persons volunteered to prepare and design a cheese, nuts and cured meat, and dessert table. Others offered their sound system, projector, and screen, or even their drivers and houseboys to assist with construction. There were those who were great at accounting for all the expenses and making sure payments were made. And one of us was a professional host. Someone arranged for the photographer and videographer, as well as the make-up artist. Our husbands helped with the set-up on the day of the wedding. They also took care of the entertainment by presenting a comedic special number. We all gave what resources we could, monetarily, physically, or creatively, to make the day special for our bride and groom.
One of the best parts was the bonding and camaraderie that we experienced.
The organizers…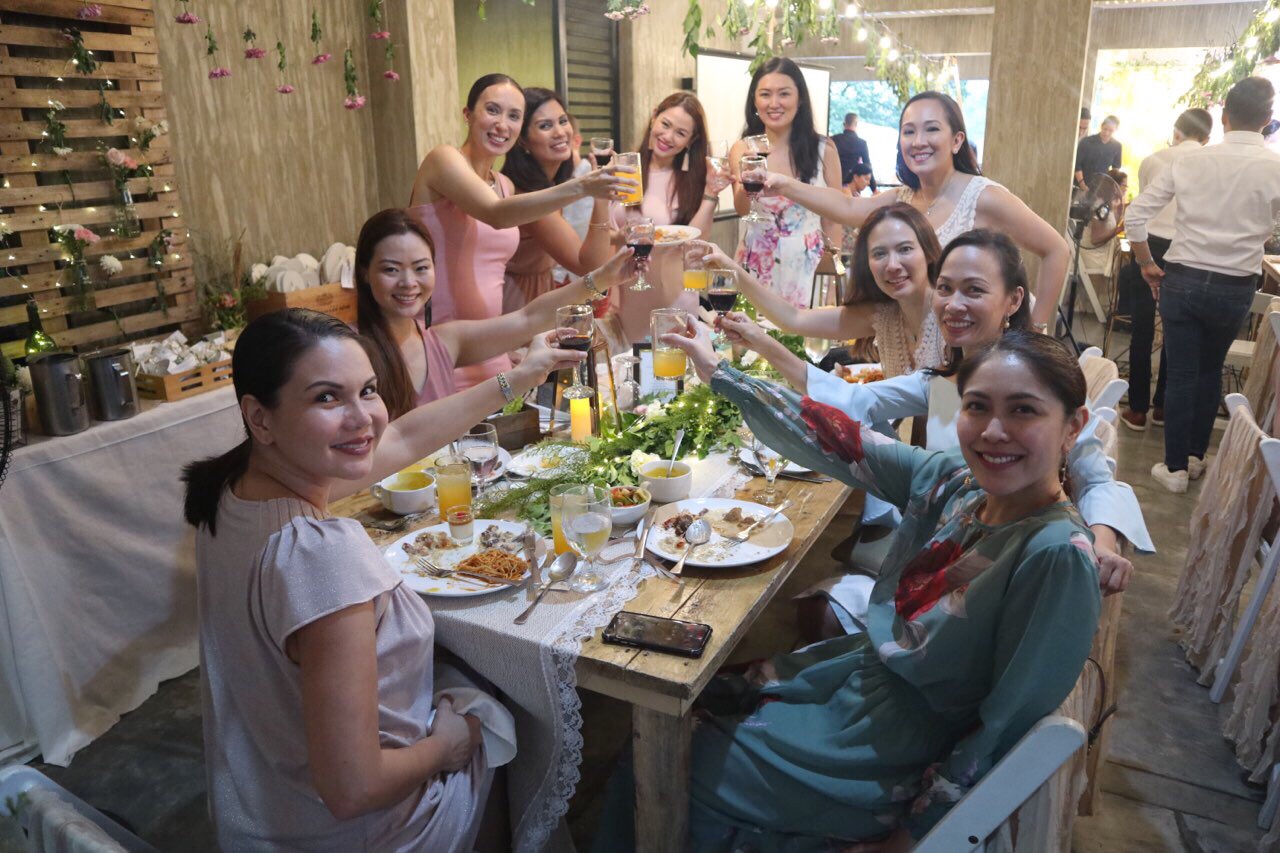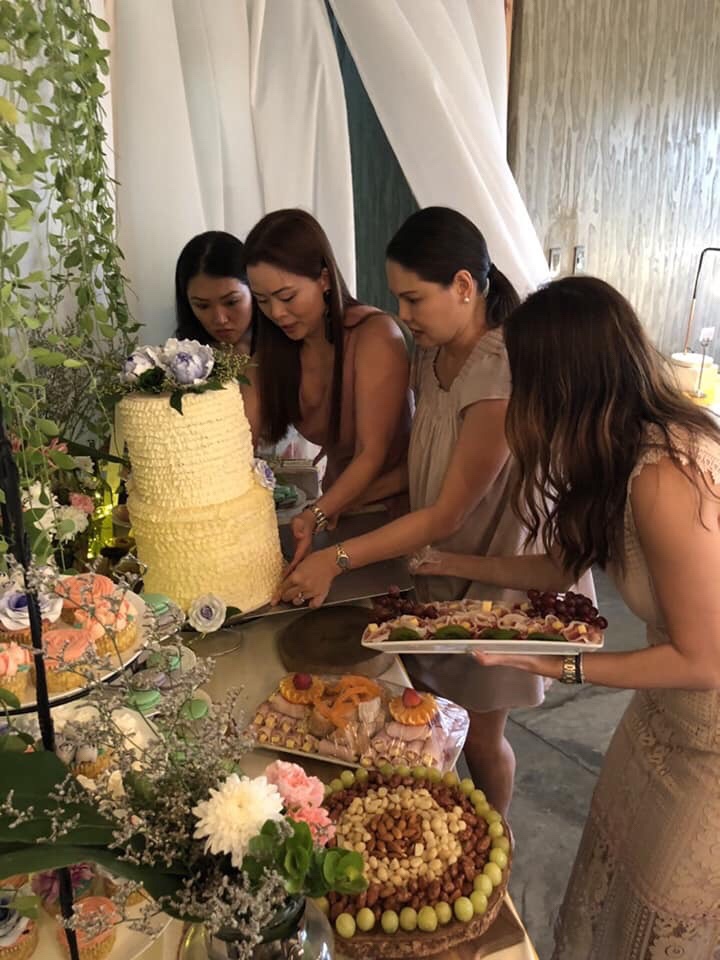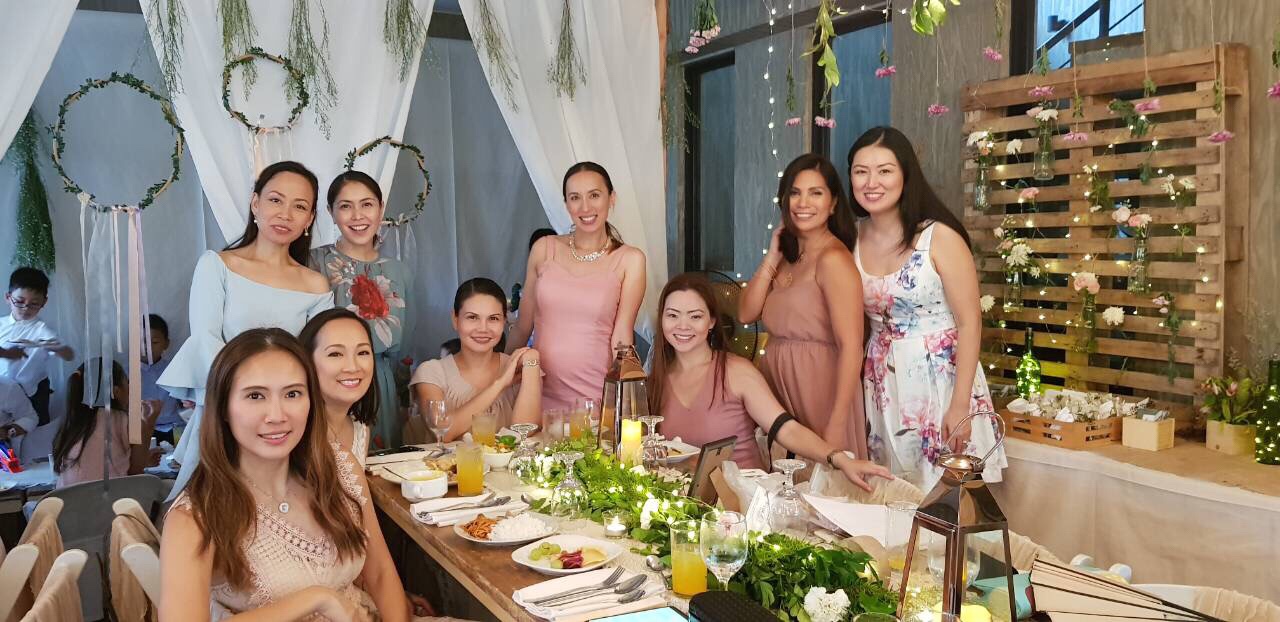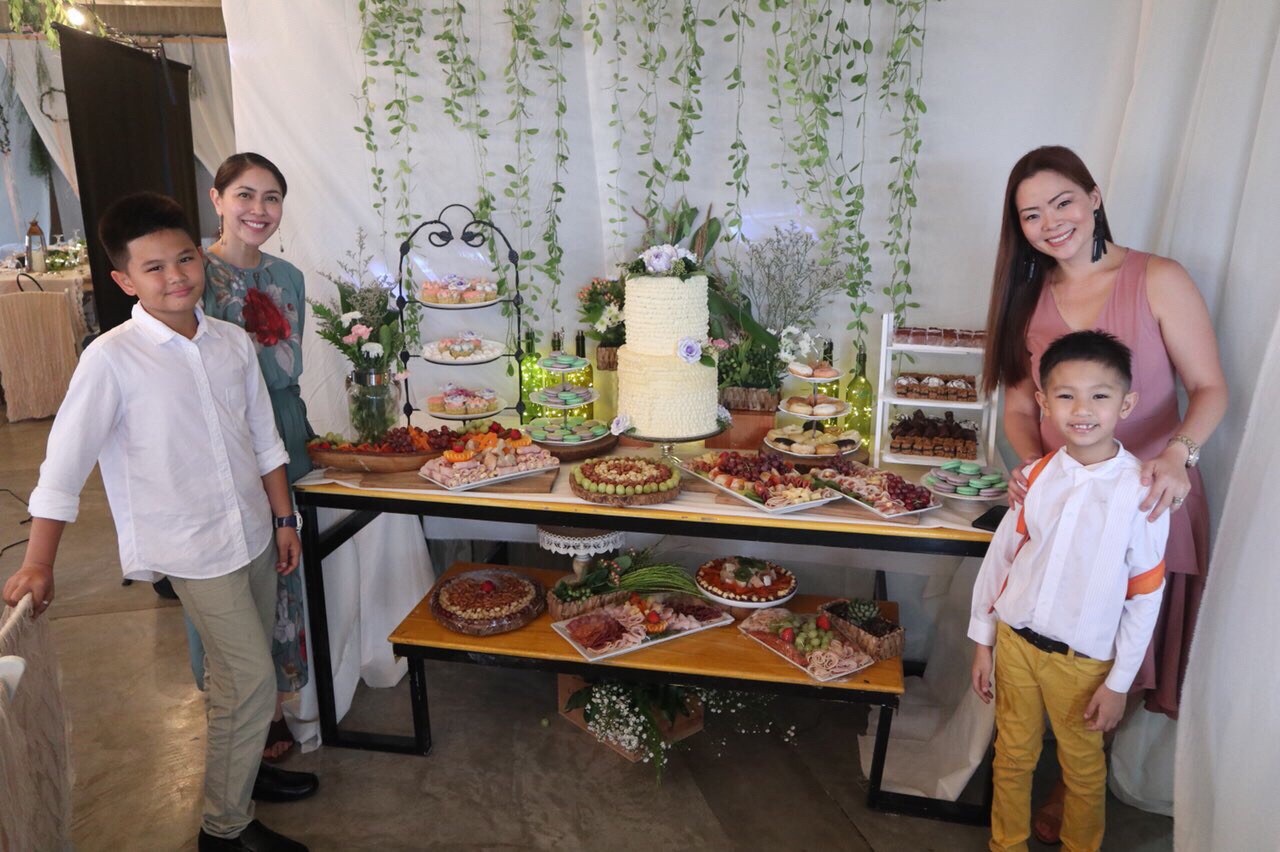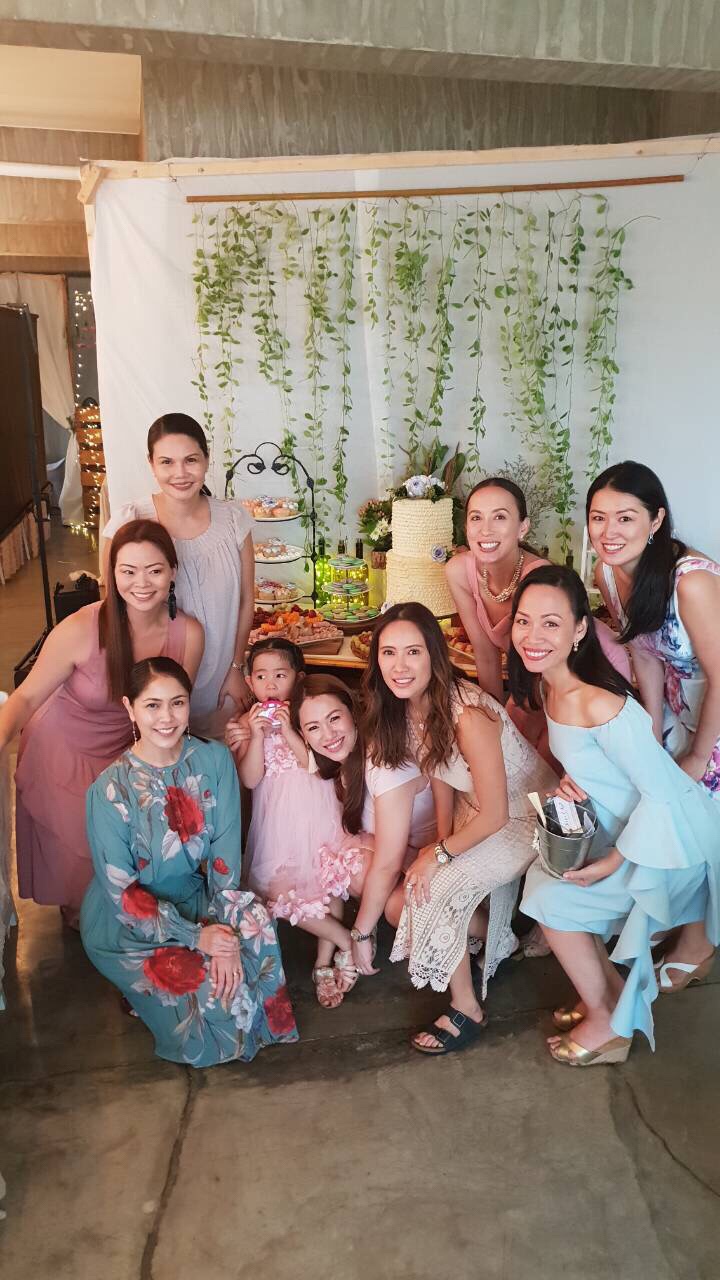 Most people who truly love a bride and groom and have a close relationship with them will feel honored and delighted to help if they have a chance to contribute.
Hire a caterer that can also decorate well. We got Passion Cooks Catering because they are flexible and easy to work with, plus they have all the decorative elements and supplies on hand to utilize, depending on your theme. They tuck this into the price per head and charge a minimal fee for "styling." Three of their big design contributions were the backdrops, aisle, and table decor.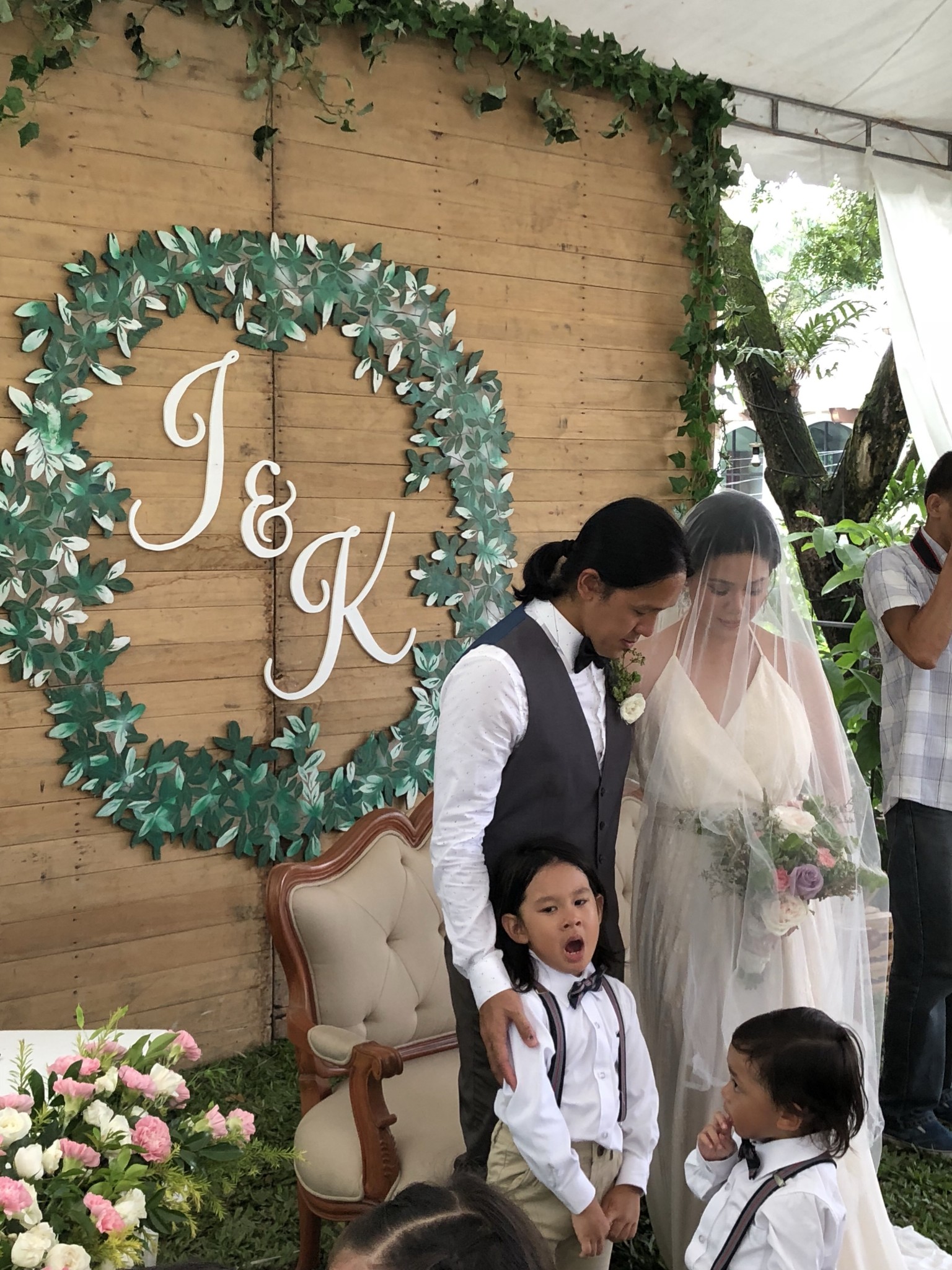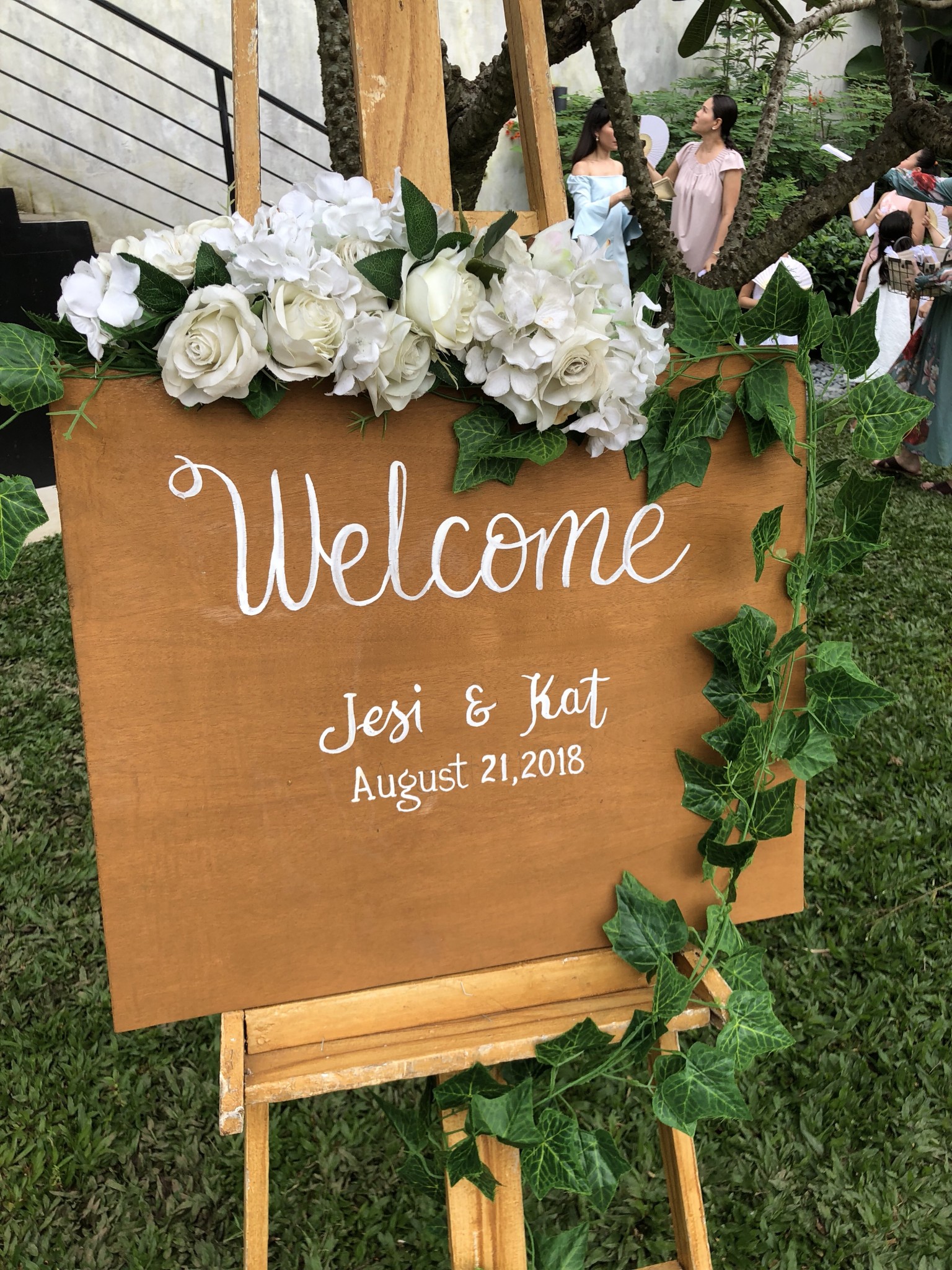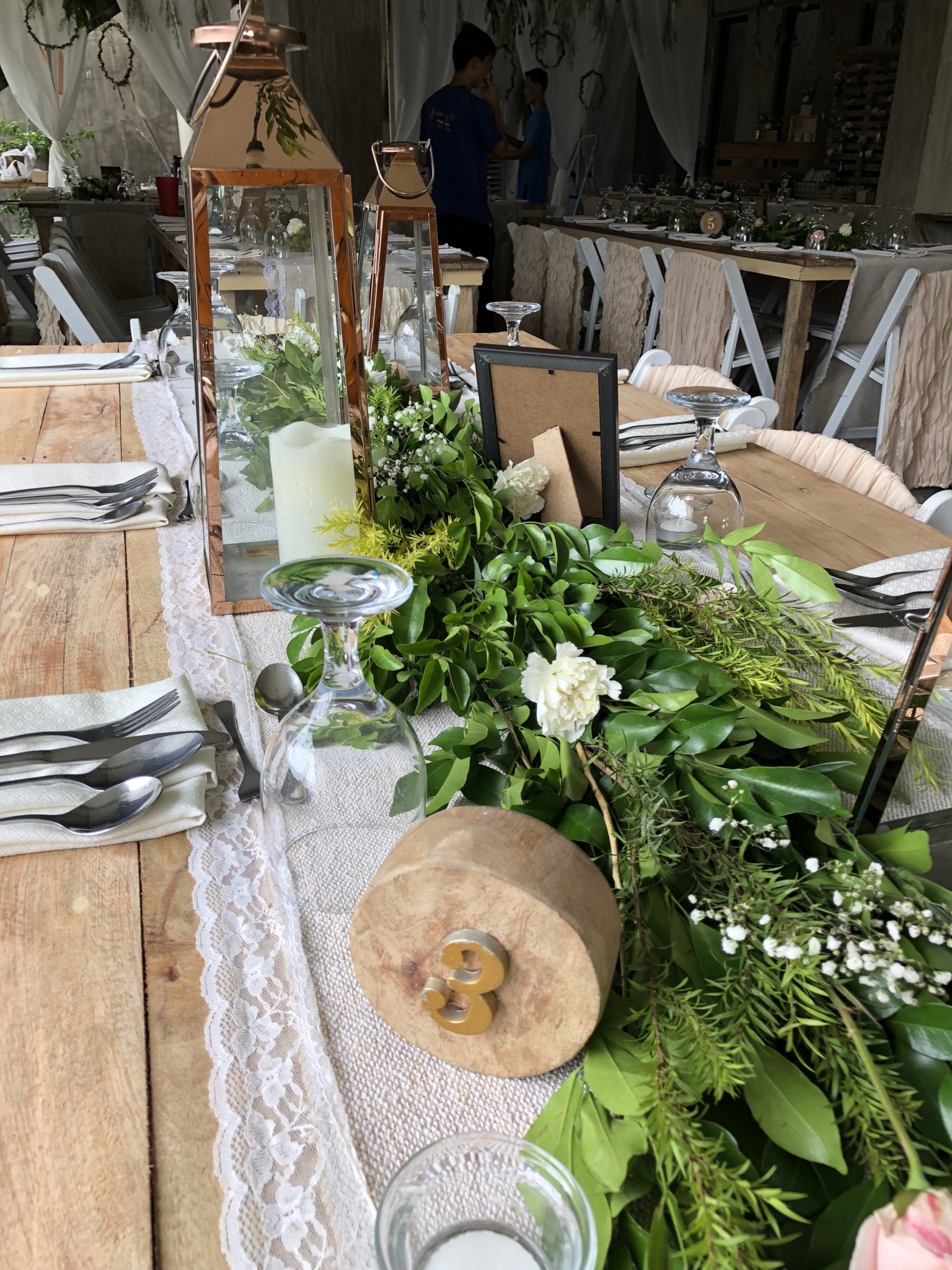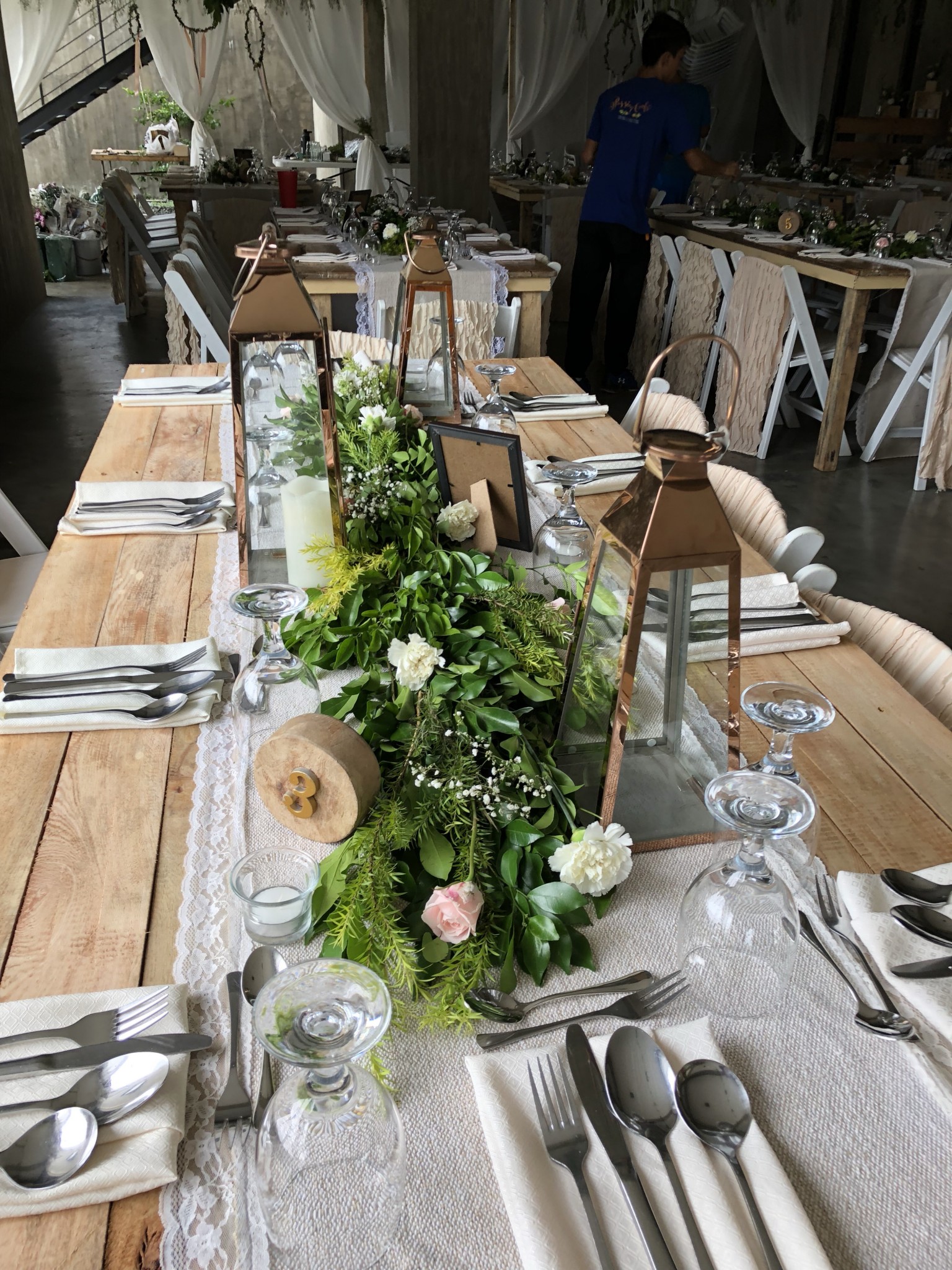 Ceremony backdrop …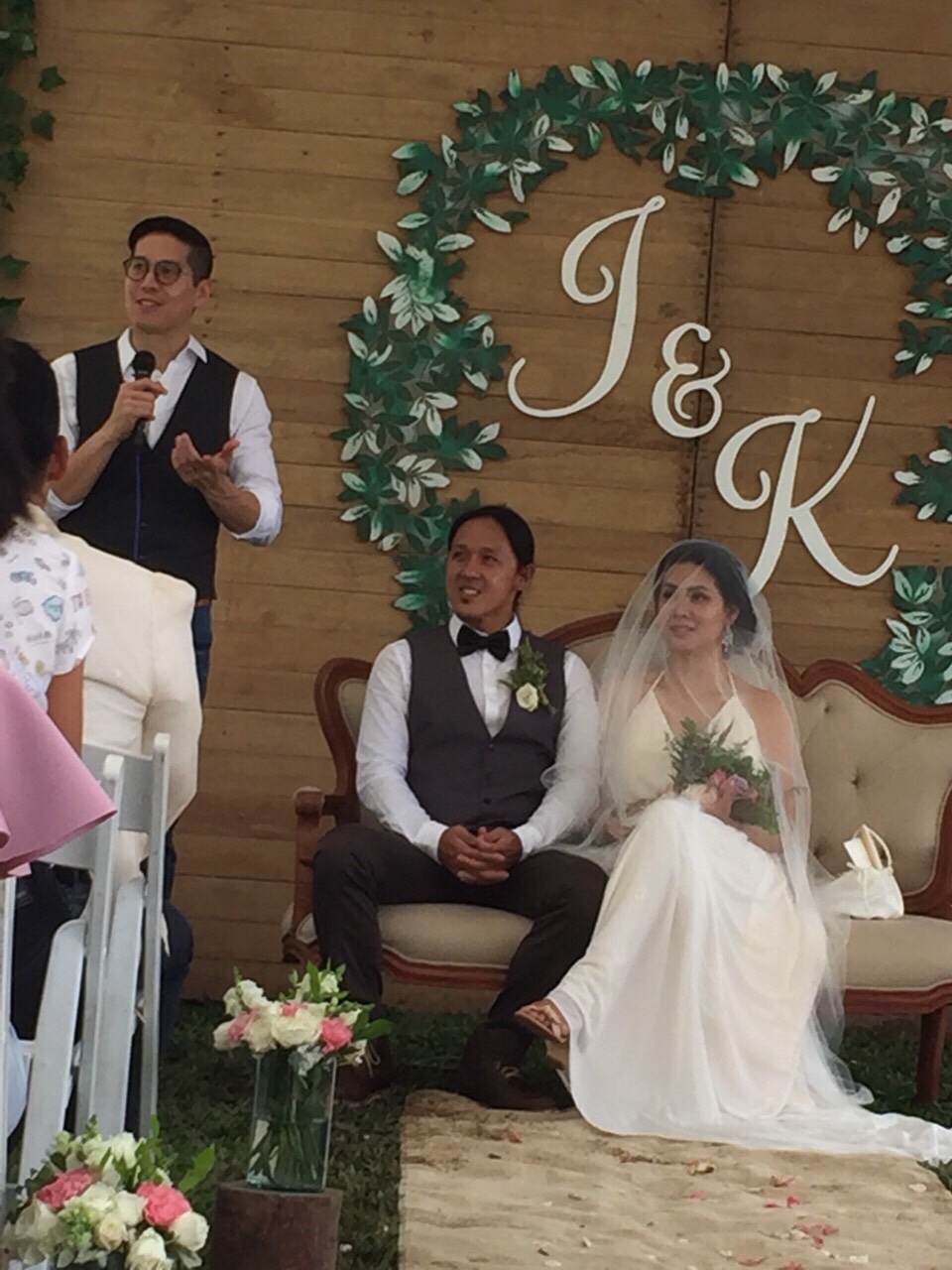 Reception backdrop…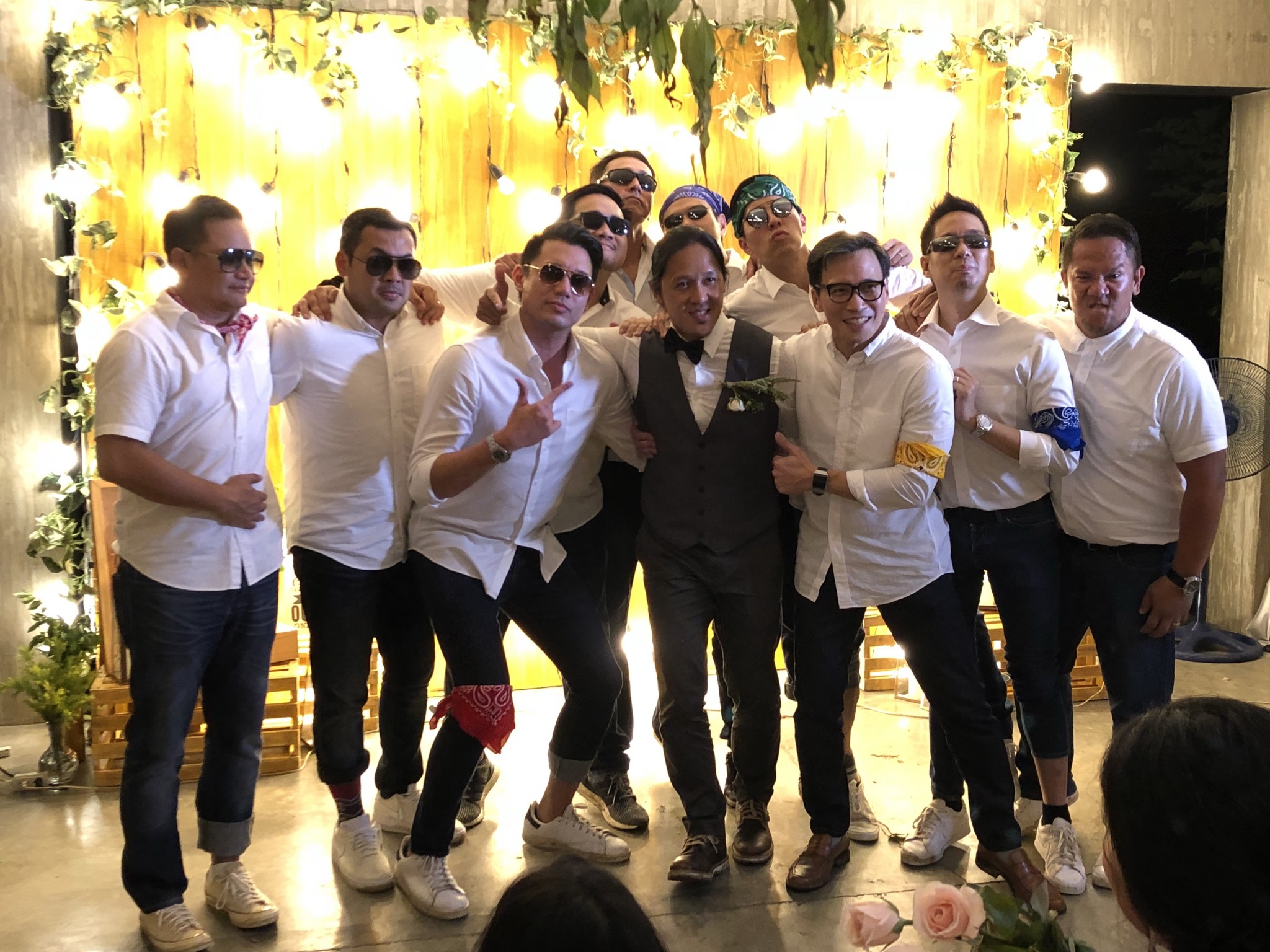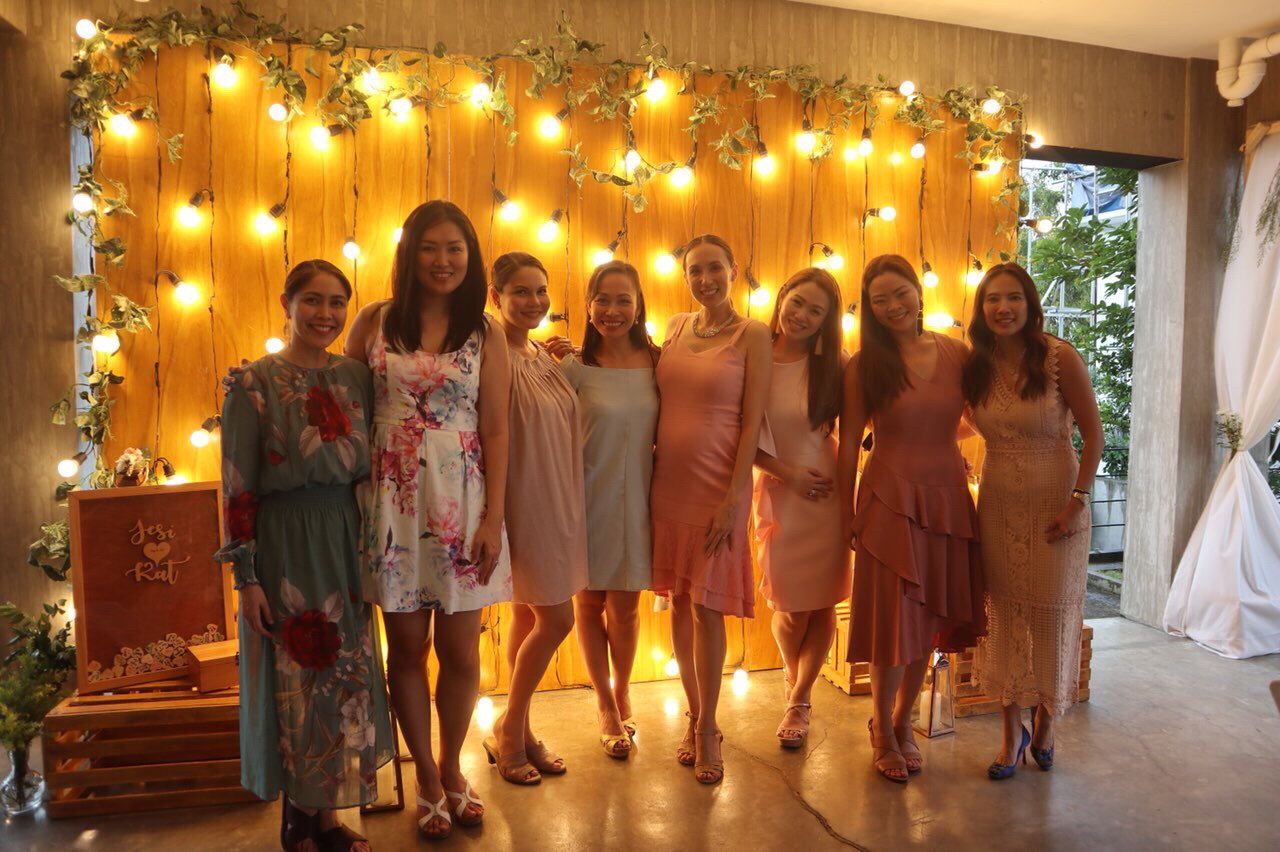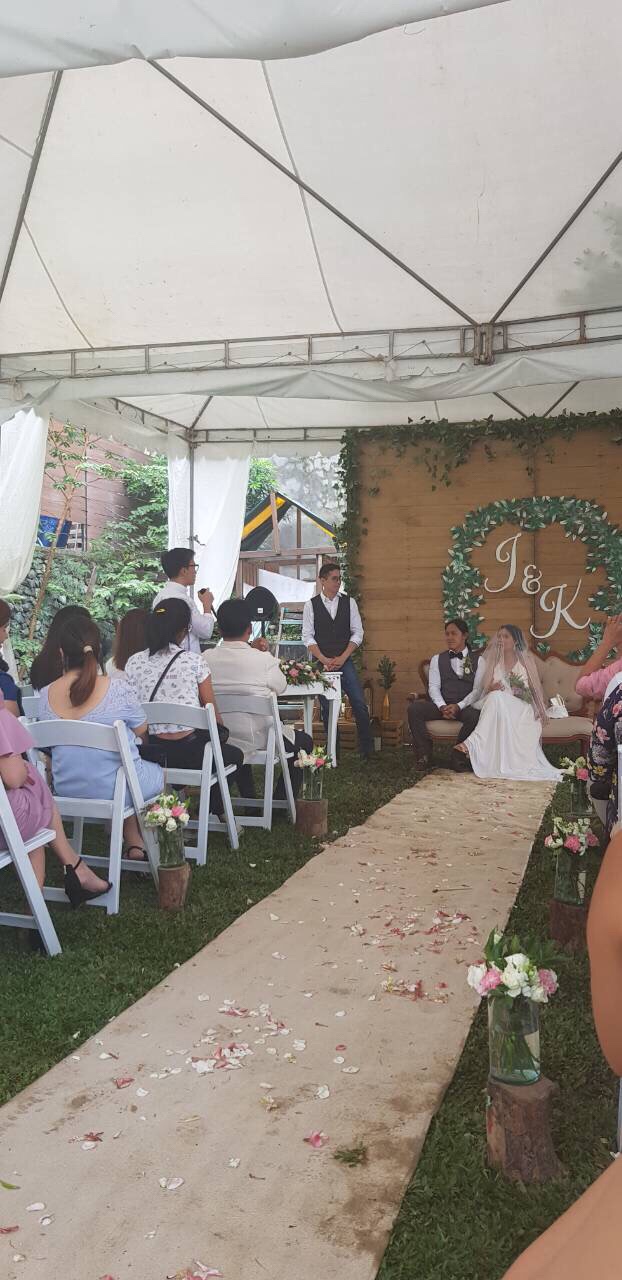 Don't get a designer or designer brand for your wedding dress or grooms' outfit. The daughter of our bride conceptualized her mom's dress and had it sewn by her fashion design mentor. As for the groom, we suggested he stick to a long sleeve white polo, vest, and bow tie. Nothing too fancy since the wedding was going to be outdoors and very laid back.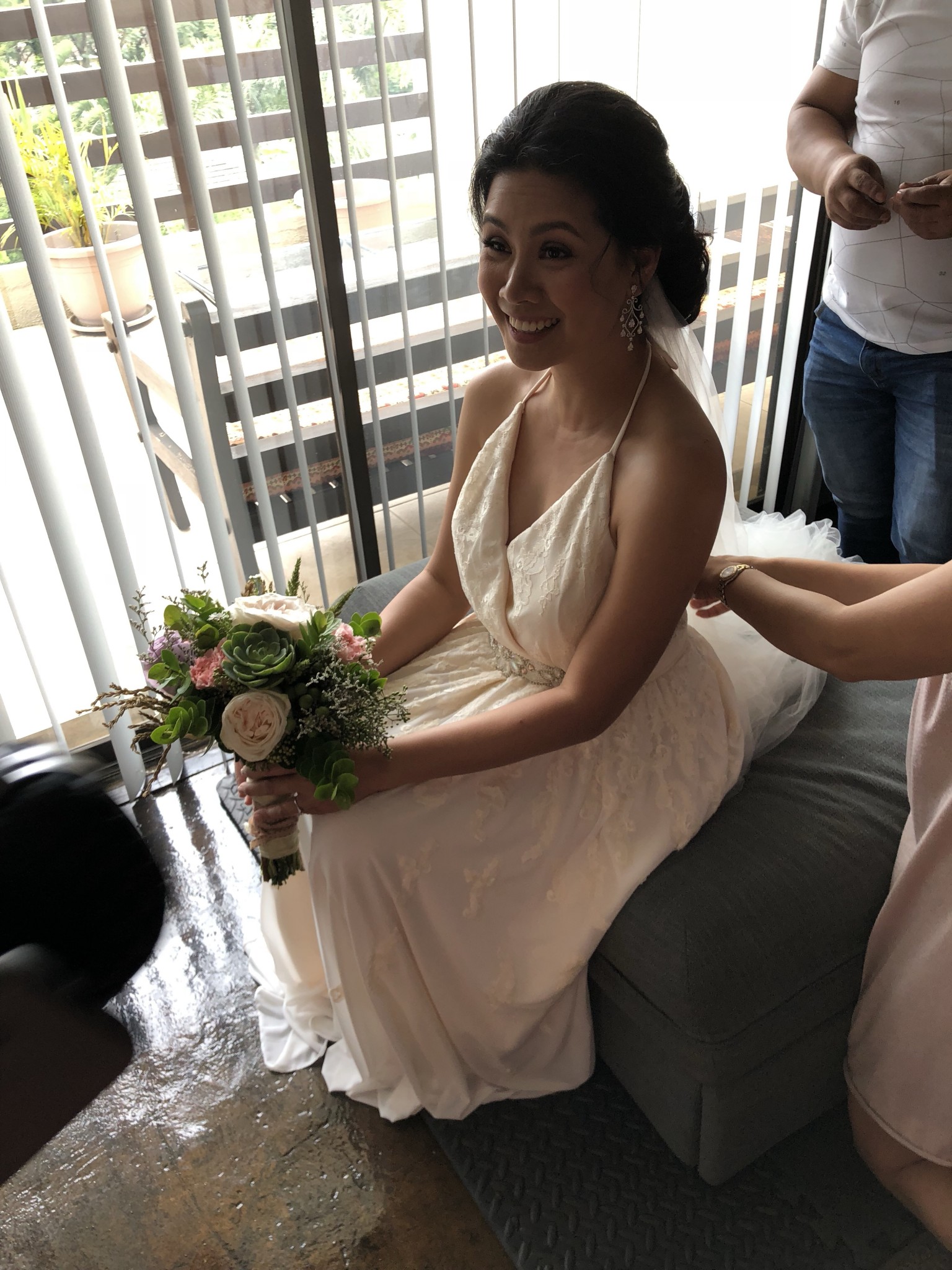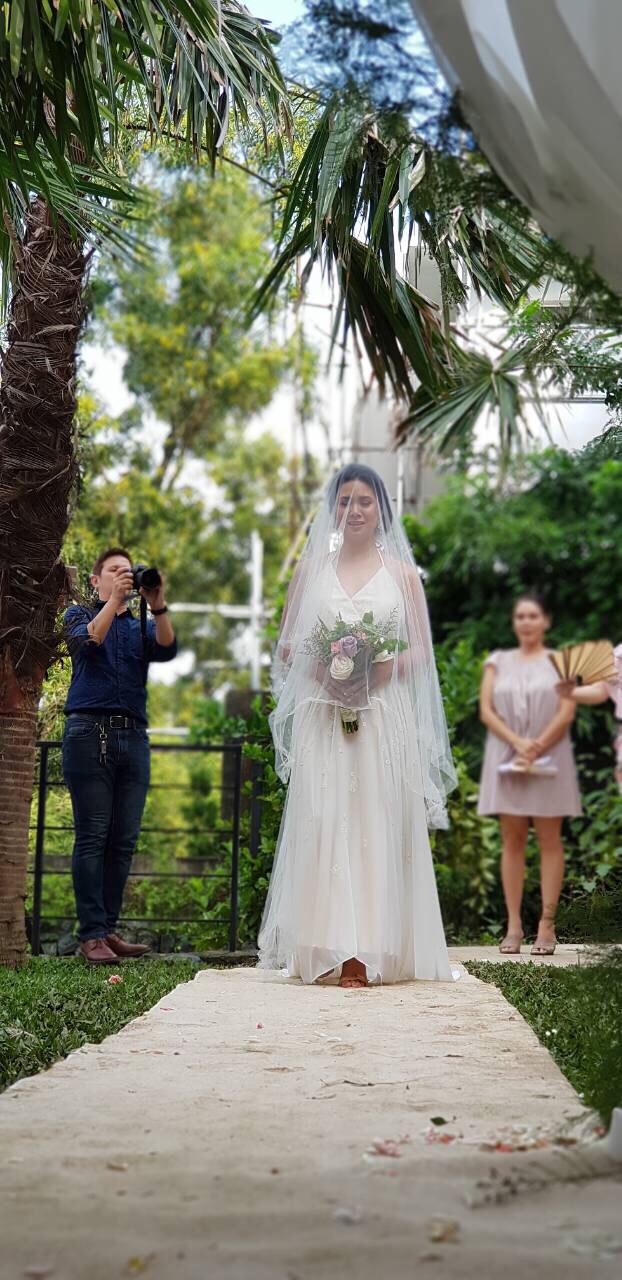 Use a friends' house, restaurant, or space as a venue. Edric and I offered our home because we could decorate it little by little as the event neared and had the flexibility to set-up at any time. Since it wasn't a huge wedding, we were able to accommodate the guests for the ceremony (held in our backyard under a tent), and the reception (situated in the lower ground area of our home.) The lower ground was not a pretty place, but with some wood and fabric, we were able to transform it into an acceptable and cozy space.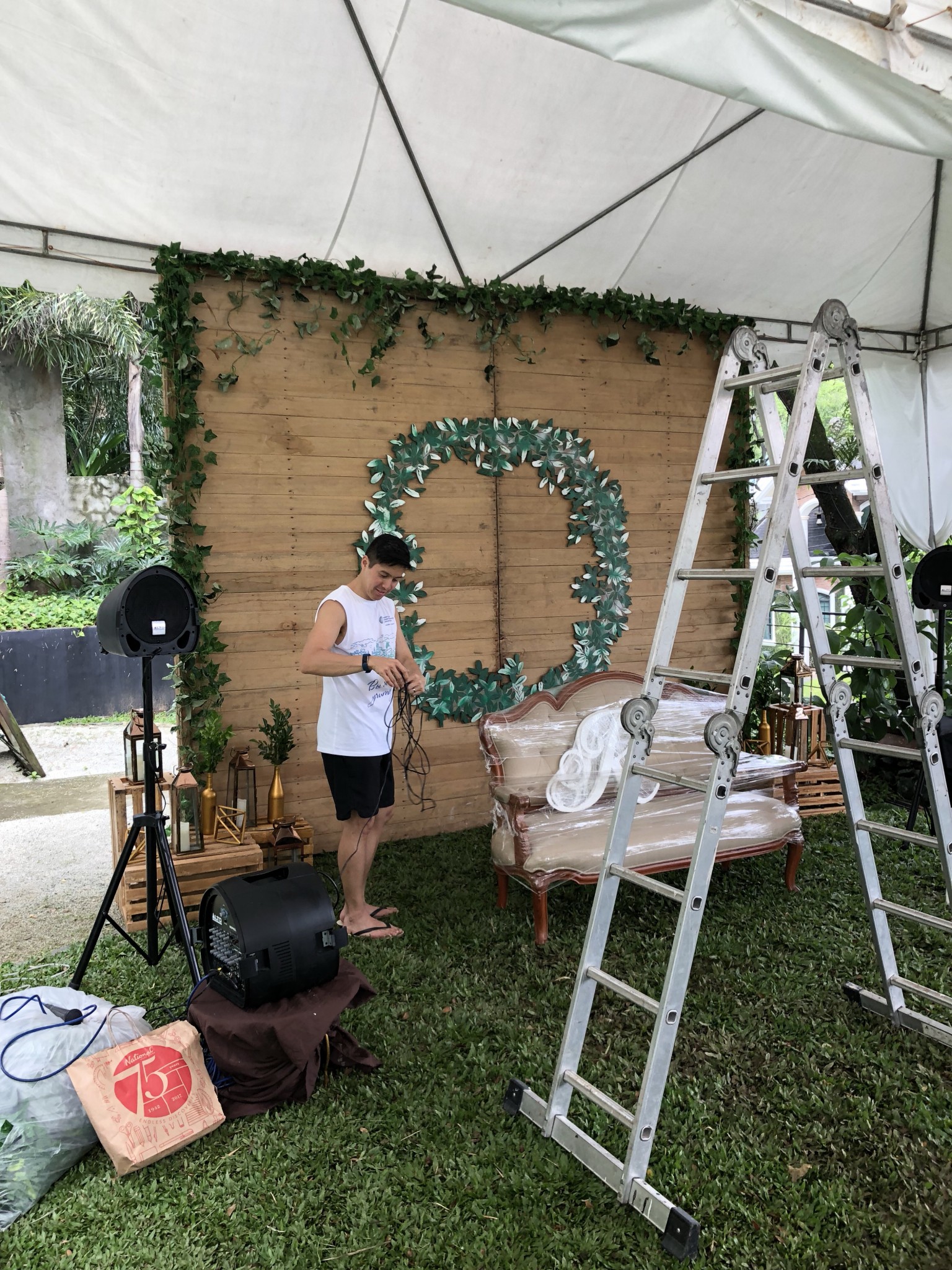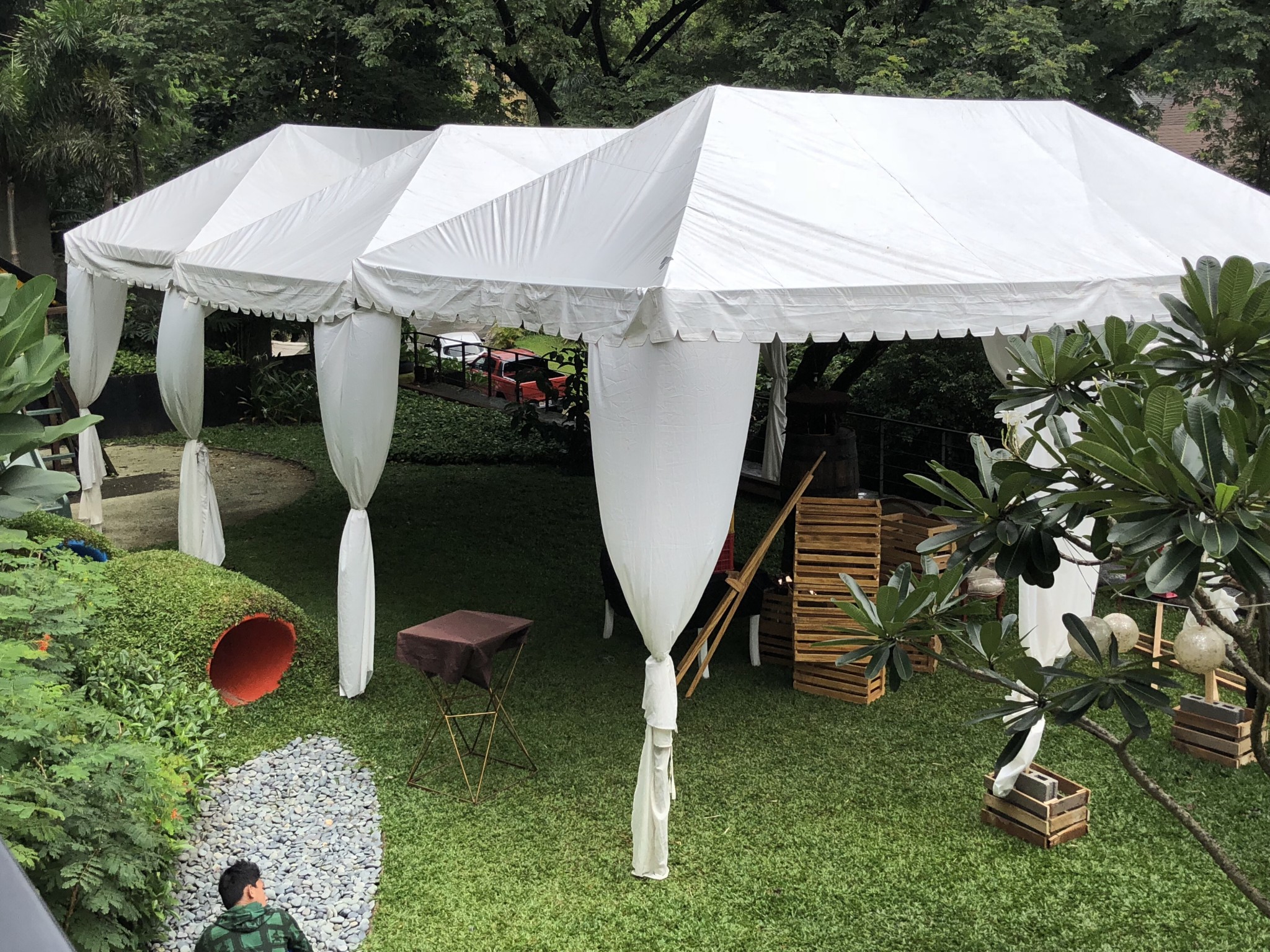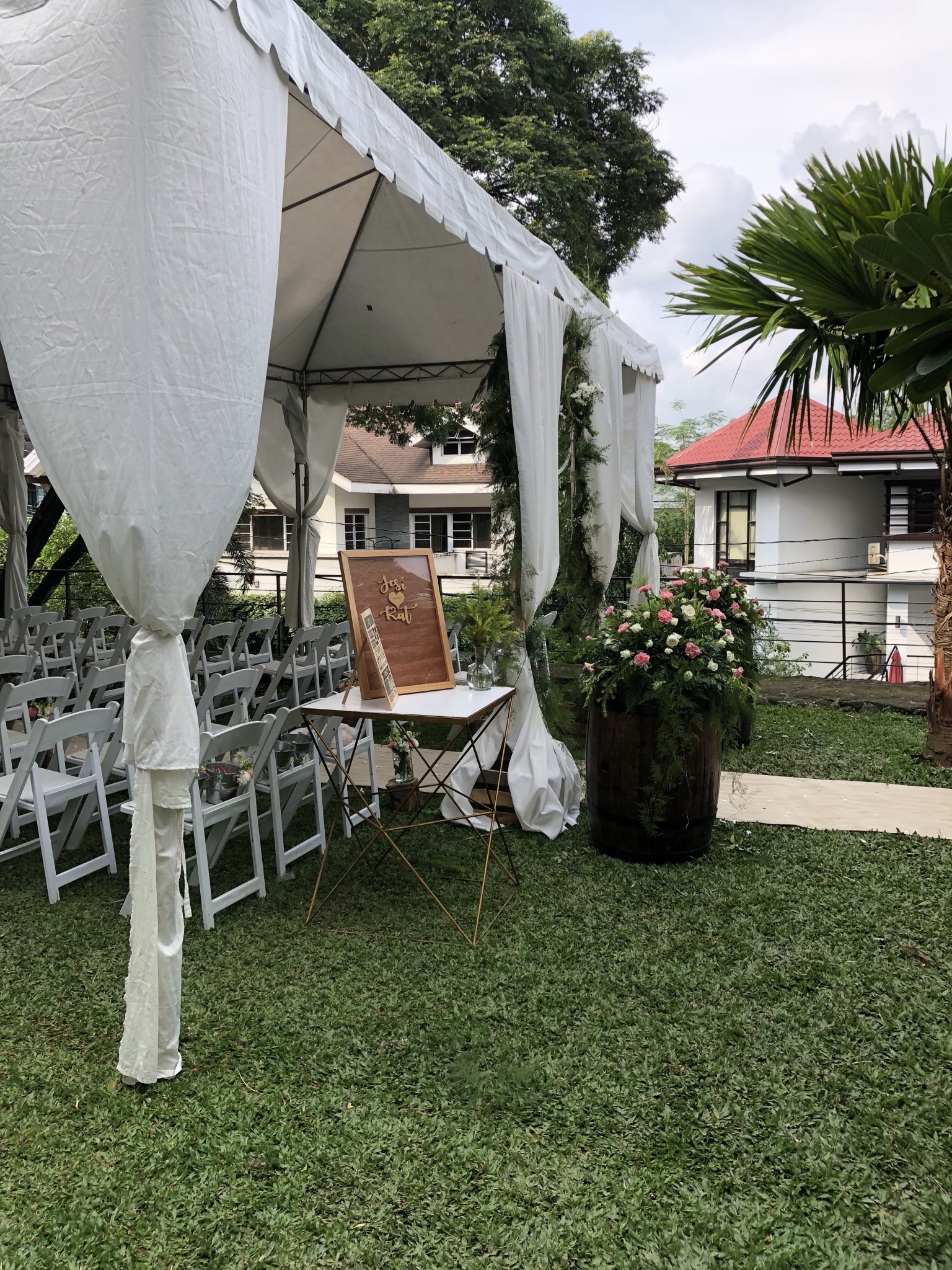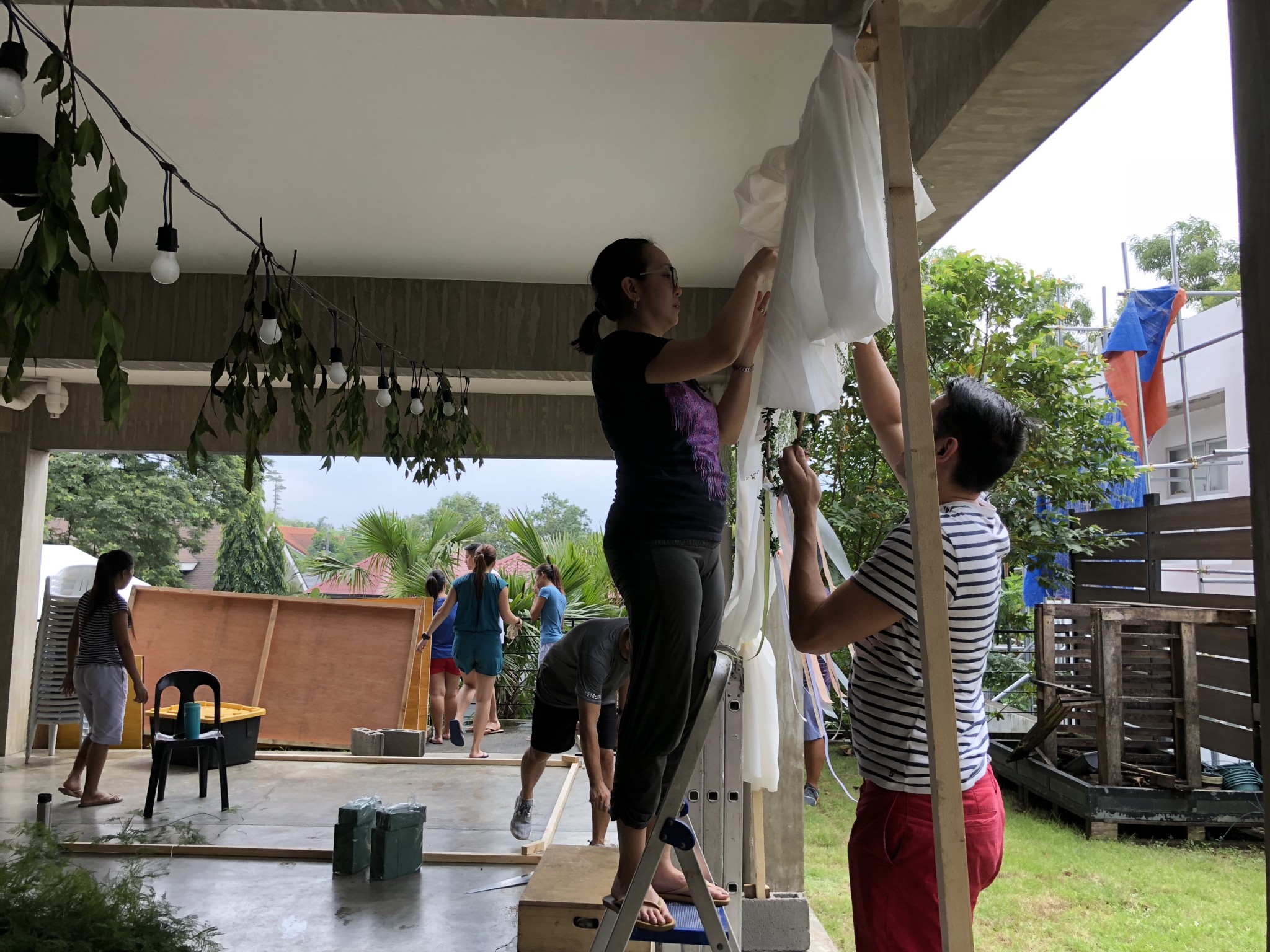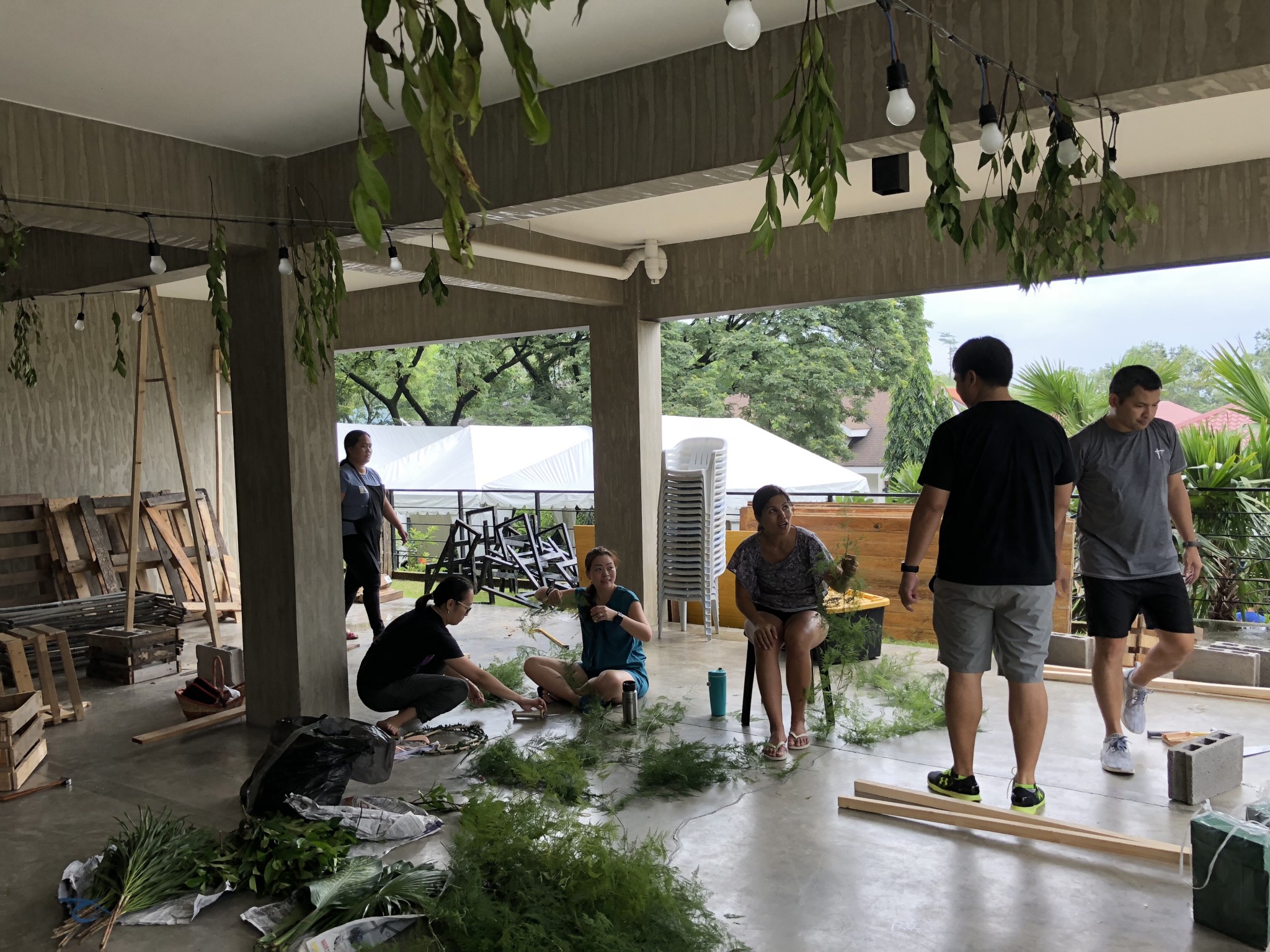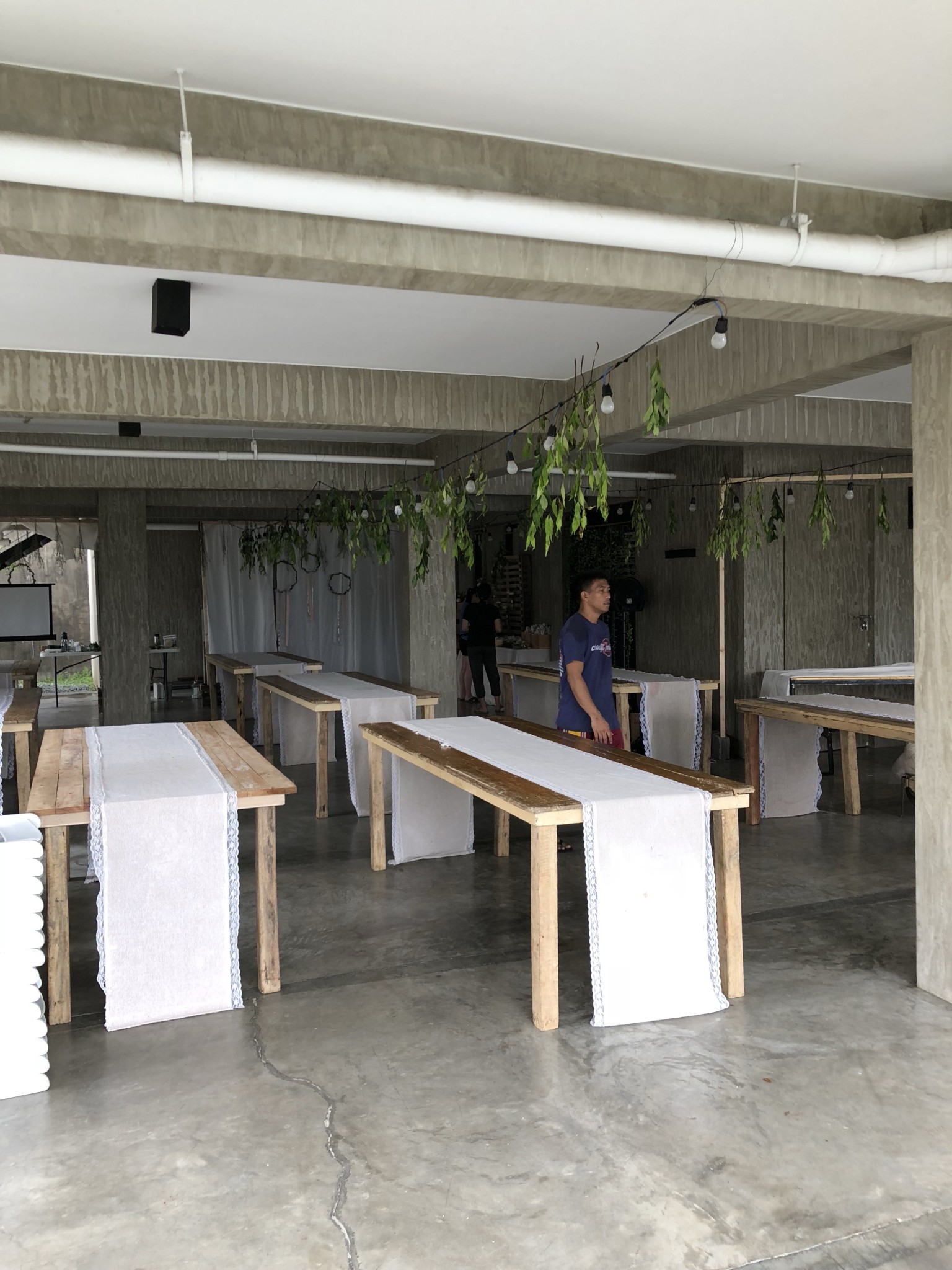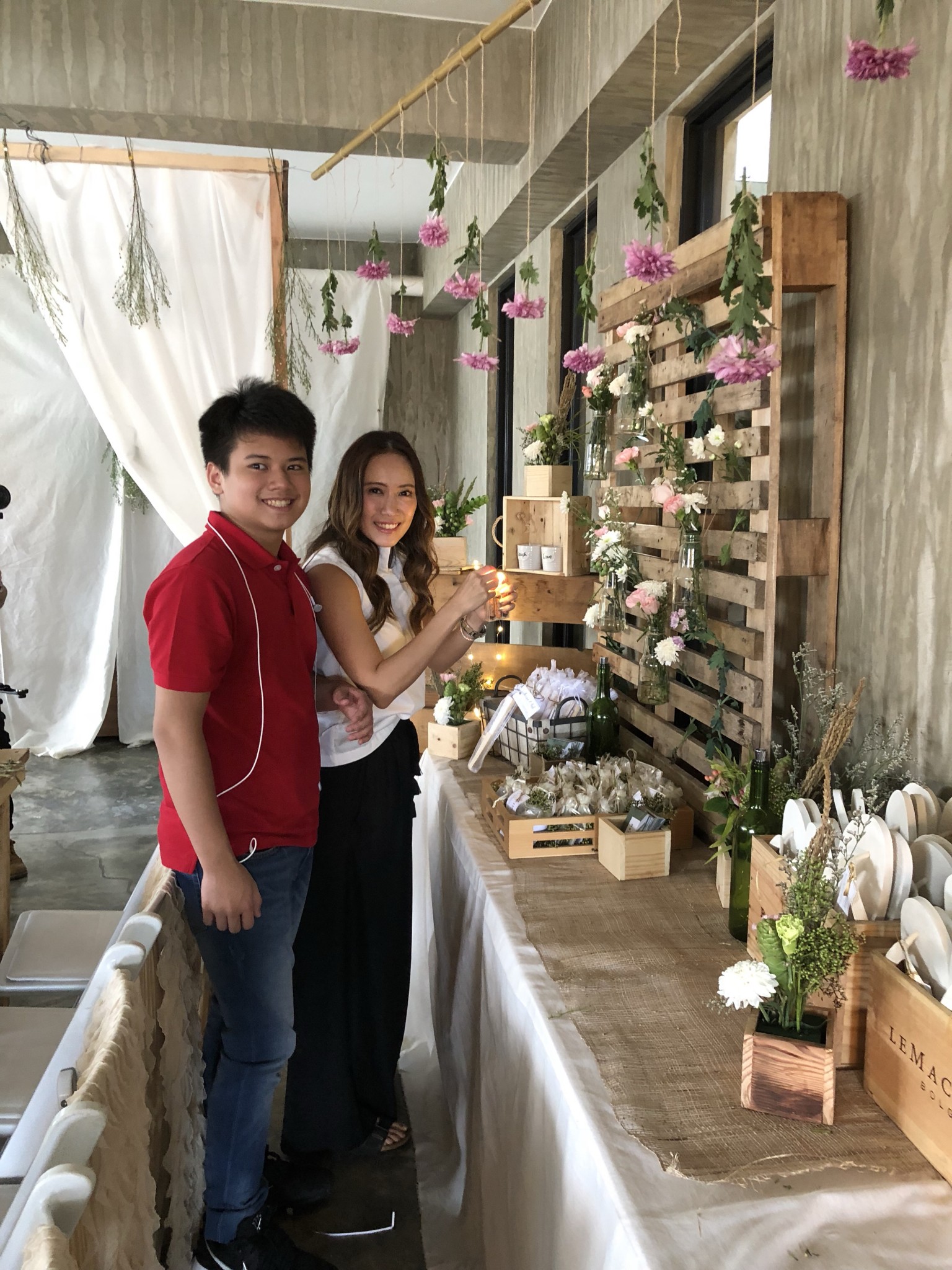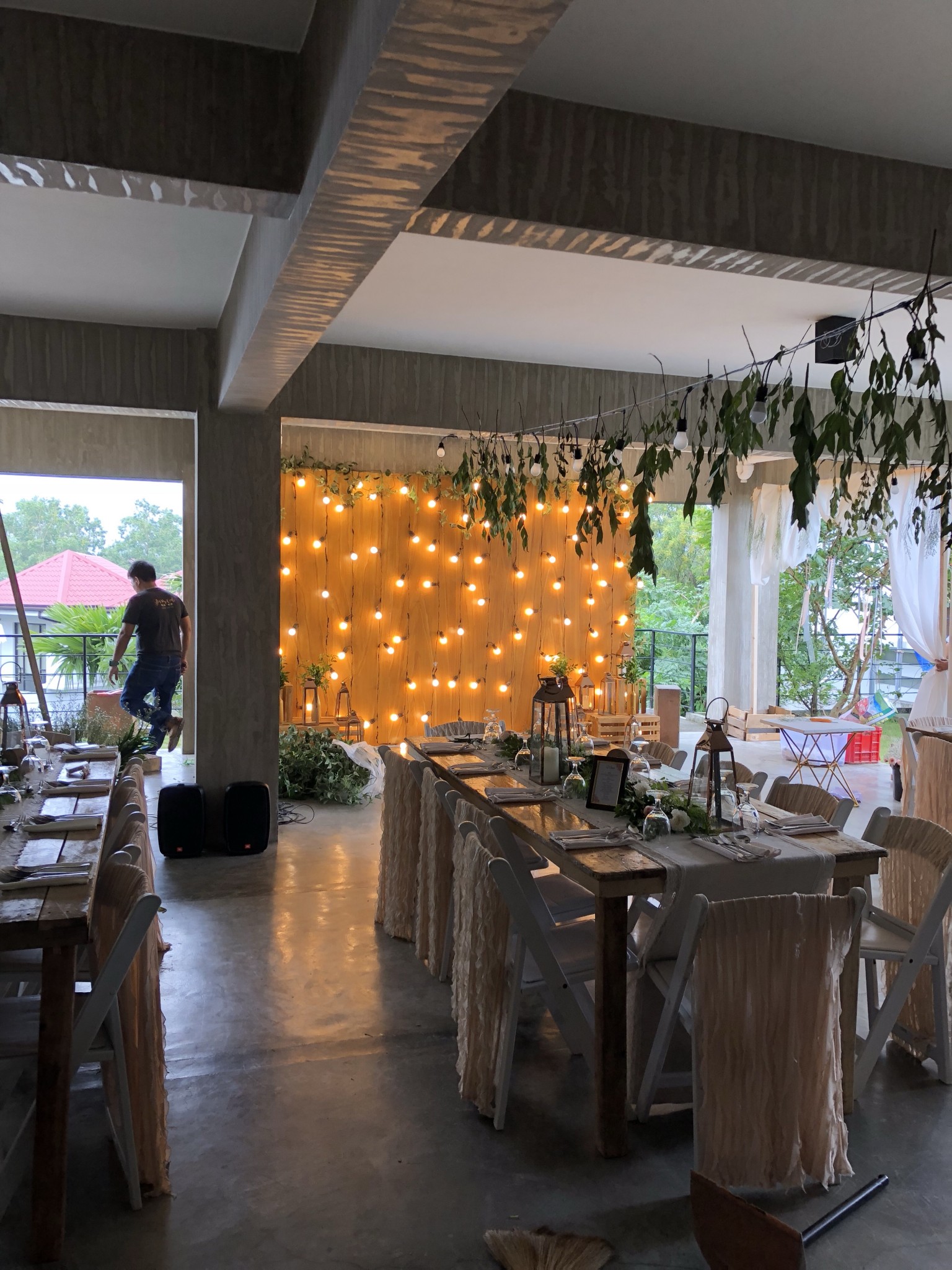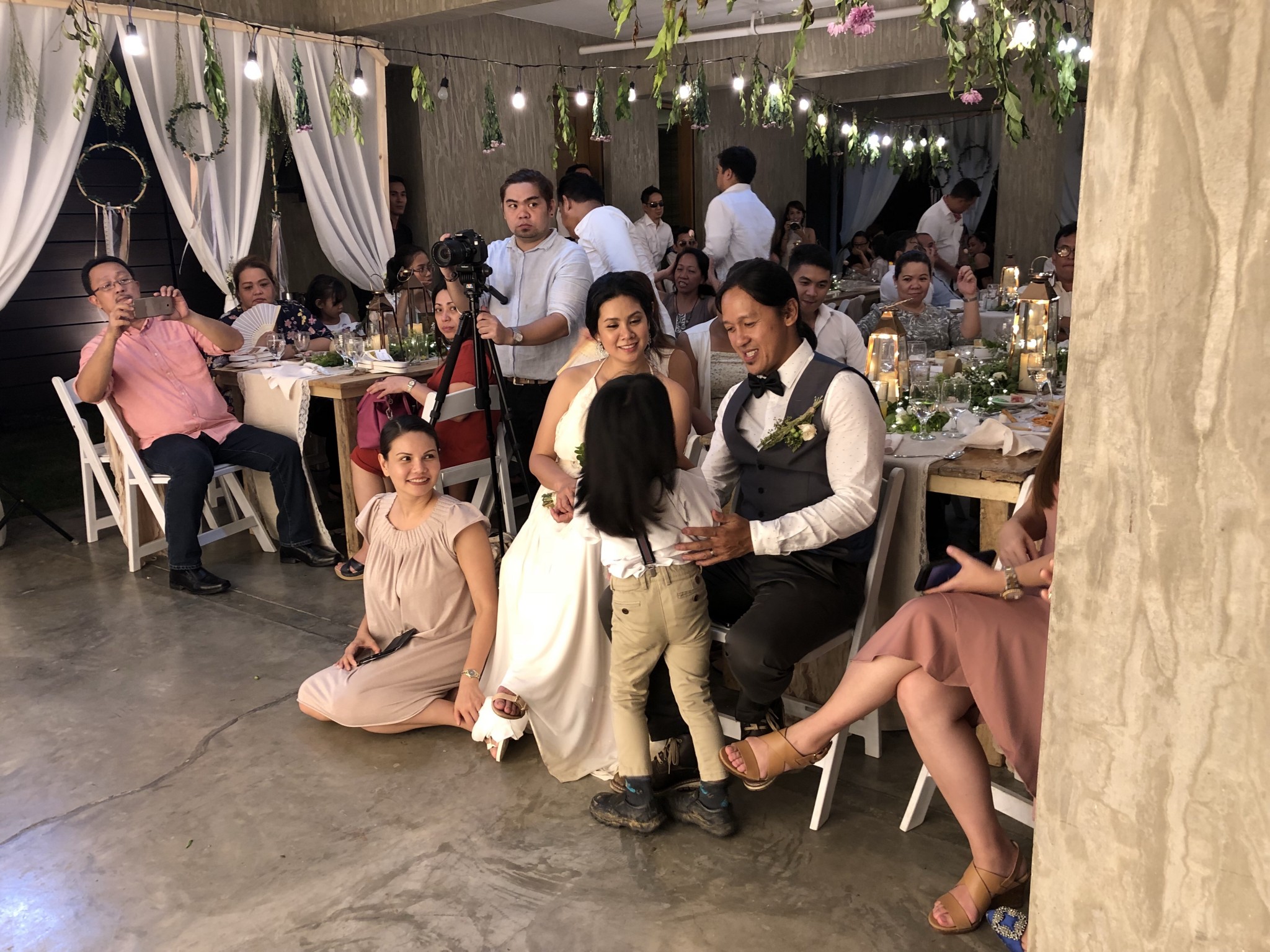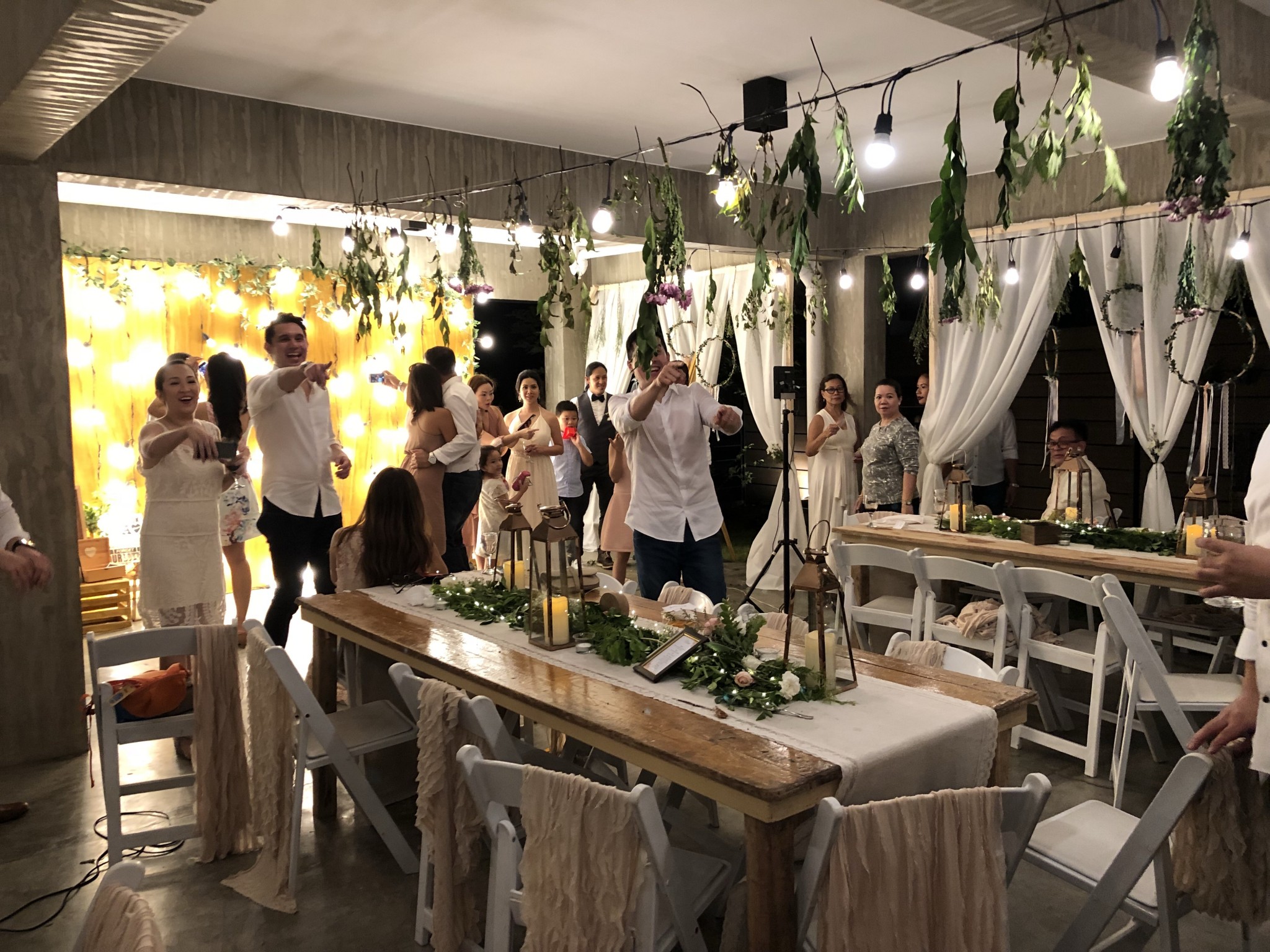 If your ceremony and reception can be in one venue, this also saves on cost. Jesi and Kat didn't have to pay us for our place, so it's even better if you have a friend or loved one who is willing to open up their home!
Have your entourage wear their own clothes. Provide a color scheme and peg, then let them provide for their own outfits. I know this will feel embarrassing to ask them to do this. But if you have a great relationship with them, they will understand and love you still.
The ladies and I asked our daughters to be the flower girls. We found outfits to match the motif that they could wear. Jesi and Kat's kids, who also marched down the aisle, wore their own clothes, too. There was no need for secondary sponsors to walk. They just sat in the audience and came up to perform their duties when they were called to.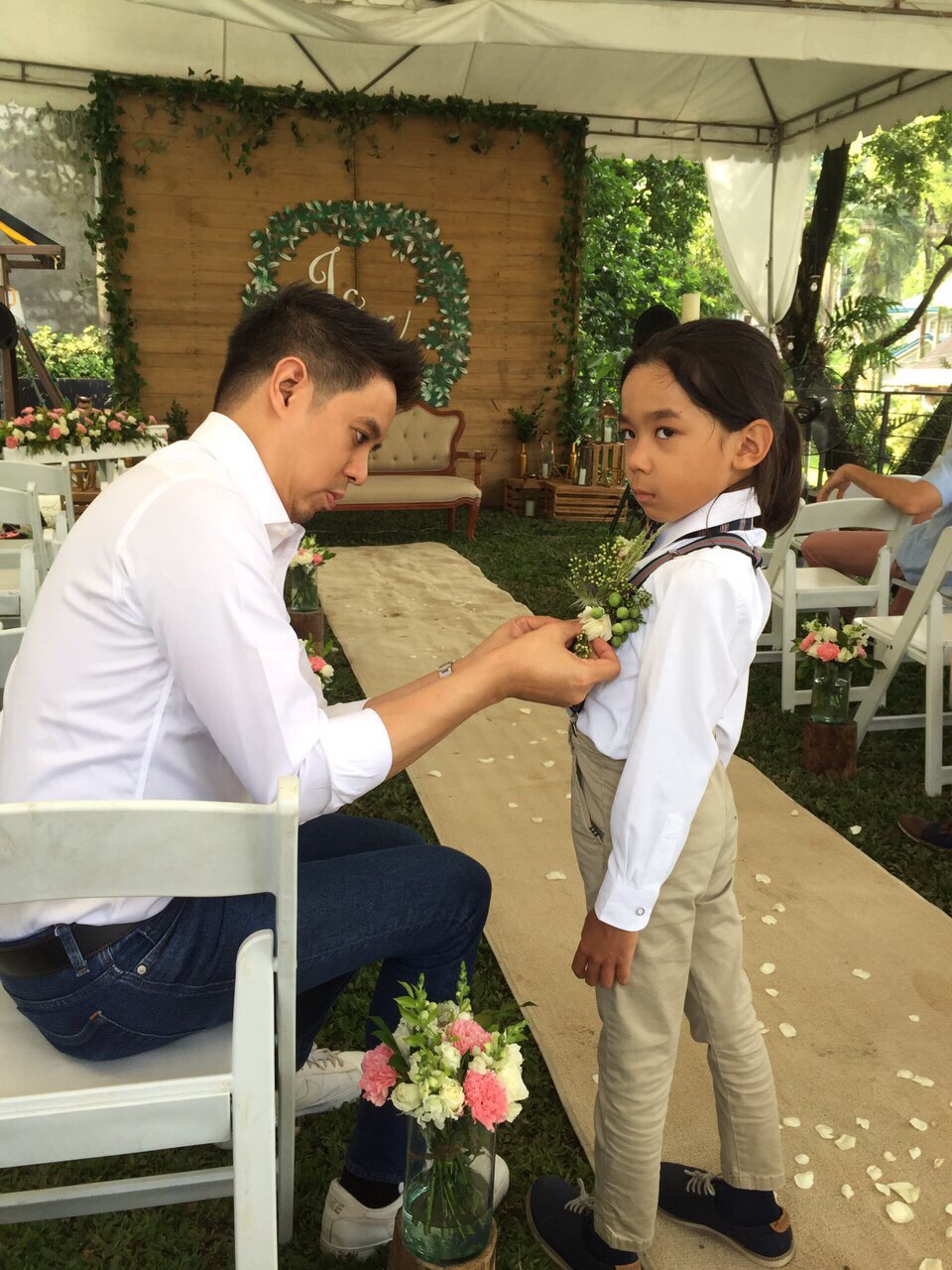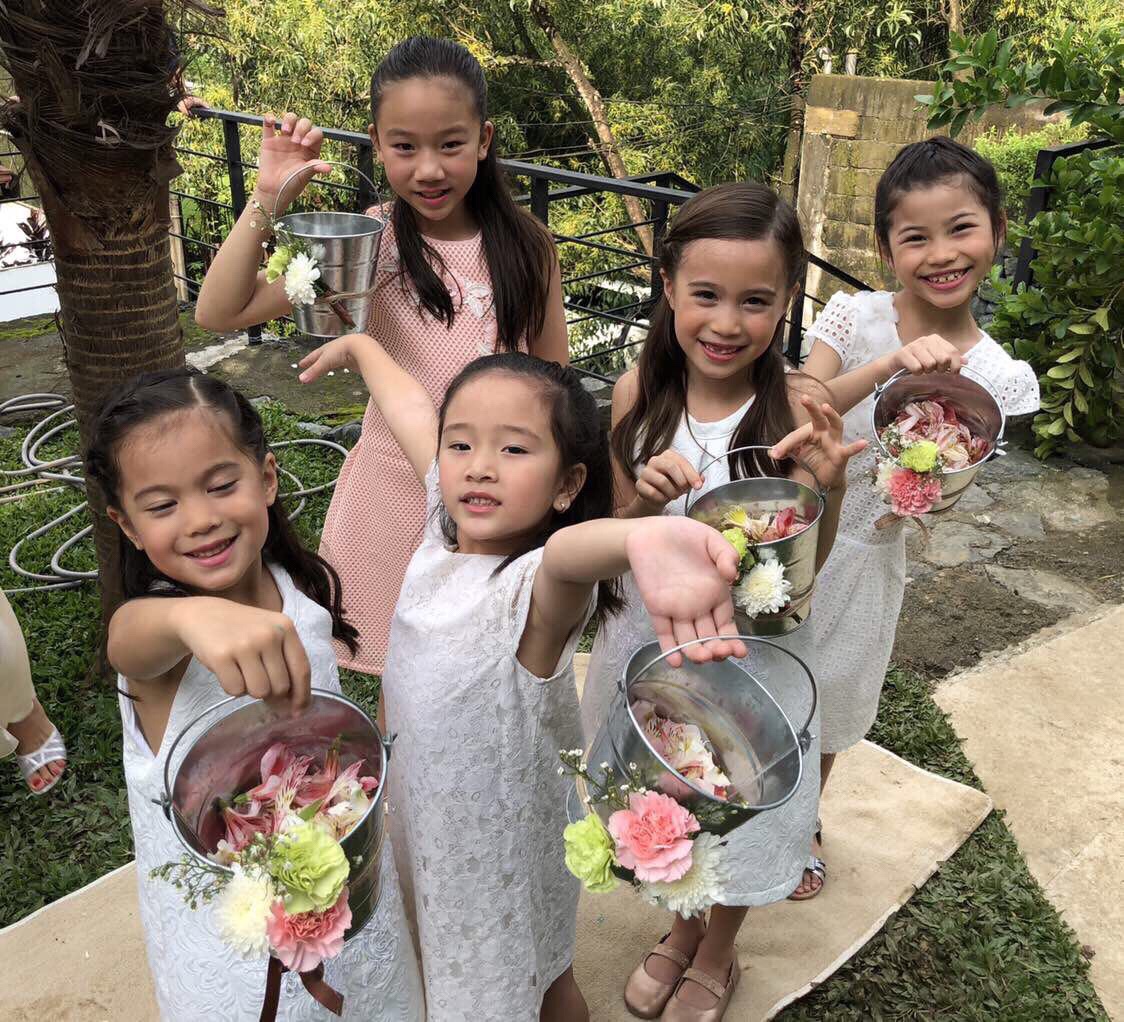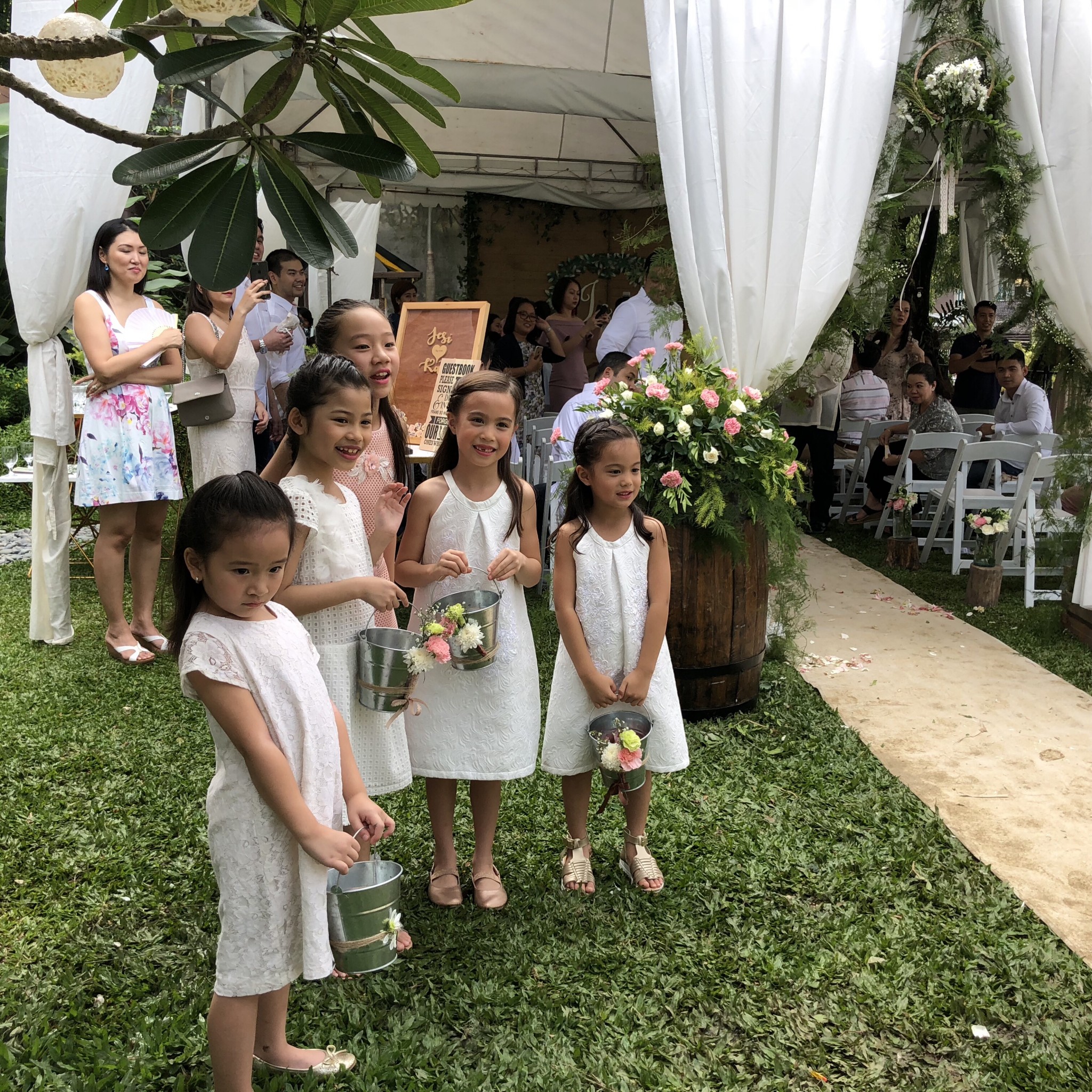 Don't hire a band. Create a playlist that you can use from Spotify. It's easy! It costs nothing. And the musicians sound flawless! We used a portable sound system borrowed from a friend to project the sound and it worked just fine.
Do home-made giveaways or source them from Shopee. Shopee is ridiculously cheap. It's even more reasonable than Divisoria! We found fans for thirty pesos each.
I also made earrings for all the women guests, getting my materials from Quiapo or using jewelry-making supplies I already had. It cost me time, but I enjoyed the labor part since creating is always a rewarding experience for me.
Get your flowers from Dangwa. If you go to Dangwa yourself, you can find reasonable flowers and greens for a fraction of the cost of what you would pay a florist.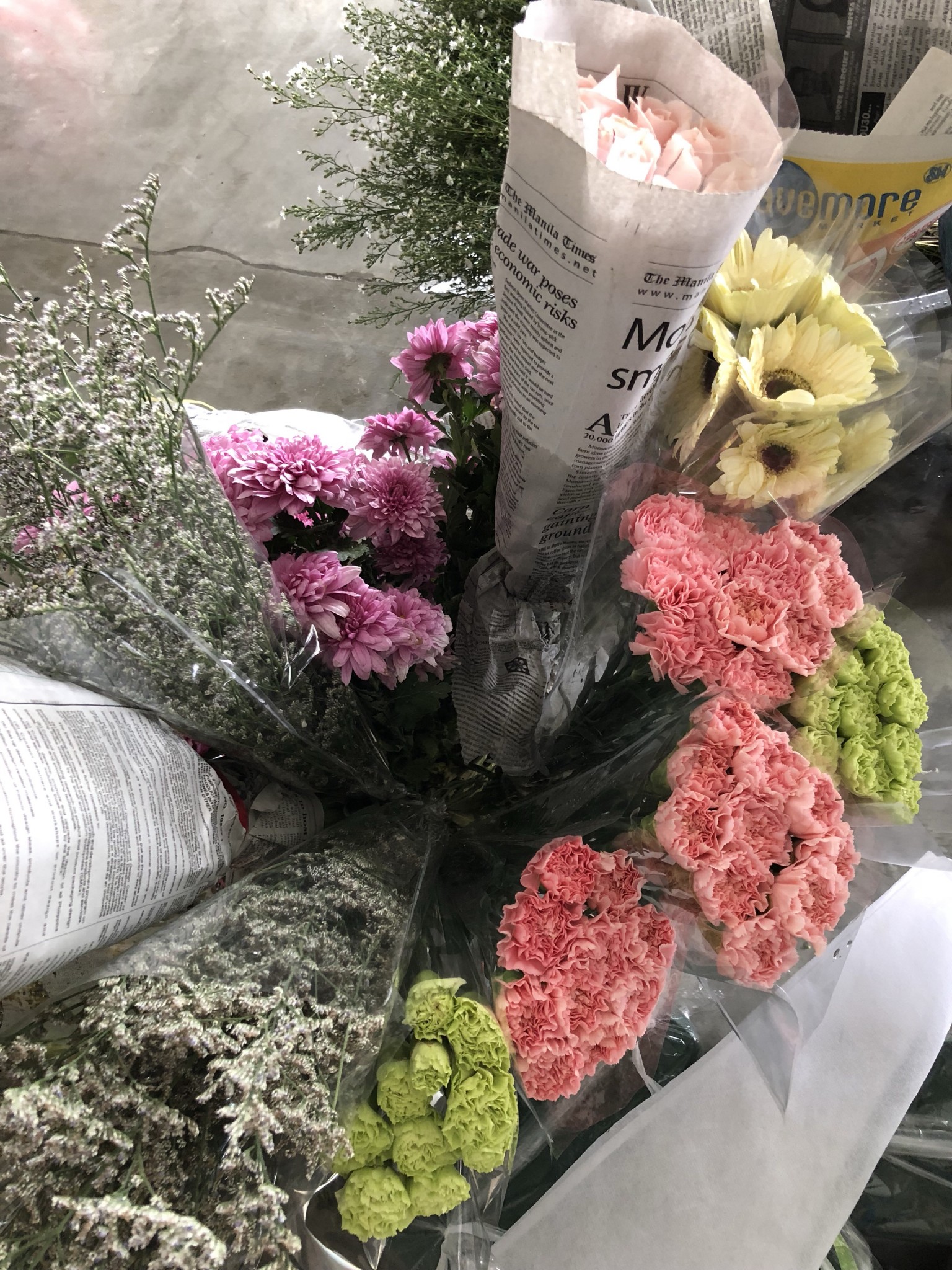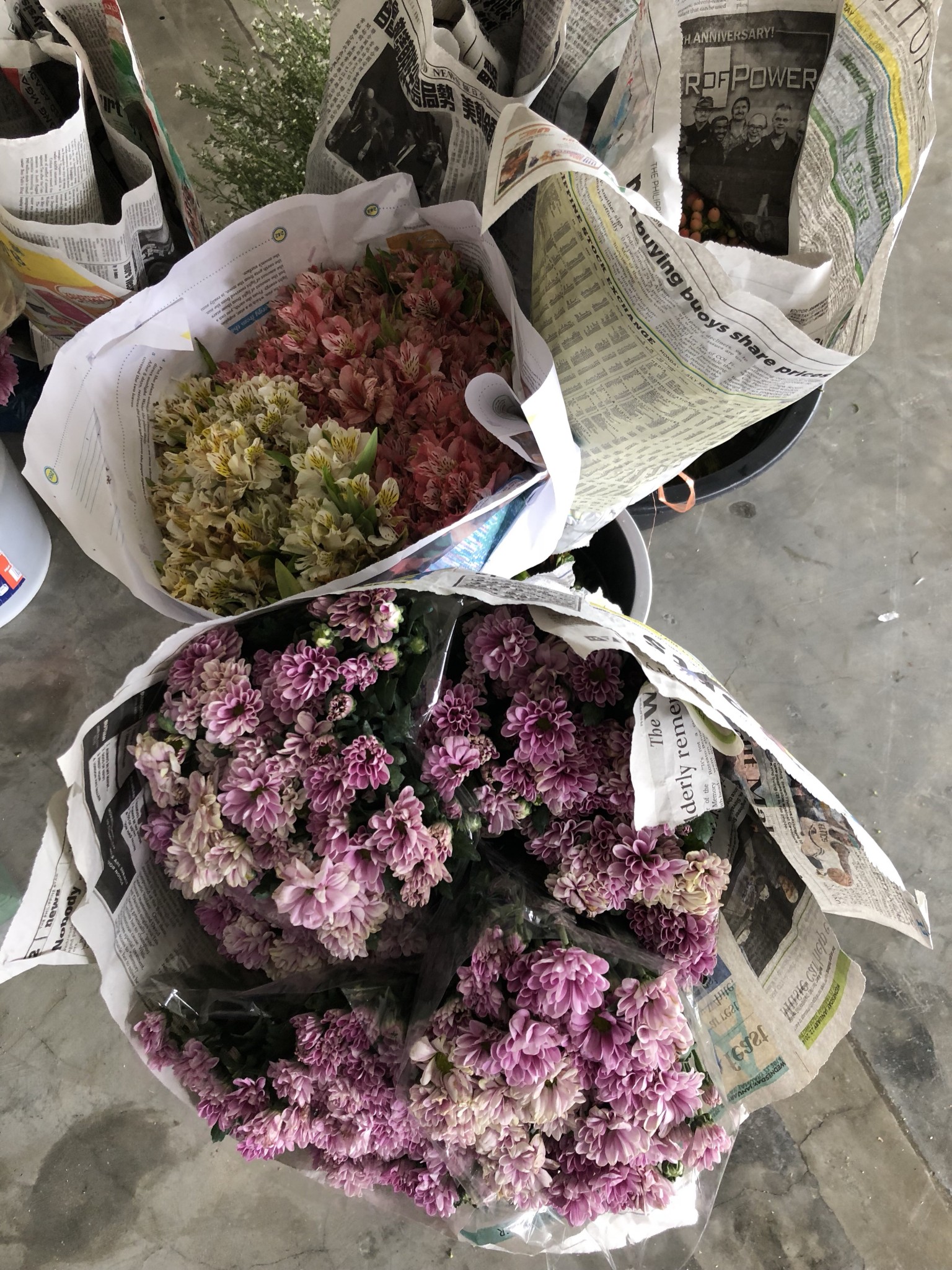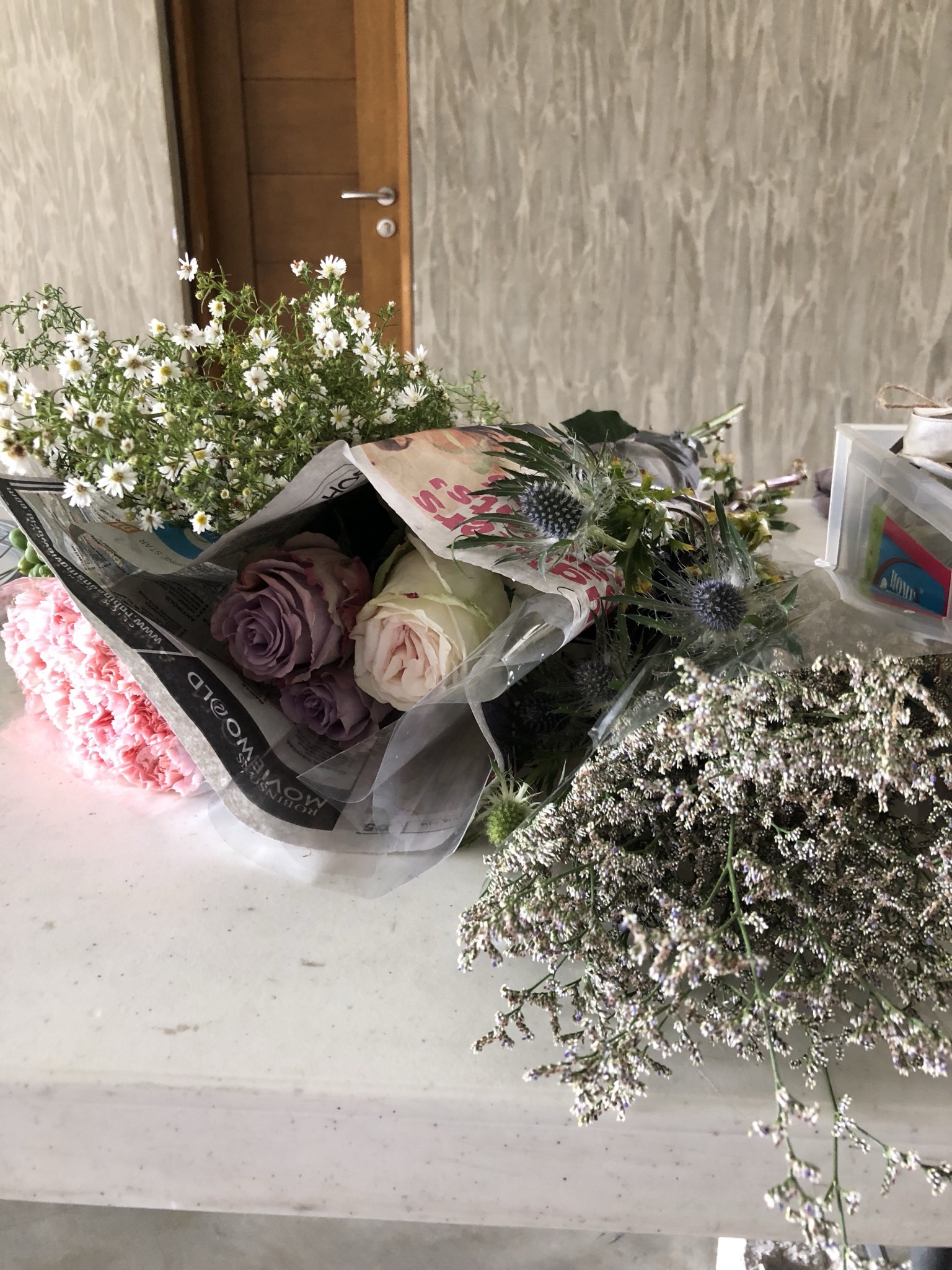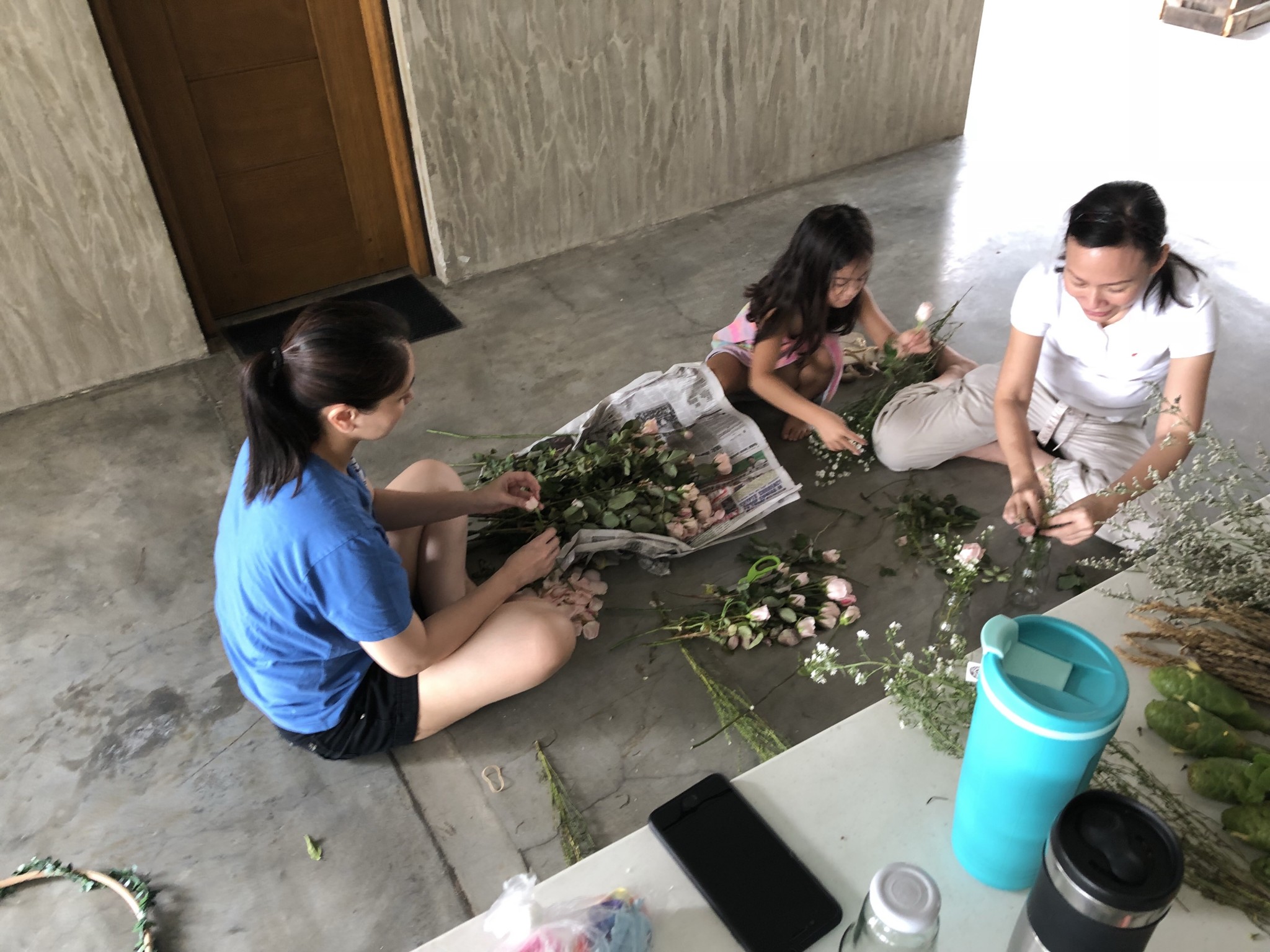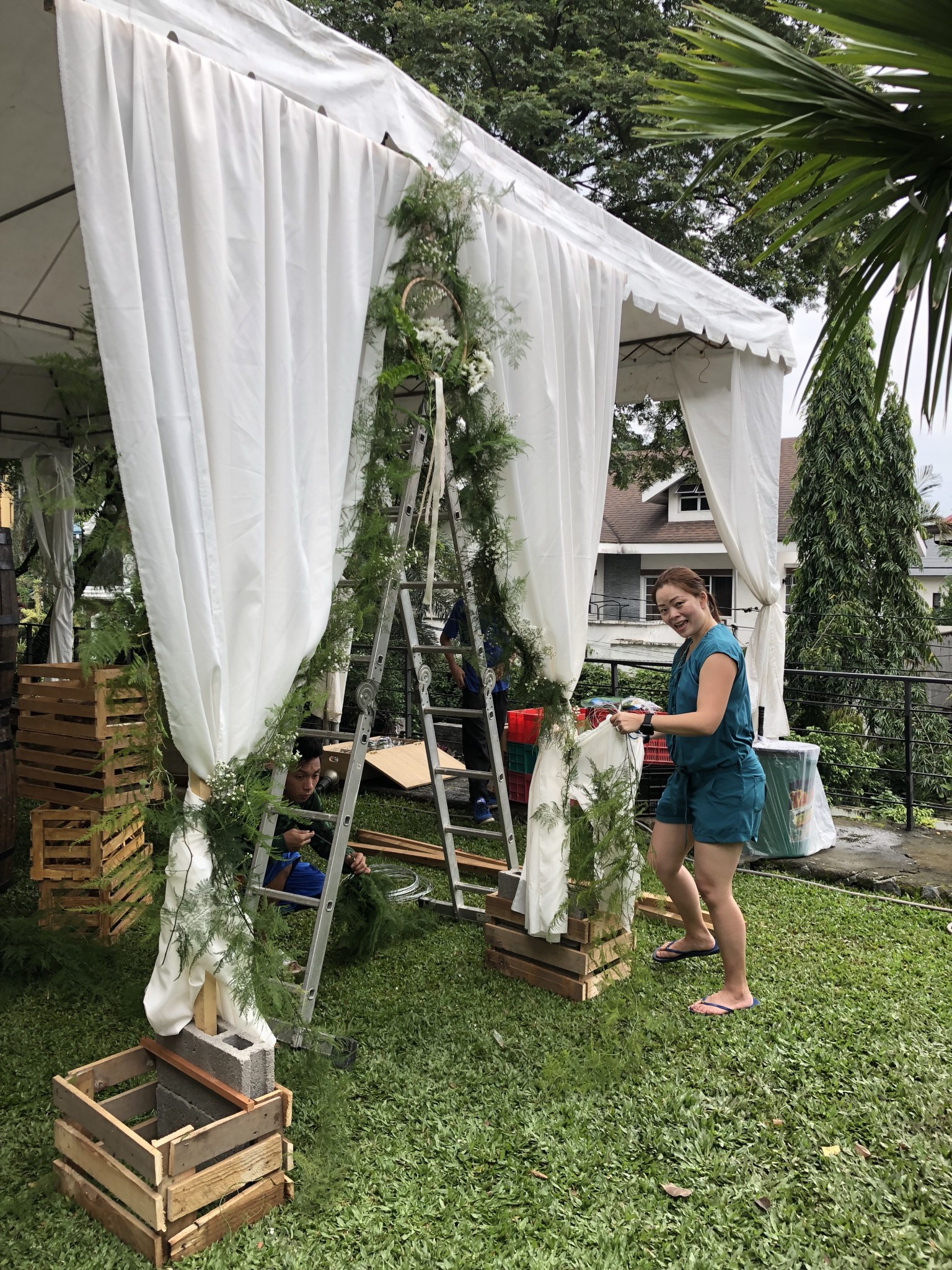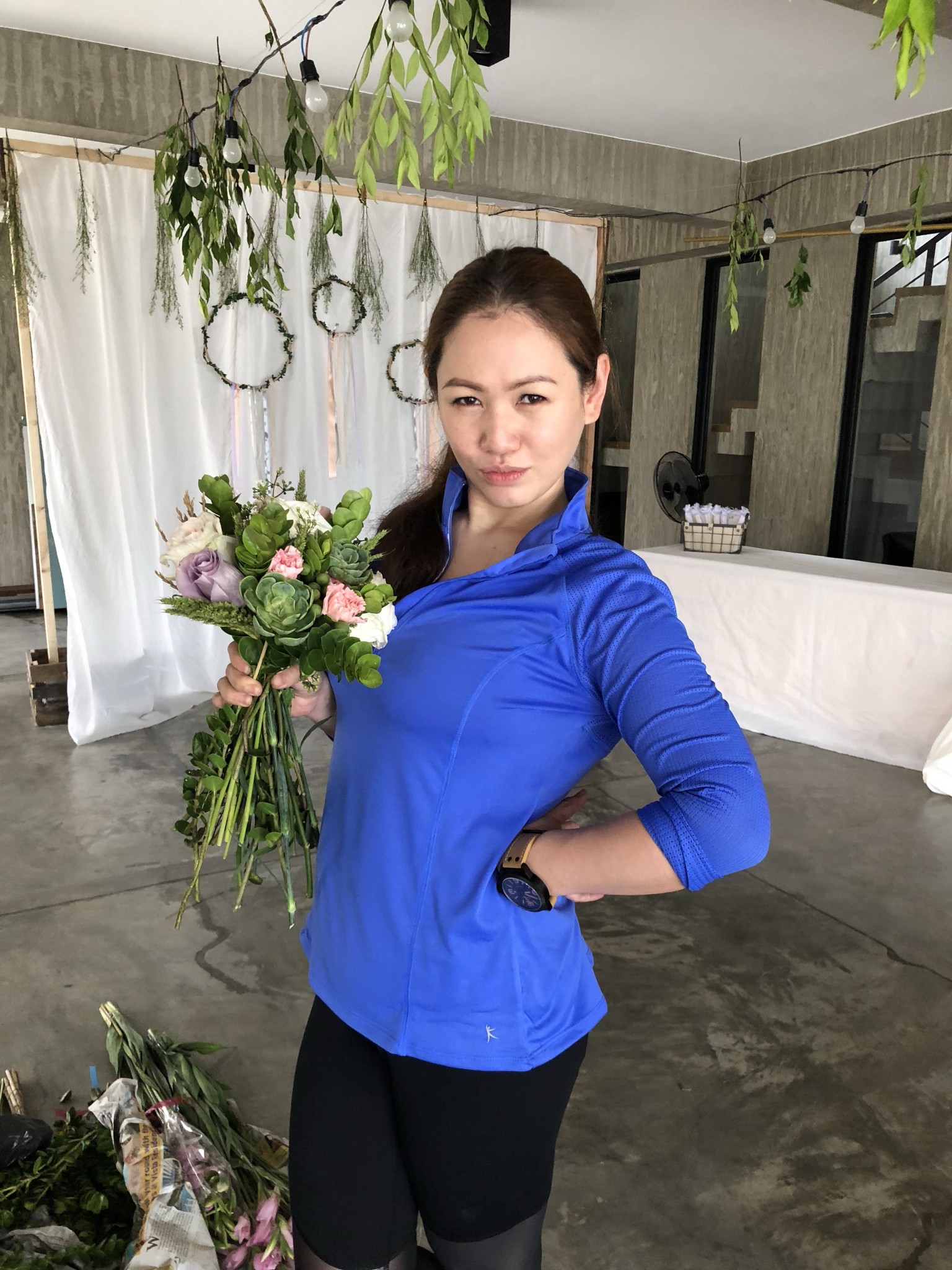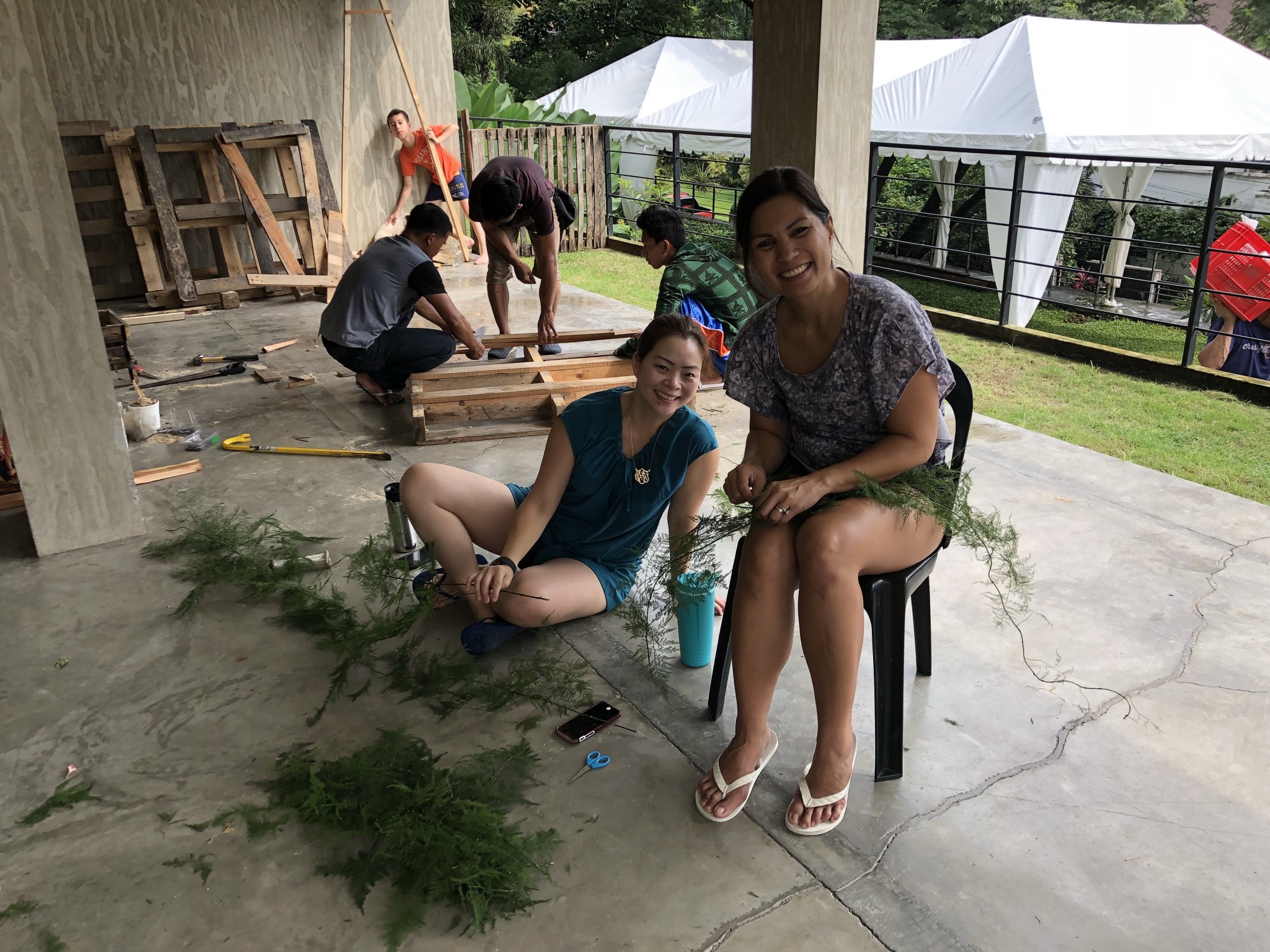 It was a wonderful day for all of us who organized and decorated, and for the bride and groom, who were both smiling from ear to ear.
God was the ultimate orchestrator and divine hand behind all of this — from the weather to the details that resonated with the bride and groom.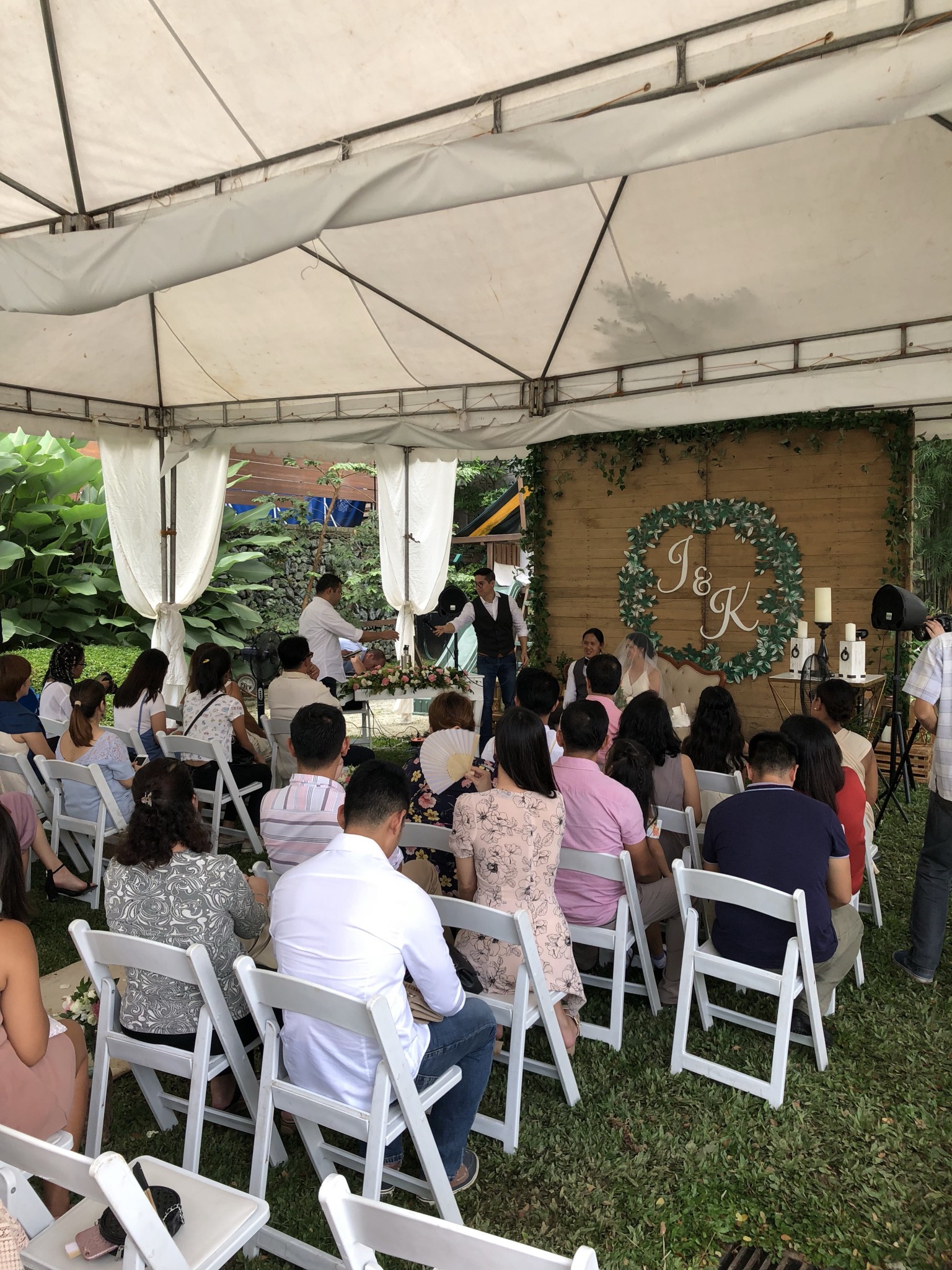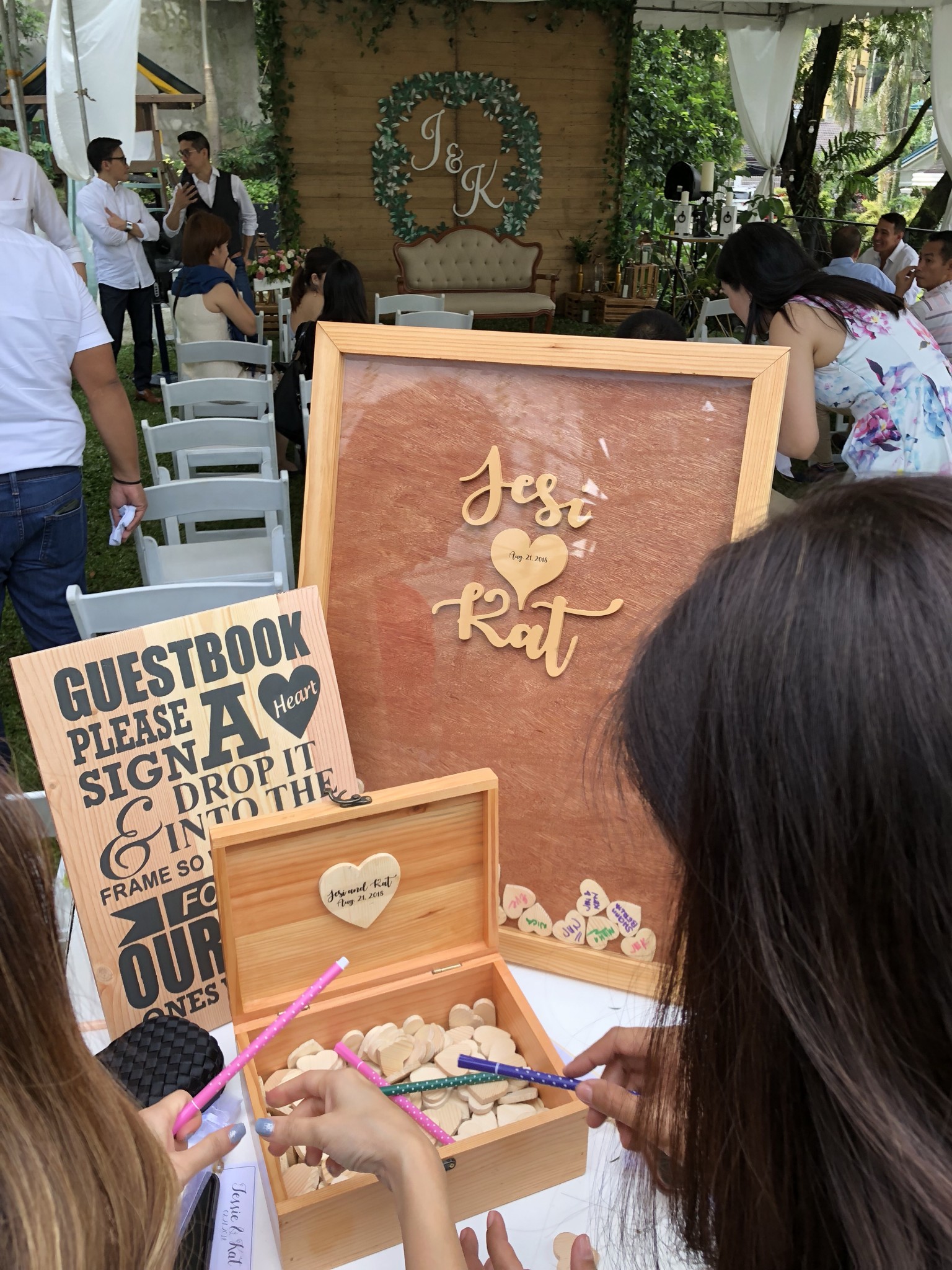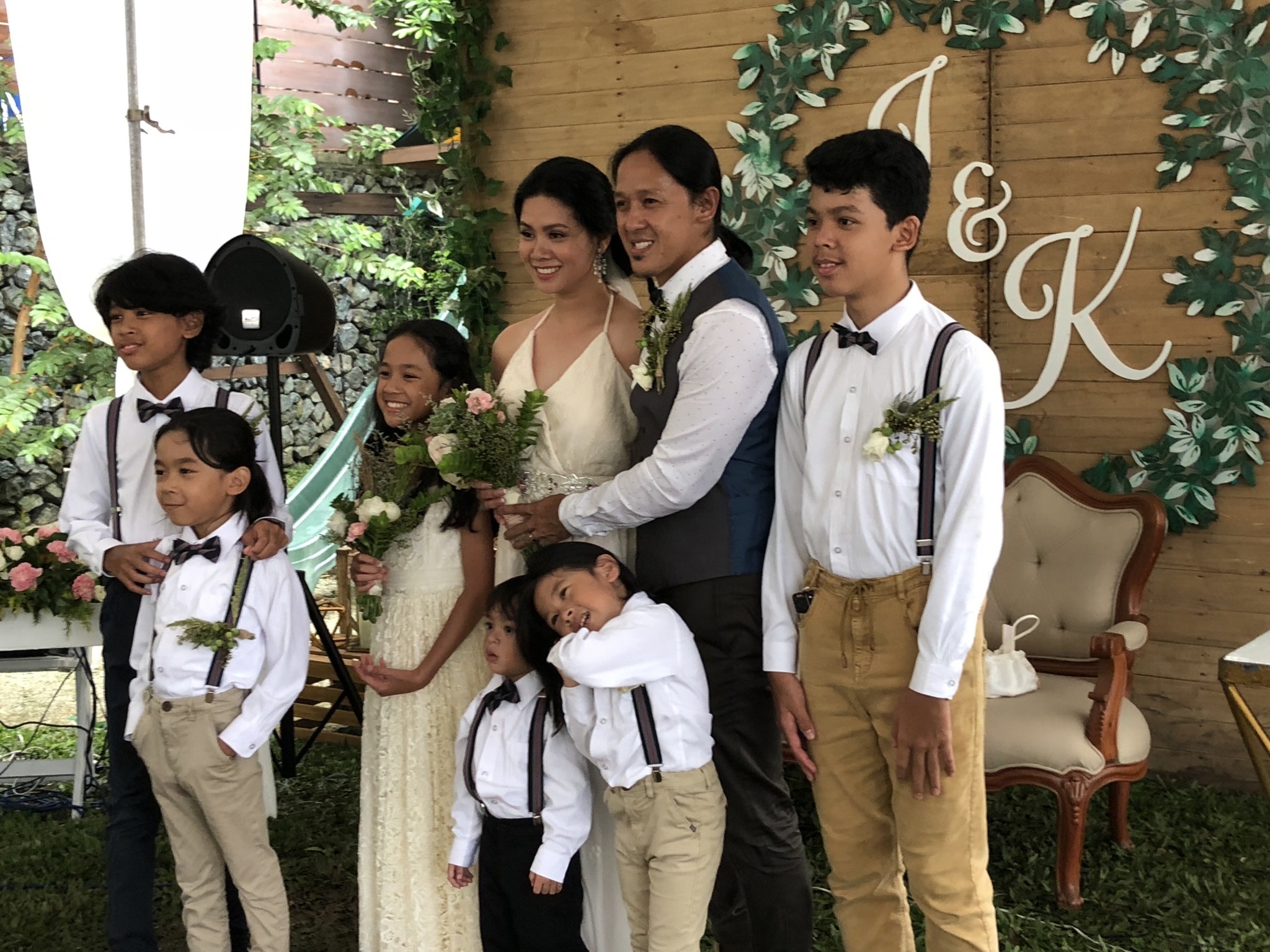 Estimated costs for 90 to 100 pax:
Caterer – 80,000
Photographer, videographer and hair and make/up – 20,000
Flowers and greens – 12,000
Tent – 10,000
Set-up to beautify venue – 20,000
Extra desserts and cocktails table – 12,000
Give-aways – 4,000
Total: 158,000 pesos
So…not bad, huh?
The priceless parts in all of this were…
… being able to serve our dear friends, Jesi and Kat
…letting them know they are so loved by our group of couples
…watching them renew their commitment to one another as two persons who have come to know the Lord
…hearing them declare God's faithfulness to their friends and family
Mission accomplished!