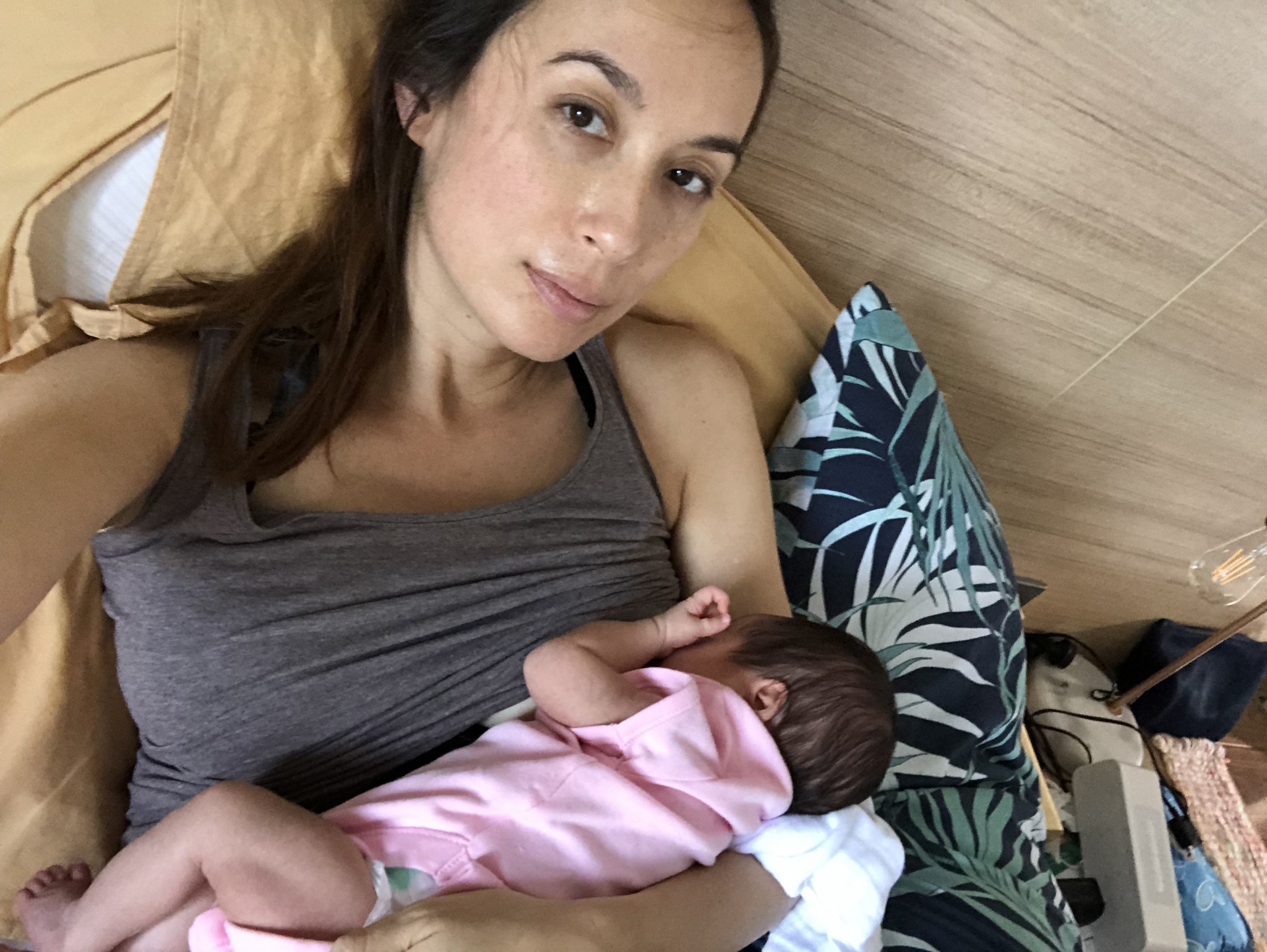 I am so used to being someone who is healthy and well, rarely sick with a cough, cold, or the flu. Yet in the last two weeks, I have had days of low grade fever and body pains, apart from uterine contraction pains, and uncomfortable gas that seems to be trapped in my intestines. Because these symptoms aren't always predictable, I have been through a roller coaster of emotions. Some days, I am cheery and upbeat. Other days, I just want to be alone and curled up in bed, ignoring calls and messages, and avoiding social media channels.
I have random crying moments or feel deep melancholy. And I don't want to think of myself as depressed because I am not emotionally non-functioning. However, there is definitely a sadness I am wrestling with.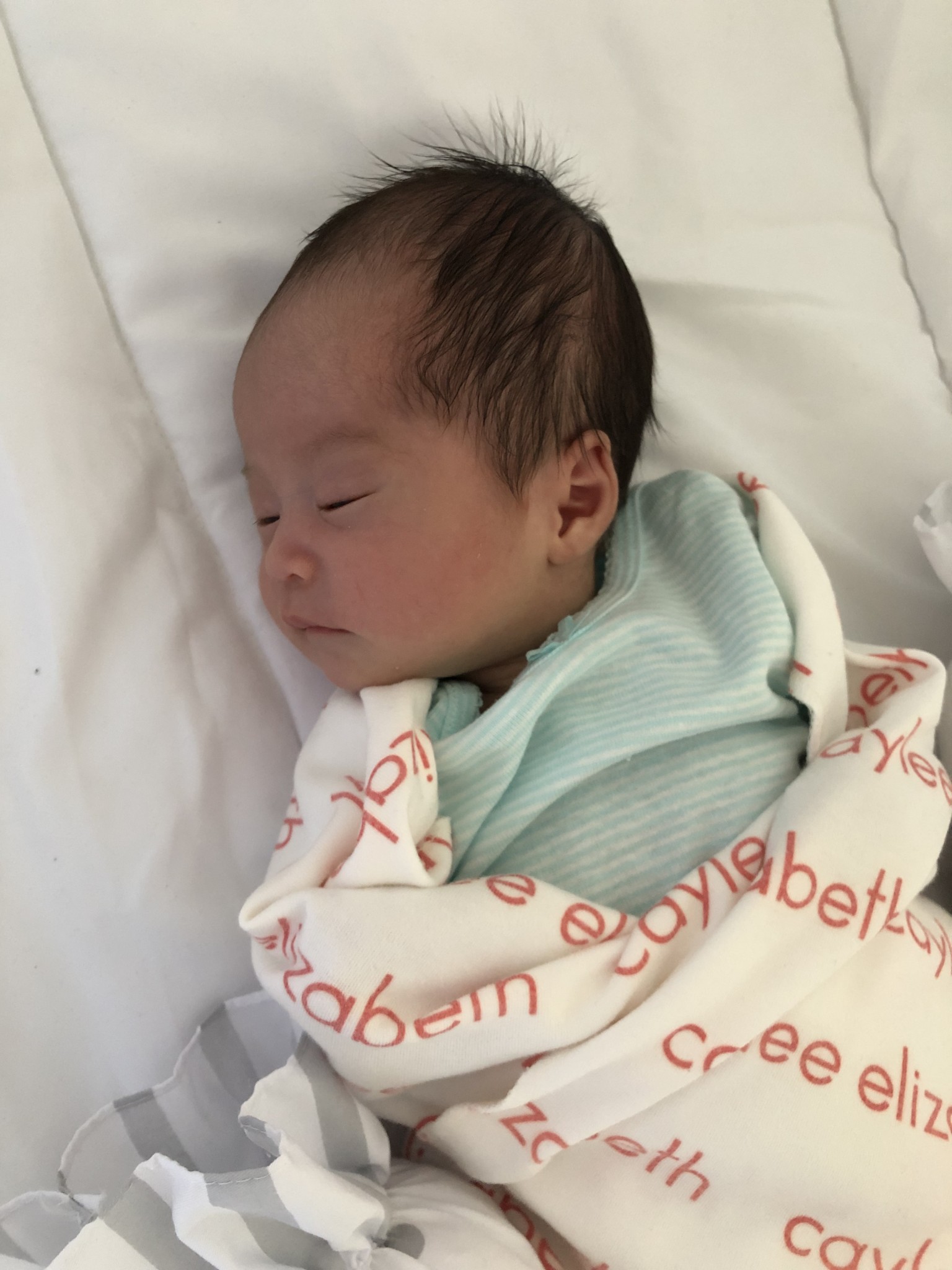 While I am grateful for Caylee being healthy and strong, and I tell myself that she is a gift and a blessing, there are moments when I actually regret having another baby as a 41 year old. I don't regret precious Caylee. Instead, I wish I had tried much earlier, perhaps two years after Catalina had been born, and then said goodbye to childbearing years.
This is not what I expected…to feel like an invalid, to be a burden to my family, to pull away from them emotionally, and to be away from them physically, for most of each day because I am stuck in my bedroom, on the bed.
Thankfully, Edric has taken over the parenting of our other kids. He's got them on a schedule, he attends to them when he gets home from work, and they are enjoying board game time, outdoor exercise and play with him. He's been incredible, really stepping up so they don't feel my absence too much.
What makes this recovery confusing is that some days, I can go to the mall to watch a movie like Aquaman because I feel stronger, and other days, I wake up feeling like I have been punched and beat up so badly. I will get the chills, bundle myself up, and then my body ends up overheating, and I drench my clothes at night from sweat. My temperature also fluctuates throughout the day. The gas and constipation don't help either. It's crazy! I have never experienced this.
I know there are people out there with chronic diseases, and much worse pain, people who are dying from cancer or other incurable sicknesses. So I am not saying that my pain and physical struggle are much more significant. Nevertheless, each day is wearing me down spiritually, emotionally, and physically. Pain killers help every now and then, but I don't want to take too many because of the side effects.
Since my doctor said I have no infection, no major problem internally, I just have to endure this stage of recovery until it ends. Apparently, having many children makes each post-partum recovery more painful.
I have finally concluded that birthing six kids is no joke! I pridefully made light of it, relying on past history — the ease with which I bounced back to my pre-pregnancy state in terms of energy. Three days after Catalina was born, I was pushing a huge grocery cart in S&R, happily doing some shopping. I felt great!
This sixth birth swayed the pendulum over in the opposite direction. It's like life was vacuumed out of me. So when people have been messaging and posting comments like I am a super mom, I look at myself and I just want to cry. This is the most un-super I have ever felt. I am a super broken person right now.
It's not knowing when this state of neither here nor there, confusingly painful days and occasionally, more hopeful ones, will end that troubles me so much. When will I be myself again? When will normalcy return? When will I be able to wake up feeling recharged and full of life and energy, not the opposite, where I want to curl back into bed and sleep away the disappointment and the discomfort.
It hurt to hear my second son, Edan, comment, "Mom, I miss you smiling." I didn't know what to say. I missed me smiling, too!
Today, I broke down again. And I asked the Lord, "Teach me how to have joy. Teach me how to rejoice amidst the struggle. I know you command us to give thanks in everything, I want to be able to do this."
God answered both my questions through his word…
The first Psalm of my quiet time was this:
"How long, O LORD? Will You forget me forever? How long will You hide Your face from me? How long shall I take counsel in my soul, Having sorrow in my heart all the day? How long will my enemy be exalted over me? Consider and answer me, O LORD my God; Enlighten my eyes, or I will sleep the sleep of death, And my enemy will say, "I have overcome him," And my adversaries will rejoice when I am shaken. But I have trusted in Your lovingkindness; My heart shall rejoice in Your salvation. I will sing to the LORD, Because He has dealt bountifully with me." (Psalms‬ ‭13:1-6)‬ ‭
Why can I rejoice? God is my savior. He has blessed me beyond what I could ever have hoped for or imagined in this life and in the life to come.
The next passage I read was this:
"You will make known to me the path of life; In Your presence is fullness of joy; In Your right hand there are pleasures forever." (Psalms‬ ‭16:11‬)
Where is joy found? Joy is found in God's presence. He's the source of joy. It's not circumstances, people, possessions, or accomplishments. It's being with him, being in a relationship with him. It is knowing he is always there, that He loves me, even when it doesn't feel like it or seem like it.
To further encourage me, I listened to a song by Lincoln Brewster called, While I Wait.
Deep within my heart
I know You've won
I know You've overcome
Even in the dark
When I'm undone
I still believe it
I live by faith and not by sight
Sometimes miracles take time
While I wait I will worship
Lord I'll worship Your name
While I wait I will trust You
Lord I'll trust You all the same
When I fall apart
You are my strength
Help me not forget
Seeing every scar
You make me whole
You're my healer
I live by faith and not by sight
Sometimes miracles take time
While I wait I will worship
Lord I'll worship Your name
While I wait I will trust You
Lord I'll trust You all the same
You're faithful everyday
Your promises remain
You're faithful everyday
Your promises remain
Though I don't understand it
I will worship with my pain
You are God You are worthy
You are with me all the way
So while I wait I will worship
Lord I'll worship Your name
Though I don't have all the answers
Still I trust You all the same
https://m.youtube.com/watch?v=NswPPVgMaPE
My conclusion is to worship the Lord still, just as the lyrics declared. I used to think that worship means you have to be jumping up and down with delirious joy in God's presence. Yet there is a kind of worship where you bow down and surrender your longings for relief, for better days at his feet, and you weep and wail before the Lord, and you come before him honestly about the pain and the discouragement you feel, and it's him that you seek with all your heart, it's him that you look to and call out to when you feel the darkness rising in your soul, when the unanswered questions plague you with doubt, and you choose to find your refuge and rest in his presence instead of anything or anyone else.
I have no answers to why I am experiencing this difficult time. There is no sign off in the distance the marks the end of it either. Physically speaking, it could be that I have hit my threshold for the number of children I can bear without my body seeming to fall apart. That's it for me. But I think this is also God's way of pruning me, of leading me through one of the valleys of my life, where it's just Him and me.
Edric can't relate to what I am going through, neither can my kids. As much as Edric tries to be there for me and to offer his help and support, I feel very much alone most of the time. So this is between God and me, a journey He is making me take with Him. It terrifies me on the one hand because I do not know where He is leading me, but I trust in His faithfulness. I worship Him for His faithfulness…