I used to be afraid to die when I was a child. I knew for sure I was headed for hell. As a young kid I was deceitful. I was a liar, and I knew it.
One evening as my siblings and I gathered around my parents for a bible study, my dad happened to touch on the subject of hell. Gripped by fear I started to cry. I asked my dad to explain to me how to go to heaven, how to have that assurance.
My dad calmly spoke of the gospel message — that Jesus Christ had paid for my sins and died on the cross for me. In response, I needed to repent, and to trust in him completely to save me.
This was the message of John 3:16 — That I was a sinner, incapable of saving myself from the destruction I deserved, and then saying that Christ's death was enough to pay for what I couldn't pay. In him, I could have eternal life. In him, I was given a new beginning. In him, I was made clean. In him, I was freed from sin to love, obey, worship and honor God.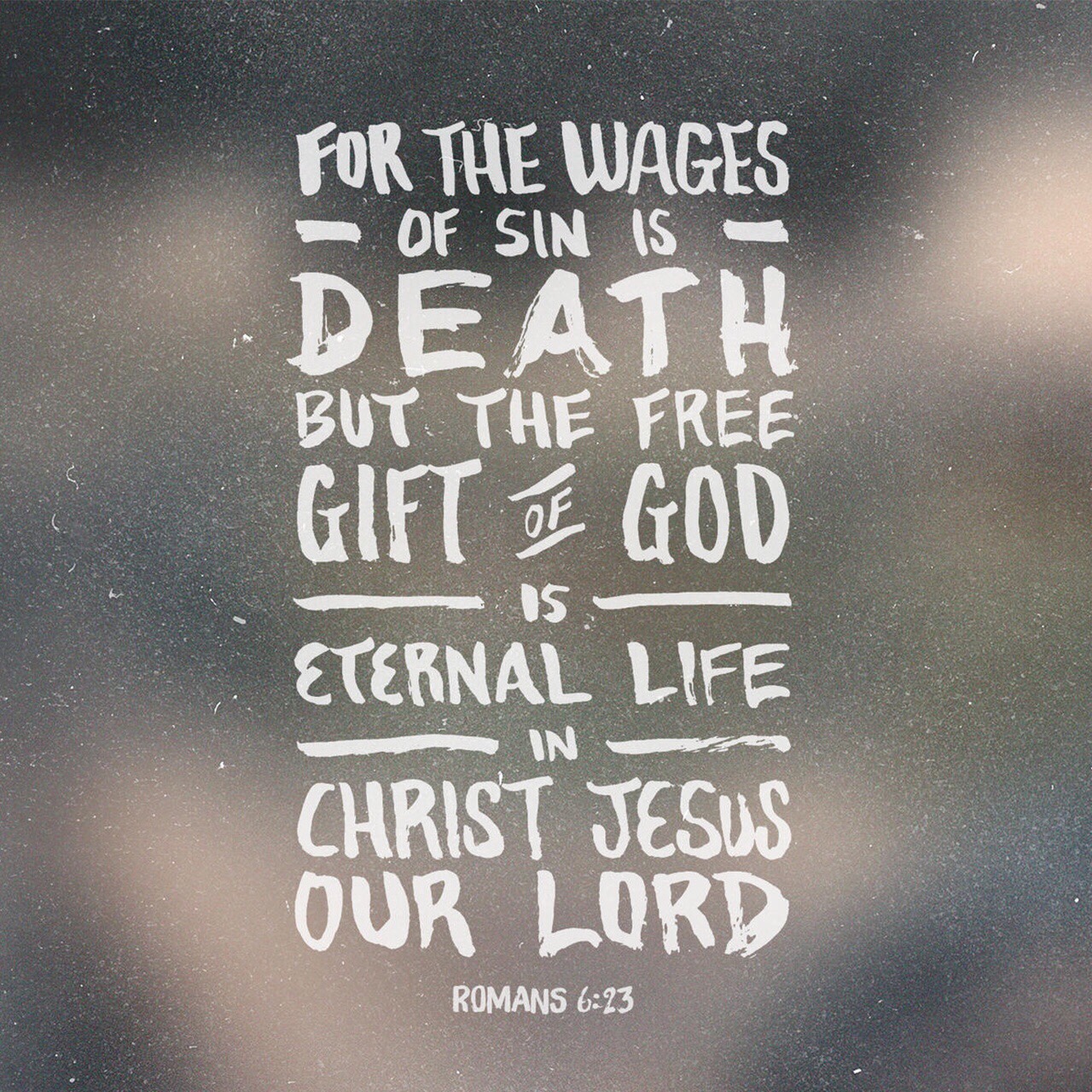 That juncture in my life was the beginning of my faith journey, of seeking to understand who God is and what he asked of me. It wasn't a perfect journey, but I knew I belonged to him. Every time I made a mistake, I was convicted to ask for forgiveness and to choose to do what pleases Him. Furthermore, I was no longer afraid to die. I knew that I if I should lose my earthly life, I would be with him.
Six years later, I became a victim of rape under gun point. During the ordeal I wondered if I might die, if this was to be my end. However, there was peace. Even though my body was violated, I was assured that my spirit couldn't be touched, that it was protected by my Heavenly Father. That was the real me — who I was inside — and if died that night, I would be in his presence.
God faithfully brought me through that major trial in my life, and he continues to heal the parts of me that were broken by that experience.
I didn't expect to go through another near death experience, but my recent bout with endometriosis gone wild, and my complicated surgery also made me wonder if I might die.
It's been four months since that ordeal. The recovery was difficult and trying, but God got me through it, and he provided the grace to survive and be at the point where I feel my physical strength being restored.
Just like before, I am sure that my healing will be a process. However, those two encounters that brought me close to the possibility of physical death have made me ponder upon the words of John Piper: "The Holy Spirit will help you die."
What does this mean?
It means that when we face our greatest possible fear — dying — the Holy Spirit will be with us. He will give us a supernatural peace and boldness to face the end of our earthly lives.
Piper writes, "1 Peter 4:14 promises that in the hour of greatest trial God comes to his children to give them courage and faith which they did not know they were capable of."
He also cites Paul's statement as he nears the end of his time in 2 Timothy 4:16–17, "At my first defense no one came to stand by me, but all deserted me. May it not be charged against them! But the Lord stood by me and strengthened me."
The Lord will be with us when no one else can or will. He will be by our side to the very end. He will help us to finish well, and he will carry us home.
Very recently, a young friend passed away. Her name was Karla. She was the wife of a childhood friend, as well as sister in law and daughter in law to a family whom I dearly love, and mother to a young boy. Karla knew Jesus. She was also diagnosed with bladder cancer six years ago.
During the last few years the struggle grew difficult as the cancer spread to more and more areas of her body. She would have successes and then relapse again. However, she was a woman who was full of joy, a woman who knew her destiny, her better home.
Karla was one of the women who encouraged me when I was sick and recovering from surgery. This was our last correspondence…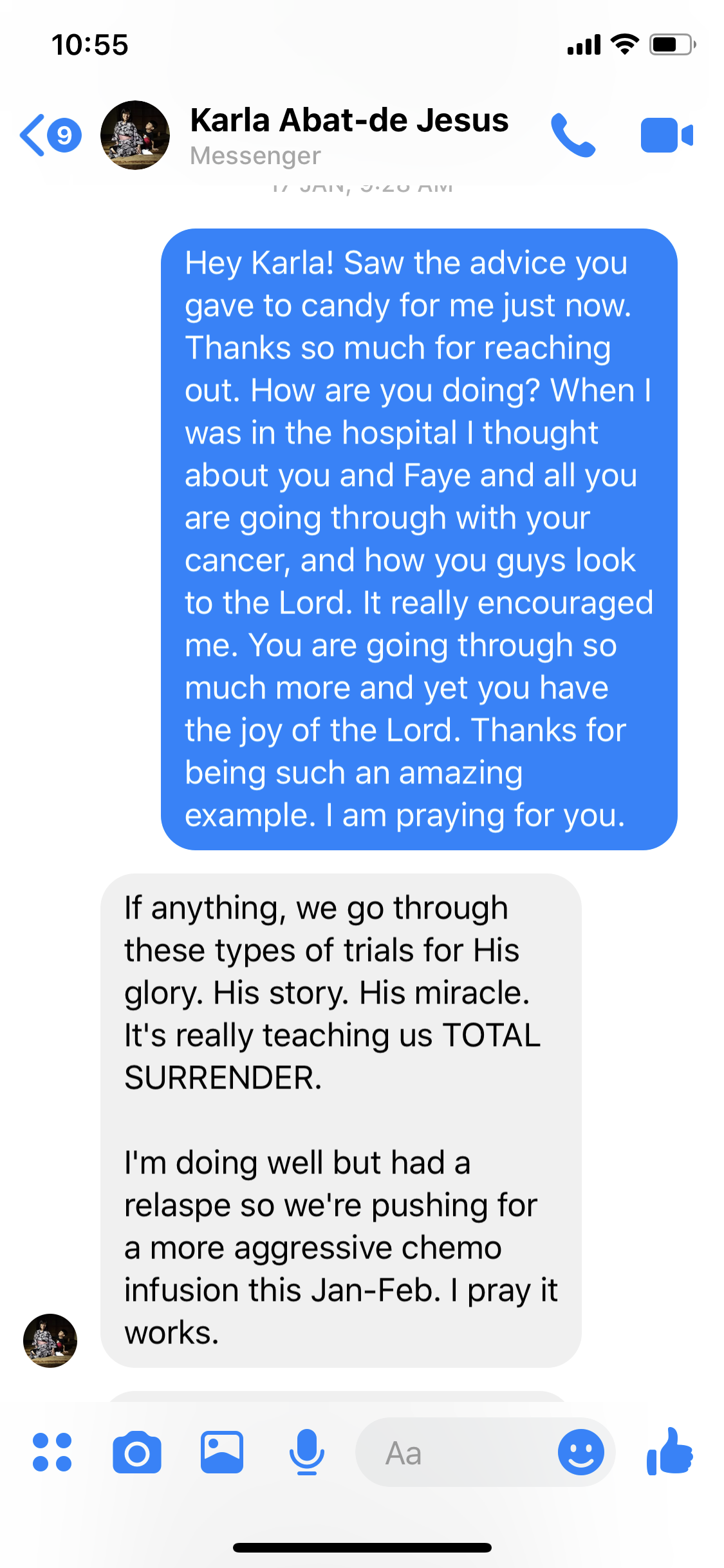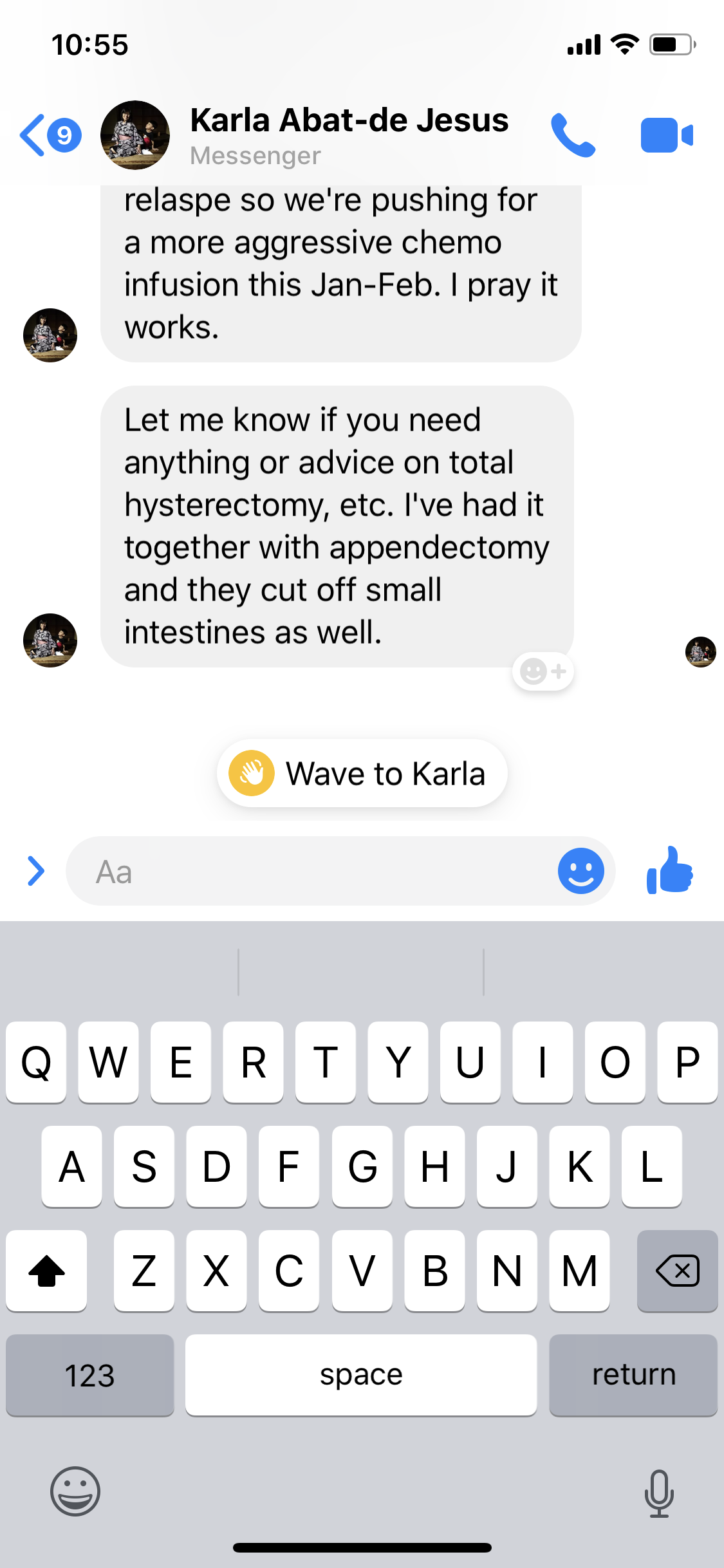 Even though she was dealing with many health issues at the time, she reached out to me, and it meant so much. I grieved when I found she was rushed to the ER last Saturday where she passed soon after. What a beautiful person to have left this earth so soon.
Yet, many have given her tribute for the way she lived, and I want to honor her for the way she died, too. She died never having lost faith in God nor letting her affliction steal her hope in him. I know with absolute certainty that she is rejoicing before her Maker in eternity, where she belongs, and that she entered glory as one who finished well.
"Statistics," as my dad jokingly says, "tell us that we will all die."
The question is what will it be like for us when it is the end? For those who have the Son, it will be the final moment of our greatest sorrows and pains, and the beginning of our greatest happiness, the fulfillment of our greatest longings.
"And the testimony is this, that God has given us eternal life, and this life is in His Son. He who has the Son has the life; he who does not have the Son of God does not have the life. These things I have written to you who believe in the name of the Son of God, so that you may know that you have eternal life." 1 JOHN‬ ‭5:11-13‬
The most important thing I can ever pass on to you, my dear reader, is the gospel message of Jesus Christ — that He died for you and for me, that He paid for our sins so that we can receive forgiveness and be reconciled to him. If we believe this, we have as 1 John 5 tell us, "eternal life."
When I was that nine year old girl who was afraid to die and I finally understood this truth, I simply prayed for Jesus Christ to be my Lord and my Savior. I repented of my sin, welcomed his forgiveness and thanked him for dying on the cross for me.
Nothing can be more assuring and comforting than to know that the worst thing that can possibly happen to us is the best thing that can possibly happen to us if Christ is our Lord and Savior, because it will not be the end, but the beginning of our eternal life with him!
May this truth anchor you, encourage you, and give you rest!