I am a selfish person. I always have been, and I probably always will be until I die. That's the ugly reality of my carnal, human self. My tendency is to think of what's best for me, what I want, and how to elevate myself over others.
However, I also know that Christ lives in me. And he can take that selfishness and make it submit to his Lordship, keep it under control, and replace it with genuine love and concern for the well-being of others.
What's the opposite of selfishness? It is being sacrificial. It's giving greater priority to the needs and desires of others over my own. This doesn't come naturally to me…especially in marriage.
I'm in a season where I am needier than I have ever been, emotionally and physically speaking. Recovering from loss and a complicated surgery, being forced into early menopause, getting over my post-partum depression, and caring for an infant, have made me unpleasant as of late.
Here are some of the THOUGHTS that go through my head when I relate to my husband, Edric:
"I can't deal with your needs right now because I've got to wrestle with my own."
"You better be understanding because so many things are hard for me right now."
"Why are you asking me for something to eat before we are about to go to bed? Can't you serve yourself?"
"Is it too much to ask that you try your best to be quiet and mindful of the noises you make when you are in the room because Caylee is sleeping? It was such a battle to get her to sleep!"
"I can't do everything excellently right now, so cut me a lot of slack."
"Really? You are going to blame me again because you are disappointed with my inefficiency?"
"Sex? Are you kidding me? Can't you see how exhausted I am?"
Like I said, normally these thoughts stay in my head. Yet, once in a while, I end up making remarks that really hurt Edric's feelings when I get annoyed with his responses toward me, or with his expectations of me. IT'S SELFISHNESS!
We've had several moments to talk about the present challenges in our marriage. However, Caylee is very often an interruption to getting to that point of clear resolution. She cries, I need to pick her up or feed her. I get distracted and sink into mom-mode. The conversation leaves us both emotionally constipated.
Although we aren't always fighting with one another, and there are some days when no conflict ensures and we are super sweet towards each other, there's an undercurrent of discord. We both know that it's there.
Last night, I didn't have Caylee with me. I left her at home. Edric and I got a chance to talk at Sunrise Buckets, while our five other kids were at the bookstore, as we waited for our food order to arrive. The phones were put away, and we gave one another undivided attention.
We let it all out.
We discussed the problems, the hurt. We had to forgive one another. At the same time, we had to agree on how we both needed to improve. To be honest, I was resistant. I selfishly though it was Edric who ought to change. He was the "bad guy." I was the victim.
That is probably one of the most self-centered perspectives any person can have…thinking of themselves as the victim. It's called a "victim-mentality." You expect others to pander to you. You want them to understand you. If they treat you disrespectfully, you retaliate and fight back. You demand equality and tolerance. It's about your rights, even if it means that other peoples' rights are disregarded.
I think we see enough of this in our society today to know what I'm referring to, but we don't always recognize it in ourselves. It's not just an issue of those who want to force their agendas on others. All of us have this tendency in ourselves. Admittedly, I do, too.
My dad used to tell me, "One of the things that kills a marriage is selfishness."
I've seen selfishness eating away at my relationship to Edric like a cancer in the past few months. It's turned my heart away from him. It's made me resentful. I've become one of those women who keeps a record of her husband's wrongs. Simple issues get blown up into bigger ones because I am keeping tabs. I am easily upset. I lash out. I disrespect him in front of the kids.
Thankfully, my husband is the spiritual leader of our home. He knows when and how to reign me in, sit me down, and get to the root of our issues. He doesn't give up on us. (Although I know he's been very exasperated with me!)
During our conversation, I concluded that Edric's not the problem. Nor is it my "season" that's to blame. I'm simply not abiding in the Lord as I should. Yes, I read my Bible everyday. It's the first thing I usually do on my phone.
However, knowledge doesn't transform anyone. It's application that is necessary. Interestingly, it was my oldest son, Elijah, who reminded me of this.
As he practiced the bible study he prepared for other high schoolers, he came to the part where he explained to me that walking by the Holy Spirit not only means asking him to 'fill us,' it also means to listen to him and submit to him. To obey him.
That's where I have been messing up. I have asked him to fill me, and I try my best to tune in to what he wants me to say and do, but I don't always obey. When it gets to the point where I must sacrifice my will, wants, or expectations in order to prioritize Edric's, I resist that inner voice. I make excuses. I act like a victim. I let myself be controlled by self-centered thinking.
It's been four days since I wrote the first part of this entry. By God's grace, Edric and I have been better. I would even say, pretty awesome, considering the previous tension we dealt with.
I am still tempted to be combative at times, but I am trying to practice listening to the Holy Spirit. (I know he is, too. He's making the extra effort to be loving.) As for me, the Holy Spirit tells me things like modify my tone, or stop talking, or pray, or be sweet and responsive. Goodness! It's a challenge, I tell ya!
I don't think Edric and I will ever get to that perfect plateau in marriage that is problem-free. In fact, as we age, issues that surface tend to be more serious, and I know selfishness will show up again and again. However, the good news is, if we both keep the Lord at the center, our marriage will get better and better. There's always hope and grace to honor the commitment to stay, to work it out, to keep changing where we need to, to enjoy and not just endure our relationship.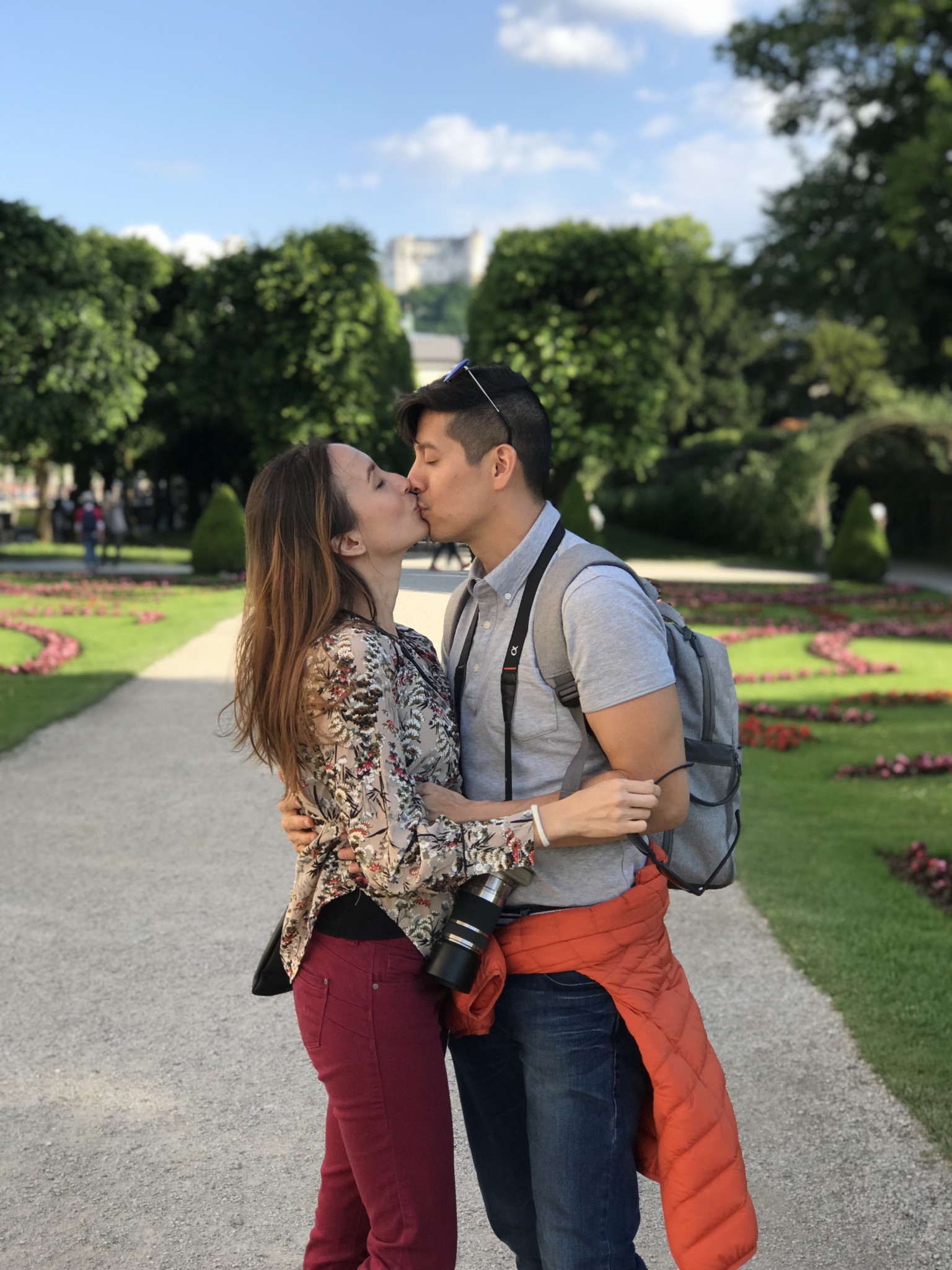 "I love God's law with all my heart. But there is another power within me that is at war with my mind. This power makes me a slave to the sin that is still within me. Oh, what a miserable person I am! Who will free me from this life that is dominated by sin and death? Thank God! The answer is in Jesus Christ our Lord…"(Romans‬ ‭7:22-25‬)