I miss writing in my blog so much. I know that people aren't reading long articles like they used to, which is one of the reasons why I opted to do more "micro-blogging" on my Instagram and Facebook accounts. However, I often feel constrained by the amount of words I can use on those formats. There's also something dangerously addicting about these online platforms, because I start to pay a lot of attention to the number of likes, shares, and responses from people who are following me. I get a kind of high when I know that what I share is well-received and appreciated, and I find this feeling of excitement spiritually terrifying.
Because it is easy to get sucked into the vortex of seeking significance from others, I have to be very mindful of my motivations for using these platforms. I have to treat this privilege of influence as a stewardship that I'm accountable to the Lord for. Otherwise, it starts to become about me and what people think about what I write rather than genuinely using these mediums to connect people to the Lord. Although my intentions are to make Christ known through the thoughts, principles, and ideas I post about, and to keep putting out positive messages that celebrate marriage, parenting, and family as God designed these to be, there's that continual struggle within to fight off self-centered, self-seeking desires.
What's so tricky about using social media for the Lord is that there's an amount of fame that becomes attached to the person who is creating posts and content. While I am nowhere near the popularity of better-known bloggers, vloggers, and influencers, I have to do a heart-check every single day.
Honestly, it's exhausting. A part of me never wants it to be about me. And that carnal side does. During conversations with Edric about how to navigate this space with wisdom, I mentioned to him that there are times when I want to stop altogether. I want to leave the online space and return to obscurity. I'm not saying this because I'm so popular that I can't deal with the stress of fame. (I think that's a whole different level of stewardship which God elects for certain persons to have, and may He give them the grace to steward this well.) What I am saying is that it can be wearying, spiritually and emotionally.
The only way to survive and remain impactful for the Lord is to remember that everything I have, and everything that I am is by his grace. It's also necessary to be accountable to others. I am surrounded by people in my life who can and will tell me to my face if I am on the wrong trajectory, if I am not listening to the Holy Spirit by posting or sharing content that is insensitive to others, inappropriate, or self-glorifying.
My husband is one of them. I remember a time when I asked him if I could show a photo of myself with puckered lips, to highlight a lippie that someone gave to me, and he cautioned me against doing so. He advised against posting anything that projected me as sensual, sexy, or sexual. I wholeheartedly agreed with the sensual, sexy, and sexual, but for me, the puckered lips weren't a big deal. (I mean, he's totally okay with our kissing photos!) At first, I thought it was a little extreme, but since I felt reactive inside I knew that God was using him to help me create boundaries when it comes to the online space.
"Others may, but I cannot." This is a standard I've had to abide by. In 1 Corinthians 10:23 it reads, "All things are lawful, but not all things are profitable. All things are lawful, but not all things edify."
I am not judging people who show off their bodies in bikinis or those who pose half-naked. It is a personal conviction of mine not to use platforms like Instagram or Facebook to promote myself in this manner, not because I am a legalist, but because I want to share content that ministers to people, that glorifies God.
Whatever you do, do all for the glory of God. (1 Corinthians 10:31)
This is what Paul encouraged the believers to do. Everything must submit to the right purpose — glorify God. When the purpose is clear, the priorities, principles, and pursuits follow accordingly.
Very recently, during a conference I attended called Intentional Discipleship Conference or IDC, speaker, writer, and apologist, Ravi Zacharias stated, "The devastation of popularity is that we become less than what God made us to become." He also added, "The means we use to talk about truth in the world today must be in keeping with the message of Christ. Christ's image is not a manufactured image. What we are in Christ on the inside should be what we are on the outside."
It's so easy to sink by small degrees as Warren Wiersbe noted. When we lose sight of the right purpose, why God created us, why he gave us the resources and opportunities he has, we start to compromise in order to gain followers (popularity) instead of making people followers of Christ by our means and message. As a follower of Christ, there's a stewardship involved. I ought to live like I am HIS follower in every sphere of my life — at home, in public, offline, and online.
At the same time, I have to be relevant, relatable, and authentic to connect with the hearts of people, so the challenge is real!
For anyone in this online space with a platform, this stewardship of influence is something that must be navigated with the ores of humility and wisdom, as well as frequent revisitation of motivation and purpose, accountability to those who speak truth, and daily intimacy with the Lord.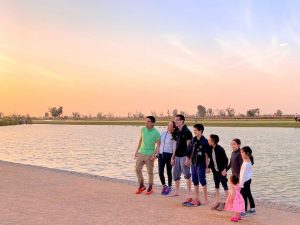 And, to all those who send me messages of encouragement, who write me to seek out answers to difficult questions, who look to me for help to process trying circumstances, I want to thank you for reaching out to me. Your messages remind me that it's possible to make a positive difference in the online world. However, I want you to know that whatever it is that you see in me or my family that is worthy of attention or acknowledgement, or whatever wisdom you hope to receive, it's ALL because of Christ and it's ALL from him. He deserves all the glory for anything good that you attribute to me, and to my family!