Answers in Genesis has a new Kids Answers website. It is a "fun, safe, Creator-honoring place to find educational entertainment for your children."
Through this site, children will understand how science supports the case for a Divine Creator. It shows kid-friendly movies, features a new animal every week, and has coloring sheets and activity pages. Parents can use this site as a supplement to their science curriculum. This is a free resource. I really like the materials and books of Answers in Genesis so I was happy to know that they created a website for kids.
Personally, I believe that science is one very effective way to strengthen the faith of my children. When my two older boys and I go over their science materials (which are all creation-based) they begin to have an understanding of how awesome and powerful God is.
Last  year, I found this resource from Answers in Genesis: Answers Book for Kids — Volumes 1 to 4. I decided to buy the whole set when I was visiting my sister in the US.  The books are small enough to fit in a medium-sized purse. When were at the hospital the other day, I brought two of the books and they kept my sons busy reading.
What I like about these books is that they give children (ages 5 to 11) a foundation in basic theology.  They provide a defense for the Bible and its truth, but in a kid-friendly manner. The answers are written out from the perspectives of children and the answers are clear and concise. I've included an explanation of what's inside each volume (taken from Answers in Genesis' website.)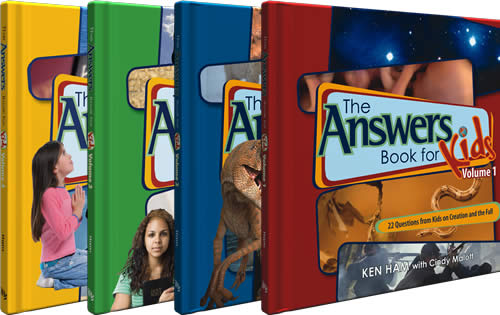 Volume 1: 22 Questions on Creation and the Fall
The story of Creation and the Garden of Eden are familiar ones. But they also present a wonderful opportunity to share important biblical truths with eagerly questioning minds through answers that even the youngest believer can understand. In this volume, children will get answers to questions like "How did God create everything from nothing?" and "The serpent talked to Eve, so why can't snakes talk today?" 48 pages. Find out more.
Volume 2: 22 Questions from Kids on Dinosaurs and the Flood of Noah
Dinosaurs are fascinating creatures that kids simply adore, and even the youngest believer can recite the biblical account of Noah and his Ark. Now discover how to answer some of kids' most interesting questions about dinosaurs and Noah's Ark like "Where did all the water go after the Flood?" and "How did Noah keep the animals on the Ark from eating each other and his family?" 48 pages. Find out more.
Volume 3: 22 Questions on God and the Bible
Even adults struggle to understand our Creator—the infinite Being who seeks a personal relationship with each of us. Now kids can begin to understand both God's Holy Word and the importance of Him in their lives—what He expects from them, why it is vital to follow His plan for their lives, and the love He has for them.  This book will give you the opportunity to leave a legacy to the children in your life. A legacy of trust in God and His Word. 48 pages. Find out more.
Volume 4: 22 Questions on Sin, Salvation, and the Christian Life
Since Adam and Eve chose to disobey in the Garden of Eden, questions about sin, salvation, and the Christian life have often puzzled us. This book gives answers intended to form a strong and lasting faith foundation in the next generation. More importantly, it will set the example of seeking answers—even for the toughest questions—in God's Word, our final authority. 48 pages.
Hopefully, in a few months, TMA Homeschool will make these books available in Manila!