Edric and I woke up early on our anniversary to the best gift — our four children climbed into the bed with us, smothered us with hugs and yelled, "Happy anniversary!" Contained on our king-sized bed and under the covers were the people I love most in this world. That was good enough for me.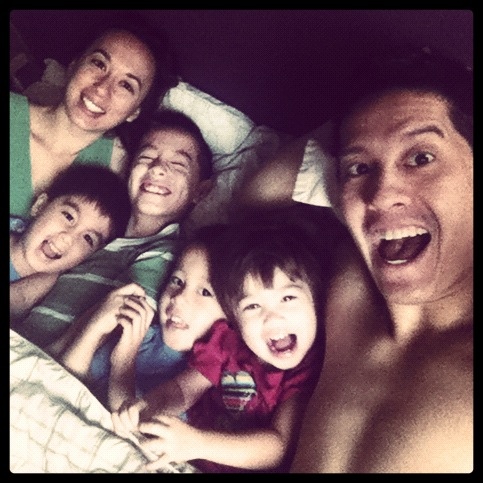 Titus also added his innocent insight, "Before you and daddy got married, Elijah, Edan, and me were still in your tummy, right?" Something like that…And then it was like, whoa! I had a sudden flash back to 11 years ago and I thought, where did all these kids come from?! Have we been this prolific?! One of our other sons started to make the discussion anatomical and talked about sperm and eggs. (Yes, the kids know about the science of sex and they can talk about it objectively without getting squirmish.)
When Edric asked me what I wanted to do for our anniversary, I really didn't know what to say. We thought about options…stay at a hotel? Eat a massive buffet? Get some steaks? Go to a spa? Nothing seemed as appealing as lounging around the house with the kids, ordering pizza, eating in our bedroom, and watching a DVD. It probably doesn't sound that romantic but that's all I really wanted. (But yes, we did go out on a date in the evening.)
After 11 years of marriage I don't know everything but I know some things. I know that roses, fine dining, jewelry, and other stereotypical expressions of love are great, but they aren't really what equates to romance in marriage. At least, not for me.
Edric is a very creative person who likes to surprise me with unique gifts and experiences. And while I appreciate this about him, I often tell him that I am thankful for the romance that happens everyday. I really feel incredibly blessed to have a romantic husband.
I think it is romantic when Edric tells me he loves me every night before we go to bed (even after we argue and I have been completely annoying.)
It's romantic when he is gentlemanly about opening the door for me or holding my hand when we are walking through the mall even when he wants to walk faster.
It's romantic when he sees me carrying a heavy bag and he takes it from me so I don't have to carry it.
It's romantic when I lag behind during our morning jogs and he keeps circling back to me so he can stay near me.
It's romantic when he tells me, "You know I will always rescue you," when I ask for his help on something that stresses me out.
It's romantic when we walk into 7-11 and he tries not to look at the racy magazine covers because he wants to stay pure.
It's romantic when he makes random phone calls to tell me he misses me or talk to me about his day.
It's romantic when he pays me silly and outrageous compliments that sound ridiculously untrue but make me feel beautiful.
It's romantic when he lets me leave the night light on even if he hates it because he prefers to sleep in total darkness.
It's romantic when he wants to take me out for weekly date nights even if he is so busy because he says I am his favorite person to be with.
It's romantic when he uses comedy and corny humor to make me laugh when I am feeling down.
It's romantic when I visit him in his office and he acts like seeing me is the best part of his day.
It's romantic when the first thing he wants to do when he gets home is greet me with a hug and a kiss (and he feels hurt when I don't.)
It's romantic when he tries his hardest to be patient and forgiving when I make mistakes…especially the same ones.
It's romantic when he spends three months contemplating about whether he should buy a mountain bike because he doesn't want to spend for himself and would rather spend for me or the kids…and he visits every bike store in Manila to canvass for the best deal because he wants to be frugal. Then he buys the most reasonable bike he can find and tells me, "Can I give you some shopping money because I bought something for myself."
It's romantic when I tell him my senseless insecurities and fears, like I miss my pre-mommy body and he listens with all sincerity and does not make me feel stupid. Then he adds, "I like your body at every stage." Really?!!
It's romantic when I struggle with uncertainty and he reminds me to trust in God or he tells me, "I will always take care of you."
It's romantic when he assures me that he has chosen to love me forever, flaws and all, and I trust him because he loves God most of all, and that is my security.
I think any marriage that begins with God at the center has a greater shot at never-ending romance. Edric and I have realized that the honeymoon stage does not last long when a husband and wife love out of human capacity. Marriage takes work, humility, selflessness, faithfulness, sacrifice, forgiveness, and unconditional love. There's just no way to keep giving those things without the inexhaustible source of God himself. After 11 years of marriage, I don't know everything, but I do know that a happy and sweet marriage is from the Lord. It is only by his grace. And because of his grace, romantic is everyday I get to love and be loved by Edric.