When my kids do something foolish or make wrong choices, I often feel the temptation to "fix" the situation by bailing them out of their consequences. But after reading about natural logical consequences as a form of discipline, I realized that this can be an effective method to teach and train my kids in areas where they need to improve.
Elijah, my eldest, has a brilliant mind but he can be absent-minded. He has improved significantly, but every now and then he becomes forgetful. Recently, he finished making 40 origami cranes for his lola to decorate her Christmas tree.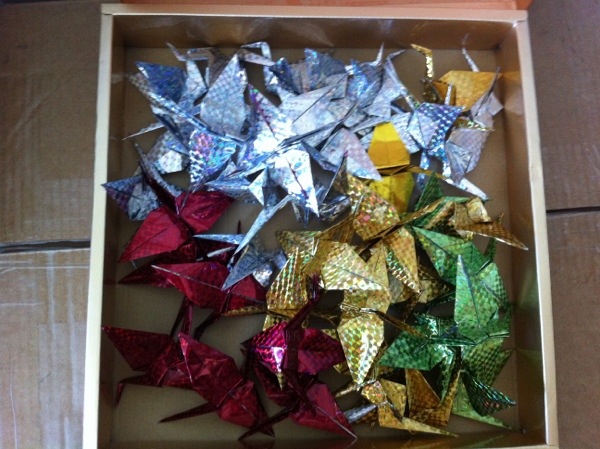 Yesterday, I asked him to bring the box that contained his origami in the car because we would be giving the box to Edric's sister when we saw her for lunch. He was carrying the box on his lap in the car. (So far, so good) But before lunch, we were going to worship at our church, CCF. He brought the box down and was carrying it up the stairs to the elevator. He knew that we wouldn't be seeing Edric's sister, Danie, until later on, but he didn't make the connection and absent-mindedly carried the box with him. Half-way up the stairs, he said something like this, "Mom, I brought the box," looking at me to offer some kind of solution. I did not. I did not volunteer to run back to the car for him to return the box. And he whined, "But, I am not allowed to bring toys to Sunday School."
My response was matter of fact. "Well, that's too bad. You have to figure out what to do with that box and take care of it. You brought it down so you have to take care of it."
I felt a little bit heartless as I said this. But he is a 9-year old boy who needs to understand that absent-mindedness can be costly. In his annoyance, he replied, "I'm just going to throw these away and do another set." And, he got all pouty in the face.
"No, you will not. Deal with your mistake and change your attitude." And I kept climbing the stairs. I let him mutter to himself and be frustrated. It wasn't going to dissuade me from making him responsible for his box.
At the end of the worship service, I heard his happy voice calling out to me. "Mommy!" He was back to his jolly Elijah-self. I hugged him and asked, "My, what changed, Elijah? What did you learn?"
He explained to me how he had learned his lesson about being aware and responsible, and that he was convicted to change his attitude. I smiled. He smiled, too. "You know why I allowed you to be burdened by that box, right? Because I wanted you to realize that being aware is important.When you are forgetful or not focused, there are consequences." Elijah was gracious in his response. He understood.
Experience is often the best teacher! As Elijah grows into a young adult, he needs to take responsibility for his actions. He knows that Edric and I love him unconditionally. And because we love him, we are committed to training and teaching him. Someday his decisions will have greater weight. My hope is that the measure of discomfort he experiences now because of his "small" mistakes will translate to wisdom in the future.
Here he was later on in the morning of the same day, ushering with his brother, Edan. That is the face of one who has learned his lesson well. 🙂