Titus was standing in front of a hedge of hydrangeas and I knew exactly what he was planning to do…pick some…for me. But we were in a place where it was not appropriate to do so and I had to tell him, "Titus, no picking flowers here."
He is such a sweetheart in this way even though he is a tough kid. In fact his name means giant and hero, and he has this bent in him. But I have the privilege of seeing his tender-hearted side, especially towards me. If he sees a flower he will most definitely take it and bring it to me. Sometimes it's a weed that looks like a flower. And alot of times he picks flowers in places where he is not supposed to…like when he was in the Gardens By the Bay in Singapore and I forgot to tell him to refrain from doing so. (Well, he was innocent about it so he didn't get in trouble.)
It started a while ago when Edric told the boys, "We should get flowers for mommy." Of all my sons, the idea stuck with him the most. Ever since then he has picked flowers for me. From big bright ones to teeny-tiny ones cupped in his hand, he will offer them and say, "For you mama!"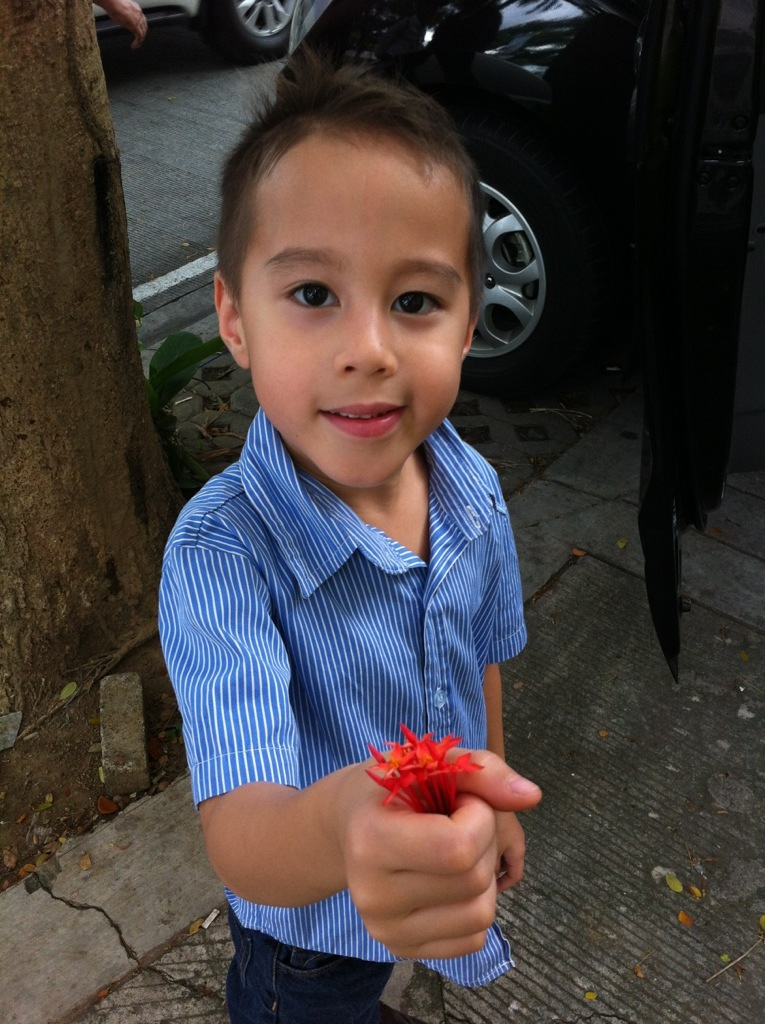 Yet more than the actual flower, I appreciate the sentiment and thought behind the gesture. I feel so special when he does this.
When God said children are a gift, I absolutely agree! I treasure each one of them — their personalities, peculiarities, talents, interests, and dreams. I enjoy the moments of discovery and insight into who they are and marvel at who they are becoming.
And well, okay, I am also writing this to psyche myself up for the next one. At 37 weeks pregnant, I don't have alot of time before our lot turns into 5! And there have been numerous occasions during this pregnancy when I have wondered, Lord, can I really love another one? Parent another? Homeschool another? Change diapers, endure sleepless nights, breastfeed?!
Just the other day I was telling Edric that I don't think I am ready to handle another baby. Focusing on the grave responsibility of bringing up another child has really intimidated and scared me more so than ever before. I suppose this is a good thing because it has driven me to my knees in utter dependence before the Lord.
God has encouraged me with his grace in many ways but he has also reminded me that there is nothing quite like the privilege of being a mom. He makes me smile with images like that of Titus, thoughtfully standing in front of the hedge of blue flowers, contemplating which one to pick for me. And I can't help but think of what sweet joy it is to love the children God has given me and to be loved by them in return.

Behold, children are a gift of the Lord, The fruit of the womb is a reward. Like arrows in the hand of a warrior, So are the children of one's youth. How blessed is the man whose quiver is full of them; They will not be ashamed When they speak with their enemies in the gate. (Psalms 127:3-5 NASB)
A Mother's Prayer
Dear Lord, It's such a hectic day,
With little time to stop and pray,
For Life's been anything but calm,
Since You called on me to be a Mom,
Running errands, matching socks,
Building dreams with matching blocks,
Cooking, cleaning, finding shoes,
And other stuff that children lose,
Fitting lids on bottled bugs,
Wiping tears and giving hugs,
A stack of last week's mail to read,
So where's the quiet time I need?
Yet, when I steal a moment, Lord,
Just at the sink or ironing board,
To ask the blessings of Your grace,
I see them, in my small one's face,
That you have blessed me
All the while –
And I stoop to kiss
That precious smile.
—–Author Unknown