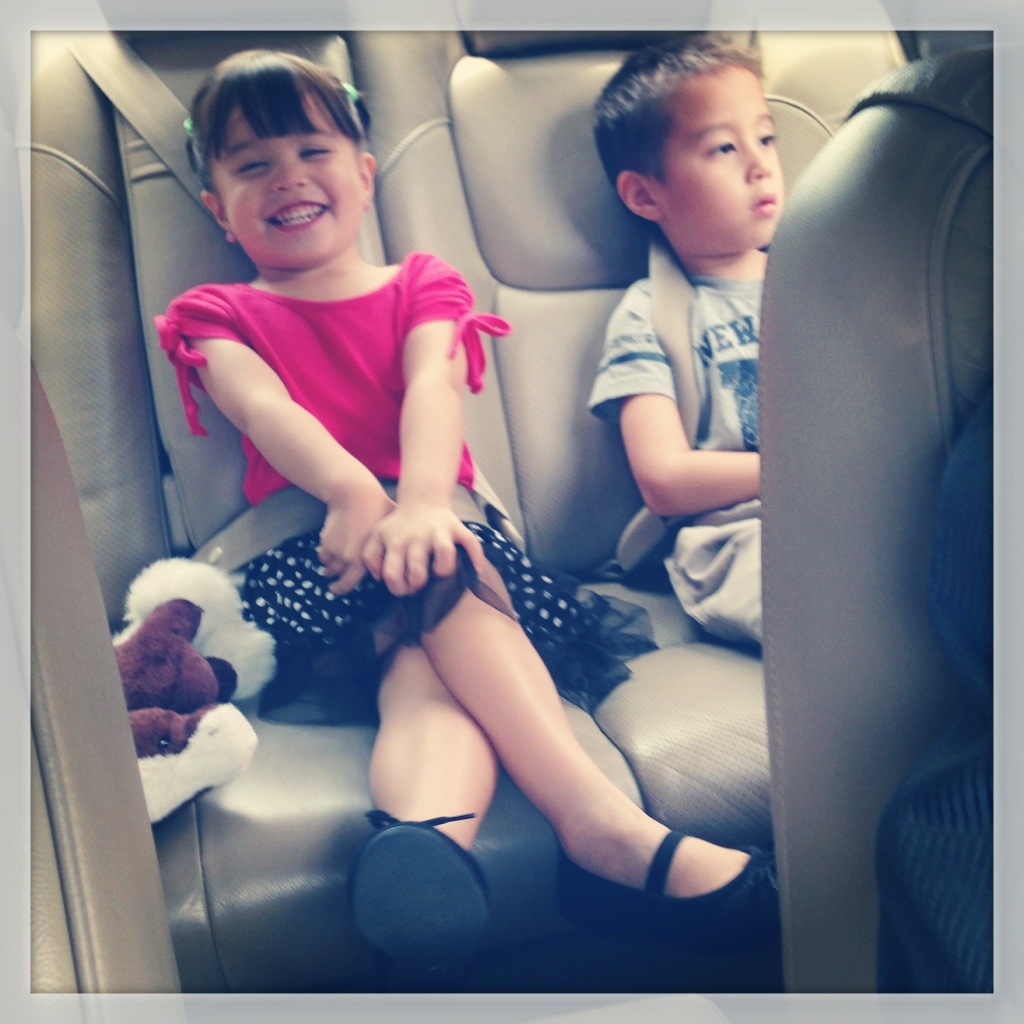 My fourth child is Tiana.
She is a charming 3 year old and she knows it. Tiana will flutter her eyelashes, twinkle those big brown eyes of hers and flash a disarming smile, and voila! you forget that she needs to be disciplined for something. But Edric and I need to make sure that she doesn't miss this critical stage of discipleship and discipline, which is largely about obedience. We want her to learn to obey because it is for her good and protection.
Since we have a lot of kids, the challenge when it comes to discipline is consistency. Each child may need a modified or personalized approach but we want the same end result — internalized obedience. Obedience is preached, practiced, and applied in our home, so we cannot allow Tiana to be an exemption.
For example, some time ago, the kids and I were hanging out at my parent's place. And while I was putting them down for a nap, their cousin came in to rest with them. This would have been fine had my niece calmly gone to sleep. But she was singing, humming, buzzing, and trying to get their attention. I told her that if she kept that up, she would have to take a nap by herself. Well, she did not listen, so I took the kids out of the room and let them sleep elsewhere.
My niece is a sweet girl but she is not my daughter so I can only control what I do with my own kids. I wanted my children to see that I meant what I said and I would follow through. Their cousin wailed for a while because she was upset that she could not nap with everyone else. The kids could hear her in the other room but they understood why I couldn't let them stay together. No one would be able to sleep.
After about fifteen minutes, my own kids settled down and were hitting that point where their eyes glaze over and they fall asleep. However, Tiana was moving about on the bed and playing with her pillow. So I told her, "If you do not obey mommy and lay down quietly you will be disciplined." She acknowledged this but didn't take me too seriously. As a result the other kids were unable to fall asleep. They knew that Tiana wasn't obeying me and they were waiting to see how I would handle the situation.
I looked over at Tiana who was sitting up on her side of the bed, fiddling with the zipper on a memory foam pillow. She was not lying down. Honestly, I did not want to spank her. I was seated comfortably across the room looking up recipes on my Ipad. But I knew that if I didn't deal with the situation, she would think, "I can get away with this sort of thing." And there was the matter of her brothers looking on to see my next move. They knew that if they were in her shoes, they would have been disciplined.
So I picked her up, took her into the bathroom and explained to her that she did not obey. As a result, she would be getting a spanking. Edric and I don't spank our kids a lot. We can count the number of times each of our children has been spanked. But when we do spank, our kids know that it is for disobedience. It is a rule that is clear to our children.
Tiana got a spanking. Afterwards, we talked about it and she said sorry for not obeying. She also laid down quietly like I had asked her to previously.
I love my kids and I don't like to spank them. But because I love them, I want them to understand what it means to obey and submit to authority. It is for their greater good. Some people may not agree with using spanking as a form of discipline. In our home, however, we have used it in the context of a good relationship with our kids. It is not done in anger. It is primarily used to correct disobedience, especially while they are between the ages of 1 and 6. We also use other forms of discipline like withdrawal of privileges and natural logical consequences.
Harold Sala wrote, "You can discipline without love, but can you really love without discipline? ​Discipline is an integral part of love. Although discipline is actually a very old concept, there are many, today, who consider any form of discipline to be punishment. There is a vast difference between the two. Centuries ago, the writer of Scripture declared that discipline is the result of real parental love, just as God's discipline for His children is the result of His love and concern for our lives."
"My son do not despise the Lord's discipline or be weary of his reproof, for the Lord reproves him whom he loves, as a father the son in whom he delights" (Proverbs 3:11-12).
It's interesting that discipline makes our children feel more secure because they know their boundaries. When parameters are set, our kids are aware of what we expect from them and what they need to work on in their character. They don't have to guess or figure out what is right from wrong as they go along. As parents we tell them what is right based on God's word and then make them accountable and responsible for choosing to do what we tell them to.
Tiana is still young so we have a lot to work on with her. As for her three older brothers, we are trying to ingrain in them the higher motivation for obedience — the desire and will to love the Lord and please him. After all, we aren't after mere external compliance but the peace of knowing that our children will follow God's word even when we aren't watching them.
Someone asked me very recently, "How do you make your children obey?" I had a problem with that question. First, my goal is not to MAKE them obey. I want them to embrace obedience as God's plan for their lives– for blessing, protection, and an abundant life. During the early years, we teach our kids that obedience is doing what we say, but eventually we teach them that obedience is doing what we say with a cheerful attitude. It is about the heart.
Second, obedience is something I want my kids to see modeled by Edric and I. God has established a chain of command in the home. Edric is the head and I am under his authority. If I don't submit to Edric or if I do so with a bad attitude, I distort my children's concept of obedience to authority. Furthermore, my authority over them is established only if I exemplify what I ask of them. If I ask them to obey me but they see me contradicting, disrespecting and undermining Edric's authority then I can't expect them to understand obedience from the heart.
If we have to keep MAKING our children obey there may be something wrong with our approach to discipline.
We may be focusing too much on the behavior and punishment instead of discipling the hearts of our kids. Discipline is necessary but we need to reinforce character instruction, highlight the blessings of obedience, and remind our children that when they obey us they are ultimately pleasing God. Furthermore, if our children aren't obeying us we need to look at our own example. Do we obey the authorities in our lives with a cheerful attitude, especially our husbands? 🙂