"We can be a family here," was something I said to Edric tonight as we watched the kids run around the island in our kitchen. (I think I gave them too much milk tea.) He pulled me close and told me that this was his exact sentiment. We had just finished singing Chris Tomlin's version of "Crown Him with Many Crowns." The older boys attempted to harmonize and the two younger kids gave their all at the parts they knew…namely, the chorus.
After seven months of our nomadic lifestyle in and out of my parents' place and Edric's parents' place while finishing our house, we are finally settled into our new place. It's not completely done. The yard needs grass. Our stairs have to be rectified. Some minor fixes and painting works remain. We don't have all our furniture in. Plus, I've got a few more boxes to unpack. But that's okay. Even if settling in has come with its challenges, we are beginning to build routines that make it feel like home.
Today, the kids played basketball with Edric in the cul-de-sac in front of our house.
Two weeks ago when they were shooting hoops, it felt like we were at ground zero. When Edric called out to our children to join him for a game, Edan was braiding pipe cleaners. Braiding?! What the heck?! Titus was like, "I'm hiding!" when Edric was looking to pass the ball to him. Elijah was getting frustrated that he couldn't shoot the ball. I accidentally knocked Tiana over and she wanted to quit. When Edan ran off for a water break, Edric called to him. "No water breaks!" This was exercise time. No one was allowed to leave the "court." Tiana started to complain about being tired but Titus (her teammate) looked her square in the face while holding her shoulders and very emphatically said, "Tiana, we have to exercise!" Not too long afterwards Edric passed the ball to Titus and he said, "Shoot it, Titus!" Titus held the ball and threw it backwards to, um…no one.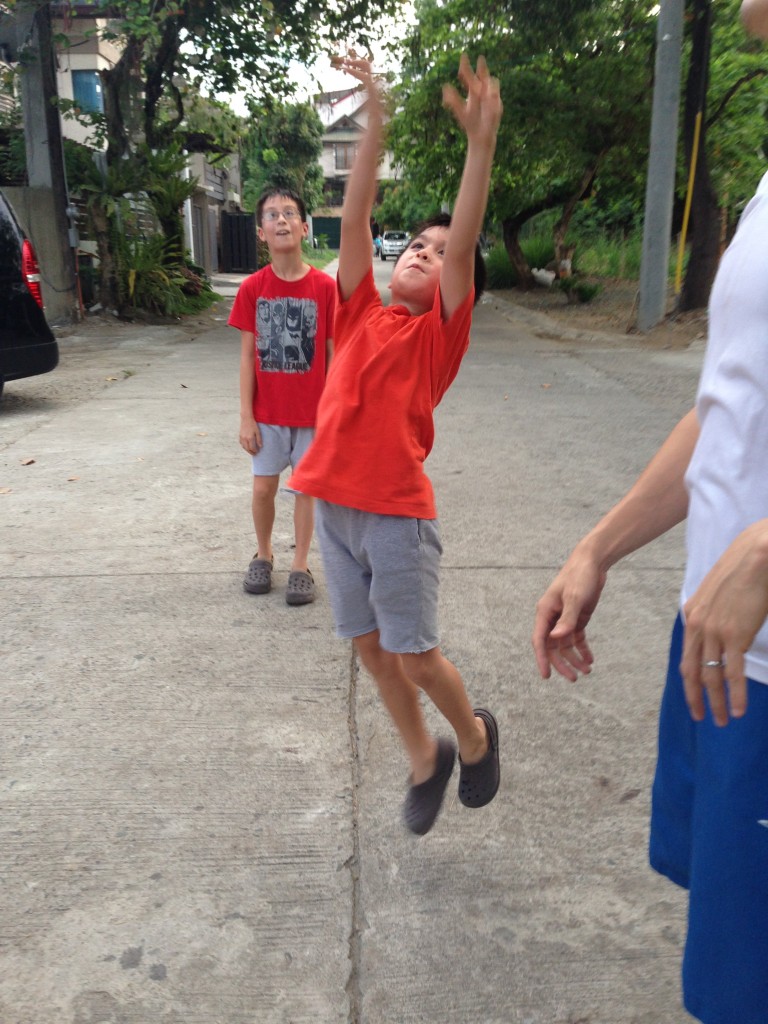 What a comedy. At one point some neighbors down the street were watching our very low scoring basketball game. It was embarrassing. It was a game of celebrated turnovers.
I turned to Edric and jokingly said, "my, my, the years that the locusts have eaten!" in reference to the fact that our kids spent so many years living in the city and inside our condominium.
When Edric and I were living in Bonifacio Global City, I coveted big open spaces where my kids could run around. I really wanted my children to grow up climbing trees, kicking soccer balls, playing catch, or shooting hoops in the backyard. For a long time, this was all fantasy. We tried our best to walk them to High Street and back and run around the fields that remained, but it wasn't always very easy to get them outdoors.
But this afternoon, while Edric was spending time with the kids dribbling, passing, and shooting the basketball, I thought of how wonderfully surreal it all was. I was cooking Thai food for dinner while watching the kids enjoy themselves. (They are getting much better!) Tiana was prancing around in her leotards and tutu. Little Catalina was being pushed around in her tricycle.
I can't thank the Lord enough for giving us this home. He blessed us with a place where we can build memories as a family.
This morning I sat on our balcony and watched the sun come up while I read my Bible. It wasn't even 6 am. We recently got blinds that should block out the light but it still finds its way in between the panels. I don't mind. First light is a beautiful sight. Plus, I love the sounds of morning. There's a bird that sings a tune I used to hear when I was a child. Every morning I listen for it and remember the happy days of my childhood. Now it sings for the days of my children. I'm still pinching myself. God is good!
Ecclesiastes 3:11 "He (God) has made all things beautiful in his time…"