Edric and I usually don't spend alot for birthday parties. With five children, that kind of expense can add up. However, we do like to celebrate their first year of life with a dedication ceremony that gives them back to the Lord. It's the principle of "for God's use only." The Bible says, "The earth is the Lord and all it contains, the world and all who dwell in it." (Psalm 24:1) Therefore our children, our possessions, our accomplishments all belong to Him.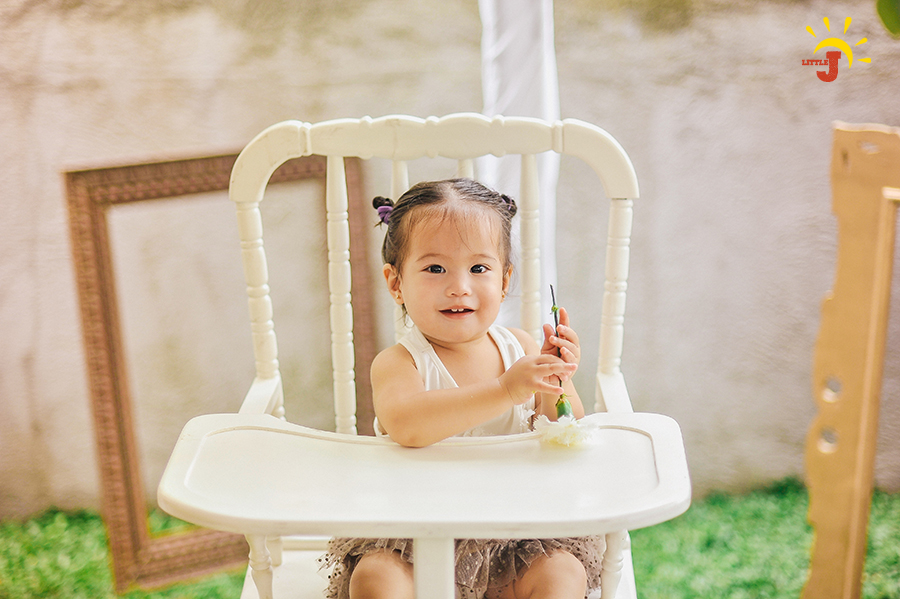 For Catalina, we waited until October to hold her birthday/dedication event so we could time it with our house dedication. We invited family, our bible study group, Edric's best friends from high school, and a few of our neighbors. I wanted to invite more people but the headcount for our guests was somewhere around 140 (with kids and yayas) which was a sizable number to have in our home.
I wasn't sure how we were going to feed everyone if the cooking was dependent on me. So I asked Edric what kind of budget we had to work with and he mouthed out a number that wasn't too exciting. How in the world was I going to put together this event with such a small budget?
His reasons were valid. We just finished our home so expenses have been tighter. It's saving mode time. But X amount for food, tables and chairs, décor, games and prizes? I racked my brain trying to figure out how to do it.
Here were my options:
1. Cook some of the food and order the rest. Borrow chaffing dishes from my mom. Rent the tables and chairs. Decorate on my own.
2. Get a more reasonable caterer that wouldn't be able to style it but had good food. Decorate on my own.
3. Hire a caterer who could supply some of the food, bring tables and chairs and centerpieces, and I provide the rest of the menu.
4. Convince Edric to give me a bigger party fund so I could get someone who could decorate and cater for me and create the theme I wanted, and be stress-free!
Naturally, I desired option 4. It would have been the simplest way for me to hold the party. But I knew that Edric really wanted me to be frugal. So I did my part to plan and find suppliers.
I wrote a random post on Facebook asking for caterer recommendations. While I received a number of helpful responses, one of the suggestions really stood out — Passion Cooks Catering. I checked out their Facebook account and I thought, Here's a company that will surely be able to execute the theme I wanted. 
Since I had no idea what their rates were like I sent them a message and explained my requirements. In response, I received a list of their prices. When I went through their price list, I was discouraged. Their costs weren't within the range of my budget.
So I kept looking for suppliers and narrowed down my choices to three options. Passion Cooks was still one of them but I didn't reply to their proposal right away. I was considering another caterer who had given me a proposal the included food, chairs and tables. In fact, I was inclined to finalize with them because the price was right, but I waited for a few more days. In the meantime, I received a Facebook message from Maja Martinez-Angeles, one of the owners of Passion Cooks Catering , asking if I reviewed their newest proposal.
She sent me another menu that was for a heavy merienda which I really liked, and she also offered to set-up chairs, tables, and decorations. But it didn't indicate the cost. Here's where my internal wrestling with submission to Edric came in. I knew that if I really begged him, he would allow me to increase my budget. He is sweet towards me like that. He's often said, "You are my weakness." However, if he did give in to me it would be due to manipulation on my part. And I didn't want to do that. His desire to keep to a budget was a good one and I knew I should honor it.
Before I sent a reply to Maja, God convicted me very strongly to OBEY Edric. I was embarrassed to tell her the price per head that I needed but God told me, You obey Edric and tell Maja what your budget is. Be humble and honest. Be willing to settle for the other caterer because you should honor Edric. Don't try to manipulate Edric to get your way.
Okay, okay. I replied to Maja saying that at this point in time, I only had such and such amount to work with and I would consider getting her for a future event instead. In a few minutes, Maja got back to me and said, "The menu I proposed to you is X amount."
What?! Seriously?! I couldn't believe it. It was even lower than what I had told her! But what about chairs and tables and décor? Maja told me she would include that in the cost.
I almost fell off my chair. In fact, I got teary-eyed. It seemed too good to be true.
She asked me to meet her so we could discuss details. We convened at a café where I also met her adorable daughter, Yuna, and to my surprise, she casually mentioned, "I forgot to tell you that I go to CCF (our church), and I'm under the discipleship group of Cindy Soriano (The wife of CCF Alabang's head pastor, Joby Soriano). Oh, and I read your blog, too."
By this time I knew it was definitely too good to be true! This was the Lord's doing! Maja turned out to be such a wonderful, professional, experienced, and capable stylist/caterer/businesswoman. I was very impressed with how easy this all seemed to her. She understood exactly what I was hoping for in terms of a look for the event. For example, I wanted a rustic garden theme with folded white chairs (not the typical mono bloc covered ones or tiffany chairs), and wooden tables. Maja's company had these. I also wanted more gourmet food which her menu options had. She even handed me packed food to taste without me asking for her to do this.
The food was delicious! Even my son, Elijah, exclaimed, "This is the best salad ever!" in reference to their Mango Salsa with Catfish Salad.
Through the course of our discussions, I also found out that Maja had six years of experience in New World Hotel after she graduated from college before starting her business. I believe this is one of the reasons why she has a keen eye for detail and sophistication. Following her work there, she partnered with her mom (who is a chef), to create Passion Cooks Catering.
She worked hard to build this business. When she was starting out, a certain venue told her that her chaffing dishes were outdated and didn't "pass" their standards. Now, they more than welcome her business! I asked her how many people she can cater for in a day and she replied, "We can handle up to 2,500 people." This translates to multiple events or one HUGE wedding! Today, Maja handles wedding occasions and her partners, Melissa Cabrera-Bolasco and Ivy Caparas, oversee kiddie parties and other celebrations.
After I met with Maja, I was very confident that she would be able to take care of everything. The stress I had felt as I scrambled to find caterers and brainstorm dissipated. All I had to do was complete my "assignments." Send her photos of my inspirations, find a photographer, source a sound system, email her the dimensions of our yard, and give her the list of the kids' games, etc.
Early Saturday morning, Maja sent her army of people to our home. Two hours before the event, Elijah came bounding up the stairs to drag me down to see all the décor. "You HAVE to come downstairs, mom!" I was in the middle of printing the game rules but he kept insisting.
The backyard was transformed into a stunning rustic garden theme…better than I imagined! Edric was thoroughly impressed. He had no idea what kind of coordination had happened behind the scenes when he was in the U.S. that week. When he saw our backyard, he couldn't believe it! ESPECIALLY BECAUSE I STUCK TO HIS BUDGET AND OBEYED HIM.
He was so pleased that I did so, he even asked, "Do you need more money? How can I help you?" The context was this…A few hours before 3 PM (when the party was to start), I presented to him the cake that I made myself. I made this cake to save money. He forced down a chuckle because the icing had peeled off the cake on one side. It was an obvious disaster. So his heart went out to me and he told me that whatever I needed he would get for me! So we made an emergency trip to buy three rainbow cakes and other materials for the games.
In the meantime, Maja dropped by for a bit to check on the place. When I saw her I told her how amazed I was! But this wasn't the end of the story…
She had told me to get a photographer and we knew a couple of photographer friends. Unfortunately, all of them were busy this past weekend. So Edric told Elijah to take pictures of the set-up. Well, Maja texted me that her friend, Joshua, was going to snap photos of the details before the guests arrived. It turned out that Joshua recognized Elijah from a photoshoot of our family last year, and he offered to photograph our family and send a team to cover Catalina's party!
Joshua didn't just take our family portrait, he also took the Tan-Chi family portrait. This was something my parents and siblings wanted to get done while my sister, Candy and her husband, Jeff , were visiting from the U.S. Initially, I asked my brother, Peter, to bring his camera to the party so we could do an informal shot of the family. He was prepared to do this but God provided a professional.
Joshua De Guzman is a 22-year old photographer who is spunky and very talented! Even though he is young, he is already a very experienced photographer. Check out his Facebook page: Little J Photography. This guy is going to go places.
During a quick lunch with him and Maja before the party, we found out that he used to be a fish vendor in Tuguegaraw before following his dream of becoming a photographer. Coming to Manila to study, his "calling card" was the blackboard/whiteboard, where he would write something like this, "If you want a free photoshoot, call me and bring a camera." He didn't even own his own camera but he used these opportunities to get lots of practice and train himself. Today he is living his dream at such a young age.
If I were to enumerate all the ways God blessed this day, this article would get very long. (It already is.) But, the last thing I wanted to share was how God held the weather. I checked the weather forecast for Saturday, October 4, every single day for two weeks prior to it. All the forecasts said to expect thunderstorms. Ack. Every day before Saturday, there was heavy rain in the afternoon. But October 4 was the best day to do it because my sister was leaving two days after and almost all of the people we invited were available on this day. So I just prayed really hard and asked family and friends to pray, too.
The entire morning was clear and the clouds started to darken in the early afternoon but the miracle was, we only had a light shower and no downpour. Since we had tents in the backyard, we were perfectly fine.
Let's put this all together…
I didn't want to follow Edric's budget at first. But because I honored him as my husband, God gave me…
…the gift of a gorgeous party we could not afford
…styled by a brilliant artist-of-a-woman
…who happened to be a member of our same church
…who happened to be a reader of my blog
…so we could celebrate the life of a daughter and a home we do not deserve
…with friends and family who came despite the horrendous traffic
…on a day that should have had torrential rain but didn't
…that was captured by a talented photographer
…who happened to be free to take photos of the event
…who also took our family portraits
…who volunteered his services
…who sent a team to cover the rest of the party
…who gave us amazing photos to remember an amazing day!
—
It's not always easy for me to obey Edric. There are days when I don't want to, when I want my own way. However, I remember principles like Psalm 37:4, "Delight yourself in the Lord and he will give you the desires of your heart." I need to prefer God's will; to wholeheartedly follow His principles; to love His precepts; to want Him over my own desires.
If I had placed my desire for a beautiful, stress-free party above my obedience to Edric, I would have forfeited the extraordinary happenings of that day. Desire must follow delighting in God. In the end, obeying Edric resulted in God's bountiful blessings. Furthermore, since Edric saw that I really tried my best, I had his favor, too.
Will this always be the case? I don't know how God intends to reward us as wives every time we honor our husbands. However, I do know that in his perfect time and perfect way, he will bless us because he calls himself a REWARDER of those who seek him. (Hebrews 11:6)
May you and I continually experience this truth in our lives and marriages!
MANY THANKS TO MAJA OF PASSION COOKS CATERING AND JOSHUA OF LITTLE J PHOTOGRAPHY! MAY THE LORD BLESS YOU IN INCREDIBLE WAYS FOR YOUR GENEROSITY OF SPIRIT, AND THE MANNER IN WHICH YOU CONSTANTLY GIVE GLORY TO HIM WITH YOUR ARTISTRY!