Dealing with househelp issues. Sigh. Not my favorite.
Here I am trying to deal…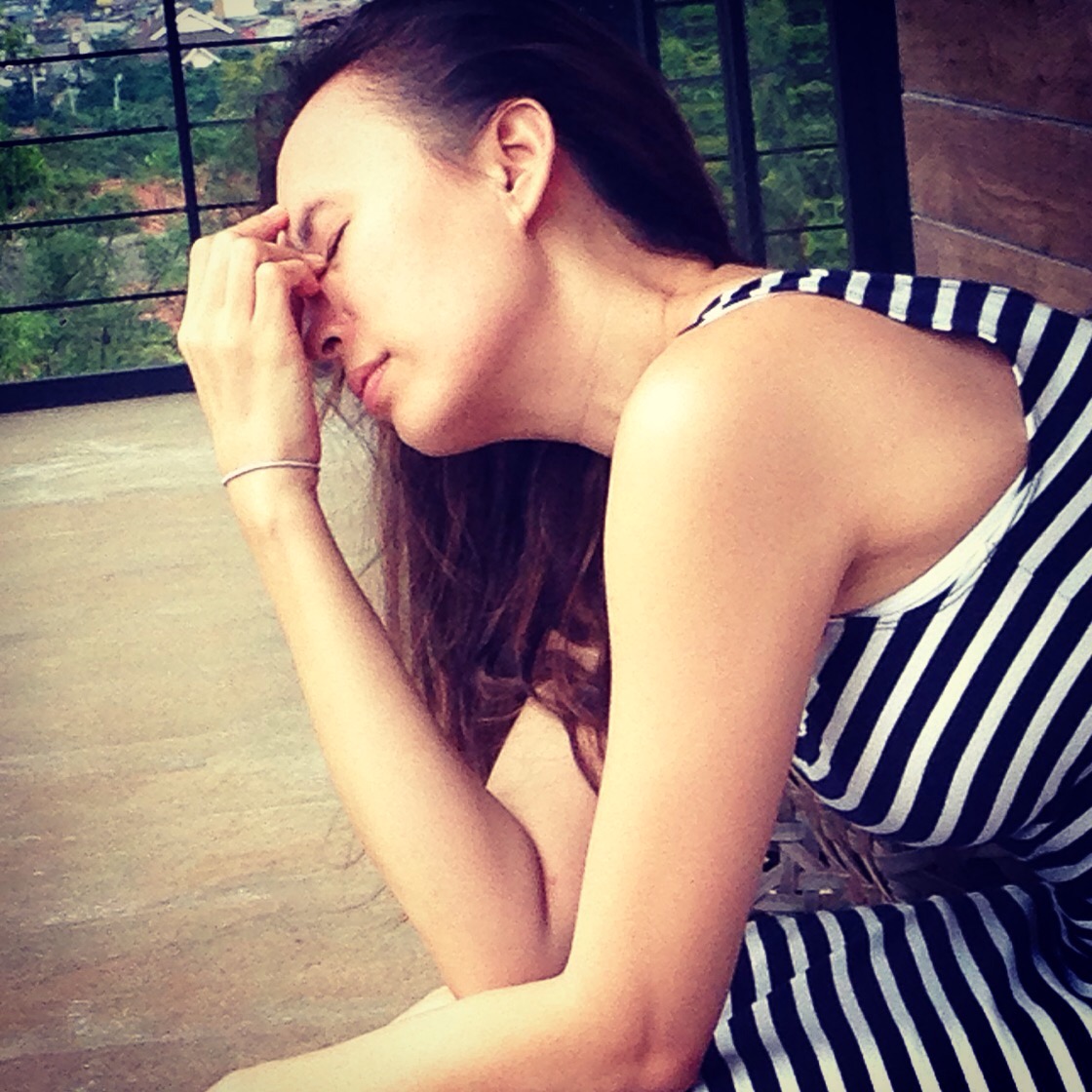 I really appreciate the ladies who work for us. They are an amazing blessing, one of the reasons why I don't EVER want to live in the U.S. or any other country where I have to do everything. I admit it. I'm spoiled in this way. Having household help has allowed me liberties that would be difficult to enjoy if I wasn't in the Philippines. And we have a great bunch of gals who love our children and ourifamily. We love them, too.
However, I don't like the "Okay-lang-yan-mentality." When they are careless and wasteful because we can afford to replace broken things, or they assume that money comes easy for us, it bothers me. Thankfully, I don't have expensive jewelry, watches, bags or anything that is really worth stealing. Plus, Edric and I don't keep wads of cash at home. So I don't worry that people who work for us will be tempted to take our stuff.
But recently, they've demonstrated bad stewardship and questionable behavior in terms of trustworthiness…
Strike 1. Two days ago, one of them cooked nearly 40 pieces of boneless chicken thighs for Adobo. Forty pieces of chicken to feed five young children and two adults! I was incredulous. Sure, they made it for themselves, too, but we ended up having Adobo for dinner, Adobo flakes for breakfast, and then Adobo for lunch the next day. Thankfully, Edric didn't complain. He was a good sport about it.
I, on other hand, was a bad example to my children because I slammed the freezer door in irritation (which is really the worst thing to slam because it hardly makes a sound. So that probably makes it a good thing to slam? Okay, I shouldn't be promoting slamming…of anything).
"I can't believe it!" I mumbled to myself after I saw the empty space where two large packs of chicken should have been. Half of each pack would have been sufficient for a meal. Forty for one meal?! I was really annoyed.
Elijah confronted me later on in the afternoon and said, "Mom I need to talk to you about your attitude. You were angry earlier." I had to apologize to him, the other kids, and Edric. But admittedly, I had a difficult time getting over the 40 pieces of chicken. Skinless, chicken thighs, too. Expensive stuff. Plus, we live so far away from civilization now that getting out of the house to go to the grocery is something I don't want to do every five days.
Strike 2. I went outside to check on the herbs I bought two weeks ago, and my Rosemary plant was dead. My favorite one…the most aromatic of them all. I gave a simple instruction, please water these herbs and take care of them so I can use them for cooking. My Rosemary plant had turned into dried Rosemary, the kind that ends up in a McCormick bottle! When I brought this to their attention, I didn't get the penitent disposition I expected. Grrr…
Strike 3. Several items went missing in our house – Elijah's P 1,500, an Ipod shuffle, a kid's watch, and Ikea handtowels and washcloths that matched the bath towels in the boys' and girls' bathrooms. I didn't want to suspect my househelp. But they were the most likely suspects.
They know where everything is kept in this home. At the very least, they are responsible for putting our belongings away and keeping track of things like washcloths and hand towels since they do the laundry. It's not complicated. We use a washing machine and dryer. For a few months they were using a clothes' line to air dry everything. But it's a simple process – take the laundry down to the laundry room, do the laundry, hang it out to dry or use the dryer then bring it all back upstairs. Unless the washing machine has an evil stomach I don't know about, there's no reason why things should disappear.
And why take hand towels and washcloths?! It matters to me that washcloths and hand towels match their counterpart bath towels. I want hand towels, washcloths and bath towels to be together, folded on the same shelf like a family. Don't break up the towel family! You just don't do that. You don't kidnap members of the towel family! This probably angered me the most.
After giving the ladies a chance to return these items by asking them to look for them, they remained unfound. I plopped myself on the couch in the playroom and expressed that I was deeply upset. I've never yelled at my househelp and I don't plan to, but this was one of those occasions when I wanted to fire all of them.
Once I lose confidence in someone — their ability to carry out a task or to be trusted – my default response (internally, at least) is to take over or get rid of them. Was this a case of irresponsibility or thievery? Was I too nice of a boss? I was confused. So I cried on my bed by myself. I didn't know if I could trust our househelp but I wanted to be able to. I was wrestling with all kinds of judgmental thoughts but I also wanted to be gracious and understanding.
I prayed about how I was feeling, but I also called the one person I knew would give me perspective…Edric.
He had just come from a speaking engagement with Elijah when I started sobbing over the phone, telling him about the missing items, that I didn't want to accuse the girls but who else would have taken them?
Edric assured me that he would help me settle this. Even though he was really tired, he came home and set up four chairs in the guest room for our househelp to sit on. And he brought in a chair for himself. Rounding them all up, he requested that they gather in the guest room where he was going to talk with them. I wasn't allowed to enter.
Twenty or so minutes later, he called out to me, "You can come in now," and I entered into a room of tearful faces. What did my husband do? Was my first thought. Edric encouraged me to share what I was feeling. This was like an AA meeting.
Very honestly and openly I expressed to the girls that I was disappointed and concerned. I didn't want to be the kind of boss that was suspicious of them. Operating from a point of distrust wasn't the kind of relationship I wanted to have with them. They were important to me and I appreciated their hard work. However, if we were to move forward and get past this, I needed to know that they were going to be better stewards and help me manage the home well. I needed to know that I could trust them to take care of our home and everything (and everyone) in it. In closing, I told them that Edric and I wanted them to love Jesus and have a personal relationship with him above all else. It is this relationship that defines us and our family culture, and we desire the same for them.
Although we shared the gospel with three of the four of our househelp before, Edric took the opportunity to do so again. One of the ladies had not heard it and we wanted to make sure that she understood what it meant to give her life to Christ. He prayed for them, our home, what happened, and the future.
I found out later on that Edric talked to them about four things when I wasn't in the room. Here is a summary of his "Four-point Lecture":
We trust you. We will continue to trust you.
Take care of my wife. I love her and I don't want her to be stressed. When she called me crying, I decided to step in and talk with all of you, to remind you to take care of her and help her manage this home well. Don't make it difficult for her. 
If you take care of our home, we will take care of you. For as long as it is in our capacity to do so, we will help you. (They know Edric meant this because there have been occasions when their family members had problems and we gave money, or they needed to pay for something and we helped them out. We don't advance money because we don't want them to develop the habit of borrowing. We tell them, if the need is valid, we will help you.)
You are accountable to God for the choices you make. We cannot watch you all the time, but God is watching you. If you decide to ever take anything from us or if you have malice, that's between you and God. Just remember that you are the sum of your choices.
Edric was firm but he made sure that our household help knew that we value them.
When Edric and I were alone, I hugged him and thanked him. He didn't have to talk to our household help. This problem fell under my scope of responsibility. But he repeated what he often tells me. "I like to rescue you." Plus he knows that my Filipino is horrible when I'm in a state of panic or stress. It's pretty useless. I would've blundered through my attempts at articulating what needed to be said.
I don't think we will ever recover the items we lost. While this remains an unfortunate reality, I believe that God had a purpose for the incidences that preceded the conference with our household help. The meeting turned out to be an opportunity to minister to them on a spiritual level. We all left that time together healed in some way. I let go of the anger I was harboring and the girls knew that we weren't going to hold what transpired against them. We were going to move forward and past the circumstances in a positive manner. And best of all, we brought the issue before the Lord together so he could be the one to convict their hearts and cause them to mature and grow spiritually.
As for me…well…I decided to do a massive cleaning of our house, room by room, to make sure I know where everything is. I've only finished three rooms so far, but going through each drawer, shelf, and cabinet has made me feel like a better home manager already! This domestic crisis inspired me to be more organized and more aware, to do what I can to be a better steward of God's blessings. After all, I need to model stewardship to our househelp if I want them to internalize this.