This past December, Edric and I went to Disneyland and California Adventure with our children, my sister's family and my mom and dad. We had a "system" for making sure we got to the best rides.
Both parks have fast passes and switch passes that make it easier for people to bypass the lines so we took advantage of these. The kids got to enjoy all the classics of the good ol' days and the newer ones like Cars.
I didn't get to ride on too many attractions because of Catalina but that was fine. She was my priority so I stayed with her and the stroller most of the time. Besides, the only ride that I really cared about was Small World. When I was a little girl this one was one of my favorites.
When it was decided that we would all go on this ride together, I was excited! But we had to park all the strollers first. Between my sister, Candy, my brother-in-law, Jeff, Edric and me, we had three strollers to leave behind. (One of them was a double.)
After parking the strollers we all met again at the line thinking the kids were complete. There should have been eight kids. However, unbeknown to us, Corban was missing. (Corban is my 5 year old nephew, the eldest son of Jeff and Candy.)
In this photo, Corban is the younger child with glasses…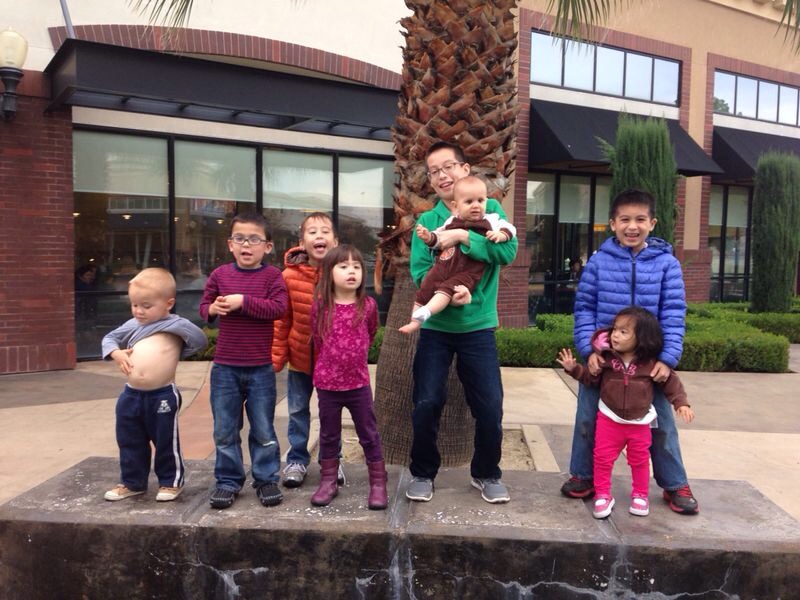 Jeff and Candy didn't realize he wasn't with them because they assumed he had run off to be with our kids. This happened often during our time in Disneyland and California Adventure. The kids would congregate together so it wasn't extraordinary to think that Corban was among his cousins.
The Small World line was about fifteen minutes long and the ride itself took fifteen minutes. It wasn't until we exited that Candy asked, "Where's Corban?" We surveyed the children and counted all of them. Corban was missing! When we all realized that he never got on the ride with us, Jeff and Candy darted off in a panic. They handed off their baby, Joshua, and three year old, Levi, to me. Attempting to retrace their steps they called out, "Corban! Corban!"
I saw the terror in their faces as they ran everywhere. My parents, Edric and I, and our kids were very worried, too. We prayed and prayed that he was alright, that he would be found. I started up the street with my kids and Candy's younger kids in tow while everyone else helped with the search.
A few moments later, two ladies approached me and asked, "Are you looking for a boy? We were following him because we were concerned about him. We are so glad to know that he's going to be okay." That's all they said and they walked away. These two young women were strangers. I had no idea who they were. But when they said this I was hoping they were referring to Corban.
A few minutes later I saw Corban in his parents arms, making their way towards us. Corban's eyes were red and swollen from all the crying but the important thing was he was saved! I can't even begin to explain the relief that came over all of us as we took in the sight of Corban. Losing Corban felt like a nightmare, one of those parent's-worst-fears sort of situations!
Jeff and Candy found him in the arms of an elderly man, a security guard. At first, he kind of scolded them for their neglect. He was like, "How could you not know your child was missing for thirty minutes?!" He wasn't angry, just incredulous.
Later on in the day, I got the chance to ask Corban what happened, after the drama died down. He narrated to me how he had followed his parents to the stroller parking. When they situated the stroller among the multitude of strollers, he lost track of them and got separated. Since he didn't see them go to the Small World line, he waited at the stroller parking thinking they would reappear at some point. He stayed put but then realized that no family member was in sight or coming back to look for him. At this point he started to panic and cry. He thought perhaps he ought to walk in one direction (which was the opposite of where we were). That's when the elderly gentleman saw him, escorted him, and held him while he was bawling.
I don't know how the two ladies who spoke to me came into the picture because Corban didn't talk about them. This leads me to believe that somehow, God used them to keep an eye on him from a distance. Maybe they were even angels!
What is certain is God protected Corban while we rode the Small World attraction, completely oblivious to how scared and alone he was. In an amusement park that could have had a number of predatorial and ill-intentioned people lurking around, who could have preyed on or taken away a vulnerable five year old, it was God's merciful dealing with our carelessness that kept Corban safe. When I replay the scene in my mind and mull over how absent-minded and caught up we were in the gaiety of the ride, watching those dancing toys in total ignorance, it makes me so thankful that God is a much better parent than we all are!
While it was an innocent mistake, there was no excuse for forgetting a child that belonged to us. All of us adults felt guilty in some way for the shared neglect and presumptuousness we exhibited.
I praise God for being Corban's rescuer. He watched over Corban by sending those kind women to tail him and the security guard to hold him until he was found. This was a lesson on vigilance for all of us parents, but it was also an experience of God's grace and love. God's grace and love rescued him from our mistake. While we obviously can't live with the mindset that our mistakes are okay because God can supersede them, it was comforting to know that God looks out for the well-being of our kids. He loves them infinitely more than we ever can or will.
Of course, after this experience, we also learned to count each of our children CONTINUALLY! No other untoward incidences met us the rest of our stay and we all made it back home together and complete! Plus, Corban soon forgot the incident and moved on without post-traumatic stress.
I am so thankful it was a painful lesson with a HAPPY ending because God elected for Corban to be found. We may have forgotten about him but God did not!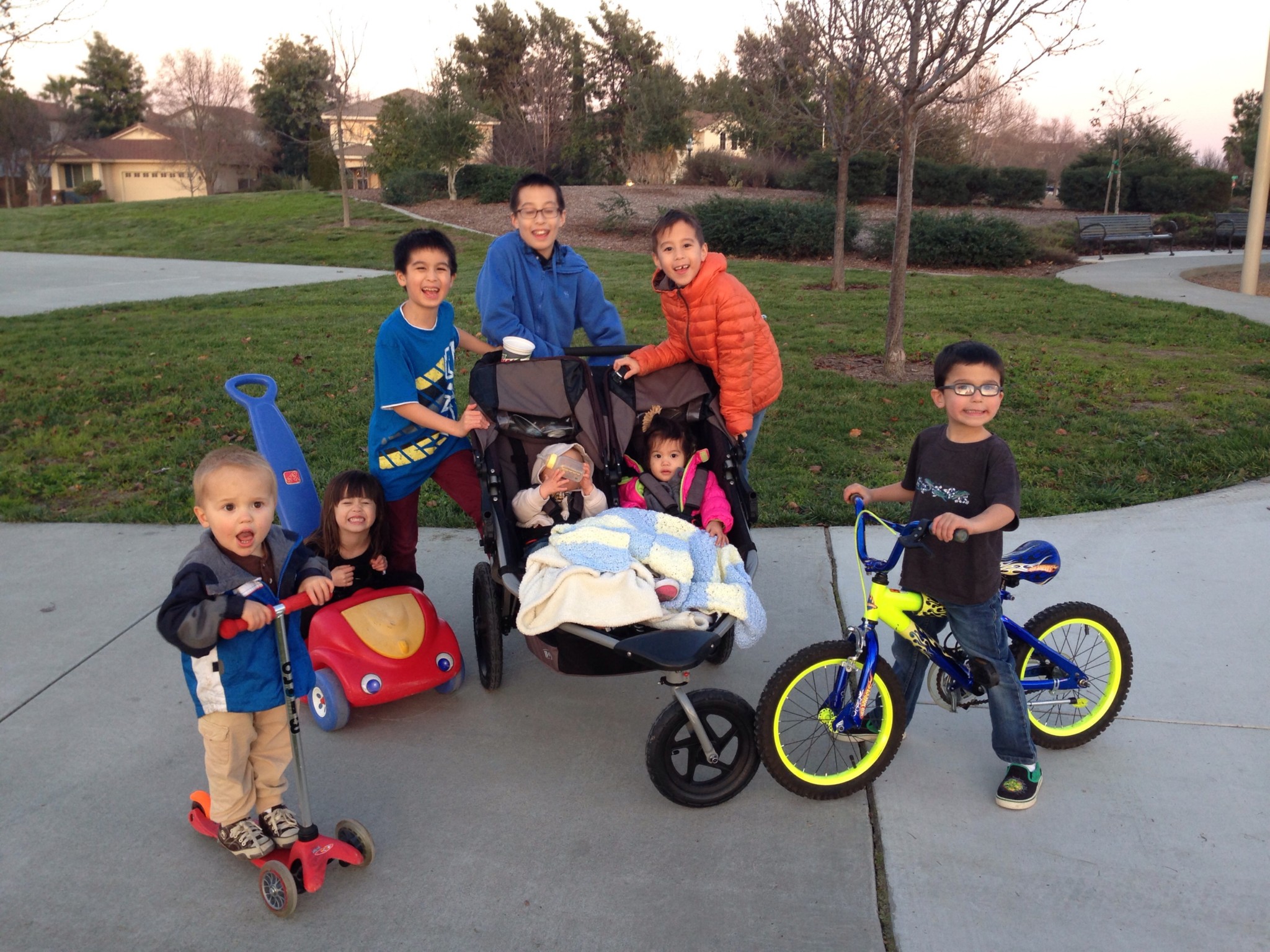 "Can a woman forget her nursing child And have no compassion on the son of her womb? Even these may forget, but I will not forget you." (‭Isaiah‬ ‭49‬:‭15‬ NASB)