Every homeschooling parent needs to recharge and revisit the commitment they have made to educate their children at home. Because we are in the trenches of teaching our children it's difficult to see the bigger picture. Where are we headed? What is the goal? How do we navigate through the daily challenges without getting lost or discouraged?
Sometimes the best way to regroup is to take a pause from the homeschool teaching in order to be taught for a change! We need spiritual, emotional and intellectual feeding ourselves. The great teacher Howard Hendricks said, "The philosophy that you as a teacher should embrace is that you are a learner. Would you rather have your students drink from an overflowing living stream or a stagnant pool? What have you learned lately?" (Seven Laws of the Teacher)
As homeschooling parents, we need encouragement and fresh ideas, to correct our approaches and perspectives, or revisit the fundamentals that have gotten buried under our doings. Maybe we need to stop doing or start doing something. And of course, we always need more materials, books, resources, and curriculum. But, most of all, we need spiritual reviving from the Lord, and connectedness to other homeschoolers. In short, what we need is a homeschool conference that puts all these elements together for us!
This October 17, Homeschool Association of the Philippine Islands, Manila Workshops and The Learning Basket bring you the largest homeschooling conference this year – "The Philippine Homeschool Conference 2015: Ready for the World!"
As a precursor to the "Global Home Education Conference" (GHEC) in Rio de Janeiro, Brazil in March 2016, two well-respected homeschool advocates and speakers from the United States will be gracing the event as keynote speakers: Michael Donnelly, Director for Global Outreach of the Homeschool Legal Defense Association (HSLDA) and Secretary of GHEC 2016, and Rachael Carman, mother of seven and best-selling author and publisher of popular homeschool curriculum Apologia. Rachael's husband, Davis, the President of Apologia, will be speaking as well.
Other speakers include Edric Mendoza (Homeschool advocate and host of ANC's On the Money) who is my wonderful, and motivational speaker and wealth coach, Chinkee Tan.
Homeschoolers and those exploring this educational option will be inspired, informed and empowered in this biggest homeschooling event. Definitely bigger than the past years' homeschool conferences, "Ready for the World!" will be held at THREE venues at SM Aura Premiere. Keynote talks will be held at the Samsung Hall, while smaller workshops and the much awaited homeschool expo will be at the SMX Convention Center.
An All Access Pass (pass to go in and out of all three venues, including the exposition venue) is at Php 1000 per person for the early bird rate. Aside from the inspiring talks, there will be a huge expo of the various learning providers, educational tools, toys, books, etc. that will help homeschooling parents and aspiring homeschooling parents in their daily lives. This expo will be open to the public for a minimal amount of Php 100 per head, but this fee is already included in the All Access Pass.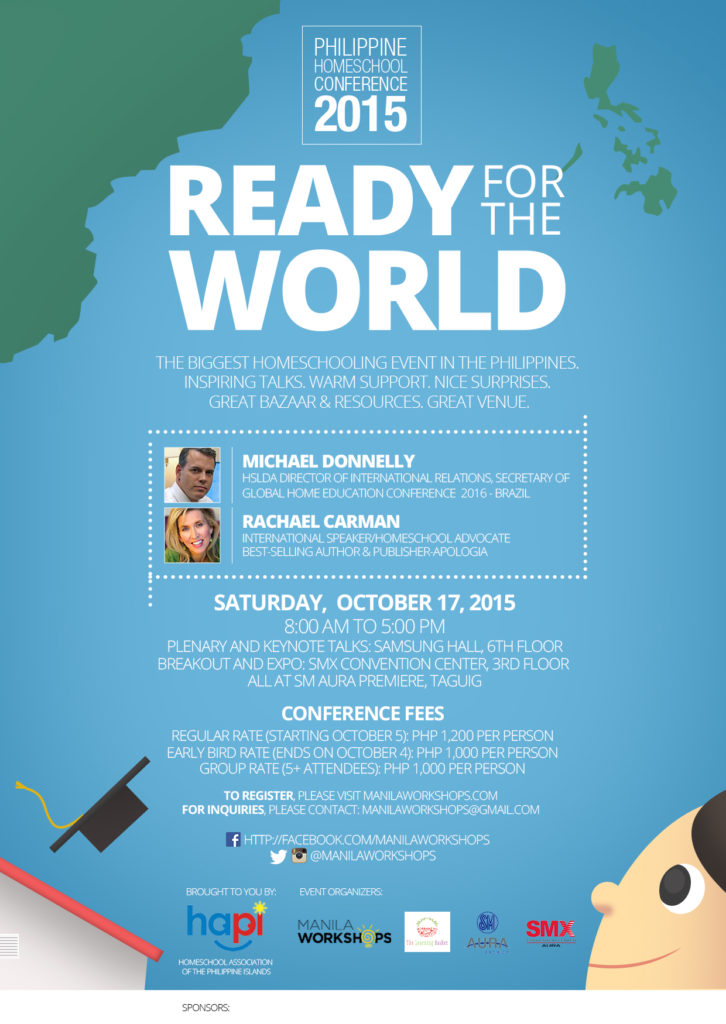 Homeschool Association of the Philippine Islands (HAPI), a non-stock, non-profit advocacy of Filipino homeschoolers, together with Manila Workshops, a company dedicated to continuing education for professional and personal goals, and The Learning Basket, an advocacy that inspires parents to be their children's first and best teacher, offers an event jam-packed with information and inspiration about homeschooling that will help parents get their kids ready for the world.
To register, please visit: Manila Workshops

For inquiries, please contact: manilaworkshops@gmail.com
Visit http://facebook.com/manilaworkshops or Instagram @manilaworkshops for updates and info.