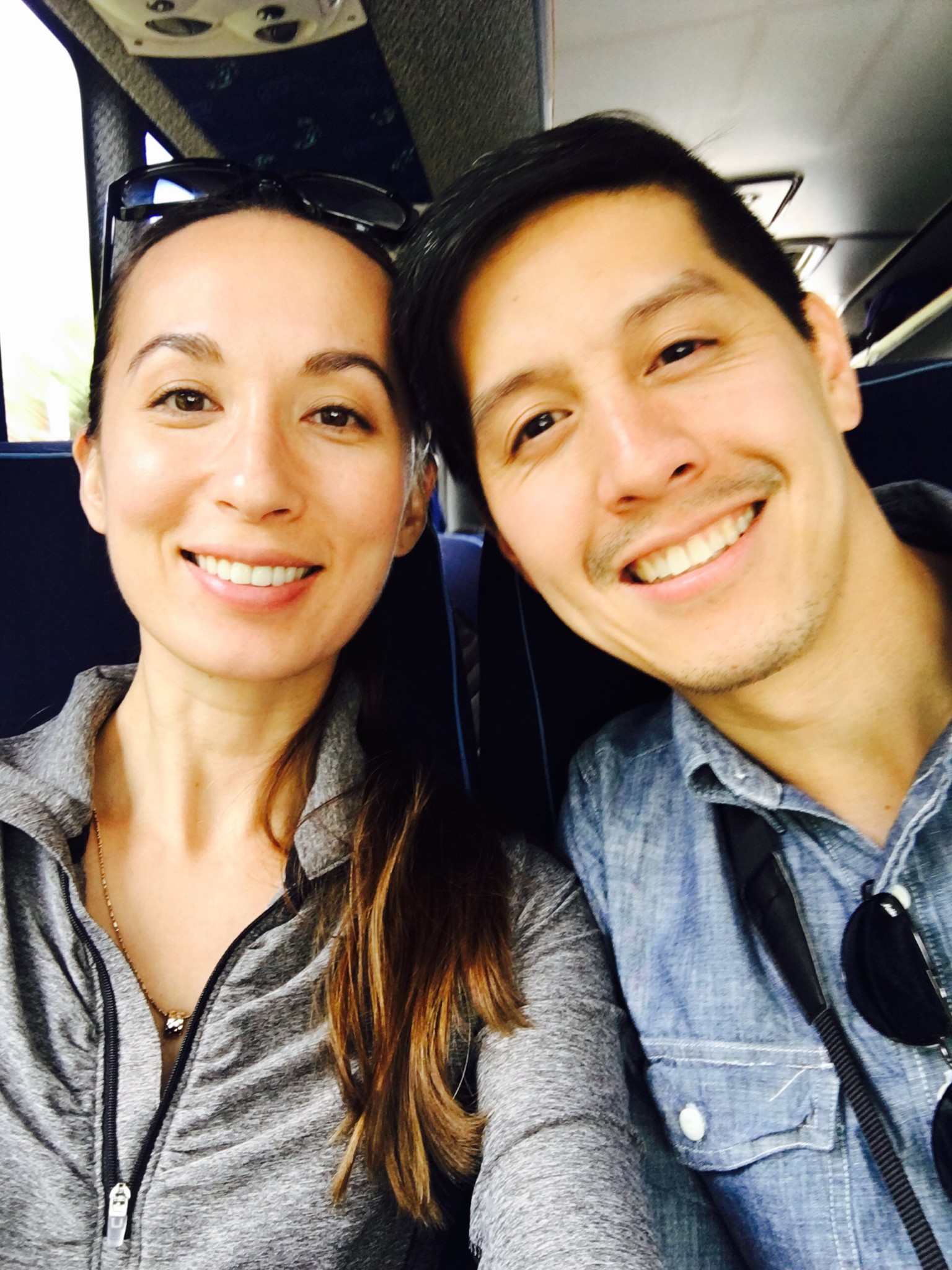 After writing an article last week on "Fighting with Gentleness," I messed up big time. I mean, BIG TIME. I've been honest with my readers about my mistakes as a wife and mother, so I'm not going to plaster over this one.
During an argument with Edric two Sundays ago (after church, mind you), I threw a toilet paper roll at him. Yes, a toilet paper roll! Why?!
What triggered this outburst in me? What happened to me?! I'm not a thrower.
Okay, I'm not going to lie. There was one other time that I threw something. It was four years ago. Edric and I were agitated at one another. I flung the remote control towards the other end of the room where it crashed into the wall and fell apart.
I had to apologize profusely and ask for forgiveness for my display of violence. Thankfully, Edric dispensed his forgiveness in a very sweet and gracious way, assuring me that he loved me no matter what. But I regretted that moment for many months after. I still regret it.
So why did I revert to throwing again? And this time, a toilet paper roll?
Let me go back to the beginning, when a discussion took place about breakfast. (We have at least one altercation a year that deals with breakfast. I don't know why. It just happens.)
Edric's first statement was to serve variations of scrambled eggs. We eat pretty hearty breakfasts. Eggs are a big part of our morning meals. For a while, we were doing more scrambled eggs than fried or boiled. Then Edric asked to add more fried eggs to the menu. Finally, a few weeks ago, he was tired of the sunny side up eggs and requested for more stylized scrambled eggs.
My fault was forgetting to inform our househelp right away. So I had to apologize to Edric for not implementing his instruction immediately. This initial conversation was fine. But the breakfast discussion continued. Edric commented about how his morning meal is often cold. So he specified that breakfast be served at 6:15 AM instead of at 6 AM.
This kind of irked me because it seemed so nit-picky. A difference of 15 minutes? Really? But I got it. Ever since I can remember, he has disliked eating re-heated food and wants everything served hot right before he sits down at the table. So I tried to avoid over-reacting.
However, when I asked him what time he wanted breakfast served on Saturday and Sunday, he answered, "That's flexible." I got confused. If hot meals were so important to him then why say that the timing for breakfast on the weekends was flexible? When I bugged Edric to give me a time, he began to be annoyed. So I said something like, "Look, you're the only one who has a problem with cold food, so please say a time that we can all work with for the weekends, too."
Edric rebutted, "Everyone has a problem with cold food."
"Everyone?" I challenged. "It's just you who has this issue."
Then I proceeded to interview each of the kids sitting in the back (such a disrespectful thing to do), and they all supported Edric's hot food perspective. Oops. I was the loser.
He snapped at me and said something he never has. "You're bringing the kids into this? You are so pathetic!" It wasn't a shout but there was emphasis and anger in his tone.
Oh my. It was on. I forgot everything I wrote about fighting with gentleness in my article, and the war began.
Defensively I quipped, "Well, not everyone has a problem with cold food because I, for example, don't care if food is hot or not. In fact, I don't even like hot food." (I seriously don't because it burns my tongue.)
"You mean you don't like freshly cooked, warm food?" Edric asked doubtfully.
"Yes I do, but I can live without it," was my response.
"So if you go to Shang-rila buffet, you won't mind it if the food they served wasn't hot?" Edric cynically questioned my logic.
"That's a totally different scenario. My point is, if you are so picky about hot food then you should decide a specific time for breakfast to be served on the weekends, too, so we can all adjust to you," I replied.
He still refused to give a time, claiming that it was my responsibility as a homemanager to institute these things. But, since he was micromanaging weekday breakfast schedules then why not do the same for the weekend, too?
When we got home and the kids vacated the car, I nearly pinched him on the shoulder and snapped at him, "Don't ever say something like that to me!" (I was referring to the pathetic statement.)
He fired back at me, "No, you don't do that!" (Referring to my disrespect and attempt to pinch him.)
Some of the older kids heard this. This situation was awful. We had argued in front of the kids and dishonored one another. Up to the bedroom we both stomped.
Edric wasn't going to brush this conflict aside. He sat across from me on the bed and initiated conflict resolution. I can't narrate everything that was said, but it was a convoluted mess of tears, frustration, exaggeration, blaming, judging, and yes, a toilet paper roll at the height of it all. That was my doing. I stormed out of the bathroom with the toilet paper in my hand and meant to hit his body with it but I totally missed. He was only two feet away, too. (My aim is terrible when I'm emotional.)
He volunteered his body to be hit again as a taunt, and I half jokingly claimed that I needed a bigger object to throw at him. Of course I didn't take him up on his offer!
Somewhere in the middle, Edric pulled the "you are going to have your period" card to explain my irrational reactiveness, which got me worked up again because my period was far, far away. And he pulled out his phone to video our conversation as evidence of my emotional instability. He planned to archive the video for future reference. This didn't help towards resolution.
We must have been in our bedroom for over an hour, with the door locked and the kids pounding on it several times calling us down to lunch. We had to gently shoo them away, explaining that, "Mommy and daddy need to talk." The older kids understood, but the younger ones returned several times. In the end, Edric and I asked for forgiveness from one another and from our children. Peace returned to our home.
But, wow. I couldn't believe the incident happened in the first place, and over a breakfast conversation! It was so wrong of me to hurl that toilet paper roll at Edric. It was so wrong of me to snap at him and be disrespectfully irritated. When I think about that incident I am reminded of a very important life principle: Never let your spiritual guard down.
1 Peter 5:8 so sensibly put it: "Be of sober spirit, be on the alert. Your adversary, the devil, prowls around like a roaring lion, seeking someone to devour."
Edric and I spent the first quarter of 2016 serving the Lord and ministering to others. Yet, serving the Lord and doing ministry doesn't guarantee spiritual perfection. In fact, it sometimes has the tendency to make one complacent about their spiritual walk. To be honest, I wasn't praying as faithfully. I may have been reading my Bible, but I wasn't living with dependence on the Holy Spirit every single day.
When I'm not controlled by the Holy Spirit, I am the WORST version of myself. Impatient, prideful, spiteful, unkind, judgmental, unmerciful, bitter, and vengeful…these are just a few of my un-shining characteristics. And yes, I can even go so far as to throw a toilet paper roll at my husband! It's only by God's mercy that I missed. The point is, there's not an ounce of goodness in me apart from Christ. I can't cruise along the Christian life and assume that I'm not going to revert back to my old self. Therefore, I always need to acknowledge my need for God's power to live a life that is pleasing to Him.
Furthermore, God is opening up more opportunities for me to have a more public platform. Now, more than ever, I have to be careful, conscious, and intentional about walking intimately with Him. In a climb with some of the ladies in my discipleship group, I saw a sign at the summit that read, DANGER. Whenever we experience successes in life, this is when we are most vulnerable to falling and failing spiritually. My dad used to say, "Prosperity is more dangerous than poverty." In the same way, I believe that accomplishing much makes our hearts more prone to pride, selfishness and other sins of the heart that are deadly to the human soul.
The day after Edric and I fought, I went on a run and cried out to the Lord. I felt so broken and discouraged. As I was running, the Bible passage that came to mind was 2 Chronicles 7:14, "and My people who are called by My name humble themselves and pray and seek My face and turn from their wicked ways, then I will hear from heaven, will forgive their sin and will heal their land." I prayed, Lord, please forgive me and please heal my marriage.
God was gracious to me. I didn't deserve grace, but the next day, He caused Edric to be extra sweet and kind to me. Edric acknowledged that he had to take better care of me, to cherish and nourish me as His wife. It was an affirmation that I must keep praying for my marriage. Jesus Christ is the only one who can restore and heal it when it needs fixing. And He's the only one who can protect it when the evil one seeks to divide Edric and me.
Psalm 16:2 declares, "You are my Lord; I have no good beside You." That's my declaration at the end of this post. Lord, I cling to you. If you aren't in my life, I am a completely lost, broken and unholy person who damages those around her. But I don't want to be that way. Please help me. Be the goodness in me that pours forth into the lives of those around me, into the lives of my husband and my children. In Jesus' Name, Amen.
Maybe you are like me and you've messed up at one point in your marriage, or many at many points, or you are messing up right now. Don't lose heart. You can change, you can be restored, you can find grace and help in your time of need. I pray you will seek the Lord as the answer.