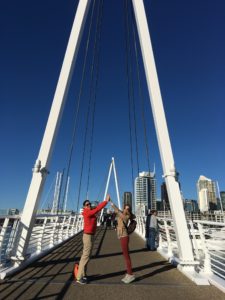 For the last few months, Edric and I have been on this romantic high. It's been amazing to cross the 15 year marriage mark and still feel like it's the honey moon stage. This is God's grace.
However in the past two weeks, Edric and I have been in a state of conflict. Nothing explosive, just frequent annoyances with one another.
For example, last Saturday Edric and I were discussing ministry priorities and he began to share how frustrated he was with certain people we were ministering to. I have heard this same tune before. At first I gave suggestions on how he can reach out to people more intentionally and I felt like he was resisting my proposals. As for me I was thinking, Why is this an issue again? Ministry is messy. People are messy. This comes with the territory of serving the Lord. It's never going to be easy.
But I failed to acknowledge his feelings by jumping in with my ideas too soon. As I listened more to Edric go on and on, I felt increasing agitation. So I kept throwing suggestions his way.
Edric didn't like my opinions. First of, he was opening up to me and hadn't invited me to give my perspective yet (there would've been a moment for that later on). But I wanted to cut through all the emotional stuff and just help him fix the issue. (And to think I don't like it when he does the same to me!)
I was giving my unsolicited advice while portraying him as problematic — a failure as a leader. Naturally, this irked him. He felt hurt. Especially when I lost it and finally mouthed out, "You know what? Just man up and move forward and do what you have to do!" (Wrong, wrong, wrong!)
He very calmly replied, "I would like to say expletives to you right now but I won't. But what you are saying is hurtful."
And then he corrected me about how I need to improve as a listener…How I tend to be opinionated at the wrong time. I didn't take this well.
I retorted in a bad way, "Have you ever thought about how you don't like me being opinionated because it's your pride? Do you really want me to be the kind of wife that just keeps quiet and has no opinion? Because I can be like that. I will just be quiet all the time and not say anything contradictory."
Of course this wasn't his point, I was just being difficult and prideful.
Had I put myself in his shoes and attempted to understand him, he could have walked away from that conversation refreshed and recharged. Instead, he said something like this, "Opening up to you was a mistake. I don't feel like I accomplished anything. In fact I feel worse."
So we parted tensely without a resolution. a few hours we had to minister to a group of couples and this was the state we were in.
I was willing to discuss our differences after that meeting but Edric very humbly apologized to me IN FRONT of the couples. He normally doesn't want to do any sort of ministry work if we aren't okay as a couple so this is probably why he spontaneously apologized to me. Of course I was compelled by his humility and asked for his forgiveness for saying the things I did that were so disrespectful. Yet this sort of combative spirit lingered in me.
Throughout the days that followed I continued to challenge his ideas and get irritated for the smallest things. It came out in the way I talked and related to him…like rolling my eyeballs, burying my face in my hands in exasperation, sighing to signify my disappointment, looking away when I didn't agree with what he was saying, challenging the integrity of his facts, or spitting out opinions that were laced with disdain or sarcasm. The most hurtful things were the words I spoke, ill-chosen and uncensored.
I really praise God for being merciful to me and telling me loud and clear, Joy, you are supposed to be a life giver along side Edric! You are not his shrink or his teacher. Sure, you may not always agree with him, and you may want to change the way he thinks. And yes he may be wrong at times. But it doesn't give you license to step outside the bounds of the role I have given you, especially with the things you say. You are called to be his encourager. To pray for him, to speak life words into his heart so he will be motivated to follow Me and love Me.
In the Old Testament, Michal was a wife who criticized and scorned King David, her husband. When David danced before the Lord with all his might, stripping himself of his royal garb because he was delighted at the rerun of the Ark, she "despised him in her heart."
She clung to this contempt and sarcastically said to David, "How glorious was the king of Israel to day, who uncovered himself today in the eyes of the handmaids of his servants, as one of the vain fellows shamelessly uncovereth himself!" Rather than rejoice at the arrival of the Ark of God, she mocked her husband's honest display of joy.
David resented her reproach and declared that he was not ashamed before the Lord. Bible
Gateway explains that "Michal had missed the essential significance of David's career, that in spite of his failures he was a man after God's own heart. As Alexander Whyte put it, 'What was David's meat was Michal's poison. What was sweeter than honey to David was gall and wormwood to Michal…. At the despicable sight [of David dancing] she spat at him, and sank back in her seat with all hell in her heart…. Michal is a divine looking-glass for all angry and outspoken wives.'"
Michal didn't give birth to children after this as a consequence for her scorn. Reading about her again showed me
an example to avoid as a wife. She did not honor God in her heart, therefore she did not honor her husband. Similarly, I did not honor Edric last Saturday or the past few days because I had not been honoring God in my private life. I wasn't actively seeking to be intimate with Him. Busyness took over and I was too caught up in my own pursuits to minister to Edric.
Almost every time that I am reactive and annoyed with Edric, this disposition can be traced back to a lack of intimacy with the Lord on my part. I am not ready, spiritually, to minister to my husband in the way that he needs me to.
Edric and I have settled our issues and apologized to one another which is why I can write about this now. But I know that my propensity to be contentious towards him will not go away. It will continue to be a weakness that I struggle with unless I forsake my pride and ask the Holy Spirit to fill me.
Marriage so often reveals the areas where I need to grow as a person, and in this season it is to fully embrace what it means to be a life-speaking wife to Edric…not someone who reminds him of his mistakes and highlights his inadequacies under the guise of "helping him to be a better man." It's the Holy Spirit who makes him a better man. My role as a wife is to gently remind him that God loves him, that I love him, that God will give him the wisdom to make the right choices, and that I am here to prayerfully support him. Historically speaking, this has always proven to be the more effective way to open communication between us, too. When Edric feels affirmed and encouraged, he tends to want to hear my perspective and insights. So it's a win-win approach!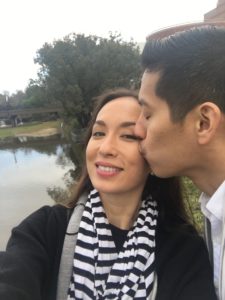 "A gentle answer turns away wrath, but a harsh word stirs up anger. The tongue of the wise makes knowledge acceptable, but the mouth of fools spouts folly. A soothing tongue is a tree of life, but perversion in it crushes the spirit." Proverbs‬ ‭15:1-2, 4‬ ‭