My tendency is to nag. I don't know if it's a woman thing, but I like to repeat my point, my perspective, or my requests several times to make sure that people in my family, namely my husband and kids, "get it." Sometimes I don't even think it is nagging. I think of it as purposeful talking, but this isn't how it's interpreted by others.
If you are a wife and mother like me, "nagging" or being pushy with our words, doesn't work to inspire change in our loved ones. It's just plain annoying. In many instances this method of communication can also drown out the voice of the Holy Spirit in people's hearts.
So what's the remedy? Control the tongue, as the book of Proverbs challenges, and pray for the Lord to speak to the people we love.
"He who guards his mouth and his tongue, guards his soul from troubles." Proverbs‬ ‭21:23‬
One of my prayers during the recently held fasting week at our church was for my sons to start leading bible study groups for their friends. Initially (and before really praying about it), I had mentioned the idea to my eldest son, Elijah who met me with resistance.
"Mom, I have too much to do, it's going to stress me out to do all those things."
So I asked him, "What are the so many things that you are doing? Be honest with me, how much of your time is spent programming and building apps for example?"
He admitted that a significant part of his day was dedicated to doing this. My follow up response challenged him to think through whether the problem was not having enough time but instead choosing to spend his time in a certain way, according to his preference. He quietly listened.
Nevertheless, I didn't want to be the one to impose starting a discipleship group on him or on my second son, Edan. After all this had to be a personal decision, a stirring that came from the Lord and not something forced upon my kids by me. So I backed off and decided to pray earnestly for the Lord to speak to them, especially Elijah. Instead of saying to Elijah, "Well, I think you should do this," I also encouraged him to pray about it, which he said he would.
During the week of prayer and fasting, Elijah included the possibility of leading a group in his list of requests. About a week later, he decided to start meeting with his friends. I was thrilled! Edan declared that he would do the same. Elijah's courage motivated him.
When Edric and I asked them why, Elijah shared that he wanted to be a blessing.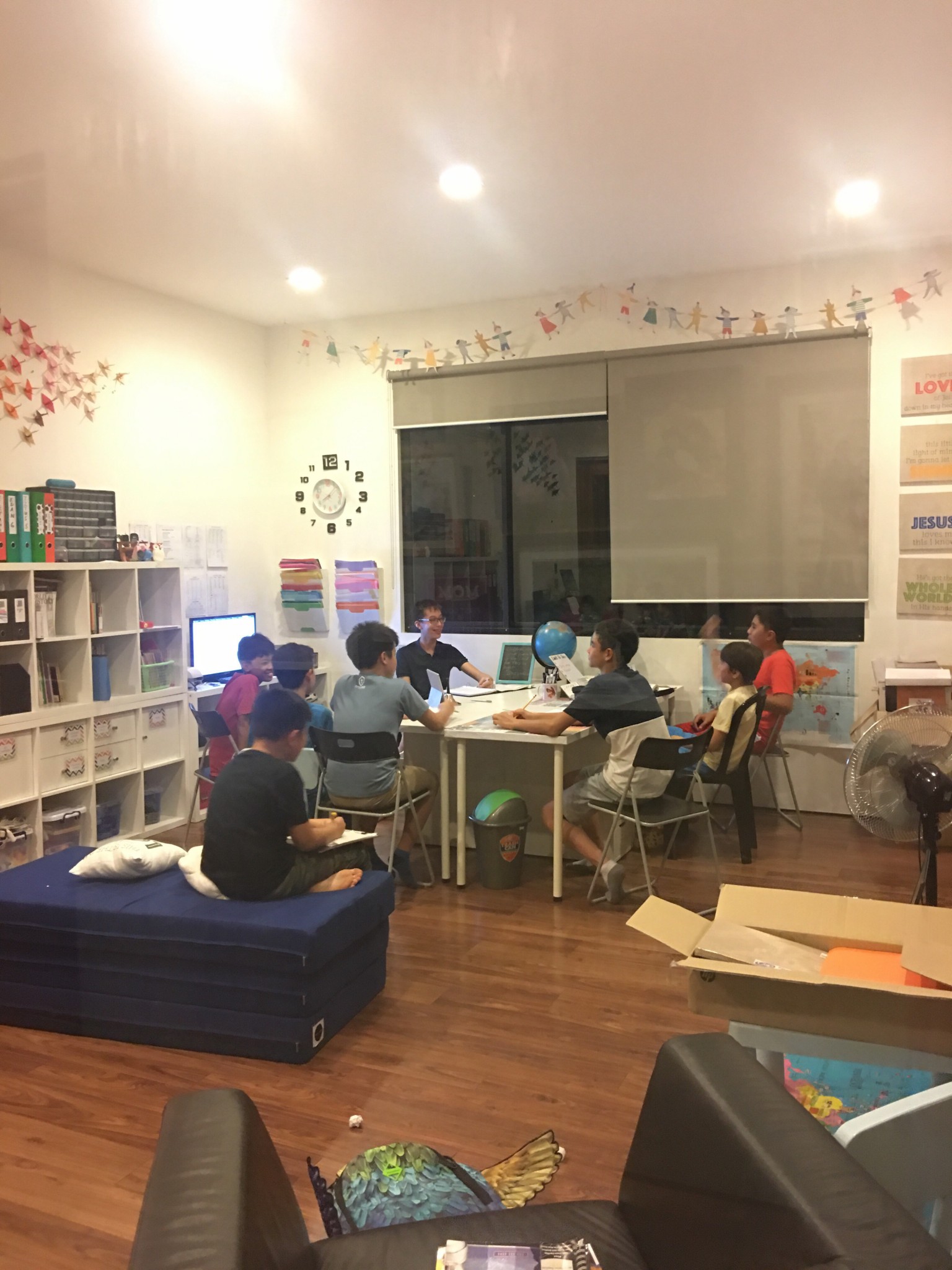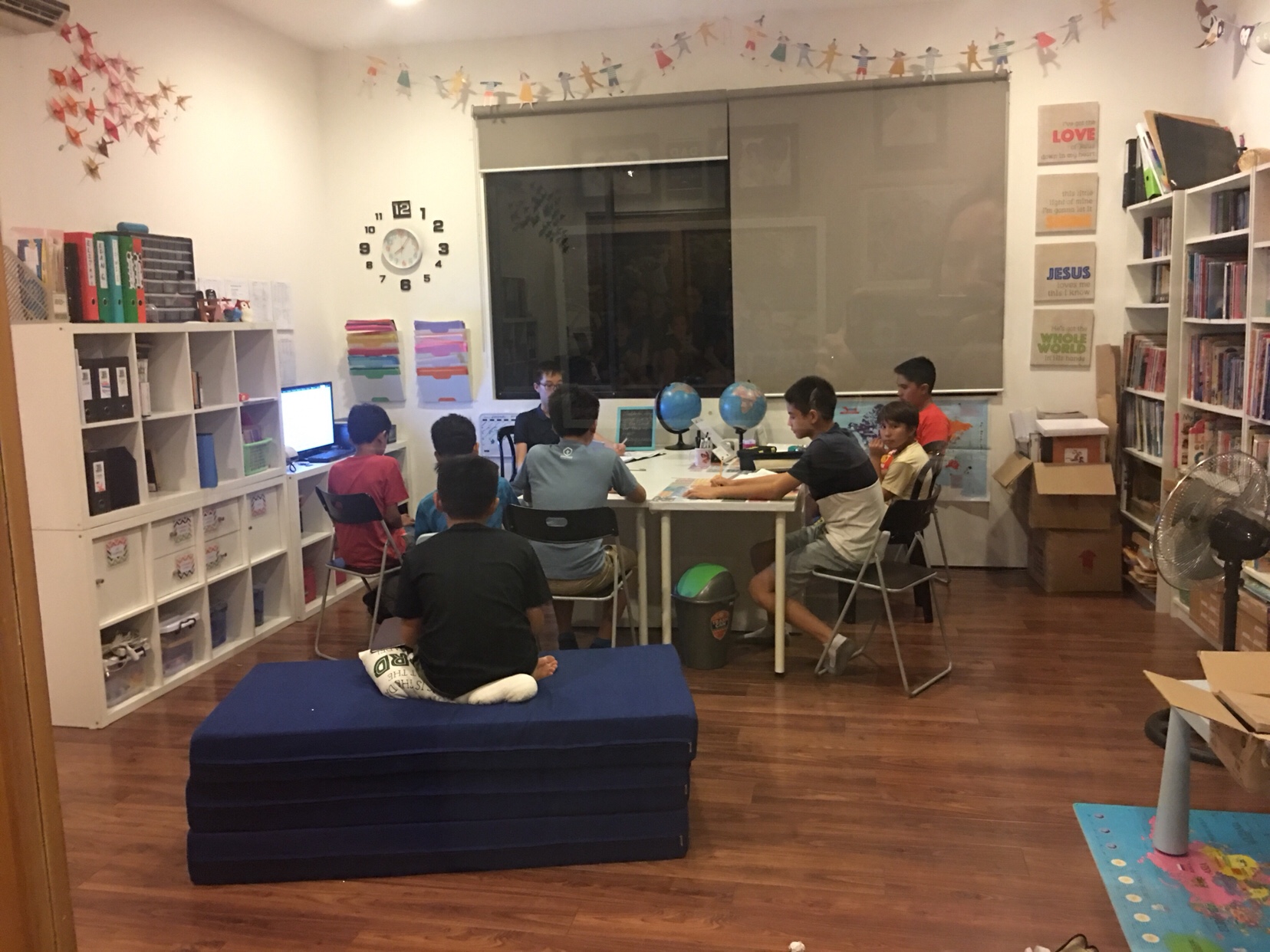 As for Edan, he teased about enjoying being in a position of authority, "the boss." (But he does have a heart to serve, too. Whew.)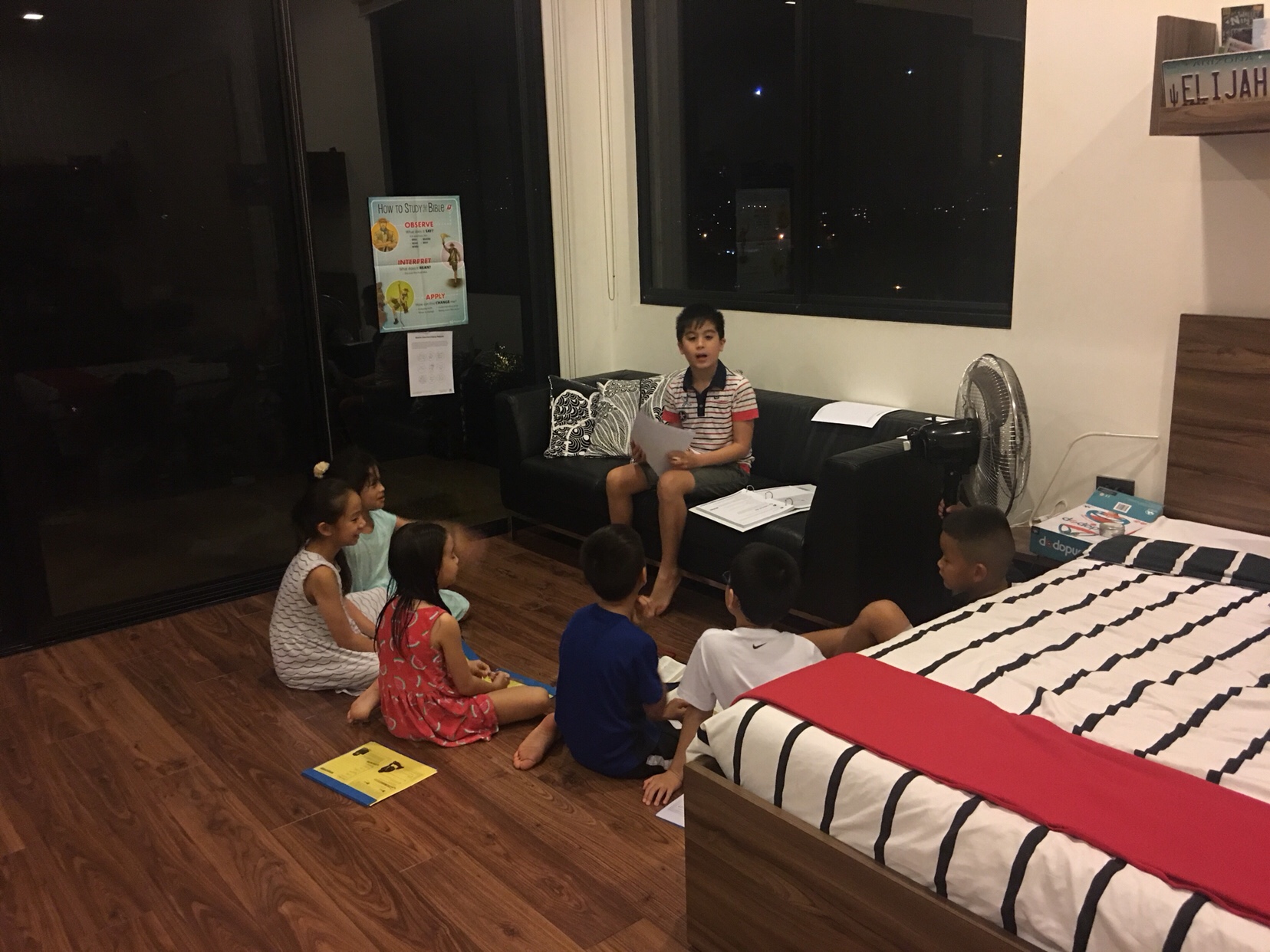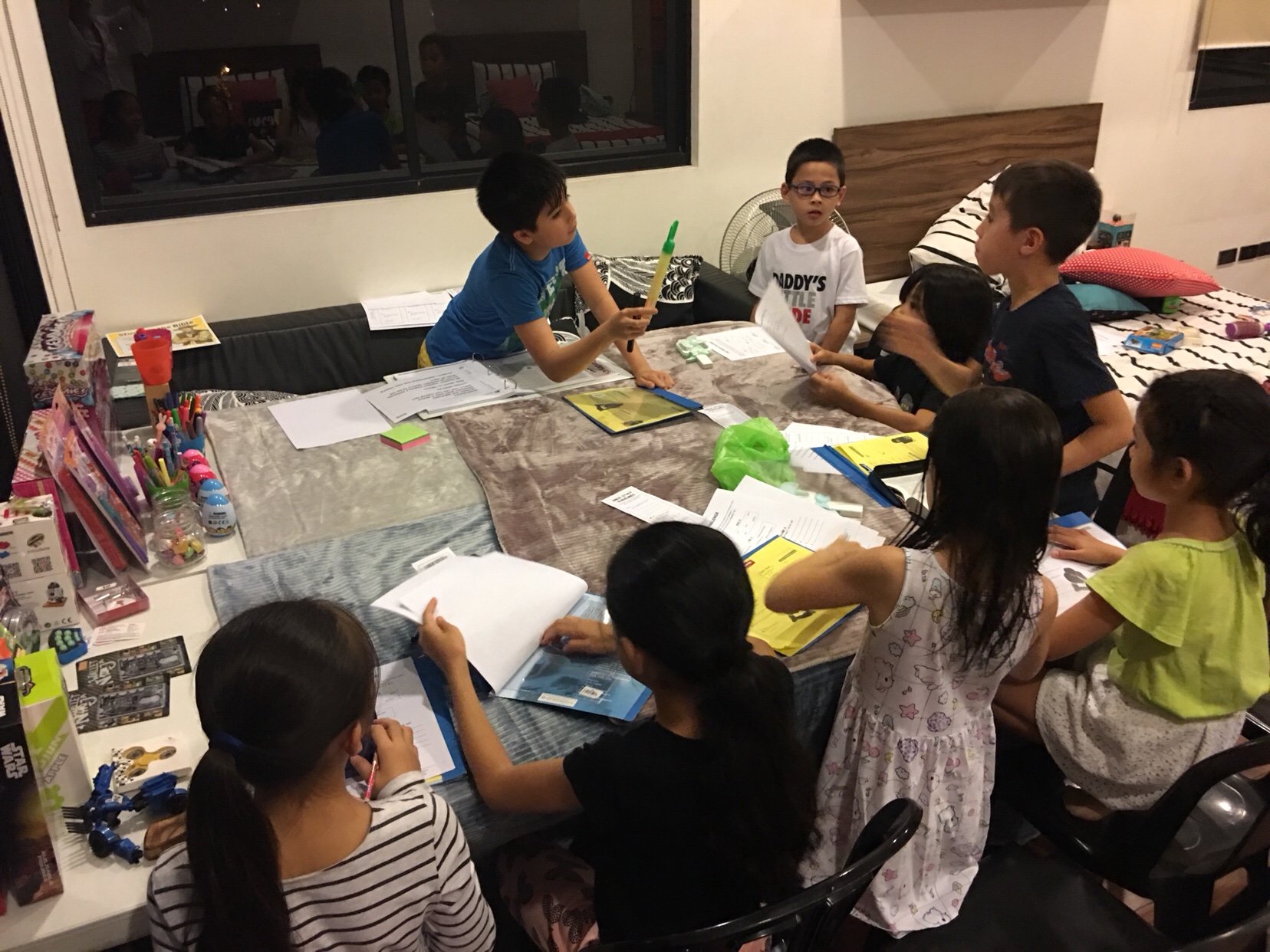 Edan came up with a point system and prizes to challenge his attendees to be attentive, participative, to memorize bible verses, and do their homework.
He is a very structured and orderly person himself so this is his style of leading.
This is Elijah and Edan's second month of meeting with their discipleship groups. Elijah handles ages ten above and Edan leads the ages six to nine. They meet with kids who are children of couples in our discipleship group which makes it very convenient. Our friends bring their kids over the same evening that we get together. Currently they are covering material by Answers in Genesis on "Why We Can Trust the Bible." It's actually deep stuff!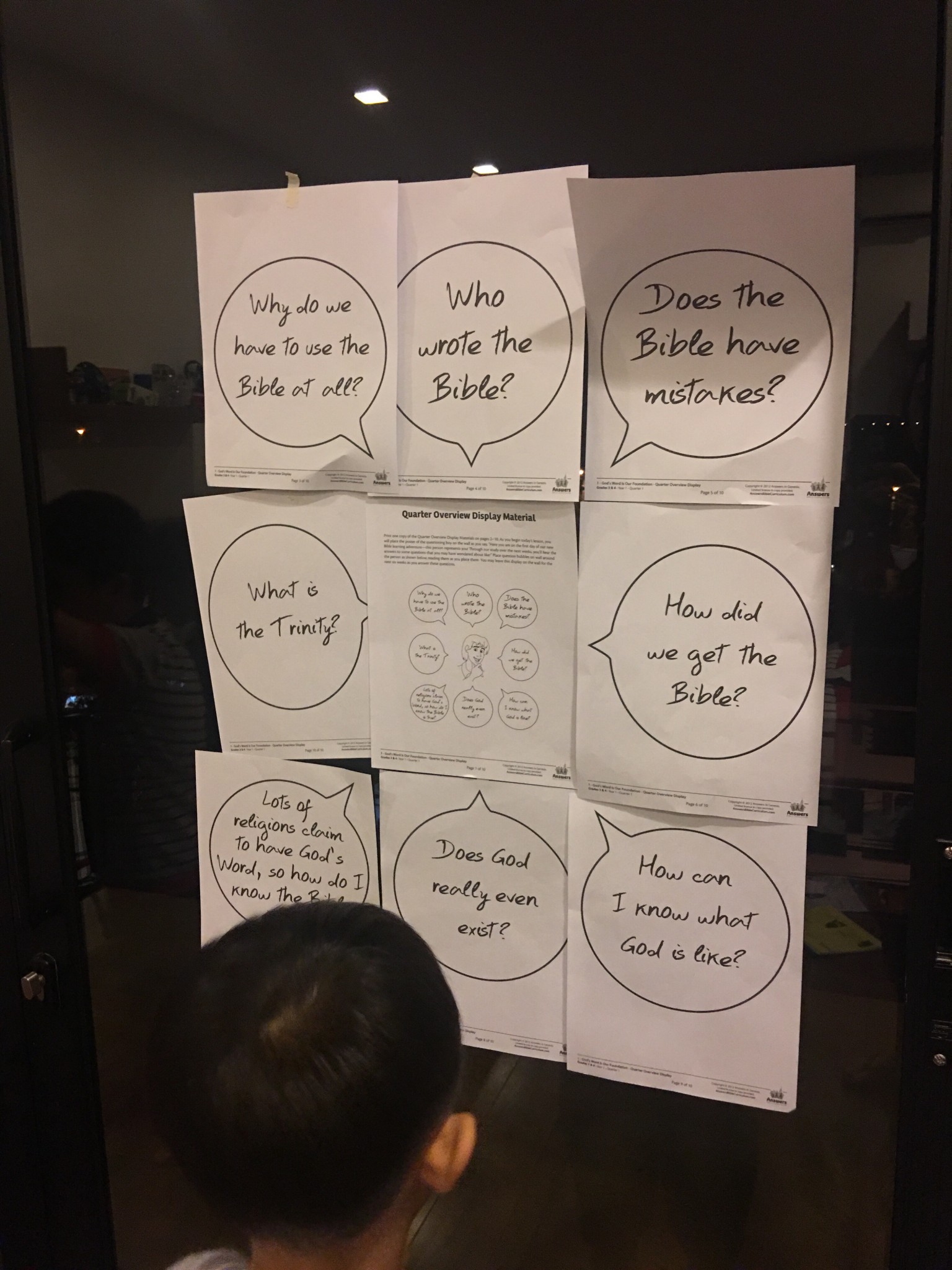 Every week they need to set aside time to prepare their lessons and materials, and they set up their meeting areas for their friends. I pray they will go the distance with this and be faithful as they serve God by serving others.
What I have learned as a mother is that convictions cannot be drilled into the hearts of my kids by dictating parameters or by making demands on them. Edric and I can teach them about Biblical truth, model these, discipline and love them, however it is the Lord's power that will transform their hearts and move them towards His purposes. We are ever dependent and needy of Him in our parenting.
The second example is about marriage. After attending the wedding of friends, Edric ended his evening watching a movie till late last night.
Although we try to be disciplined about getting sufficient sleep at night, there are occasions when his manner of unwinding means pulling out his laptop to watch Netflix. Thankfully, he is very careful about the kinds of series he watches in terms of their moral content, but it concerns me when he compromises sleeping early for his version of "unwinding." It seems contradictory to his default mode, which is to be purposeful and wise about time management. Furthermore, just one late night of sleep affects his natural rhythms and habits, which help him to function on a daily basis at the level he wants to.
So this morning, when he had a hard time waking up because he was worn out from the night before, I began by commenting, "Babe, why did you do this again? What time did you go to sleep?"
We usually leave the house by 8 AM to make it to the morning's payer time before church service. Although we left just ten minutes past eight, which still gave us a good buffer, I brought up the topic again on our way to church, reminding him about the necessity of being disciplined.
His initial reply was, "Ask me if I know this already."
"Do you? Maybe you don't know it already because you aren't doing it. Knowing is different than doing. I am just holding you accountable."
Then he countered with, "Well, you know you are supposed to be in the car by 8 AM and you weren't. So does that mean you don't know what time we leave on Sundays?"
At first I retaliated, "Are you bringing that up when the issue we are talking about is watching Netflix late at night?"
Then I realized that he had a point. I was coming across as rather self-righteous, and our conversation could escalate in front of our kids. I didn't want to be disrespectful even though I felt annoyed. So I quieted myself and prayed, "Lord, please be the one to speak to him during the message today about discipline."
Towards the end of the message, God did. Just like that, Edric leaned towards me and whispered, "I will change."
Of course, being my spiritual leader, he also added, "What about you?" (And God also spoke to me to be humble and receive Edric's correction.)
I smiled. "I will be on time."
In the car, headed to lunch after the service, we got to discuss these matters further. Edric had a wonderful insight, "I realized that I want everything I am doing to be a preparation for eternity. Although I am prepared to enter into eternity because of Christ, will I leave my earthly affairs in order if God takes me? Like my family, the people I am mentoring, the business?"
From the defensive person he appeared to be earlier in the day about the use of his time he was churning out meaningful realizations about its value in light of eternity.
He went on say, "I need to revisit my priorities and activities. There is nothing wrong with Netflix or unwinding but watching shows past a reasonable time when sleep is more important, that's wrong for me."
Obviously this was the Lord's doing! No amount of blabbing and "purposeful talking" on my part could have inspired this in him. We would have just argued and gotten irritated with one another.
So there you have it…two instances wherein speaking less and praying more leads to positive change and action in the lives of our loved ones. Whether it is a husband or a child, we can direct our nagging toward the Lord, surrendering our desires and longings to Him, and letting Him do His heart-work.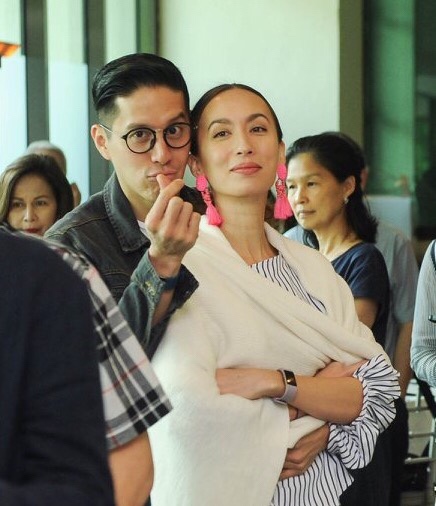 Prayer is powerful not because of who we are but because of who God is and what He can do. 1 Kings 8:39 tells us that "He alone knows the hearts of all men." He is also able to direct even the hearts of kings as it says in Proverbs 22:1.
The king's heart is like channels of water in the hand of the LORD; He turns it wherever He wishes." Proverbs‬ ‭21:1‬ ‭
More importantly, prayer will also reveal what is wrong inside of us. There have been times when I have prayed for others to change and God told me I was the one who needed to change, or that my intentions were misaligned with His will.
When we want others to change, is it because we really seek their highest good or our own? Authentic prayer will reveal this. So praying is a win-win solution to effecting heart change in everyone, including ourselves, when we earnestly seek God's help.
Don't get me wrong. This doesn't mean we can't express ourselves or our concerns to loved ones. It would be unloving of us not to correct or point out unhealthy behaviors or perspectives in our family members. But we don't need to keep repeating the same things over and over again to them, hoping that this will make a big difference or motivate them to improve. It won't as much as prayer will. We need to give room for the Lord to move in them.
Let's learn to pray more and depend on God for His process and manner of transforming people. Not only will this avoid unnecessary conflict, it will relieve us of stress because we don't bear the burden of having to change others. That's God's department.
As a guideline, here's an example of the kind of intent we ought to have for those whom we love, the kind of nagging we can do with God for them:
"For this reason also, since the day we heard of it, we have not ceased to pray for you and to ask that you may be filled with the knowledge of His will in all spiritual wisdom and understanding, so that you will walk in a manner worthy of the Lord, to please Him in all respects, bearing fruit in every good work and increasing in the knowledge of God; strengthened with all power, according to His glorious might, for the attaining of all steadfastness and patience; joyously giving thanks to the Father, who has qualified us to share in the inheritance of the saints in Light." Colossians‬ ‭1:9-12‬ ‭