My confession is that I am a practical homemaker. For as long as my husband and kids get to eat good food, the laundry is done, and the house is orderly and clean, I applaud my efforts. Yet, this isn't the best standard for excellence when it comes to homemaking. I really could go and should go the extra mile to make my home a special place, not because I want it to be a showcase to the world, but because there is something about a home that's loved by its owners that is able to do the following:
1. Create a place that welcomes people into it.
2. Inspire meaningful gatherings.
3. Reflect the beauty and orderliness of God.
4. Celebrate peace and joy, especially for the family who lives in it.
I continue to work towards accomplishing all four of these criteria for my home because there are seasons when I admit that my time and attention are turned elsewhere, and the neglect becomes most obvious to my husband, Edric. He grew up in a home where his mom (my wonderful mom-in-law, Daisy), put her heart and soul into homemaking. She decorated, redecorated, added this and that, set out coordinated table settings and dishes, re-used, re-purposed, and trained her household staff to serve with excellence.
Thankfully, Edric doesn't pressure me to be like her, but I know where he is coming from, and I know that I have a long way to go. However, l am happy to say (and he would to) that I have improved, which allows me to write this entry with a little more confidence even if my homemaking abilities are "still in progress."
First off, let's talk about the ambiance of a home. What should a home look, smell, and feel like?
Personally, I like open spaces, high ceilings and big windows. It can be a privacy issue to have floor to ceiling windows for some people but I personally enjoy being exposed to nature (not the neighbors). Natural light flooding into the home from all directions is one of the best ways to create that happy, energizing feeling when you walk into it. The added bonus is that lights aren't necessary during the day which is a great way to save on electricity!
Then there's the matter of smells. Recently I have used the Lampe Berger lamps I got, as well as as the Parfum Berger Bouquet Parfum Cube, which makes our living room smell like a garden. The Lampe Berger Lamps worked particularly well to remove the scent of our new addition to the family — Pushkin, the Persian cat.
The idea of having an indoor cat was always unsettling to me. I always believed there ought to be a separation between animals and humans primarily because I feel like it's unsanitary for them to be on beds and pillows, or sleeping beside my children. Well, I gave in to this little guy. The kids committed to keep him clean, too.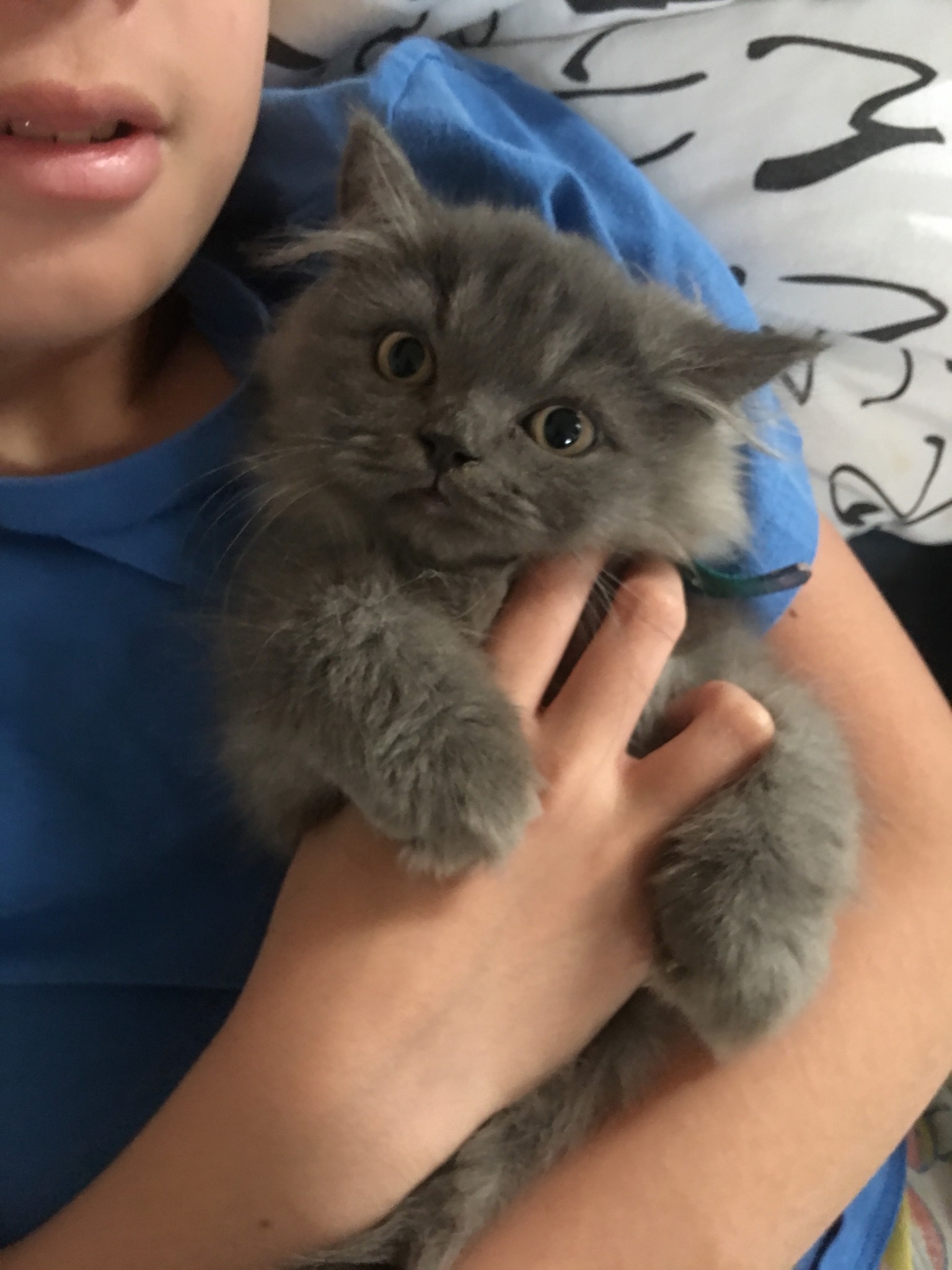 Thankfully, he is well-trained and uses his litter box. But, even when the kids scoop out the poop daily, I can still smell fecal matter and pee in the boys' room and that deeply disturbs me. (My pregnancy nose is very sensitive.) So I recently used the Lampe Berger lamp I originally got for Edric to deodorize and sanitize the air in the room. It's working so far!
I also use other Lampe Berger lamps for their multi-purpose of purifying the air, beautifying a space, and adding subtle scents to the air in our home.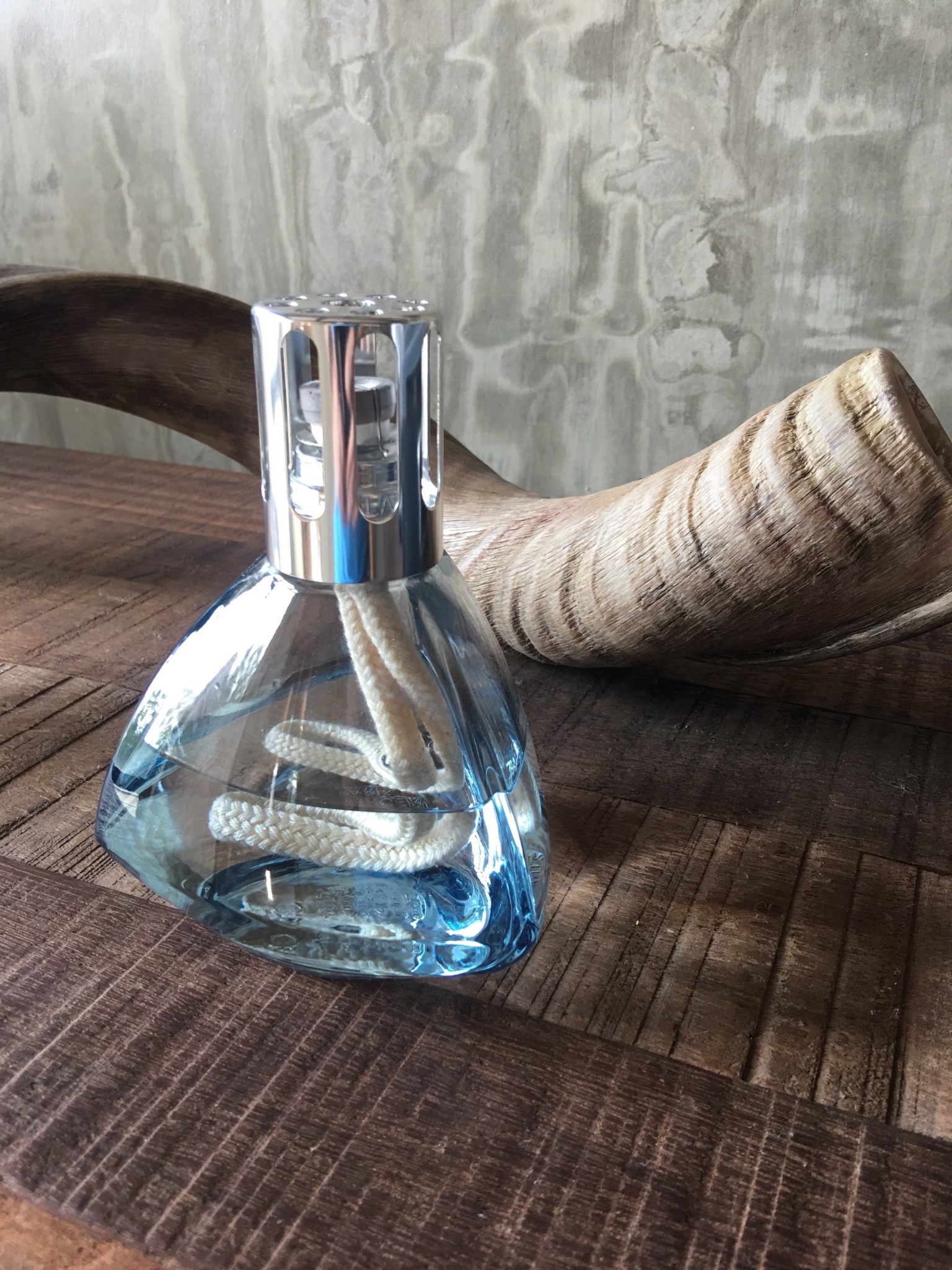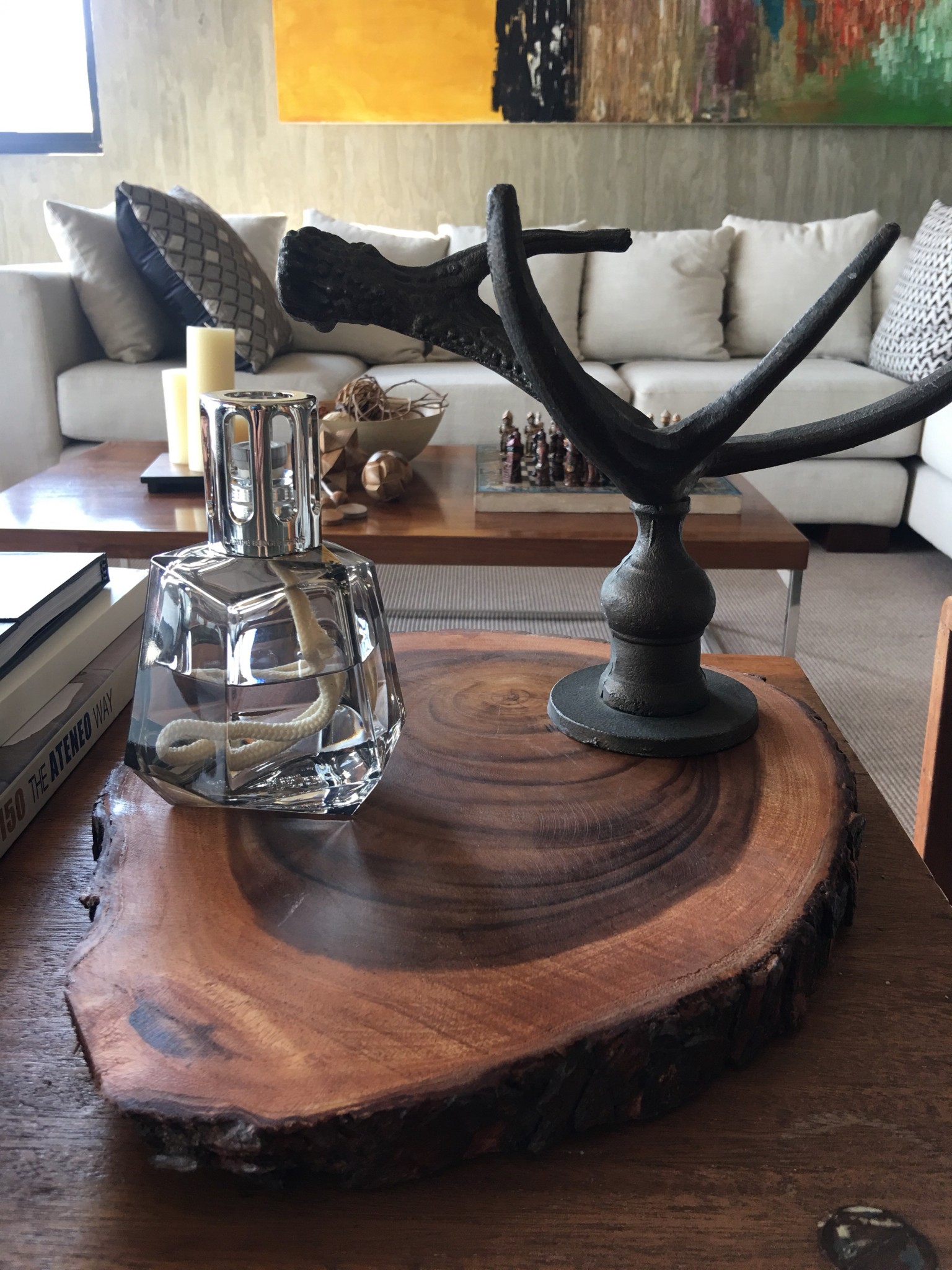 This is another personal preference, but a home that looks too meticulously styled can be intimidating to a guest. I have five kids. I would be terrified to walk into a home that seemed like it was cut out of a design magazine. My kids might (will) destroy something too valuable for me to replace, or spill sauce or smear grime on sofas and chairs. Now, if the homeowner was more chill and laid back (although I don't think that such traits can co-exist with showroom-style decor), then perhaps it would put guests at ease.
What I am saying is that if people feel like they have to be perfect and behave perfectly when they enter a home then maybe there is a way to have the best of both worlds. I have an interior designer friend who designated a separate place in her home for gatherings. Her home is an amazing showcase of her talent and taste, but she likes it to look like a showroom most of the time. So she very wisely created a location for getting together with guests that is very well-decorated but welcoming. This way she gets to be OCD and hospitable at the same time!
Do you need to spend a lot of money for everything in your home? I don't think it's necessary, but there are certain investments worth considering when it comes to the interiors:
– Good lighting. Get an interior designer to think through this if you don't feel equipped to handle your own lighting plan.
Looking back, Edric and I could have been more intentional about where we placed lights in our home. Since it's going to be a challenge to redo our ceiling to accommodate changes to lighting, I use lamps to create mood.
I was able to find reasonable but very tasteful lamps at HMR (Edric loves this place). Check out the side lamps…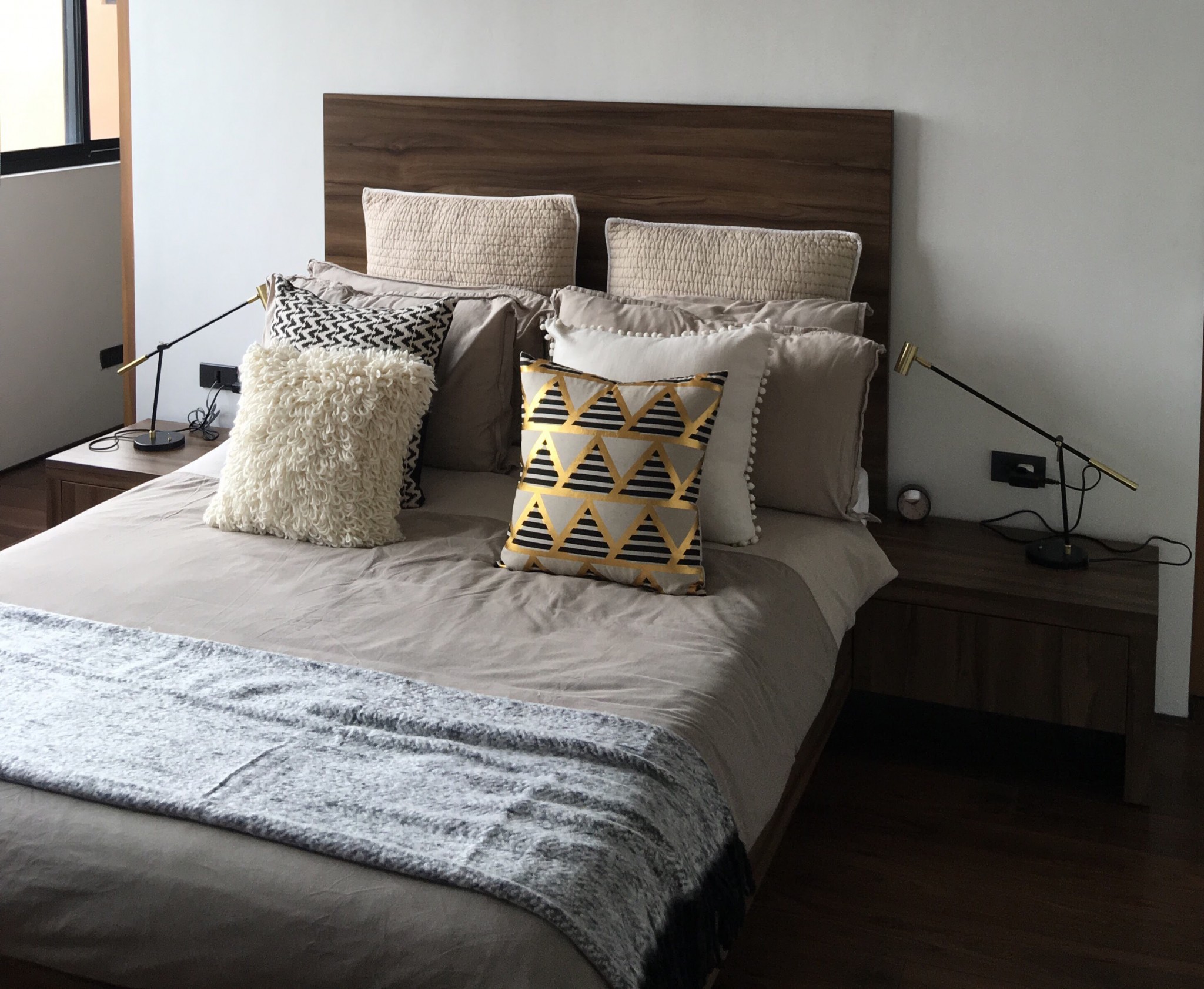 – Comfortable seating areas (invest in a sofa, dining chairs and table that will go the distance). These are some of the furnitures that get beaten up and used the most frequently, so quality makes a big difference. We got our sofas custom-made. I actually got white upholstering for my big sofa to contrast with the grey walls in our home and it's stayed fairly white. It's a miracle! There's only one rule here: Kids, no eating on the sofa.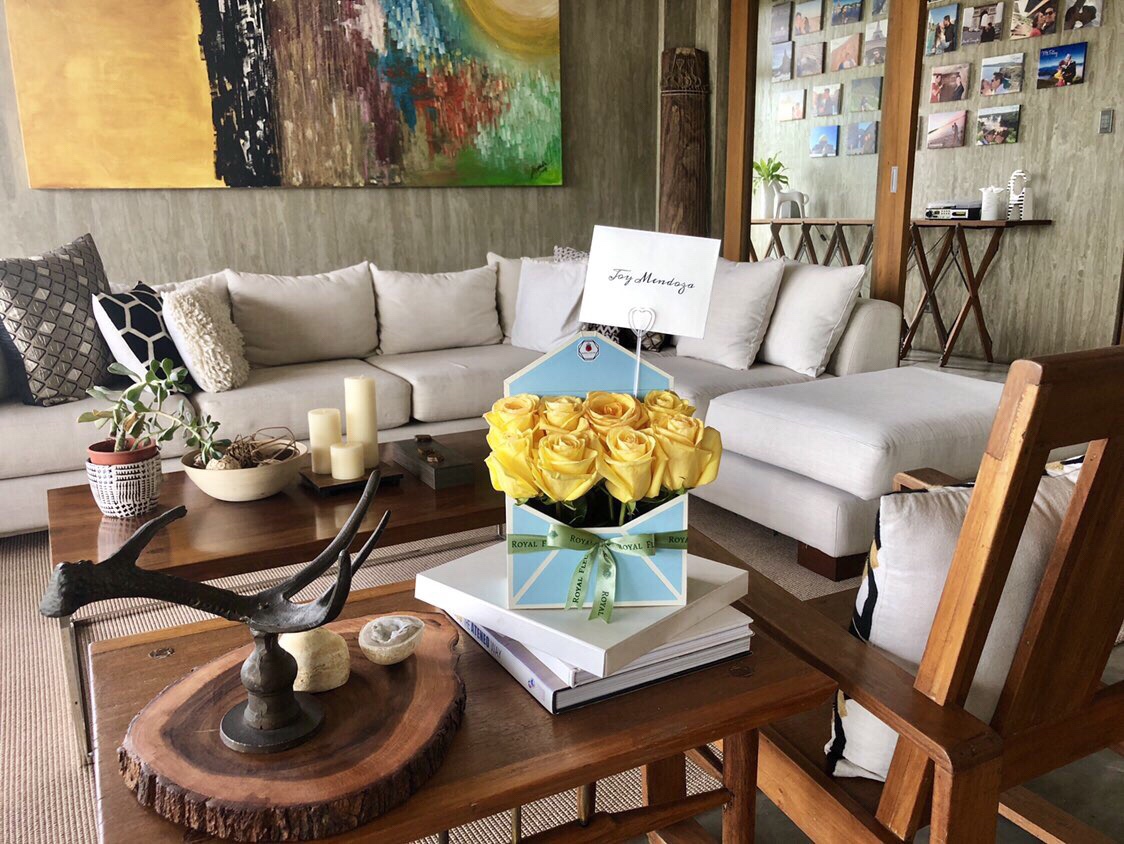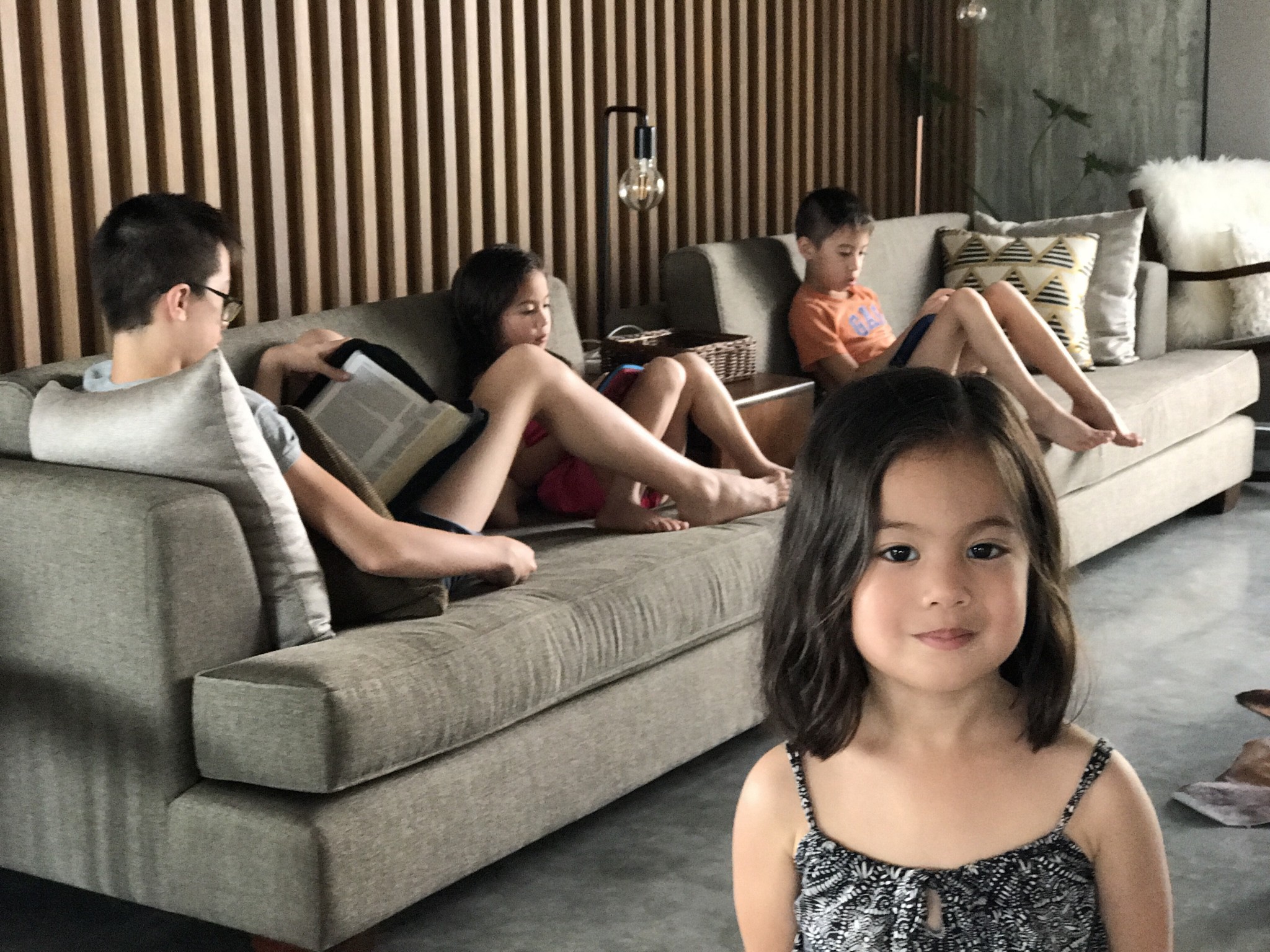 – The kitchen. Our family gathers here every single day. So far the cabinetry has held up splendidly, and the huge solid surface counter has provided lots of surface area for buffet spreads, meals, crafts, science experiments, cooking sessions, and even shoots. Our kitchen was designed by Optimus Space Solutions.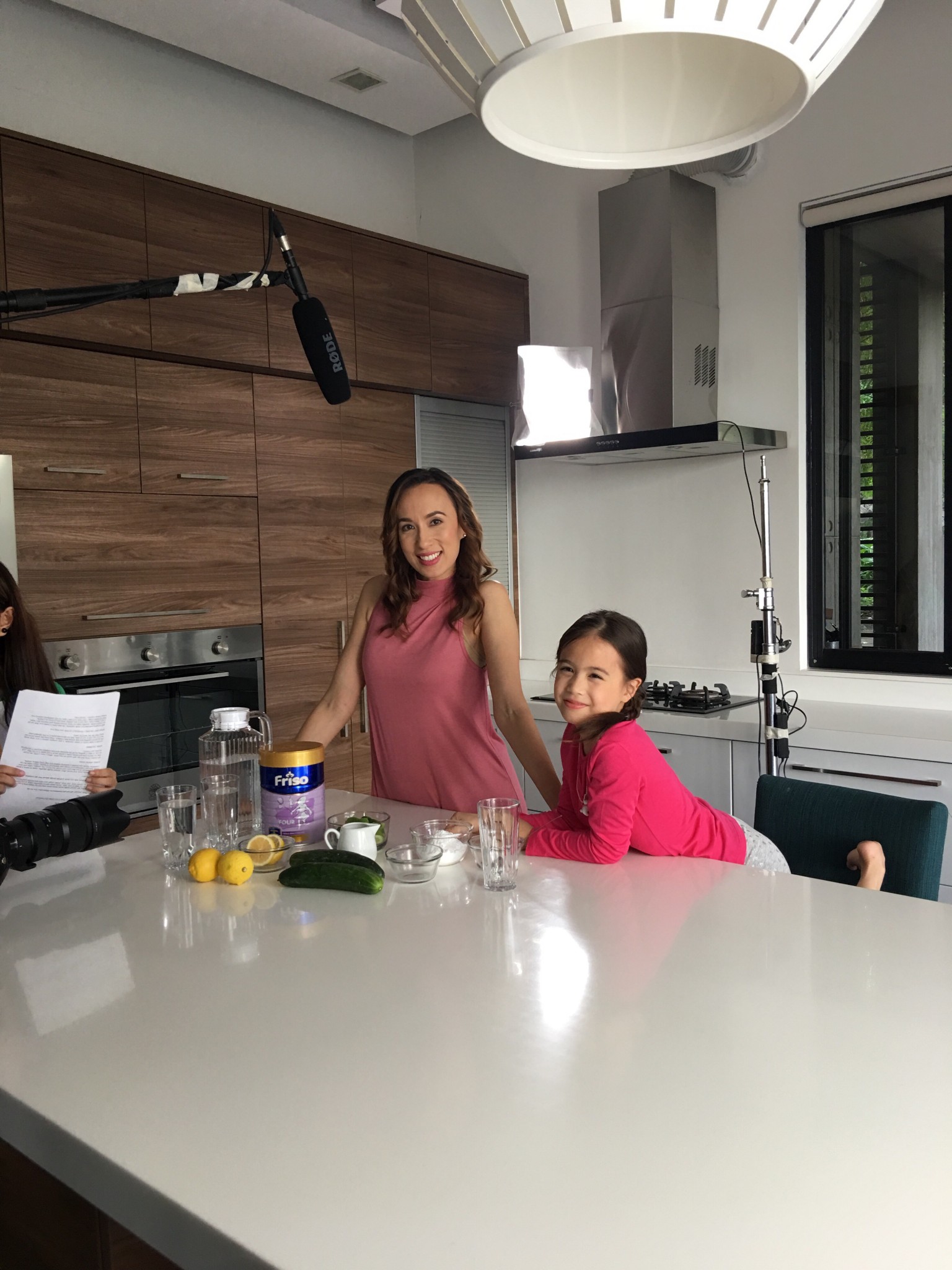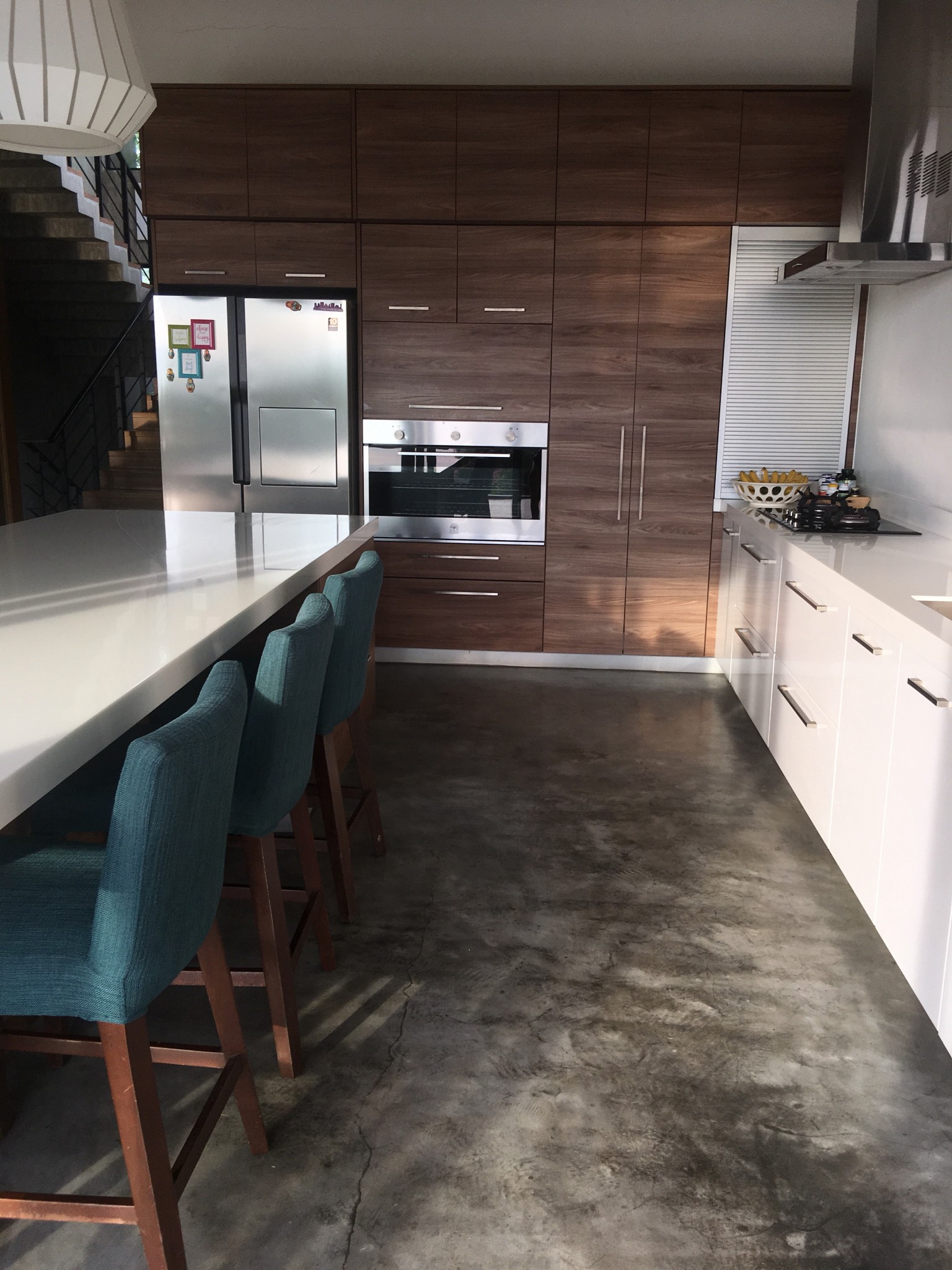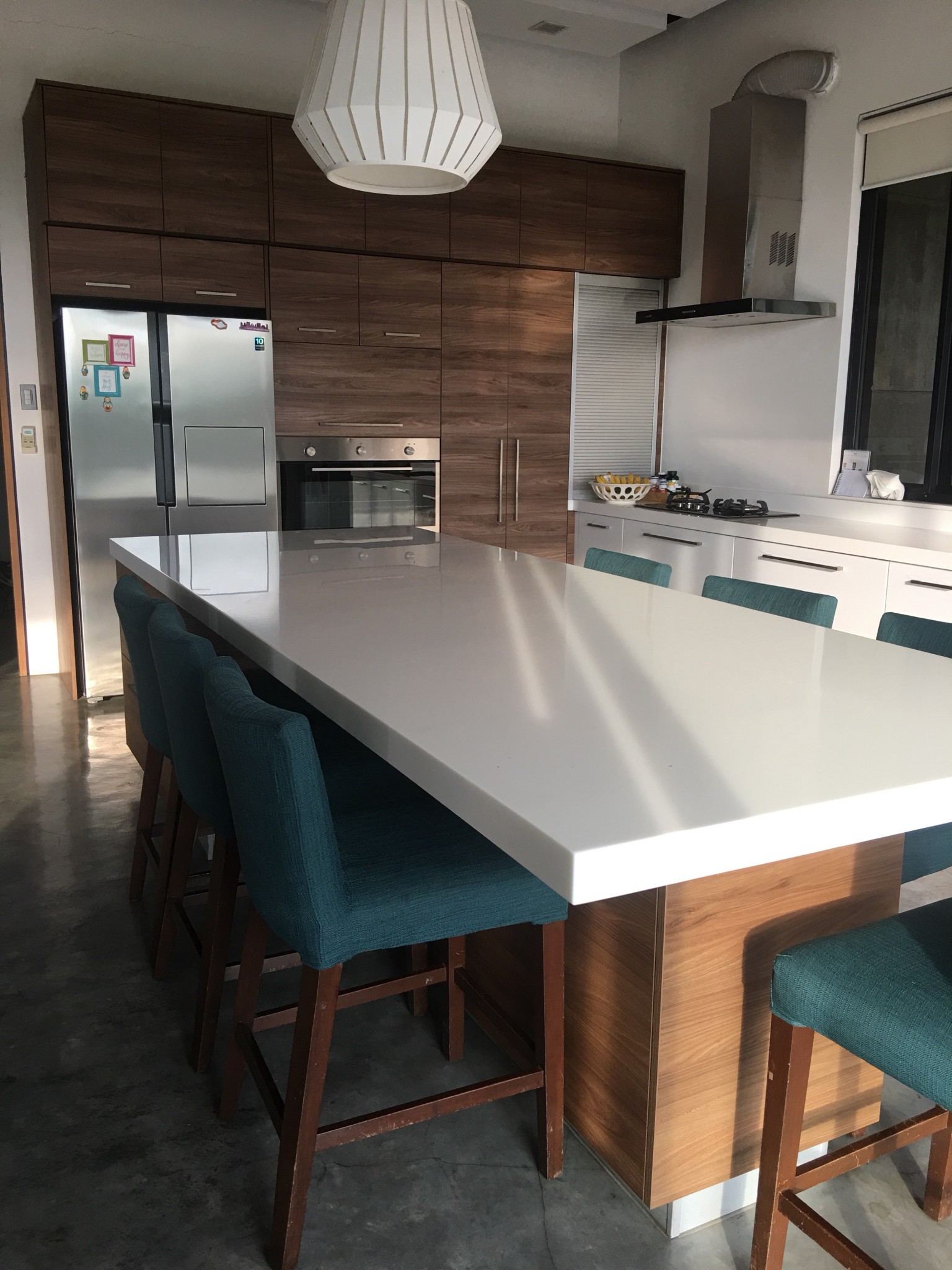 – Ample storage space. Don't sacrifice storage space. Edric and I made sure we had lots of cabinets and a big storage room in the basement of our home. We used floor to ceiling built-in cabinetry in the walk-in closets to maximize storage.
INEXPENSIVE WAYS TO BEAUTIFY A HOME:
– Throw pillows on a sofa or bed add warmth and interest. To change or update the look I change the throw pillows.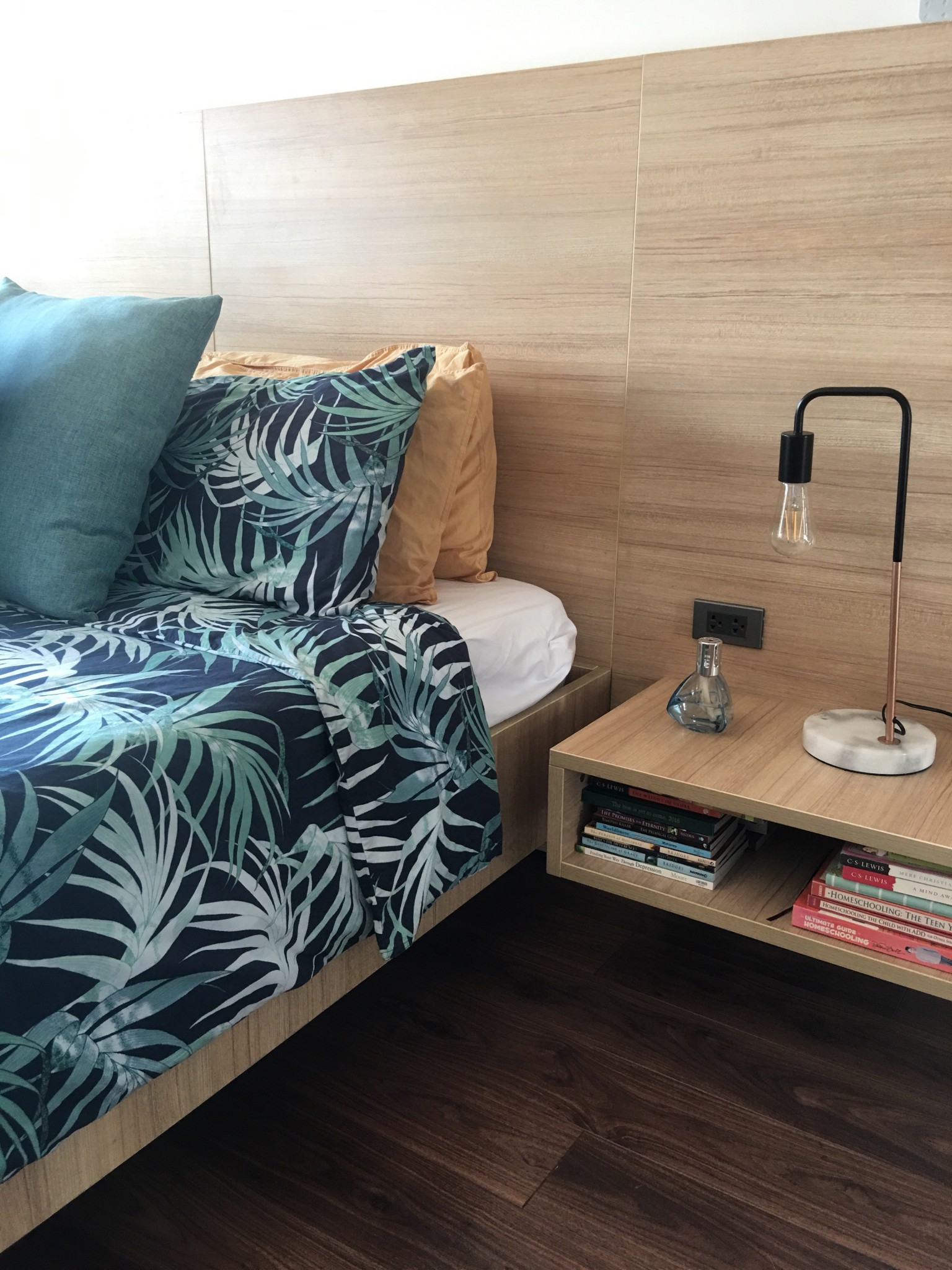 – Wall art and photos. I really don't like putting holes in walls but for bigger paintings and pieces it's necessary.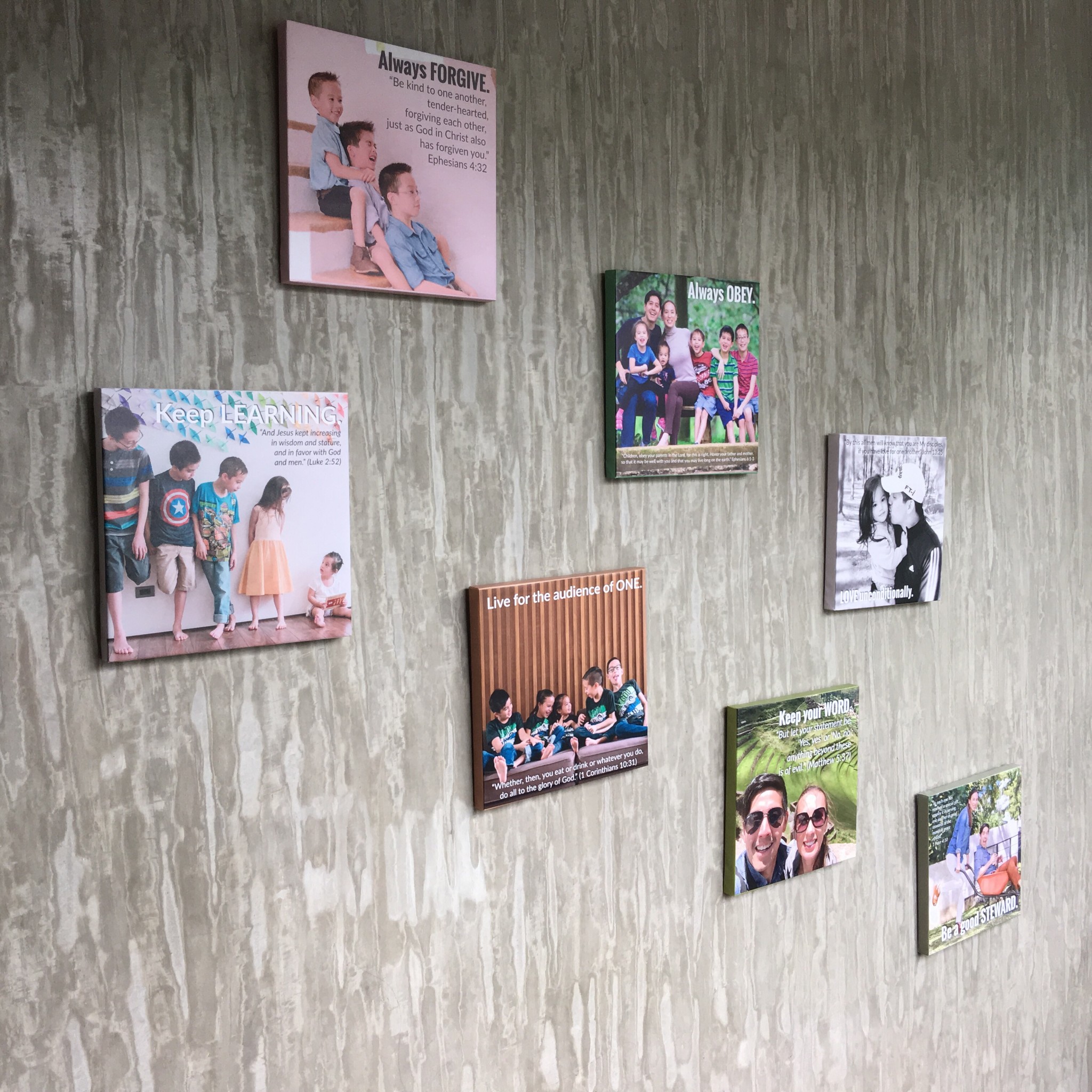 Plus, Edric actually drilled holes into the hallway wall when he prepared this anniversary surprise for last year. He hung up all our kissing pictures from different places we have traveled to.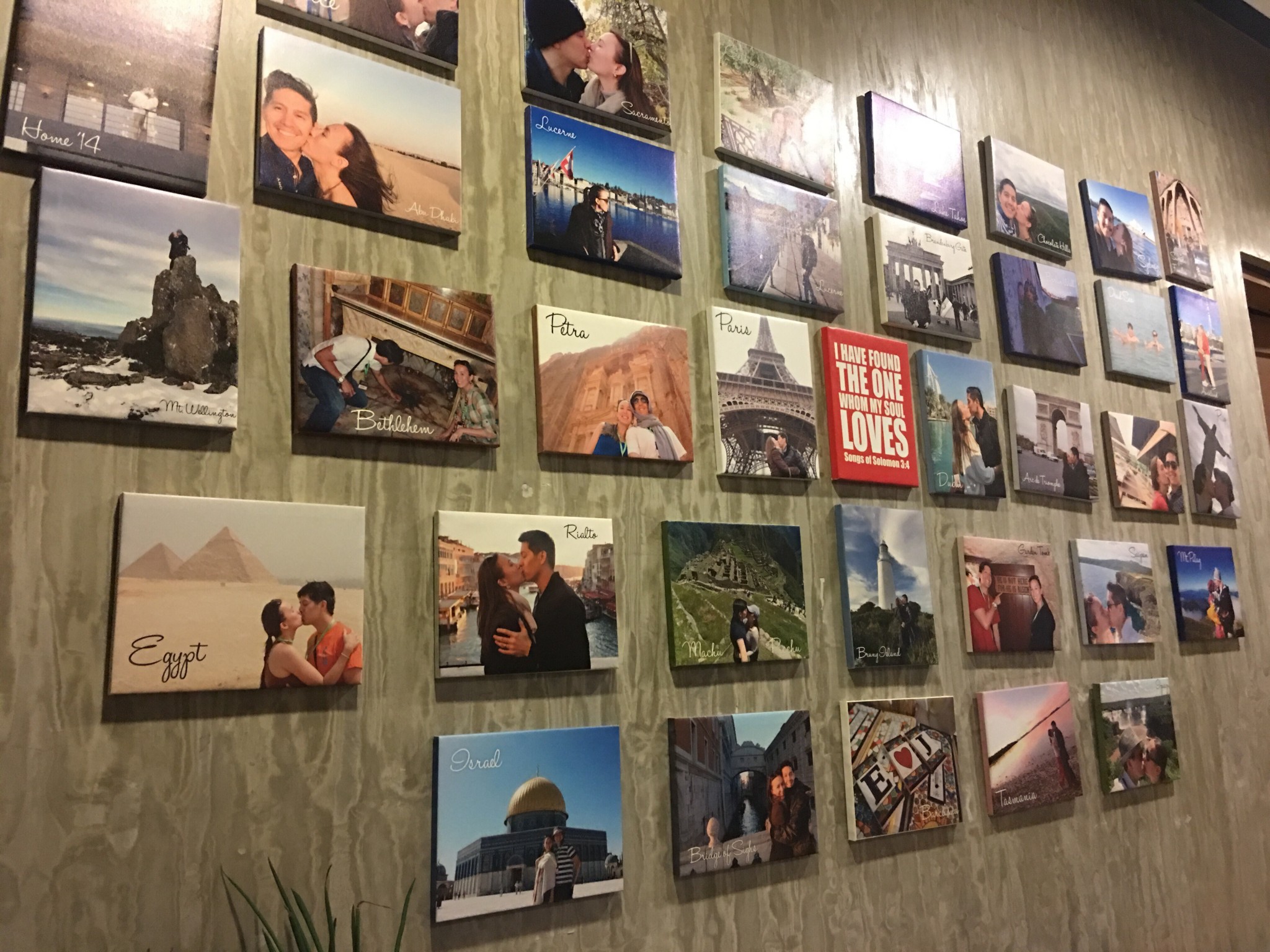 I was touched by the thought and effort but didn't like that he had to use screws. However, I eventually followed in his footsteps and bore holes in other walls to hang wall art and photos since he requested that we make our house "homier" looking. My next project is to frame photos of friends and extended family so guests can see themselves in our home and feel like they are a part of it.
I also do my own art. It's a cheap way to add color to our home.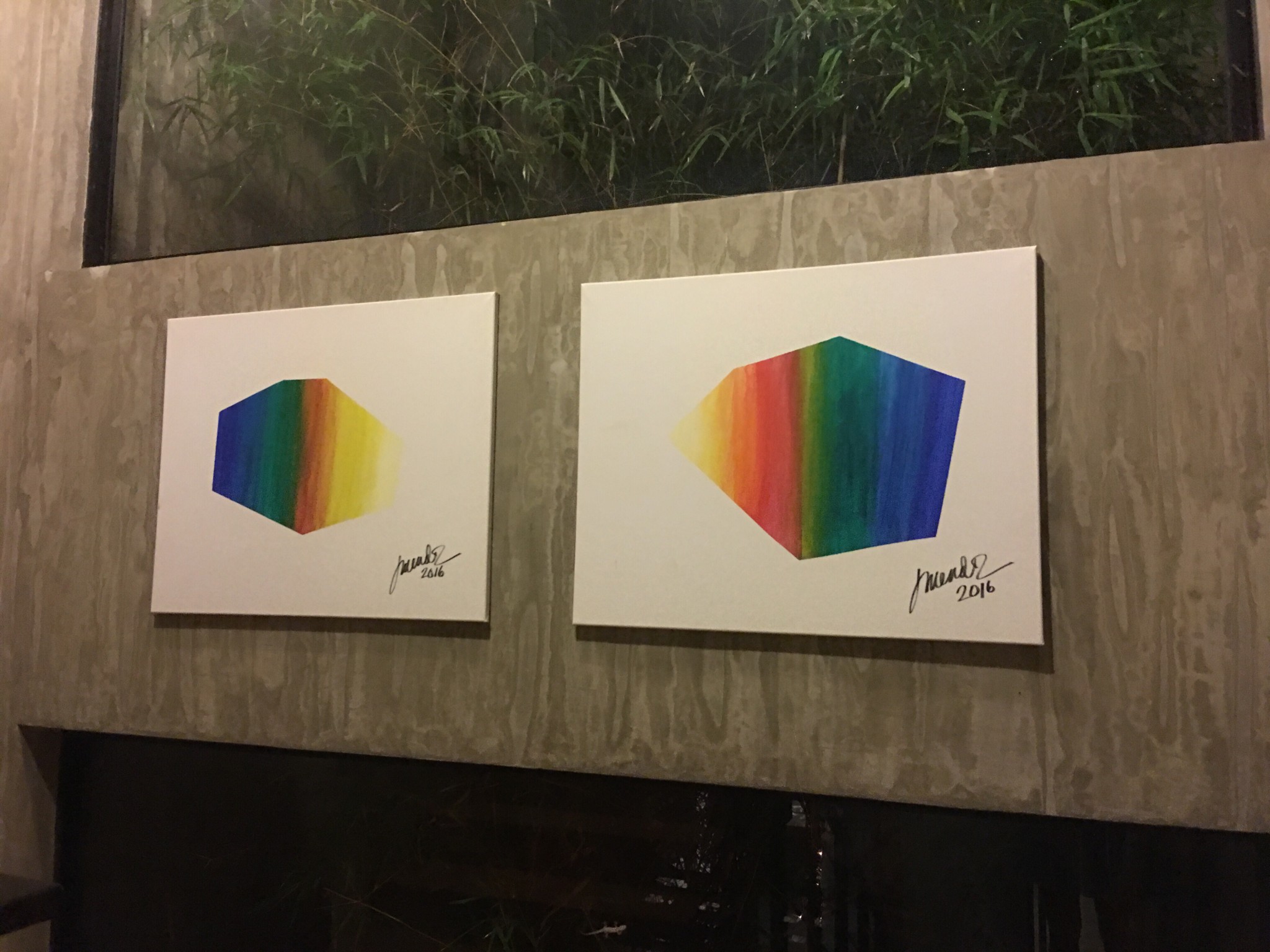 – Add interest points with decor and accessories. I personally prefer less is more when it comes to decorating a home. It's easier to clean a house that doesn't have too much on display.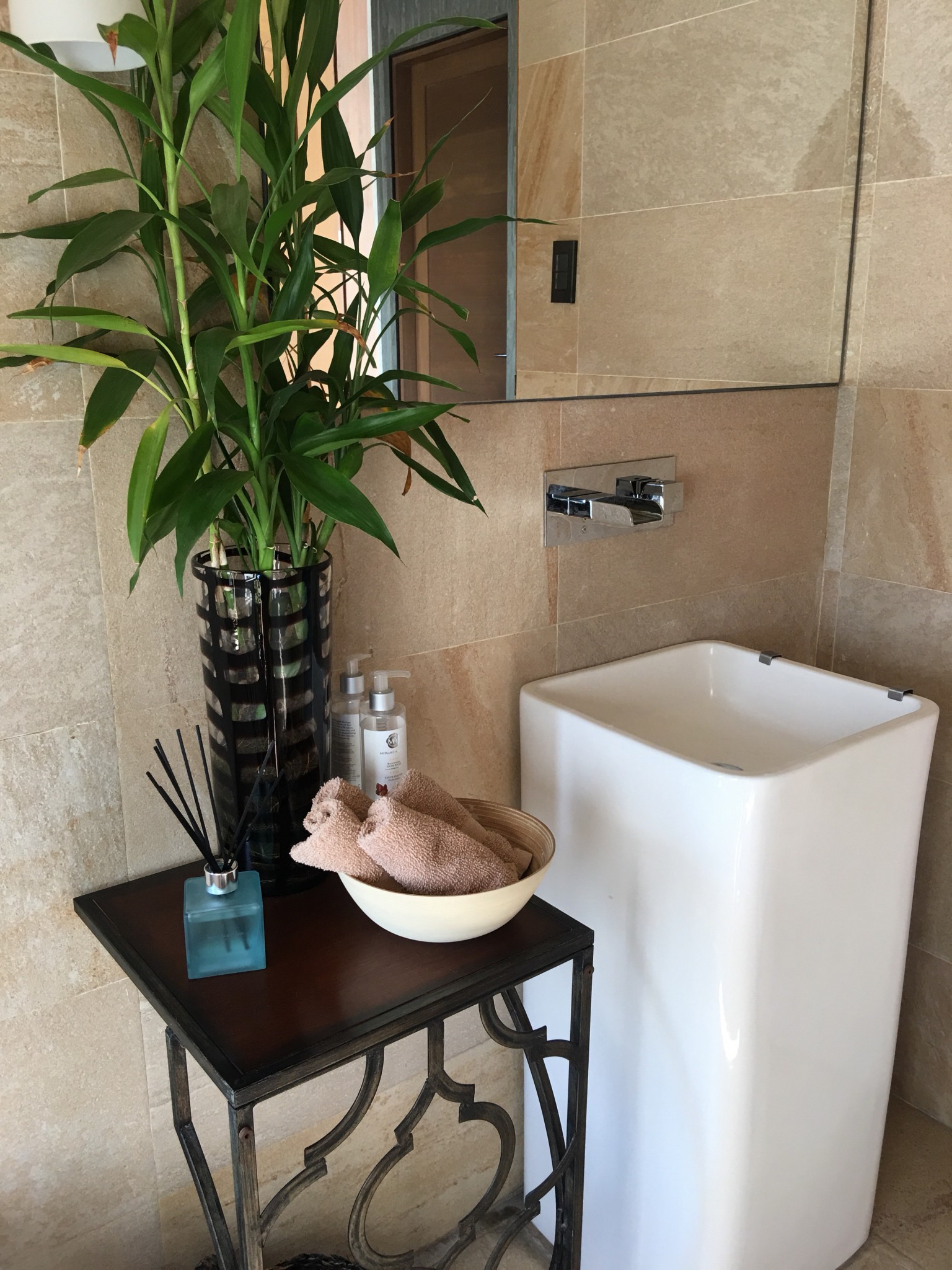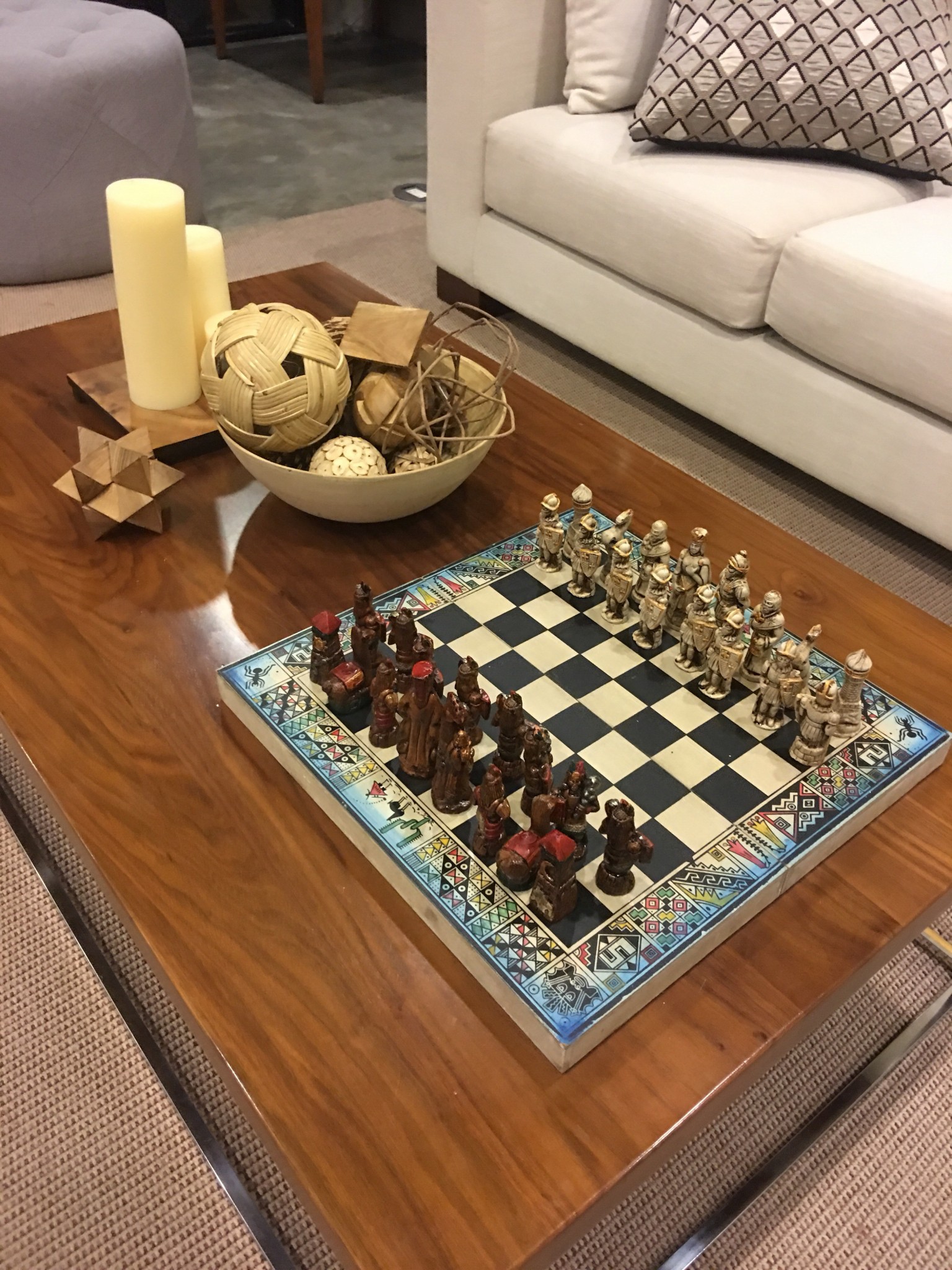 Edric is a sentimental person so he likes to show items we have bought from our travels. Many of these items don't coordinate with each other but I had to let that go, and find ways to cluster objects on shelves so that they appear pleasing to the eye. The great thing about using souvenirs from our travels is that they give visitors the opportunity to ask questions about our trips and adventures, and they bring us back to wonderful memories.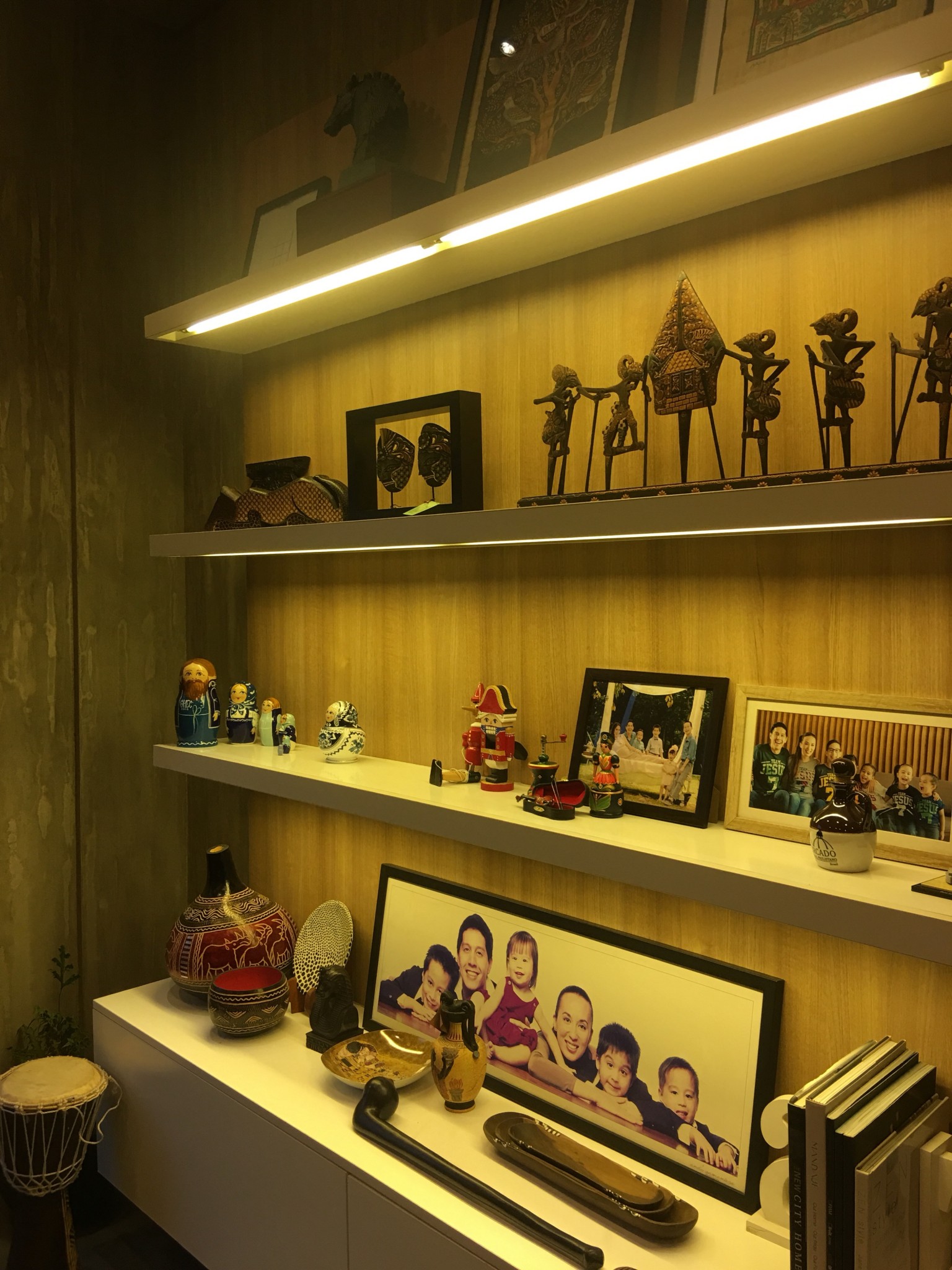 – Use plants. Greenery does wonders for any room. God so wisely made plants green! (I need to buy more indoor plants. That's on my to do list.) Plants make a room come alive and communicate warmth. Get interesting and unique planters, vases, and jars to complement the look of a plant.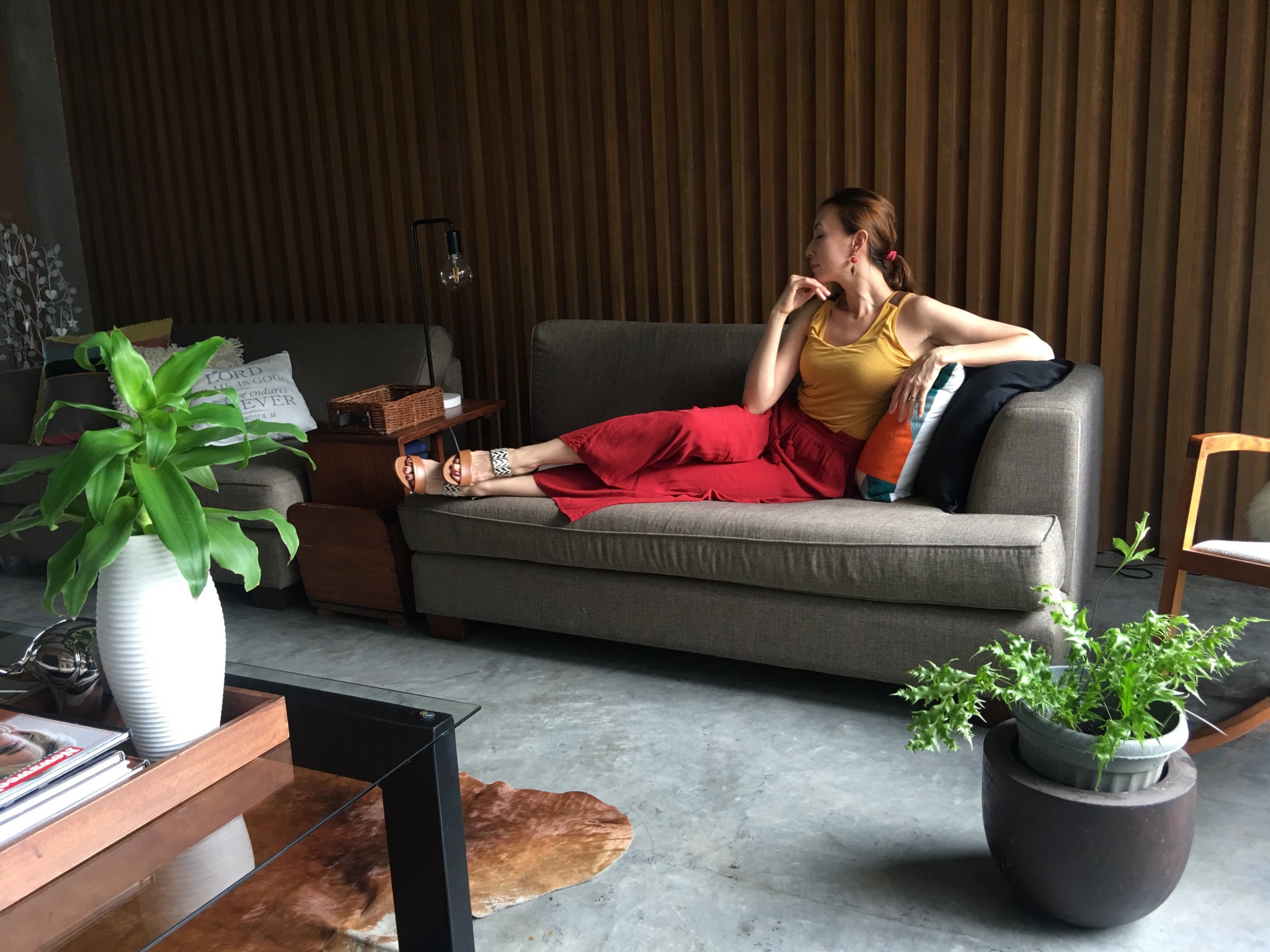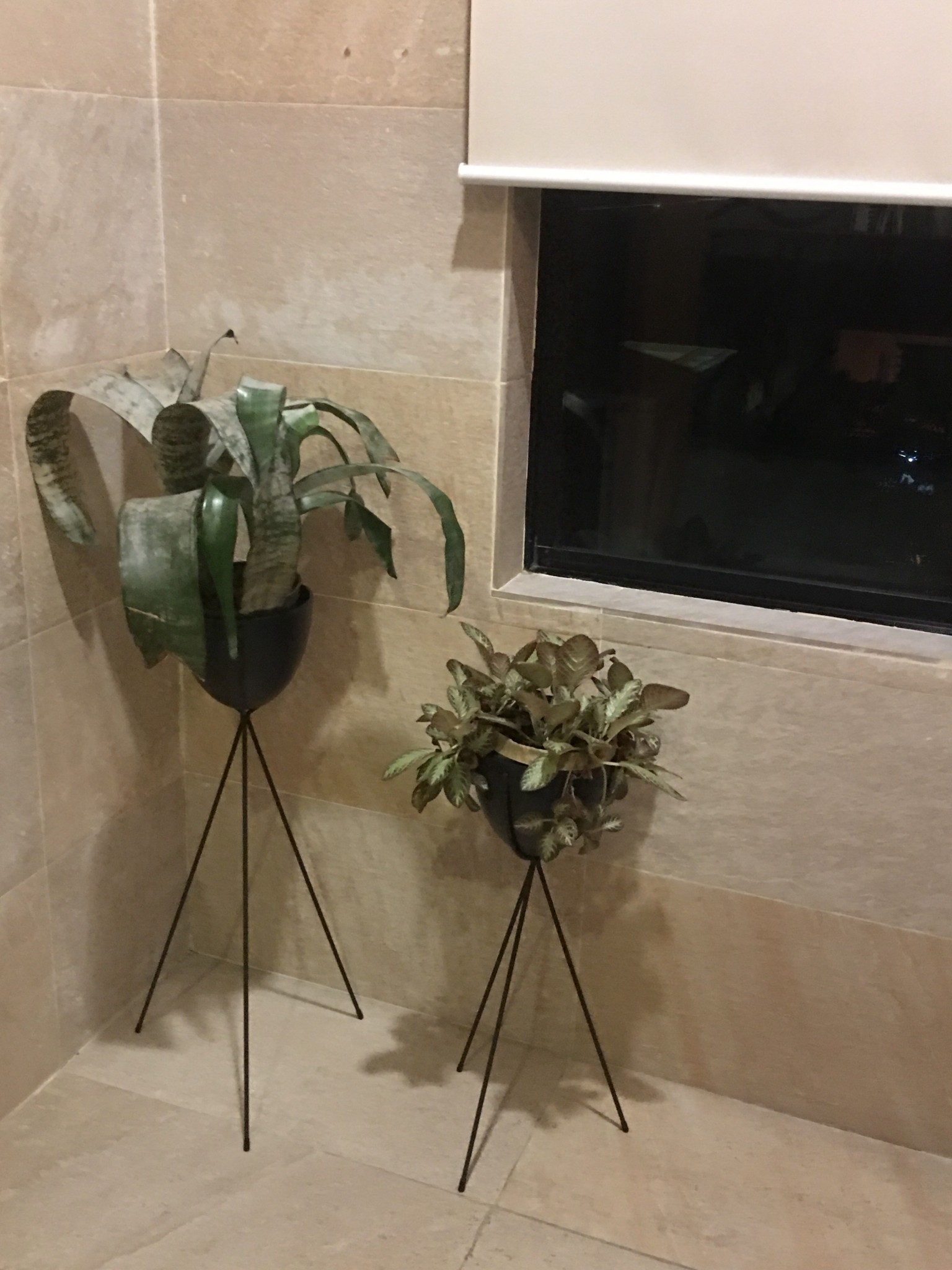 HABITS AND ROUTINES:
Keep the house clean. Period.
Here's a sample Housekeeping Schedule I revised recently (for the kids, household help, and me):
EVERYDAY
Put a pitcher of water in bedroom at night
Keep kitchen and dirty kitchen clean
Do laundry
Clean bathrooms
MONDAY TO SATURDAY
Sweep, mop, and dust all rooms
Keep decorations and furniture arranged
Water the garden
Feed pets
MONDAY, WEDNESDAY, FRIDAY
Clean glass and mirrors of bathrooms
Replace towels
Clean white walls with soap and water (dirty spots)
Clean corners of ceilings (remove spider webs)
TUESDAY AND SATURDAY (unless very dirty)
Wipe windows and glass doors
Wipe window sills and window frames
Guest Room Toilet – clean toilet, mop floor
Do yard work (weeding, sweeping, planting, harvesting)
Make sure all bathrooms have toilet paper, soap, shampoo
Wipe/dust all shelves
SATURDAY
Change bedsheets
Clean garage
Clean balconies
Clean glass windows/doors
TWICE A MONTH
Dust closets
Clean out refrigerator and freezer
Wipe pantry shelves and stored items
Wipe kitchen shelves
Change Duvet Covers
ONCE A MONTH
Air out carpets on balcony
Clean, wash screens
Clean out drains of the roof
QUARTERLY
Declutter
Re-organize toy cabinets, book shelves
Give-away / sell
—-
– Get rid of clutter. This is one of my number one tips for homemaking. When I start running out of storage space I know it's time to give up and say goodbye to the unused, superfluous, and old. I always have to remind myself that somebody out there will find greater use for what I no longer need or have taken for granted. Furthermore, it's always healthy to let go of material things to practice contentment and giving for everyone in the family. My household helps are usually the ones who benefit most from the de-cluttering because they pass on toys, clothes, books, etc. to them and their families.
The kids' rooms and my closet are due for a de-cluttering. I can't stand it when parts of our home are overwhelmed and inundated by stuff, so I try to keep surface areas free of piled up stacks of paper, magazines or books (unless these are part of actual decor), leaving the more public places such as the kitchen, dining, living room, family room, guest room, and powder room free of non-essentials that don't belong. For example, toys left in these areas are a no-no.
It was the same way when Edric and I lived in a condo unit that was significantly smaller. We kept these public rooms orderly and in accordance with their purpose. Toys were stored away and hidden, even if our place was much smaller.
It's not the size of a home that determines whether it will be cluttered or not. It's the habit of putting things away and learning to part with stuff by donating it or doing periodic garage sales.
– If possible, designate one room in the house that can have daily mess. Our study room/homeschool room is used every single day. No matter how many times I organize the books and go through the stuff in that room to weed out what doesn't belong, the kids manage to make it look like a tornado hit it by mid-morning. Thankfully, they do pack away, and it looks livable again by the evening. But I have learned to accept that they need a spot in the house where they can cut, glue, draw, paint, build, create, and gather with their friends. So during the day, I intentionally ignore the mess that's accumulating in there and interest it as childhood play and fun, which they need. If books, toys, or games migrate anywhere else in the home, the kids know that it's their responsibility to deal with it.
At present, I am redesigning this room (homeschool room) so that books will be behind cabinet doors, and praying for the budget to fulfill this project. Open shelves are a challenge to keep uniform looking, unless you order them by color. In my case, I need books arranged by subject area.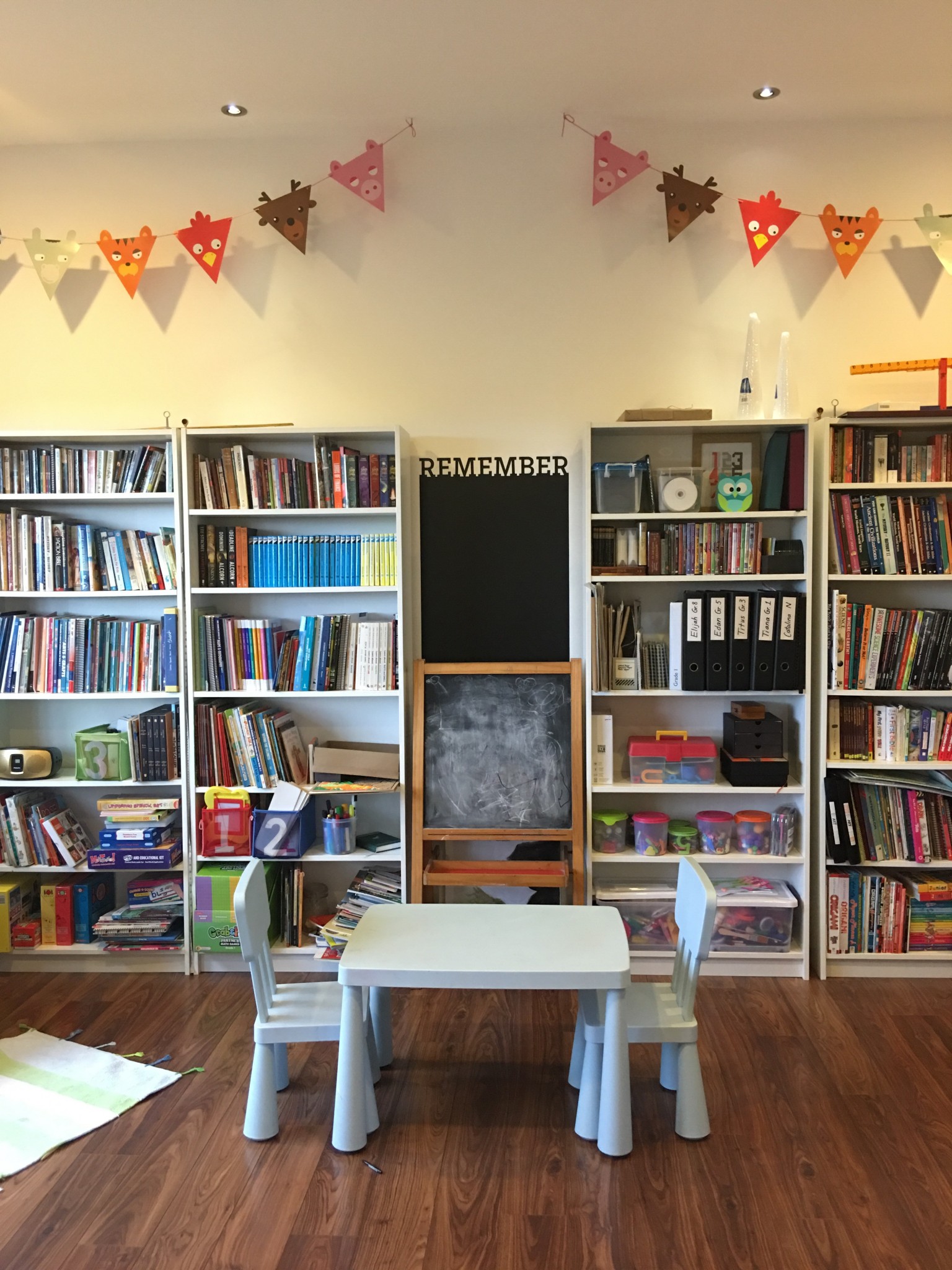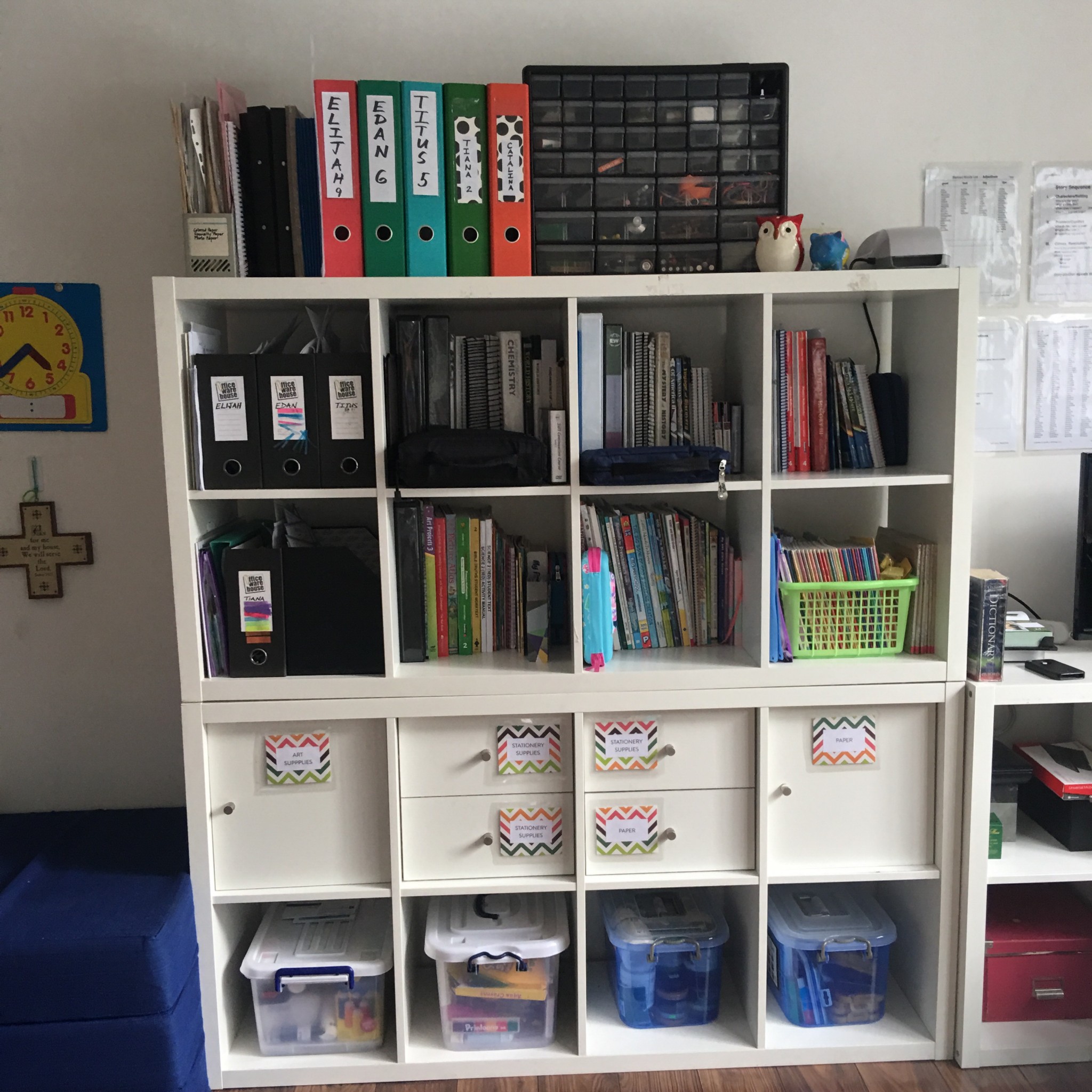 If you have the liberty to build a playroom, I strongly suggest you include that in your home plans. This allows you to have a designated space, separate from the bedrooms, for the kids to be creative and wild in, as well as return all their toys to. When they are older it can be converted into a music room, lounge, craft room, or extra bedroom.
– Prioritize relationships over a perfect-looking home. I need to mind the way I treat my kids and my household help as I run this home. Sometimes my help break, scratch, and accidentally ruin kitchen and laundry equipment, plates, glasses, furniture, decor, and the like. As tempting as it is to scold them, I remind myself that these are honest mistakes. I need to extend grace. The same goes for my kids.
As I write this, Catalina just got slime on one of the throws in the boys' room. When Tiana showed the throw to me, I just sighed and moved on. They tried their best to remove the slime but I doubt they will be able to get it off completely.
Well, you know what, it's okay. It's not the end of the world. I prefer that the people in my home feel like they can make mistakes and receive forgiveness and unconditional acceptance.
It's the positive attitude, respect, and love that people have for one another in a house that really make it a home. What is a perfectly designed and put together home without peace? I would rather have the latter. "Better a dry crust eaten in peace than a house filled with feasting—and conflict." (Proverbs‬ ‭17:1‬)
Furthermore, it is the Lord who builds a house. It is the Lord who brings peace. Edric and I often pray for the Lord's protection over our home, and for His presence to be manifest in it. At the very beginning we dedicated it to Him, for His purposes.
This is the passage we printed out and staked in the soil when we did our ground breaking for the construction of our home: "Unless the LORD builds the house, they labor in vain who build it; unless the LORD guards the city, the watchman keeps awake in vain." (Psalms‬ ‭127:1‬)
It isn't worldly things and possessions or the size of a home that make it precious. Ultimately, it's the atmosphere, the people, their attitudes, and the Lord!
Happy Homemaking!
For more information on Lampe Berger please check out Lampe Berger or follow their IG: Lampe Berger PH and Facebook page: Lampe Berger Philippines