Job's story has always bothered me because it was the Lord who opened the hedge of his protection on Job. He allowed the evil one to harm Job.
It's so hard to wrap my head around this at times, when I see things purely from an earthly point of view. What kind of God does this? Why does it feel like God places us inside an arena where there are spectators in the heavenly places who are betting on the outcome of the tests he makes us go through?
Admittedly, I don't completely understand why God allows people to be afflicted, especially when they are his children. I tell myself, it's because he is after their greater good, he does this because he is loving, and he has every right to, as creator, as the one who is supreme over all. However, it's very difficult to swallow these truths when we are in the midst of our greatest pains and struggling through the valley of affliction.
I read this passage during my time with the Lord, and I clung to the bit that read, "He was kind to Job in the end. He is full of tenderness and mercy."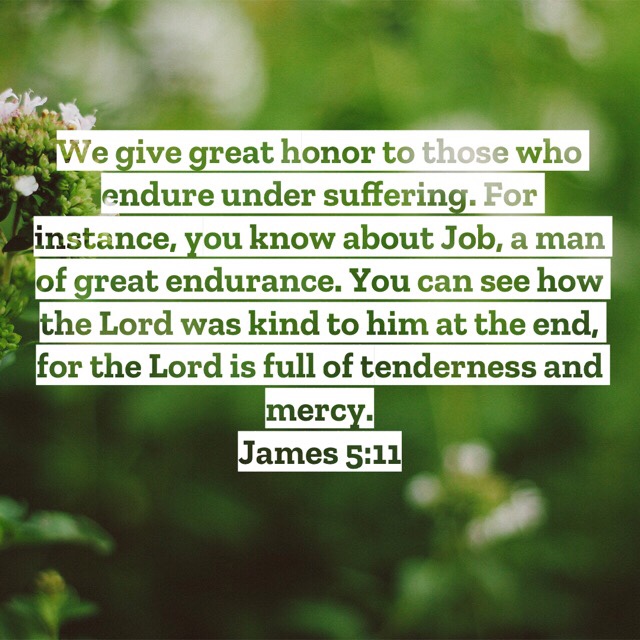 Several things come to mind as I meditate on this. First, the words "in the end." That matters…where the pain is leading us to. If we follow Christ, the end is always good. In Philippians it tells us that one day every knee will bow and every tongue will confess that Jesus Christ is Lord. We have already won the victory over death, in Christ. If the worst possible thing that could happen to us ever happened —- death —- we know we will be with him in the end.
"Then, when our dying bodies have been transformed into bodies that will never die, this Scripture will be fulfilled: "Death is swallowed up in victory. O death, where is your victory? O death, where is your sting?…But thank God! He gives us victory over sin and death through our Lord Jesus Christ." (1 Corinthians‬ ‭15:54-55, 57‬)
My oldest son, Elijah, asked me to frame my understanding of affliction as a follower of Christ because he was reading through the book of Job. I began by saying that we actually have no right to question God's wisdom, what He does to us, or elects for us to go through. Whether we like it or not, His doings are above our "pay grade" to meddle with and contradict. We are the clay. He is the potter. He has every right to use whatever pressure and molding is necessary, in Him estimation, to conform us into the image of Himself, and to glorify Himself.
Yet, where is the comfort in this? It would be terrifying to surrender to such a God if we didn't know him to be good and loving. If He was evil and selfish then we have every reason to be afraid and to want to fight back. So I explained that God's omnipotence is actually comforting because the very opposite is true — He is a good and loving God.
How do we know this? He died for us. As Randy Alcorn put it, "Whenever you feel tempted in your suffering to ask God, 'Why are you doing this to me?' look at the Cross and ask, 'Why did you do that for me?'"
Even then, we may struggle with faith when what he does in our lives fails to meet up to our expectations of what we consider good and loving.
I have presumed too many times that I am a better judge of what is good and loving, and how that must play out in my life — what I ought to be entitled to as a child of God. Like Job, I have pridefully thought of myself as deserving of a pain-free, problem-free life because I obey God and follow Him.
However, this is where I must bow to the omniscience of God. I have but a finite and microscopic grasp of what is going on when he allows pain. He, on the other hand, knows the beginning, the middle and the end.
""I am the Alpha and the Omega—the beginning and the end," says the Lord God. "I am the one who is, who always was, and who is still to come—the Almighty One."" (Revelation 1:8)
If I am to avoid wallowing in misery and self-pity, which I have been tempted to do so many times, I must view suffering with spiritual lenses. This good, loving, all-powerful, and all-knowing God holds the pen that writes my life's story. As he writes in the conflicts, and weaves the hardships into it, he knows that there is a redemptive ending.
For his children, the end of our earthy lives is but an ushering into his glorious presence, where our joy will be made full. What we are suffering through in the present is, from the vantage point of eternity, "momentary and light affliction."
When we are on the side of agony, it's hard to embrace everything I just shared. During my moments of unbearable physical pain, I wanted to skip to the kindness bit that Hebrews was referring to, the part where Job received the blessings of his endurance. I felt like I couldn't go on in the state I was in, and I just wanted the Lord to make it all end. The waiting was difficult (and yet not at all as terribly long as many others who are dealing with chronic sicknesses and diseases).
The only thing that really helped me was to trust the Lord even if I didn't feel like it. It was a choice not to give up hoping that "in the end" it would all be okay. Whether I died or lived through what he ordained for me, I would know the same kindness, tenderness, and mercy that Job experienced.
God is still teaching me how to trust Him since my current battle is dealing with fear. It is the sin that entangles and keeps me from running this race well if I give in to it. I have to fight it, to choose to be thankful and joyful every time I feel unusual symptoms in my body as I recover from surgery and deal with the consequences of what surgery took away. I tend to worry that my healing will be incomplete, that I am going to suffer again, end up in the hospital, and be plagued with more health issues. Therefore, I must constantly tell myself that my Heavenly Father is trustworthy. Even if I don't always appreciate He methods for character formation and heaven preparation, He can be trusted. I MUST trust Him.
Two days ago, I read this: "…My purpose in writing is to encourage you and assure you that what you are experiencing is truly part of God's grace for you. Stand firm in this grace." (1 Peter 5:12)
My prayer is that I would know Him more, to understand His wisdom, to rest in the promises He gives me, and to trust in who He is so that I might stand firm indeed.
What is the secret to grace and peace? It is found in the succeeding passages…"May God give you more and more grace and peace as you grow in your knowledge of God and Jesus our Lord." (2 Peter 1:2)
That's what happened in Job's life. He grew in his knowledge of the Lord. Then He understood. Then he was silenced before the wisdom and grandeur of God. Then he was healed and restored, first spiritually and emotionally, then physically.
This is the journey God seems to be taking me on as well. He is gutting me of my entitlement, of my misconceptions and my faulty knowledge of Him, of my short-sighted and earth-bound longings. I am not yet what I ought to be, but I am being taken to where I should be, and in the end, if I keep trusting in Him and surrendering to Him, He will have His way in me.